PRESENTING a GLORIOUSLY RARE BOOK …. Tarzan and The Golden Lion by Edgar Rice Burroughs McClurg 1st Edition.
First edition. Illustrated by J. Allen St. John. 1 vols. 8vo. The ninth book in the Tarzan series. Zeuschner 583 (noting titles in black) Mustard cloth titled in green. Good to fair copy (no dust jacket) (some soiling, especially to spine and cover) Illustrated by J. Allen St. John. 1 vols. 8vo. McClurg, Chicago, 1923. First edition.
---
Tarzan of the Apes is a novel written by Edgar Rice Burroughs, the first in a series of books about the title character Tarzan. It was first published in the pulp magazine All-Story Magazine in October, 1912; the first book edition was published in 1914 by A.C. McClurg & Co in Chicago. The publisher was made famous by their original publishing of the Tarzan of the Apes novels and other stories of Edgar Rice Burroughs. Tarzan of the Apes tells the story of Tarzan ("White Skin" in ape language) who is adopted as a baby by the she-ape Kala after his parents, the Lord and Lady Greystoke, pass away after being marooned in West Africa. Immediately popular, Burroughs continued the series into the 1940s with two dozen sequels, and the Tarzan character has been immortalized in books, films and television since. Tarzan was the first literary character to be registered in a trademark. Tarzan and the Castaways was the last finished story by Burroughs, the 24th in his series on Tarzan. In addition to the title novella, the book also includes two short stories about Tarzan. Tarzan: The Lost Adventure is a novel by American writer Joe R. Lansdale, based on an incomplete fragment of a Tarzan novel written by Edgar Rice Burroughs which had been left unfinished at his death. The book was serialized in four parts by Dark Horse Comics, before being published as a single volume in 1995
No dust jacket. Some water damage to cover and first couple of pages, but otherwise good. Back page slightly torn from spine.
Tarzan and the Golden Lion McClurg First Edition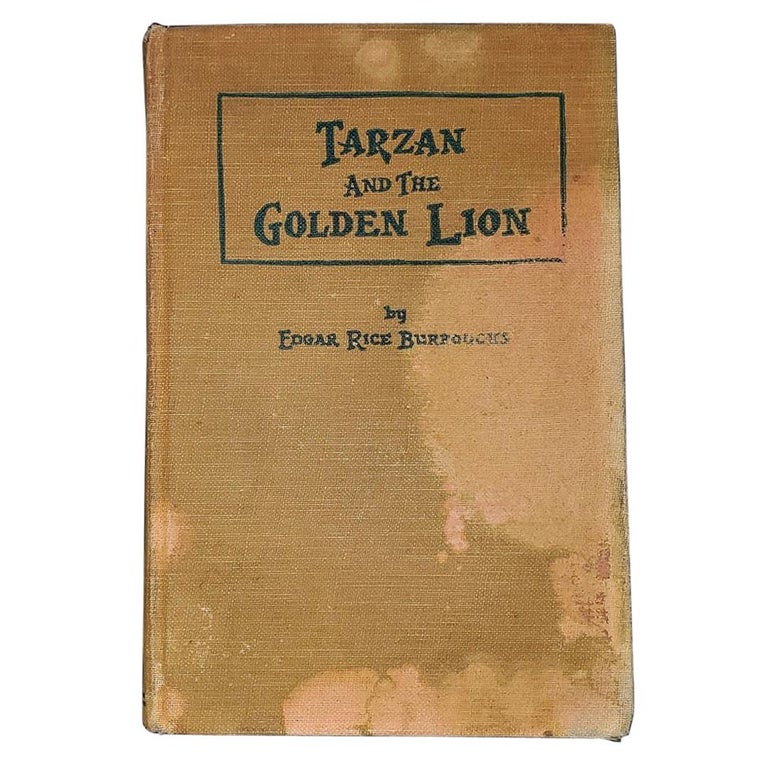 Tarzan is a series of twenty-four adventure novels written by Edgar Rice Burroughs, followed by several novels either co-written by Burroughs, or officially authorized by his estate. There are also two works written by Burroughs especially for children that are not considered part of the main series.
The series is considered a classic of literature and is the author's best-known work. Tarzan has been called one of the best-known literary characters in the world. Written by Burroughs between 1912 and 1965, Tarzan has been adapted many times, complete or in part, for radio, television, stage, and cinema. (It has been adapted for the cinema more times than any book)
Even though the copyright on Tarzan of the Apes has expired in the United States, the name Tarzan is still protected as a trademark of Edgar Rice Burroughs, Inc. Also, the work remains under copyright in some other countries where copyright terms are longer.
Link: https://en.wikipedia.org/wiki/Tarzan_(book_series)
Tarzan and the Golden Lion is an adventure novel by American writer Edgar Rice Burroughs, the ninth in his series of twenty-four books about the title character Tarzan. It was first published as a seven part serial in Argosy All-Story Weekly beginning in December 1922; and then as a complete novel by A.C. McClurg & Co. on March 24, 1923.
The story picks up with the Clayton family, Tarzan, Jane Porter and their son Korak, returning from their adventures in the previous novel (#8). Along the way they find an orphaned lion cub, which Tarzan takes home and trains.
Flora Hawkes, a previous housemaid of the Clayton's had overheard of Tarzan's discovery of the treasure chamber in the lost city of Opar (from The Return of Tarzan and Tarzan and the Jewels of Opar) and had managed to copy his map to it. She concocted a plan to lead an expedition to collect the gold. As a contingency to discourage any local denizens from questioning them, she sought out and found a Tarzan look-alike named Esteban Miranda to accompany them.
Two years passed since the Clayton family picked up their lion cub, making the year around 1935 and Tarzan would have been about 47 years old. His Greystoke estate had become financially depleted due his support of the Allies war efforts and he concluded it was time to return to Opar for another withdrawal.
Tarzan encountered Hawkes' party, where he was drugged and ended up in the hands of the Oparians. Queen La, who had come into disfavor with the high priest, felt she had nothing to lose by escaping with Tarzan through the only unguarded route—a path to the legendary valley of diamonds, from which no one had ever returned. There, Tarzan found a race of humans who were little better than animals in intelligence, being enslaved by a race of intelligent gorillas. With the help of his golden lion Jad-bal-ja, Tarzan used the natives to restore La to power. Before leaving he accepted a bag of diamonds for a reward.
Meanwhile, Esteban Miranda convinced Tarzan's Waziri party to take the gold from Hawkes' party while most of them were out hunting. He then buried the gold so he could retain it later. The real Tarzan eventually confronted the imposter, who managed to pilfer Tarzan's bag of diamonds. Esteban Miranda was then chased by Jad-balja, but escaped into a river. Esteban Miranda was later captured and permanently imprisoned by a local tribe. Tarzan lost the diamonds, but was able to attain the gold and return with it.
Link: https://en.wikipedia.org/wiki/Tarzan_and_the_Golden_Lion
---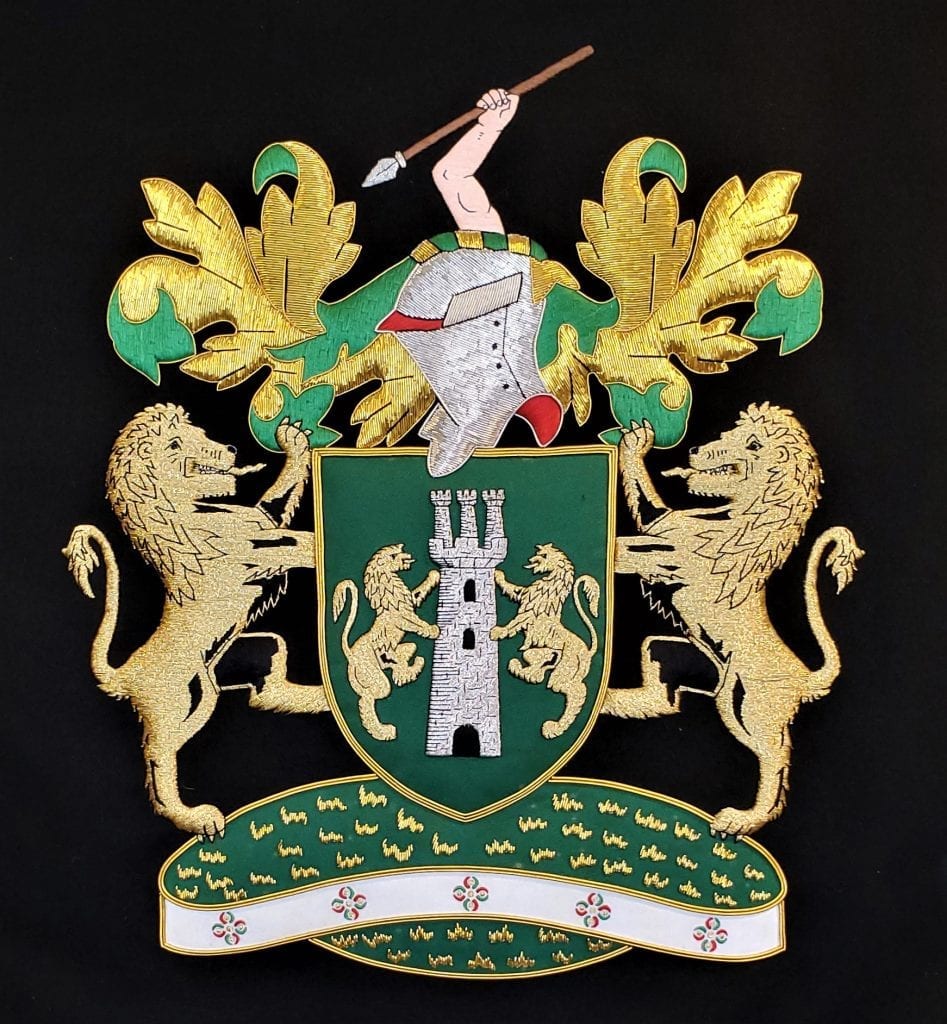 Tarzan and the Golden Lion McClurg First Edition
Provenance: From a Dallas Private Collection.
Condition: Fair to Good.
Dimensions: 1.25″ Deep, 5.3″ Wide and 7.6″ Tall
SALE PRICE NOW: $1,150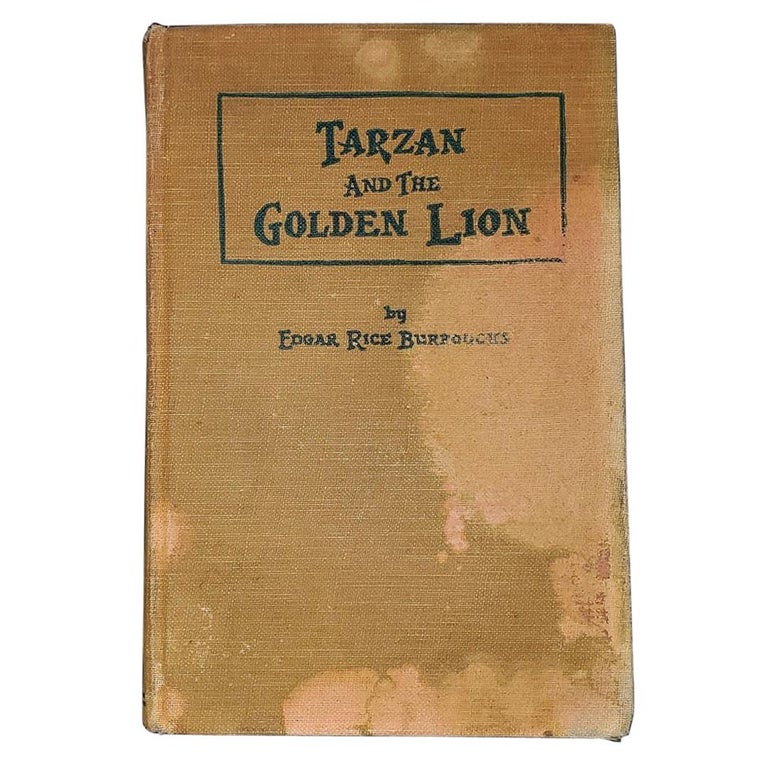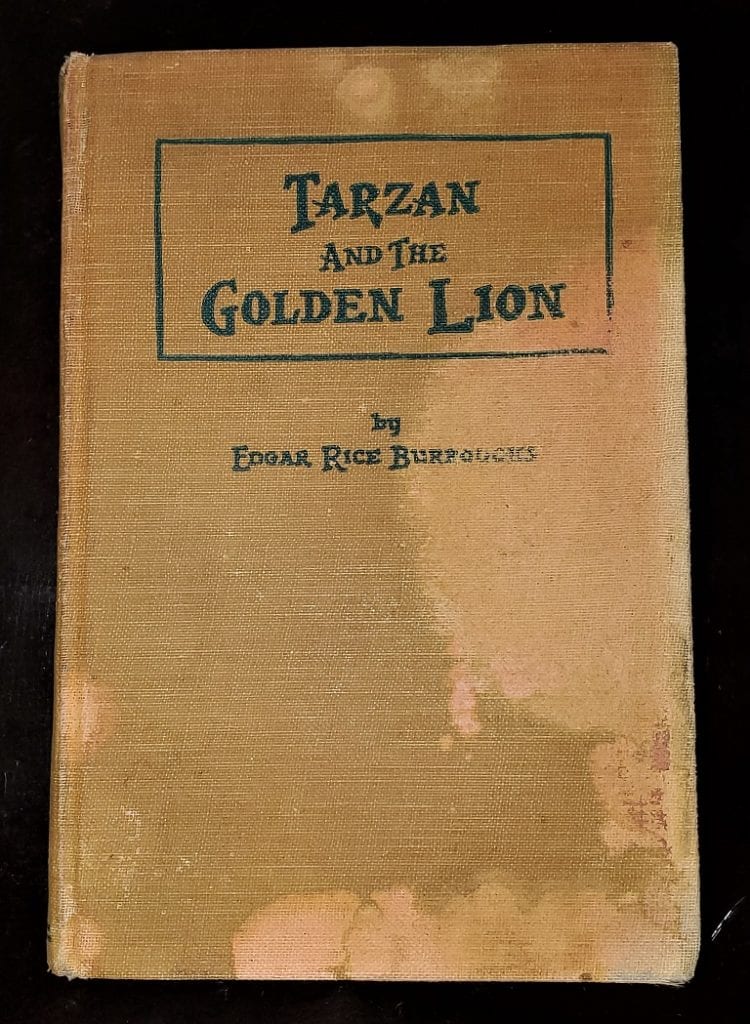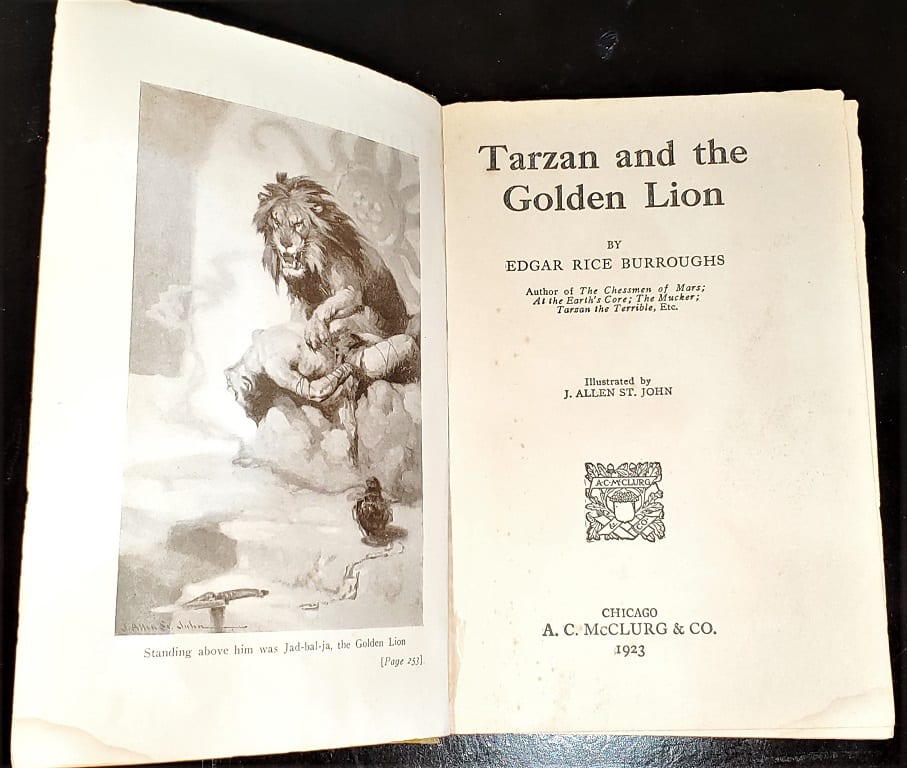 Tarzan and the Golden Lion First Edition