(Opinion Piece by Nevan O'Shaughnessy, Owner of
Rockwell Antiques Dallas, 1500 Market Center Blvd., Dallas, TX 75207
Ph: (972) 685-0808
Email: [email protected]
Website: www,rockwellantiquesdallas.com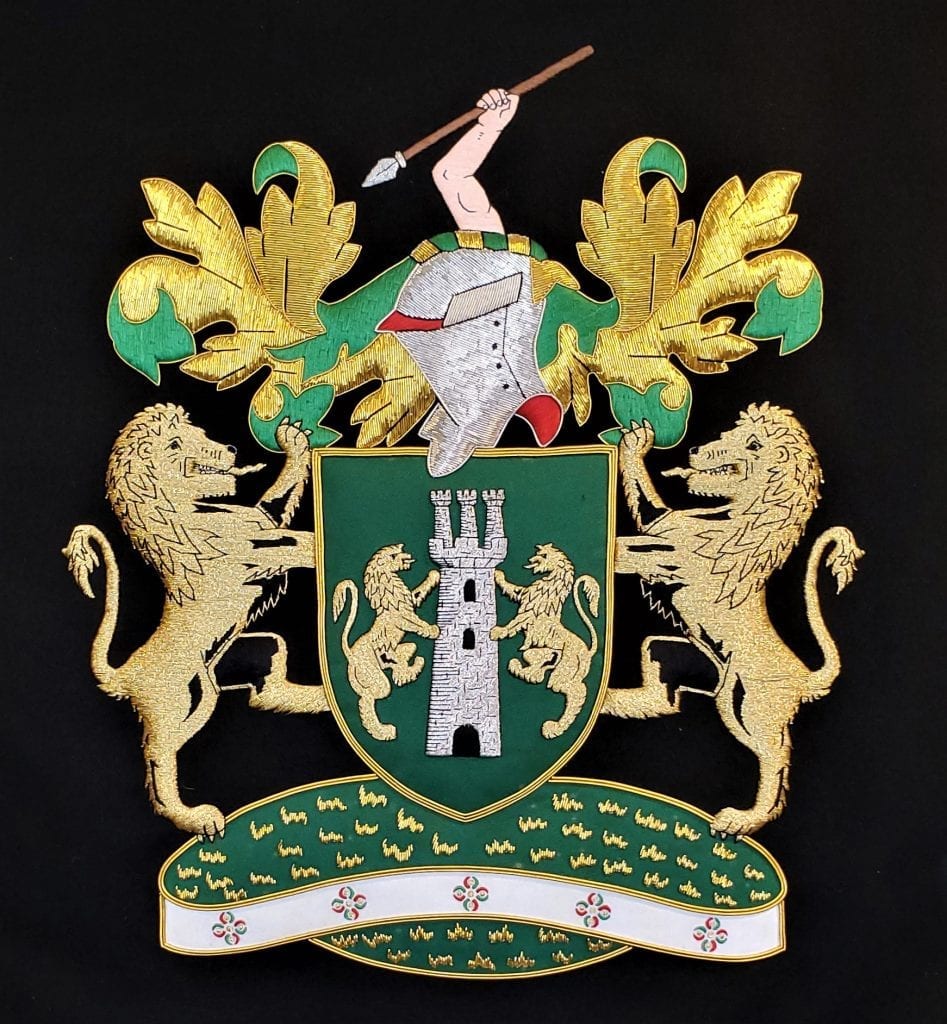 MY MUSINGS ON INTERIOR DESIGN TRENDS FOR 2023 AND THE REASONS TO BE OPTIMISTIC
Many Customers who visit us or simply call us with inquiries, have often raised the topic of "how traditional antiques can blend and be used in a contemporary setting?".
I have heard all sides of the debate and there are indeed, merits, to all sides.
Many people have become so immersed in the 'minimalist' and often sterile mid-century or contemporary style, that they simply cannot see how 'traditional' can work in that environment. They view it as the "old fashioned, granny look" and reject brown furniture and traditional art/collectibles as simply not desirable anymore. There is of course, an element of 'trendy snobbery' at the root of these opinions, but it also goes much deeper.
As we all know, design trends and fashions are 'cyclical' in nature. One particular style will have it's 'hay day' and people will 'binge' on it until such time as they either become bored with the look or they simply wish to keep abreast of the current 'hot' trend.
Who would have thought that 1970's 'bell bottomed pants' or 1980's 'puffy silk shirts' would ever make a comeback BUT they did! (I wish I had kept mine but know that they would no longer fit me! LOL)
I have always been a believer in the mantra that 'to understand the present you must firstly examine the past'.
People in the business know that traditional was all the rave prior to the start of the 21st Century, but since that monumental date, namely the start of the new century, mid-century and contemporary looks became the main point of focus for both customers and interior designers alike.
There was an inevitable reaction or backlash, to the 'frenzy' of collecting and consumerism of the 20th Century. Homes had become cluttered with a combination of large brown furniture pieces, and collectibles such as ceramics etc. Walls were covered in artwork. Windows were covered with large and often overbearing drapes or curtains with large swags and pelmets, thereby preventing natural light from illuminating the home. People were forced to rent storage units just to house the overflow of 'stuff' from their home.
The NET result being, that people 'en-masse' made the conscious decision to 'ditch' that style and declutter, encourage more natural light in their homes by opening large windows and patio doors. Glass walls replaced solid walls, so that even more light was obtained, with 'privacy' being replaced by 'sunlight' and 'views'. Less was better. Instead of numerous pieces of artwork covering every wall, now those walls were glass and instead single impressive pieces of contemporary art and furniture would form the focal point of the room. White walls became the norm. Clean, but sterile and reflecting the desire for openness and light in the home.
To make matters accelerate against the traditional 'look', we had the great economic crash of 2007/8.
The impact on the millennial generation was enormous. They had just graduated college, were entering the workforce for the first time, were facing what appeared to be a mountain of debt and suddenly they perceived that generation X and the boomer generation had destroyed their future with reckless banking practices and spending. They viewed this disaster as being directly linked to the runaway consumerism of the late 20th and early 21st Centuries. The result being, that they decided to 'batten down the hatches' and stop spending on perceived luxuries. Why pay a couple of thousand bucks (which you did not have) for a piece of furniture, when you could buy a piece of mid-century/contemporary furniture for a couple of hundred? And if your job forced you to relocate, you could always just leave it behind you and start again in your new location or you could easily move it by trailer yourself, with little risk. Anyway, the older furniture was what they had grown up with and it symbolized the past and not the future.
When you are in your early 20's, the future is next month and not next year or 10 years from now!
Like 'domino's', the knock-on effect was 'huge'. Older generations such as the Generation X'ers and Boomers, who had the disposable income, liked the new 'look'. Do not forget that many of these would have grown up in the day of the hippie in the 60's and 70's. Back then they were considered 'cool', and now they could be 'cool' again. They hired interior designers who were immersed in the new trend of mid-century and contemporary to remodel their 'outdated' homes and mansions.
In DFW the trend for building Tudor Style Mansions or French Chateau Style Mansions that was prevalent at the end of the 20th Century came to a sudden halt. New builds were architect inspired contemporary builds with emphasis on light and openness.
One particular area of the traditional home almost disappeared without a trace, namely, the formal dining room. People were too busy to sit down for formal family meals. Meals were eaten on trays in front of the TV, by family members and often at different times. Only the breakfast counter or breakfast room table remained useful. Dining rooms were converted into media room or games rooms. No need for a formal dining table, buffet, chairs or fine china services. The market for these items simply vanished.
So, if you are a traditional enthusiast, where does this leave you? Is it all doom and gloom? Will the market EVER recover?
The answer is a resounding … YES!
The 'cycle' is changing (as I write this piece) and there are a number of reasons to support this opinion.
Firstly, the very same Millennial generation, that ran away from traditional, is now over 10/15 years older. They have good jobs and have settled down. They no longer live in apartments, but now have their first home … their first 'castle'. They have kids that are growing up. They have realized that the cheap mid-century/contemporary style furniture has simply not stood the test of time. Every time they moved it, well, truthfully, it fell apart. Therefore, it was not a good use of their financial resources, albeit it served it's purpose. They have realized that the prices for entry level traditional brown furniture has now gotten to the point where it is in fact cheaper than the mid-century/contemporary style pieces. It is a better investment to buy something that has already survived over 100 years, than something that will not survive simply moving bedrooms.
As a result, auction prices for traditional brown furniture has been on the rise in the UK and Europe for the last 4 years. Prices have recovered on average 30-40% since their previous all-time lows.
Secondly, this move by the millennial generation will have a reverse knock-on effect on the Boomers and Generation X'ers. If the millennials make it 'cool' and 'trendy' again, then the older generations will follow. As a Generation X'er myself, we love to think we are still 'young at heart' and we will follow the trends!
Finally, Interior Design magazines and publications worldwide have shown an increased use of traditional pieces in their trends sections.
It is becoming 'cool' again, to own something that (1) is of such exceptional quality that it has already survived over 100/200 years, that (2) is made of solid woods and not fake wood, that (3) is the ultimate in 'green' ethos in that no current tree or forest was destroyed to make it, that (4) it can become a family piece or heirloom with all the memories that it will carry for your kids growing up, even if it is unfashionable again, by the time they inherit it, that (5) it is utilitarian, in that, it was designed for practical use and not just for show and (6) it has become eminently affordable.
International Designers are now incorporating 'statement' traditional pieces into contemporary designs and settings.
The British Country House Style is being featured by design magazines and current trends as we speak.
Nobody is rushing back to the days of clutter. Styles are still minimalistic, less is still better, but a really high quality traditional piece makes as much (if not more) of a statement in a room than a contemporary piece. Styles can indeed be mixed. If done tastefully it leads to an exceptional result.
Try to picture in your mind, a quality mid-century/contemporary credenza in your living room. Maybe, you have a modern sculpture holding pride of place on top of it's counter. Now…..picture a mounted 7th Century stone carved sculpture in place of the modern one. Does it work ? Hell yes, it works and I would go so far as to say it will look much better. The contrast/juxtaposition, between the very new and the very, very old is simply wonderful. I can guarantee you that every one of your guests will want to know more about the sculpture than the credenza. Will the styles clash? Not one bit!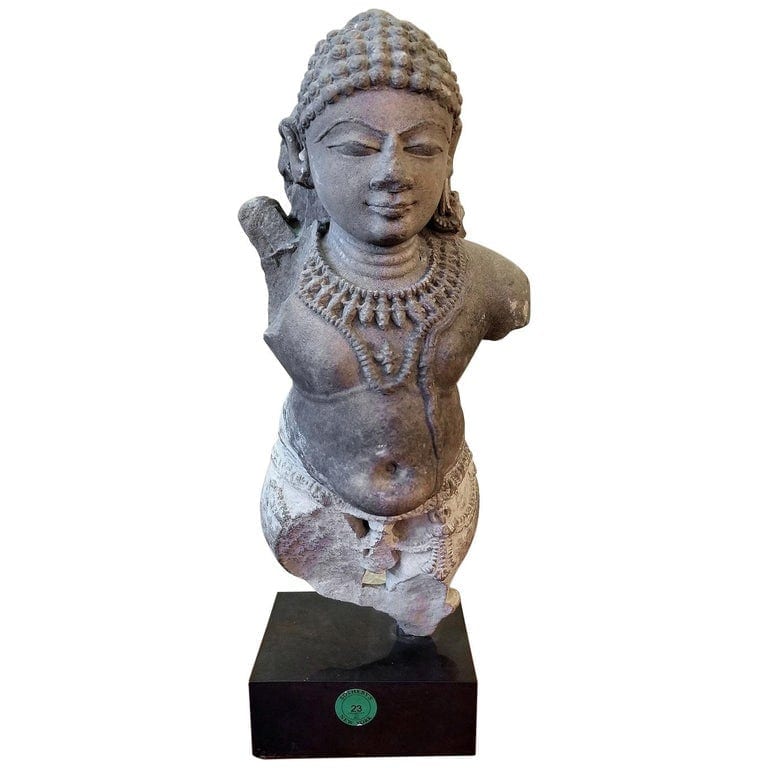 Now picture in your mind your hallway or entry (atrium). Picture a contemporary credenza or press on the feature white/cream wall. Picture a glorious piece of contemporary wall art above the credenza. Picture your chandelier or light fitting that illuminates the space and how it reflects off the artwork etc. NOW …. picture replacing ONLY the credenza/press and in it's place is a Louis XVI Style credenza/cabinet …. Everything else remains the same. Does it work ? Oh, yes it does. The contrasting styles will highlight each individual piece and the use of the proper color palate will make it even more attractive and pleasing on the eye.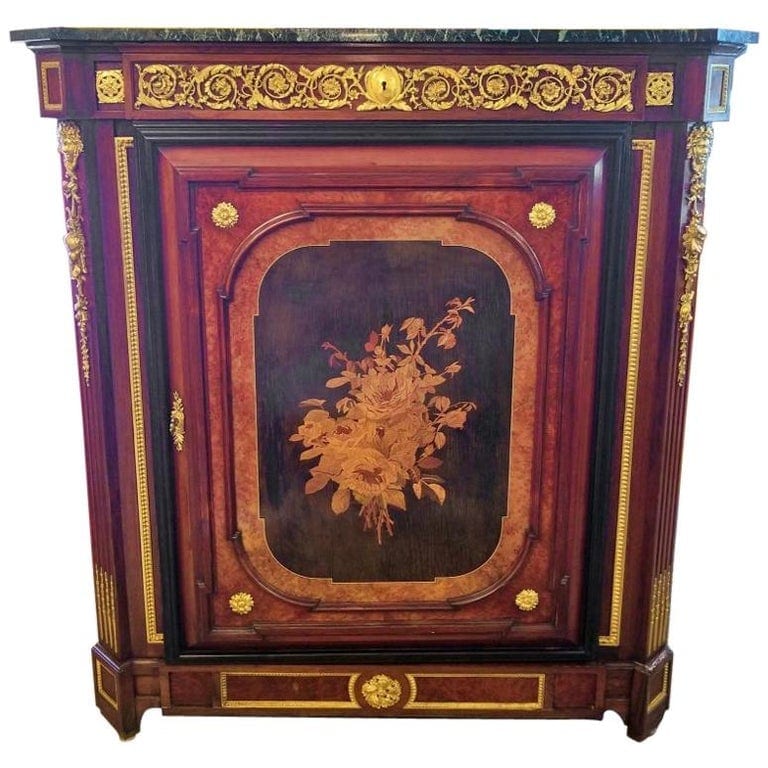 NOW ask yourself …. In both the above examples, does the strategic use of a high quality traditional piece make your home look more comfortable? More warm? More personal? It really is a rhetorical question!
Returning to the loss of the traditional dining room …. it is interesting to note that pieces like 'wake' or 'hunt' tables are making a big resurgence in desirability.
These are always oval dining tables with drop down leaf's. They are long (on average 7 to 8 foot) and when the leaf's are down, not very deep (on average less than 2 foot). People do not necessarily want to lose their media or games room by reinstating the dining room suite/set. But they have realized that if they want to host a dinner party or properly celebrate Birthdays, Anniversaries, Thanksgiving, Easter and Christmas that they need a table that, whilst not in use can rest against a wall (like a credenza), displaying your sculptures, photographs etc., but when needed, can be moved outwards and with it's leaf's raised … 'hey presto' …. you have a fabulous dining table for 8 -10, with a great story, great utility, great beauty and great quality.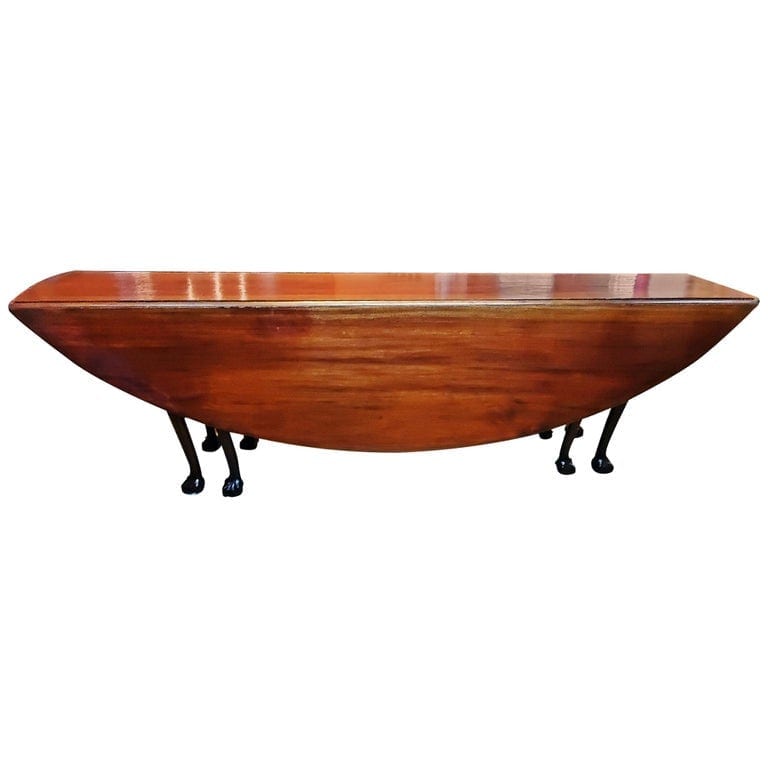 Home colors are also changing. People are becoming tired of the endless white sterile walls. Pastels are becoming more common. Feature walls are becoming more common outside the bedroom. Colors are coming back.
I was speaking with a young interior designer from New York recently, who said something very telling. He loves the use of traditional in contemporary settings and is extremely good at blending them together. He said of his own home: "I was sick of living in a glass box". I thought this was a wonderful phrase to encapsulate the changing trends. Another one I have heard more than once is: "I am sick of living in a Hospital Ward". The soulless sterility has had it's 'day in the sun' and is now heading for the retirement home!
Too much white and too much glass, can be cold and unwelcoming.
Glass Walls are great if you have a 'real view' like a lakeview or rolling meadows, etc. BUT a view of the back wall/fence or the neighbor's house, is not a view 'to die for' and you lose all privacy.
The sparsity and neatness of 'minimalism' has proven to be impractical and uncomfortable. Not to mention … a 'NIGHTMARE' to maintain and keep clean and tidy for every day living!
It looks fabulous in a Design/Architectural Magazine photoshoot, but really, can anyone live without creating some daily untidiness??? The shortage of storage items in a room, only creates more untidiness for normal daily living. It looks great if you can keep it neat all the time, but in reality has proven to be almost universally impractical.
'COMFORT' is the key word now!
People do not want to go back to the 'clutter' that was the trend 30/40 years ago, but they also want warmth, comfort and practicality in their home. The mixing of contemporary with traditional when done properly, is glorious to behold and adds to that feeling of comfort, warmth and practicality.
On the medium end of the market, buyers are finding themselves spoiled for choice for traditional pieces at affordable prices. The can achieve a very wealthy 'look' for a very affordable budget.
Antique furniture is the ultimate in green ethos and recycling. It is as 'Eco-friendly' as you could wish, as you know that no endangered trees, etc were cut down and used to make it.
With the banning of various endangered wood types under CITES, no more furniture pieces will EVER be made from these woods again, so the need to recycle and continue to use, these older pieces becomes of even more paramount importance.
So, in a nutshell, buy traditional and buy QUALITY !
I know that many of you will read this and say "But of course, he would say that. He is biased. It is in his interests that traditional becomes all the rage again" …. AND …. You would be right!
But, I am basing my opinions, not just on foolish hope BUT on the evidence that I see on the ground. I see it happening and I see it gradually changing every week and every month that passes.
It had started to 'trend' that way at the end of 2019 but COVID paused everything!
Now that we are post-COVID and moving back to normality and stability, the trend is accelerating as is evidenced by the number of pieces we have sold to NY Designers recently and the inquiries we are receiving from Designers all over the Country.
To my colleagues in the industry I say: "Avoid items that result in clutter. Avoid impractical pieces. Avoid the Curio Cabinet collectibles. Concentrate on quality unique pieces. Present your pieces as useful and utilitarian. Think 'outside the box' on their uses. Do not be afraid to display your antique pieces in a contemporary setting. De-clutter your stores and present your items as statement pieces. Spend the money on a working website and keep it updated with new inventory. Get on Social Media and online selling platforms, because that is the only way to survive. If you are not 'online' then you are dead in the water! Remember that your buyer is most likely to be hundreds/thousands of miles away!"
"Keep the faith and Stay the course. IT IS HAPPENING ".
Copyright 2023 – Nevan O'Shaughnessy – Rockwell Antiques Dallas