Bibliomania or Book Madness by Thomas Frognall Dibdin 1842.
PRESENTING AN EXTREMELY RARE  EDITION hardback copy of Bibliomania or Book Madness; A Bibliographical Romance. Illustrated with Cuts. By Thomas Frognall Dibdin, D.D. New and Improved Edition, to which are now added Preliminary Observations, and a Supplement Including a Key to The Assumed Characters in the Drama. Published by Henry G. Bohn, York Street, Covent Garden, London MDCCCXLII (1842).
Originally retailed by Little & Brown, Booksellers & Importers of Boston..
This EXTREMELY RARE book is in EXCELLENT condition for its age….. some very minor 'knicks' on the edges of the spine and cover …….but otherwise extremely GOOD. The text is almost perfect.
Red Moroccan Leather and wavy board jacket with gilt edge and gold lettering.
AS AN ADDED BONUS…..the Book comes with a Label belonging to it's original owner, Major William Alexander Obenchain, a Civil War personality who served on General Robert E. Lee's Staff, and after the War became President of Ogden College in Bowling Green, KY (now the University of Western Kentucky).
As an ADDED BONUS…The BOOK is also signed by Major Obenchain.
As an ADDED, ADDED BONUS…..the Book still has it's ORIGINAL RETAILER'S LABEL.
This book was part of the extensive private collection of the Calvert Hall/Obenchain/Godwin/McMillan Collection formerly of Bowling Green, KY and later, Highland Park, Texas.
AS you can see from the history of this Collection (see our PDF) the family have very strong ancestral ties to the States of Virginia, Kentucky and Texas.
YOU WILL NOT FIND THIS BOOK ANYWHERE ELSE!!
THIS IS A SIGNIFICANT, IMPORTANT & HISTORICAL BOOK!!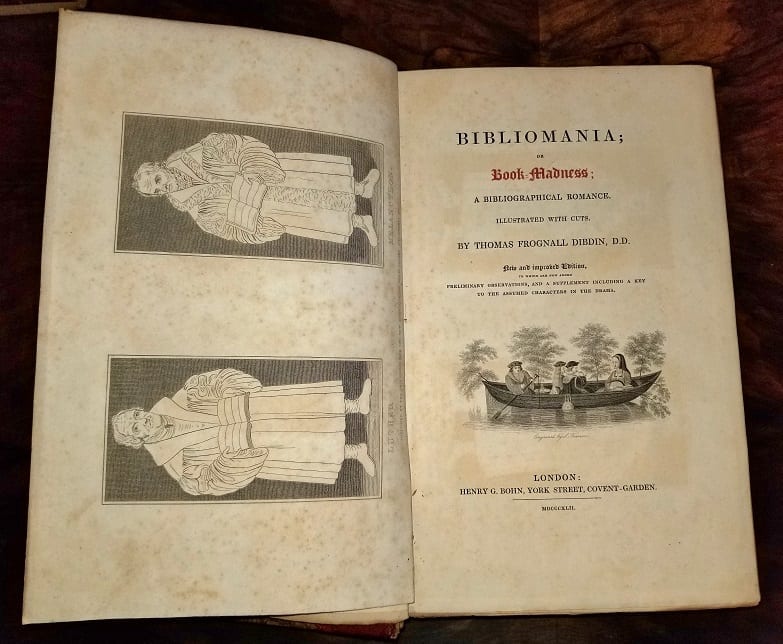 What makes this Book

SPECIAL

is :-
(1) It is a VERY, VERY RARE 1842 Edition … only a very small number were EVER printed and
(2) it is in excellent condition, and
(3) it was owned by a prominent Civil War personality (Major W.A. Obenchain)
Bibliomania; or Book Madness was first published in 1809 by the Reverend Thomas Frognall Dibdin (1776–1847). Written in the form of fictional dialogues from bibliophiles, it purports to outline a malady called bibliomania.
Dibdin was trained and practiced as an Anglican clergyman. The founder of the Roxburghe Club of book lovers, unofficial librarian of the Spencer collection, and a flawed but prolific bibliographer, Dibdin was perhaps the genesis behind the bibliophilic neurosis that afflicted the British upper classes in the Romantic period. His Bibliomania; or Book Madness was first published in 1809, as a series of dialogues which together comprised a kind of dramatized mock pathology, lavishly illustrated and, in the second edition, embellished with extensive footnotes on bibliography and the history of book collecting. The "symptoms" exhibited by the various characters in Dibdin's eccentric book, common enough amongst the affluent collectors of his acquaintance, included an obsession with uncut copies, fine paper or vellum pages, unique copies, first editions, black letter books, illustrated copies, association copies, and condemned or suppressed works. Bibliomania's imaginary conversations made a gentle mockery of Dibdin's aristocratic patrons and fellow collectors.
While it is a fictional work, many of the characters are modeled after Dibdin's own friends and acquaintances.[3] Later editions are "dedicated" to Richard Heber, one of the age's most incurable bibliophiles.[4]
Bibliomania was spreading as private collectors sparred in auction houses like "Book-Knights", no doubt spurred on by the book's growing popularity. One such famous duel, said to be directly influenced by the book Bibliomania, was witnessed by Dibdin in 1817 at the Roxburghe sale. This auction lasted for forty-two consecutive days (excluding Sundays) as a trio of collectors vied for choice selections and one unique book, a Valdarfer Boccacio, wanted even by the Emperor Napoleon himself. Silence filled the room as each of the collectors upped the price in an aristocratic bidding war. Finally it was down to two: Lord Spencer, Dibdin's employer, and the marquis of Blandford. The price stood at two thousand pounds when Lord Spencer bid an additional £250. As was his strategy throughout the contest, Blandford raised it an additional ten pounds which put the contest to an end. This would be the highest price ever paid for a book until J.P. Morgan purchased Mainz Psalter for $24,750 in 1884. While Lord Spencer may have lost on that day, he would soon have the last laugh when a bankrupt Blandford would be forced to sell Lord Spencer the book for a mere £918.
Dibdin's work in the early part of the nineteenth century was followed by Holbrook Jackson's The Anatomy of Bibliomania in the early part of the twentieth century where Bibliomania continued as an obsession for wealthy collectors.
Link: https://en.wikipedia.org/wiki/Bibliomania_(book)
IF YOU COLLECT RARE ANTIQUARIAN BOOKS 

….
THEN THIS BOOK IS ESSENTIAL FOR YOUR COLLECTION!!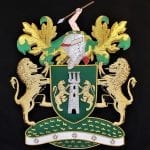 Bibliomania or Book Madness by Thomas Frognall Dibdin 1842.
Provenance: Part of the Calvert Hall/Obenchain Collection.
Dimensions: 8.8″ x 5.75″
Condition: Good ORIGINAL CONDITION.
SALE PRICE NOW: $1,600