A Little Bit About Us!
Established in 2015 – Rockwell Antiques Dallas is a purveyor or a high quality selection of fully curated objects and art amassed over a 25 year period, backed up with a lifetime of experience and appreciation of high quality historical objects !
Meet Our Team:
Nevan and Mary will welcome you to our Site and Showrooms with open arms.
We consider ourselves to be very friendly, affable and approachable people. We love to chat and we have a PASSION for what we sell.
We are a Family operated Business.
Nevan is originally from Ireland and a graduate of University College Dublin majoring in Law. He worked as a successful Lawyer for 30 years, running his own Firm. Over those 30 years he indulged in his passion for collecting, sourcing and locating, fine and rare Art & Antiques from around the Globe. Nevan has developed, through a combination of study, research and experience, an expertise in Fine Art & Antiques and specifically he has vast expertise in the areas of British & Irish 18th Century pieces and Anglo-Indian antiques from the 18th and 19th Centuries. In 1999, he met the love of his life, Mary, a Dallas native and in 2015 they decided to relocate to the DFW area bringing their knowledge, experience and collection with them. Nevan has extensive contacts in the antique industry both here in the US, and also in Europe.
Mary
Mary is a Dallas native. She grew up in Lake Highlands graduating from Lake Highlands H.S. Mary is a graduate of University of Texas at Austin, with a major in Art History. Mary also holds a Masters in Journalism from the University of North Texas. Mary moved to Ireland and Europe in 2000 and spent 15 years in Ireland and Europe learning European antiques and collectibles. She, along with her husband, Nevan, continues to use her love and knowledge of art and antiques to assemble and add to this beautiful collection. Mary's area of expertise in mainly in the area of fine art and jewelry. Mary has a keen eye and sense of discernment when it comes to antiques. Nevan and Mary have 2 daughters and are both committed family people.
OUR BUSINESS NAME:
Many Customers have asked where we developed the name for our business ?
No, it is not named after Norman or Sam Rockwell, nor is it a misspelling of Rockwall.
It is named after the Boarding School (High School) in Ireland that Nevan attended for 6 of the best years of his life, ROCKWELL COLLEGE in Cashel, Co. Tipperary, Ireland.
Nevan is a proud Alumni and decided to name his business after the school that shaped him into becoming an adult and the person that he is today !
Rockwell College, founded in 1864, is an independent day and boarding Catholic secondary school near Cashel, County Tipperary in Ireland.
The school has a rugby tradition and has won the Munster Schools Senior Cup 26 times and the Munster Schools Junior Cup 19 times.
Rockwell is run by the Spiritans (Holy Ghost Fathers).
It's list of former pupils and teachers includes two Presidents of Ireland, namely, Eamon De Valera and Patrick Hillery.
In fact, Eamon De Valera won a Munster Schools Rugby Cup Winners Medal with Rockwell in around 1905.
Another famous alumni is Thomas MacDonagh, poet, teacher and co-leader of 1916 Rising, for which he was executed.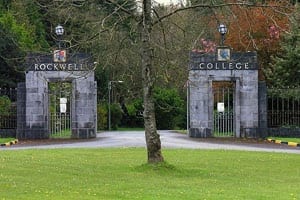 OUR AMERICAN CONNECTIONS:
Mary is a Texan native and has traced her ancestry back to the mid 1600's and back to the original colony in Jamestown. Her ancestry is a combination of mainly Irish, English and Welsh…. with a smattering of other European ethnicities, like most Americans that have been here that long. She is also a Daughter of the Revolution.
Nevan is literally 100% Irish ! One of only 7% who can claim that honor ! LOL
But Nevan has always felt a keen connection to the US and has always felt that there was something intangible luring him towards living in the US.
In 2015 Nevan became aware of just how much his family's connection to the US was indeed historic and eerily predictive !
It turns out that Nevan's ancestors have in fact had an important (if unheralded) part to play in the 'building of America'.
Most people will be aware of the famous and iconic image of "Lunch Atop a Skyscraper' by Charles C. Ebbets: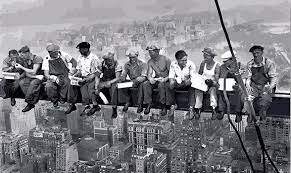 This iconic photo depicts a number of steel workers taking a break on a steel beam on the 69th Floor of the now RCA Building in Manhattan.
It features 11 men in total and prior to 2014 only 2 of them had been identified as Sicilian-Americans.
In 2014 a publican (pub owner) in the village of Shanglish in East County Galway in Ireland identified the 2 characters on opposite ends of the beam.
The gent on the extreme right holding what looks like and empty 'naggin' of whiskey was the first to be identified as Sonny Glynn of Shanglish who had emigrated to New York in the 1920's during the Irish War of Independence.
This led to the chap on the extreme left (having his cigarette lit) being identified as Sonny's best friend, who had emigrated with him, as none other that Mattie O'Shaughnessy (also of Shanglish).
Mattie was in fact, Nevan's grandfather's first cousin !
What is eerie is that when Nevan looks at this iconic photo he feels like he is looking as the identical twin of his own father when he looks at Mattie ! The similarity is uncanny and unmistakeable to him. He has 'no doubt' whatsoever that this is in fact Mattie !! To make things stranger, Nevan's Dad was also called "Mattie" and to blow your mind the photo was taken by Ebbet's on the 20th September … Nevan's birthday !!!
Nevan is extremely PROUD that his ancestor is in an image that is symbolic of how the Irish helped to build modern America …. something that Nevan feels is his honor, duty and privilege to continue today !!!