De Conjugio Episcoporum et Diaconorum by Bugenhagen 1525.
PRESENTING AN EXTREMELY RARE  EDITION hardback copy of De Conjugio Episcoporum et Diaconorum ad uenerandum Doctorem VVolfgangum Reissenbush monasterii Lichtenbergensis Prae ceptorem per Io annem Bugenhag. Pomeranum. Noremberge apud Io Petreium.  Anno M.D.XXV (1525).
Published by Johannes Bugenhagen in 1525.
This EXTREMELY RARE book is in GOOD condition for its age. Some losses to the spine and cover, but otherwise extremely GOOD. The text is almost perfect despite some minor foxing…AMAZING for it's age.
We are of the opinion that this book was rebound in the early to mid- 19th Century. .
Leather edges and pebble board jacket with gilt edge and gold lettering.
AS AN ADDED BONUS…..the Book comes with a Label belonging to it's original owner, Major William Alexander Obenchain, a Civil War personality who served on General Robert E. Lee's Staff, and after the War became President of Ogden College in Bowling Green, KY (now the University of Western Kentucky).
As an ADDED BONUS…..the Book is signed by previous owners to Major Obenchain on the title page what appears to be "T. Ruthart 1710". We have 'no doubt' that this is an early 18th Century signature.
AS an ADDED, ADDED BONUS …. the Book is also signed by a previous owner on the second last page with what appears to be …" G.H. Duckham 1810″.
This book was part of the extensive private collection of the Calvert Hall/Obenchain/Godwin/McMillan Collection formerly of Bowling Green, KY and later, Highland Park, Texas.
AS you can see from the history of this Collection the family had very strong ancestral ties to the States of Virginia, Kentucky and Texas.
The Obenchain Family have roots in Germany in the 17th and early 18th Centuries.
YOU WILL NOT FIND THIS BOOK ANYWHERE ELSE!!
THIS IS A SIGNIFICANT & HISTORICAL BOOK!!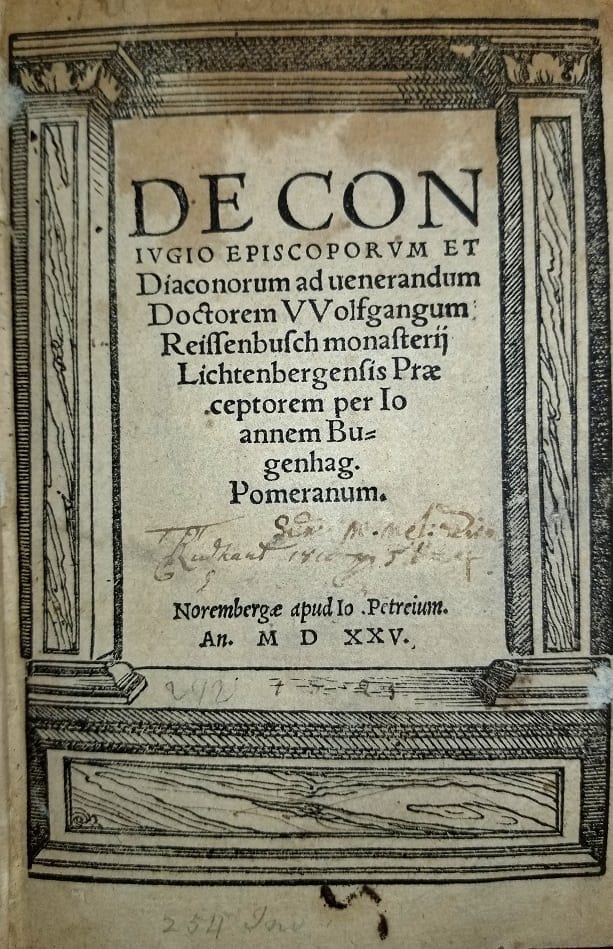 What makes this Book

SPECIAL

is :-
(1) It is a VERY, VERY RARE Antiquarian Book from 1525 and
(2) it is in excellent condition, and
(3) it has been signed by previous owners in 1710  and 1810, and
(4) it was owned in the mid to late 19th Century by a prominent Civil War personality (Major W.A. Obenchain)
Johannes Bugenhagen (24 June 1485 – 20 April 1558), also called Doctor Pomeranus by Martin Luther, introduced the Protestant Reformation in the Duchy of Pomerania and Denmark in the 16th century. Among his major accomplishments was organization of Lutheran churches in Northern Germany and Scandinavia. He has also been called the second Apostle of the North.
Johannes Bugenhagen was pastor to Martin Luther at St. Mary's church in Wittenberg. He is also commemorated in the Calendar of Saints of the Lutheran Church–Missouri Synod as a pastor on 20 April.
Bugenhagen was born in Wollin (now Wolin), Duchy of Pomerania, on 24 June 1485 as one of three children of local Ratsherr Gerhard Bugenhagen. From 1502 to 1504, he studied artes at the University of Greifswald. In 1504, he moved to Treptow an der Rega (now Trzebiatów) and became Rector of the local school. Though he had not studied theology, he was ordained as a priest in Treptow's St. Mary's Church in 1509, and served as a vicar at the Kanonikerkolleg of that church thereafter.[1]
In 1517, abbot Johann Boldewan called Bugenhagen to his nearby Belbuck Abbey, where he was appointed Biblical lecturer, where Boldewan and Bugenhagen became the core of a Humanist circle.[1] Duke Bogislav X of Pomerania ordered Bugenhagen to write down the history of Pomerania in Latin. The year 1518 is the beginning of historical writing of the combined territory Pomerania.
Bugenhagen first encountered the theology of Luther in the reformer's Prelude on the Babylonian Captivity of the Church in 1520. At first he did not like Luther's thoughts at all. However, once he had studied it more, Bugenhagen became a supporter of the Reformation and moved to Wittenberg.
Wittenberg
In Wittenberg, Bugenhagen was elected parish pastor on October 25, 1523,[4] making him Martin Luther's pastor and confessor.[5] He was a member of Luther's team translating the Holy Bible from Greek and Hebrew to German, and opened the debate on Ulrich Zwingli's reforms.[5]
By 1523, his private lectures had become well known, so he was called to lecture the following years at the Leucorea, the university in Wittenberg[6] (today Martin Luther University). Bugenhagen was among the most important teachers and practitioners of biblical interpretation in the Wittenberg-centered Protestant Reformation and ordained a generation of Lutheran pastors who had been educated at this university.
On 17 March 1533, he was promoted doctor of theology at the university of Wittenberg, together with Johannes Aepinus and Kaspar Cruciger. The promotion was supervised by Martin Luther, based on Philipp Melanchthon's theses, financed and attended by Frederick III, Elector of Saxony, and formally granted by deacon Justus Jonas. With the ceremony in Wittenberg's castle church (Schloßkirche), Aepinus, Bugenhagen and Cruciger became the first three Protestant doctors of theology.
Link: https://en.wikipedia.org/wiki/Johannes_Bugenhagen
IF YOU COLLECT RARE ANTIQUARIAN BOOKS 

….
THEN THIS BOOK IS ESSENTIAL FOR YOUR COLLECTION!!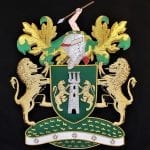 De Conjugio Episcoporum et Diaconorum by Bugenhagen 1525.
Provenance: Part of the Calvert Hall/Obenchain/Godwin/McMillan Collection.
Dimensions: 6″ x 4″
Condition: Good ORIGINAL CONDITION.
SALE PRICE NOW: $1,600