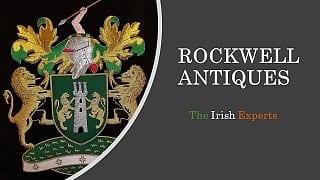 Obviously, this is a huge topic and It would take weeks to get into any great detail on the subject, but I will concentrate on British & Irish furniture, styles and designs from the 18th Century to the Early 20th Century.
In Britain (just like in France and other major Western Countries) the concentration of design and style is dominated by the capital city. Wherever the Monarch is resident, one finds the best and most avant-garde designers and cabinet makers plying their trade. The capital city is where the wealth and nobility are located.
In Britain, the capital city is London and as we all know that is where the Queen/King resides. The absolute best furniture makers and designers would flock to London and seek 'Royal' approval. This is how the many Era's of furniture in Britain and Ireland share their name with the Monarch of the time. A particular style, would be adopted and associated with Royal approval and become known by that Monarch's name.
Provincial furniture normally denotes furniture made in the 'provinces; and outside the influences of the 'rich' capital city. The most important function of a provincial piece was it's utilitarianism. Furniture was made much more for it's practical use than simply it's decoration. Provincial pieces would normally be constructed of indigenous and woods available locally like oak, maple, sycamore and elm.
British & Irish Furniture up to the 17th Century
Before the 17th Century, furniture was predominantly made of indigenous woods such as oak, chesnut and walnut. Normally these pieces were heavily carved with religious themes. The Reformation being a significant issue in style and design. Most pieces were utilitarian in design and use. Original Gothic pieces were made in the era.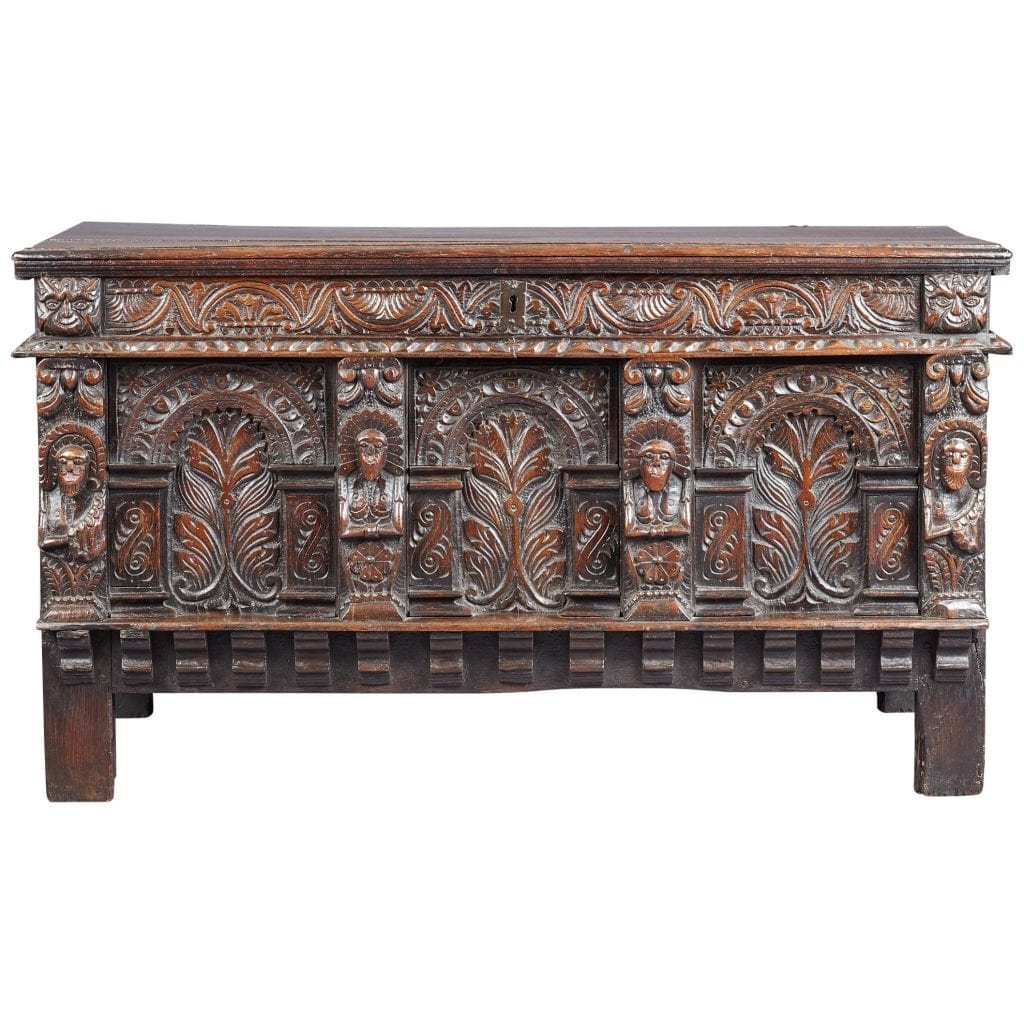 William and Mary Era
Popular from about 1695 to 1730, William and Mary was named for King William of Orange and his queen Mary. Originally from Holland, William and Mary reigned over England and brought in a Dutch influence. New construction methods, such as dovetail joinery, allowed furniture to be lighter in construction.
Leg styles for William and Mary pieces are bold and fashioned by hand, referencing the Baroque period. Scroll feet are popular as well as ball and bun feet. While walnut and maple were widely used, the dark look of walnut is characteristic of this style. Veneers, marquetry, and lacquer finishes were introduced. Chair designs had high backs and extravagant embellishments with seats made of woven cane, rush, or upholstered in leather. Small tables designed for particular functions were also new. Tea tables, dressing tables, and Gate-leg tables were the most popular.
Queen Anne Era
Queen Anne furniture was popular from the 1720s to around 1750 and was named for Queen Anne of England. Queen Anne furniture frequently blends elements of the earlier William and Mary period with later Chippendale styles, often making it difficult to accurately date Queen Anne furniture.
The Queen Anne style is lighter and less chunky than previous styles. Highboys and lowboys are classic Queen Anne furniture. Walnut, maple, and cherry are the primary woods. Leg styles feature a cabriole, or curved leg ending in a pad foot. Fan and shell carvings embellish chair legs and cabinet fronts. Upholstered pieces are covered in damask, needle-point, or crewelwork featuring large flowers. Space saving elements such as tilt tops and hinged drop leaf tables are common.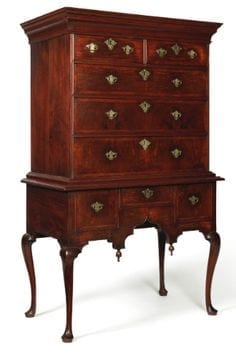 Georgian Era
Georgian style lasted nearly 100 years (1714 to 1801) and is named for King George I, George II, and George III of Britain. Georgian furniture replaced walnut with mahogany as its wood of choice due to its durability.
Influenced by the art and architecture of Italy, early Georgian furniture incorporated decorative pediments, masks, and sphinxes. Three important designers are distinguished during this Golden Age of Furniture: Chippendale, Hepplewhite, and Sheraton. Common pieces of furniture are side tables with marble tops, chairs with shell shaped backs, and furniture legs with fish-scale scrolls.
Various styles were made during the Georgian Era and it really was in my opinion, the 'golden age' of British & Irish cabinetry. Some of the styles were:
Gothic Revival (1740–1900)
The rebirth of the Gothic style coincided with the resurgence of traditional Anglo-Catholic beliefs between the mid-1700s and late 19th century. Concerns about the need to return to social and religious conservatism necessitated stylistic changes that not only affected the art and architecture of the period but also drastically altered the appearance of furniture. Tables, chairs, dressers, and other pieces were carved with shapes resembling pointed arches and rose windows. Decorative elements, such as floral details, finials, heraldic motifs, and linenfold designs, frequently adorned the objects' surfaces.
In addition to hearkening back to the religiosity and traditionalism of the Middle Ages, furniture made in the Gothic Revival style also fed into nostalgic ideas about the romance and chivalry of medieval Britain. The evolution of the style is visible in the details of Gothic Revival objects – earlier pieces are more whimsical and delicate, whereas later examples are more boldly carved and colorful.
Materials: dark woods, velvet and leather upholstery
Key designers: A.W.N. Pugin, John Ruskin, and William Burgess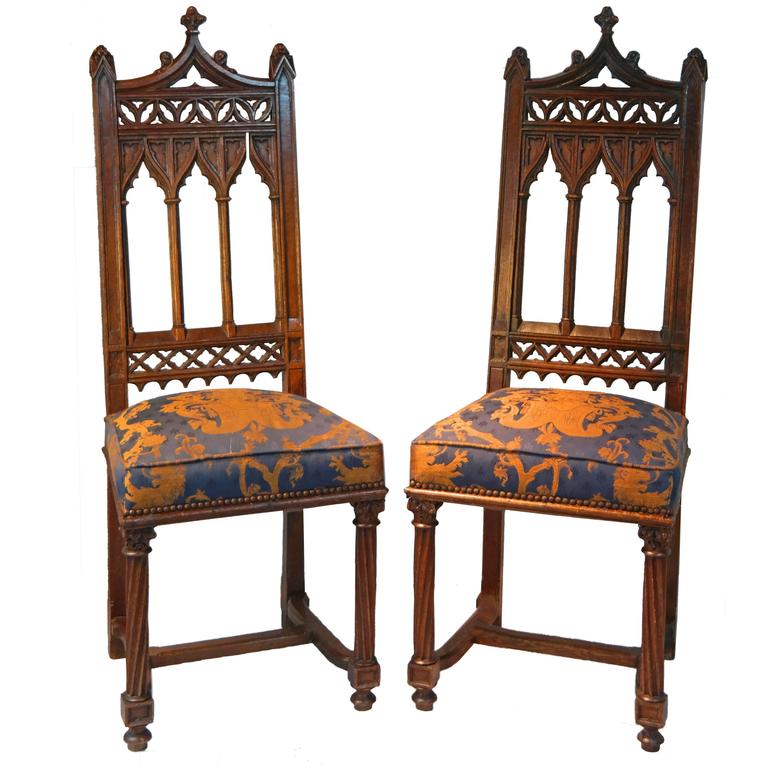 Thomas Chippendale is regarded as probably the singles most important cabinet/furniture maker of the 18th Century. A true visionary, he became popular after he published the most important book in the history of furniture, namely, "The Gentleman and Cabinet-Maker's Director,' a guide for furniture construction in 1752. His designs were made 'free' for all and they were so outstanding and visionary that numerous Georgian cabinetmakers uses his designs and very often paid 'homage' to the genius of Thomas Chippendale when making their pieces. The finest Chippendale pieces were made from mahogany, while less expensive furniture was made from walnut, cherry, or maple. Chairs typically had cabriole-style front legs ending in a ball and claw foot and straight back legs. They featured straight backs with a yoke shaped top and a center splat with detailed cut out designs. Settees, stools, and chairs were upholstered in fine fabrics. The importance of Chippendale has continued unabated with the passage of time with Chippendale style pieces still being made to this day.
From 1780-1810, the furniture styles of George Hepplewhite were popular. The Hepplewhite style harkens to the neoclassic style and often overlaps the styles of Thomas Sheraton. Much of the Hepplewhite furniture uses contrasting veneers and inlays and therefore is constructed with more than one type of wood. Mahogany was typically used for the base, but satinwood and maple were also popular. Inlays and veneers were made from tulipwood, birch, and rosewood.
Hepplewhite pieces usually have straight legs that may be tapered and fluted edges that mimic the classical columns of Greece and Rome. They usually end with a rectangular spade or tapered arrow foot. Heavier pieces, such as chests and bookcases, have bracket feet.
H-stretchers, reinforcing pieces that connect the legs and form the shape of an H, are common in some chairs and sofas. The furniture is embellished with small carvings or painted designs such as swags, ribbons, feathers, urns, or trees. The shield-back chair is the best-known Hepplewhite piece. This style also popularized the sideboard and short chest of drawers.
Regency Furniture Era
Prince George became Regent from 1811-1820 – this was a period of classical furniture. Regency furniture was the neoclassical antique style mixed with empire style and the later Georgian style of furniture, elaborate and ornate.
The regency style of furniture carried on through William IVs reign but introduced a few more curves and some elegant decoration. It became fashionable to copy the classical Roman and Greek furniture incorporating lion's heads, winged griffins and Roman Gods. The settee returned to a couch with scrolled ends supported by a sphinx head on lion's legs.
Mahogany was still used by most furniture makers and brass was used for decoration with rosewood and zebrawood veneers used for a striking look. French polishing came into vogue around 1810 and allowed for smoother, shiner finishes.
During the Regency period, it became fashionable to decorate walls with paintings which led to lower pieces of furniture being introduced. Tallboys disappeared and bookcases and cabinets became smaller.
Materials: mahogany, carved wood, wood veneers, paint, and metal inlay
Key designers: Thomas Hope, Thomas Sheraton, and George Smith. Gillows of London & Lancashire.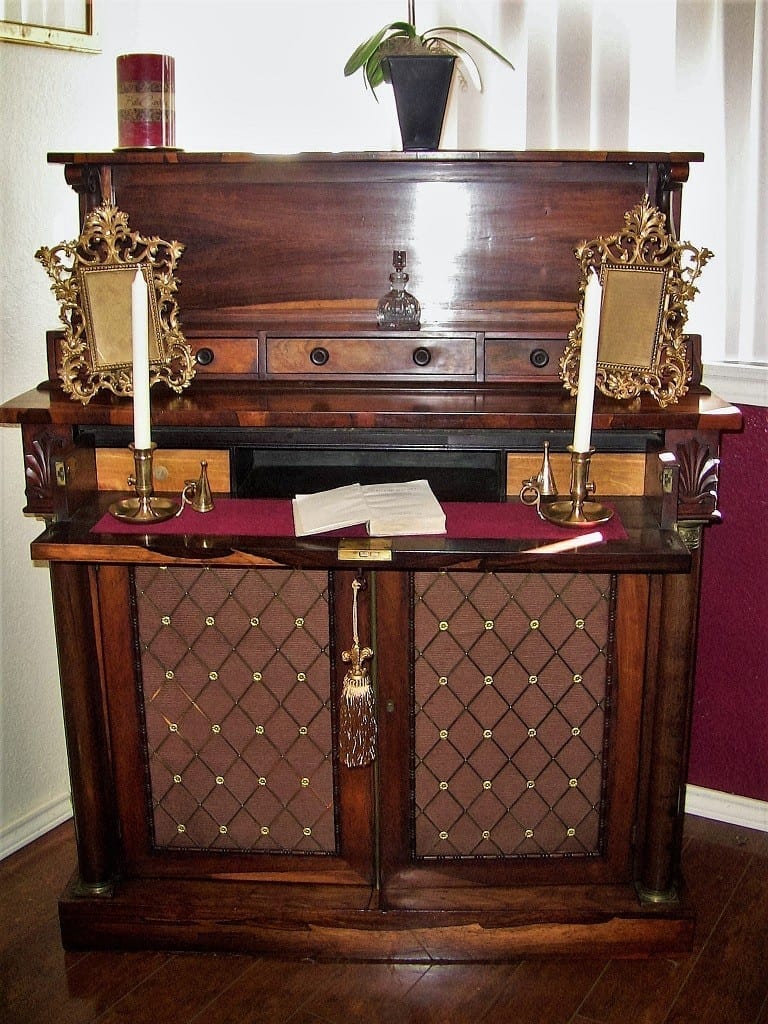 Chinoiserie:
As a style, chinoiserie is related to the Rococo style.Both styles are characterized by exuberant decoration, asymmetry, a focus on materials, and stylized nature and subject matter that focuses on leisure and pleasure. Chinoiserie focuses on subjects that were thought by Colonial-era Europeans to be typical of Chinese Culture. Chinoiserie entered European art and decoration in the mid-to-late 17th century; the work of Athanasius Kircher influenced the study of orientalism. The popularity of chinoiserie peaked around the middle of the 18th century when it was associated with the rococo style and with works by Francois Boucher, Thomas Chippendale, and Jean Baptist Pillement. It was also popularized by the influx of Chinese and Indian goods brought annually to Europe aboard English, Dutch and French, and Swedish East India Companies. Though chinoiserie never fully went out of fashion, it declined in Europe by the 1760s when the neoclassical style gained popularity, though remained popular in the newly formed United States through the early 19th century. There was a revival of popularity for chinoiserie in Europe and the United States from the mid-19th century through the 1920s, and today in elite interior design and fashion. Some of this was driven by the renewed interest in Japonism with the opening up of Japan to the West from the early to mid-19th Century.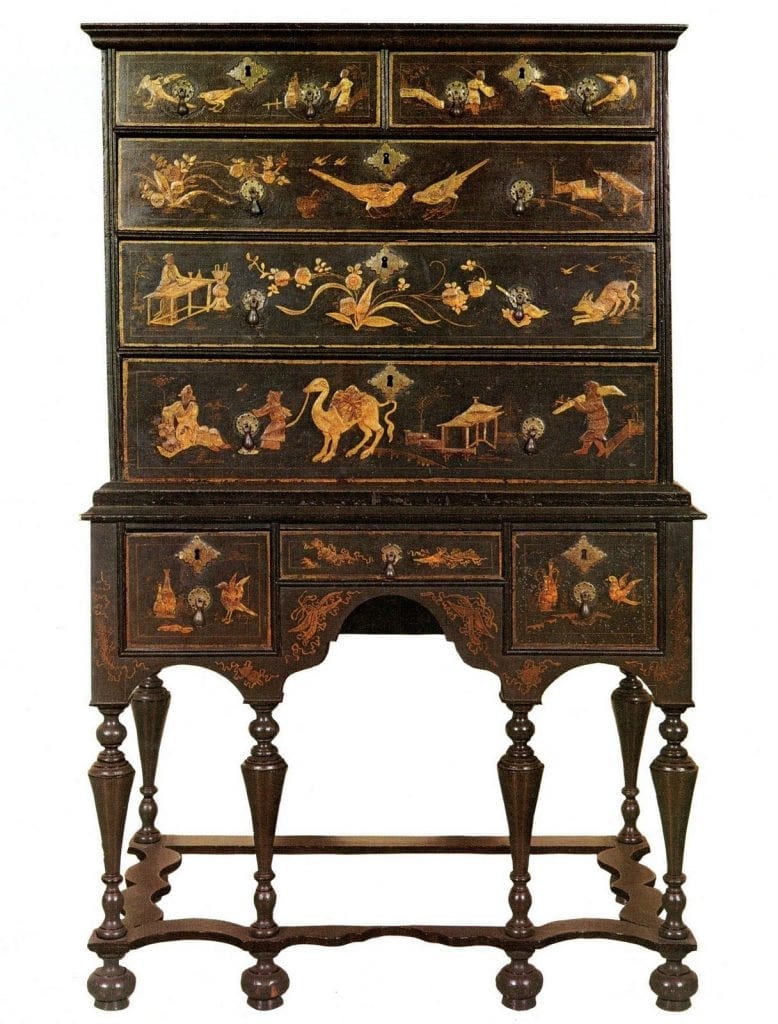 Neo-Classical (1750 – 1830):
British Neo-Classical furniture is similar to Regency furniture, as both styles rely heavily upon influences from ancient Greece and Rome. The primary distinguishing factor is that Neo-Classical furniture is less strict in its interpretation of ancient models. British designers (Robert Adam, for example) often looked to contemporary developments in Paris and Rome when creating furniture pieces for British consumers. The objects are typically more extravagant than Regency pieces, but they still favor straight lines, twisted fluting, and classicizing motifs. They were often made to complement a Neo-Classical interior space, resulting in an overarching aesthetic marked by clean lines, elegant forms, and sophisticated details reminiscent of ancient splendor.
Materials: painted and gilded wood, marble inlay
Key designers: Sir William Chambers, James Stuart, Robert Adam, George Hepplewhite, and Thomas Sheraton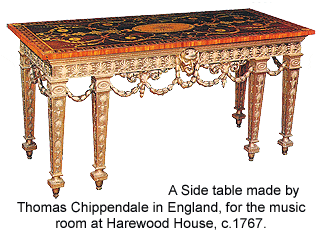 WILLIAM IV (1830 – 37):
William IV (21 August 1765 – 20 June 1837) was King of the United Kingdom of Great Britain & Ireland and King of Hanover from 26 June 1830 until his death in 1837. The third son of George III, William succeeded his elder brother George IV, becoming the last king and penultimate monarch of Britain's House of Hanover.
Victorian Furniture (1837 -1901):
Until the Reign of Queen Elizabeth II, Queen Victoria held the record as the longest reigning Monarch in British history. She reigned for 64 years.
Due to her longevity on the throne, Victorian furniture had several eras. You have early Victorian, mid-Victorian and high-Victorian.
Each era has different styles and characteristics.
Early Victorian furniture tends to be a natural progression from the earlier Regency styles but with more fluidity than Regency pieces with acanthus and floral scrolling movements on the pieces. Most pieces are being made of mahogany and rosewood, imported from the Colonies.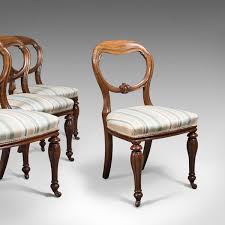 Mid-Victorian sees the rise in the age of Darwinism. The Victorians become obsessed with nature and all things from the natural world. This is reflected in the furniture designs with furniture becoming much more "over the top" on floral and natural world designs and styles.
High-Victorian sees the designs becoming much different with influences from the aesthetic movements being led by designers like Christopher Dresser and London furniture makes like Collinson & Lock.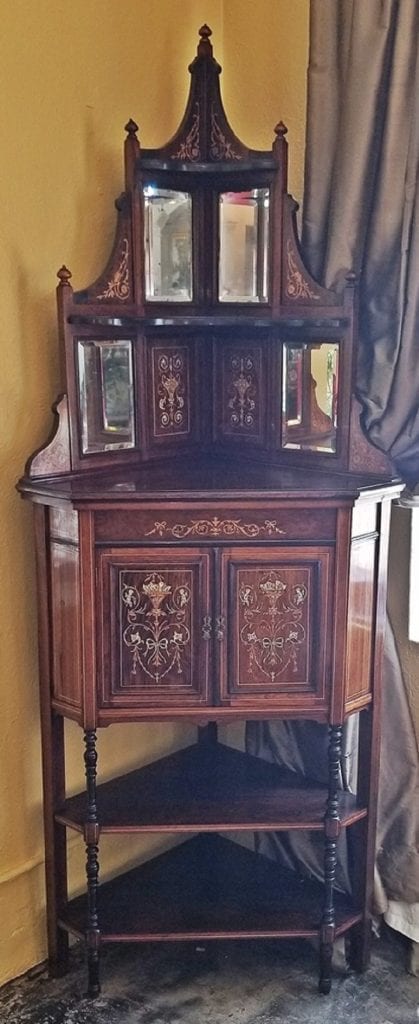 Victorian furniture is still popular today and is easily available.
With the advent of the 'Industrial Revolution' in the mid-19th Century mass production appeared and furniture made by machine rather than by hand.
There was plenty of furniture produced – during the latter years machinery had begun to take over and mass amounts of Victorian furniture was produced to meet the demands of the middle class people as it became desirable to have a home laden with furniture to show your status to your peers.
Mahogany and rosewood were the most popular woods to produce imposing furniture with plenty of curves, rounded corners and elaborate decorations. The furniture was solidly built, well-constructed and the wood generally unvarnished. Renowned cabinet makers Morris and Co became producing simple designed cabinets and sideboards which were painted with scenes of medieval fantasy. Iron began to make its appearance in the early Victorian age, particularly in bedroom furniture.
Early Victorian furniture followed the Regency trend of curved backs and some scrolled decorations. However, the clean Grecian lines of the Regency period were out of favor by 1835 when everyone wanted furniture that was showier with plenty of curves.
Mid Victorian furniture was more, shiny with upholstery becoming a main factor in design and as comfort became more important, easy chairs, sofas and dining chairs with padded seats were introduced. Mirror back chiffoniers/sideboards with carved pediments and lots of storage below were popular as were card tables.
In the late Victorian times, England witnesses the rise of the art nouveau movement in design with furniture design pioneered by Charles Ronnie Mackintosh and Hugh Baillie Scott.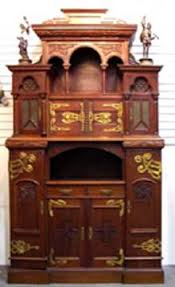 Materials: walnut, rosewood, mahogany, velvet
Key designers: William Morris, Augustus Pugin, Christopher Dresser, James Hicks in Dublin.
Edwardian Furniture: (1901 – 1910):
This style of furniture was named for King Edward VII.
It was mainly reproductions of older styles which were mass produced as machinery was used in full force. Cabinet makers realized that earlier designs were outselling new pieces as second hand (antique) furniture became very fashionable.
Art Nouveau furniture remained in high demand with people liking the curving, elongated lines and leaf and flower motifs. The Chippendale and Hepplewhite styles were also very popular.
The Craftsmanship of this era was extremely good and some of the earlier designs were adapted to suit modern living and to make them more comfortable. Mahogany continued to be popular but walnut, satinwood and oak began to be introduced.
Most dovetail joints were now cut by machine and most pieces were veneered. Good quality metal ware began to be used for decoration.
Bedroom suites and dining furniture became very popular. Bedroom suites were usually simple in design and normally had beveled mirrors and constructed with hardwood linings and backboards. Dining room furniture was usually wind out tables with turned or cabriole legs and sets of chairs in a matching style.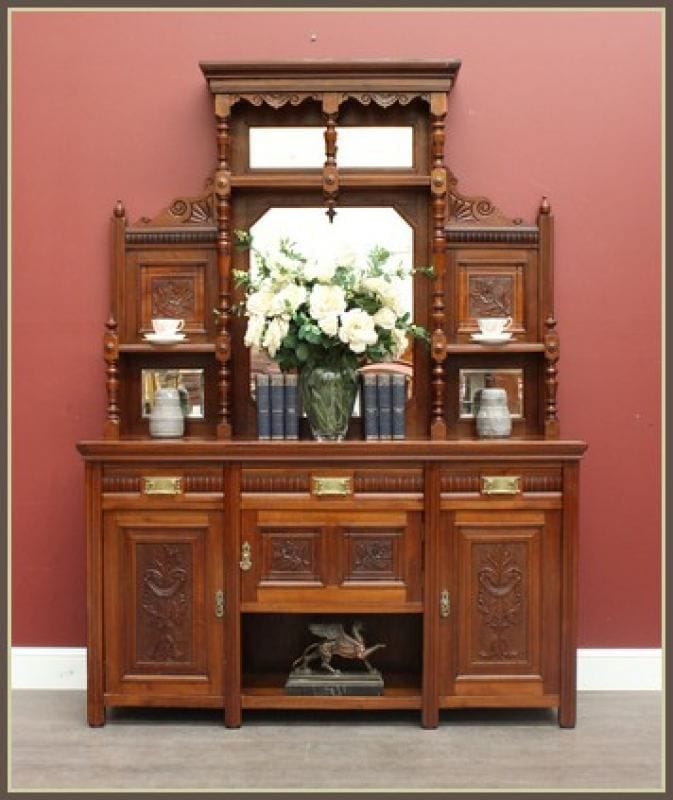 IRISH FURNITURE:
Dublin was known as the 2nd City of the British Empire, during the 18th and 19th Centuries and as such was an important 'hub' in furniture making during this era.
Irish furniture made during the first seventy-five years of the eighteenth century is the most easily recognizable. It can be identified by certain idiosyncrasies that differentiate it from English furniture of the same period, though Irish furniture sometimes appears to be behind prevailing fashions in England. Details peculiar to Irish furniture of this time frame can be summed up thus: The carving on the aprons of card, tea, and side tables, stools, blanket chests and bottle-stands has low relief, foliated detail that often incorporates eagles' heads, winged birds, rosettes, oak-leaved festoons, and tassels that are usually centered on grotesque lions' masks, goblin heads, baskets of flowers, and scallop shells. These details are in relief against a ground incised with a large-meshed dotted trellis or lozenge pattern often punched in the center. Solid background punching, such as usually appears on gesso work, is also often found. Cabriole legs are frequently emphasized by further masks, acanthus leaves, or cabochon shells. The shell motif is particularly common on chairs, settees, and tables.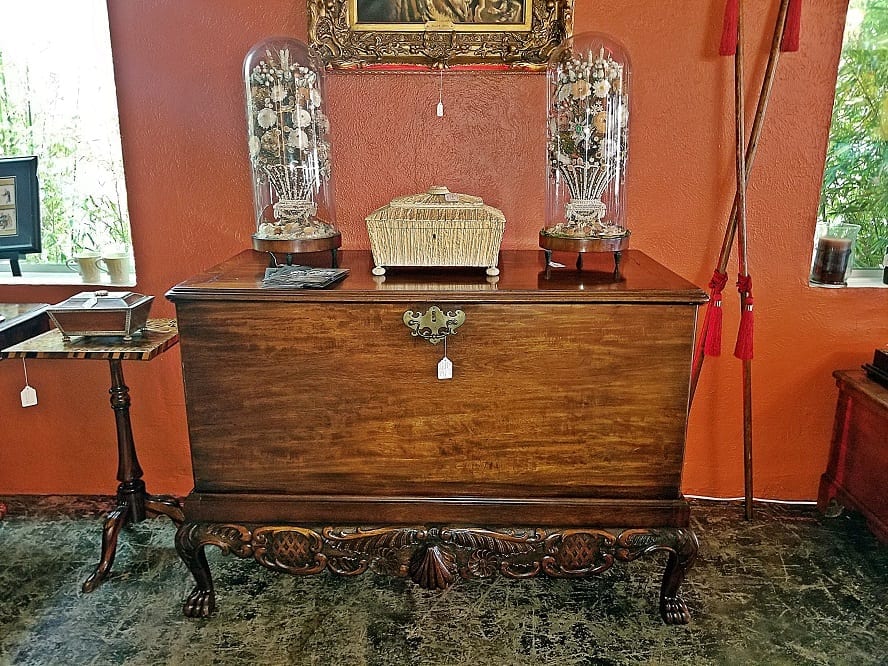 Chairs often have backs and seat-rails of oak veneered with mahogany, and stretchers were usual even after they had gone out of fashion in England. Furniture motifs popular during the reigns of Queen Anne and the early Georges were retained in Ireland long after they were out-of-date in England, and coupled with often bizarre carving, give some pieces an almost sinister animal life. As if to further emphasize the animal nature of this furniture, another characteristic is the muscle or fetlock just above the square-shaped paw or webbed claw-and-ball foot. Often this little bulge is acanthus-decorated and frequently the leaf crawls further up the leg. Stylized hairs or imbrication occasionally take the place of the acanthus. Chippendale style pieces were made abundantly in Ireland, often incorporating the scallop shell motif to signify their Irish origin. Chinese Chippendale style pieces were likewise made in abundance with similar scallop shell signatures. Once you enter the late Regency and Victorian era's there is little or no difference in style and design between British and Irish pieces. Later early 20th Century reproduction pieces again start to pay homage to the original Irish Georgian makers by incorporating the scallop shell motif.
Many of these Irish furniture makers have never been recorded in the history of furniture and their identities will always remain a mystery.
As we move into the 19th Century, top makers like James Hicks of Dublin become important Irish furniture makers.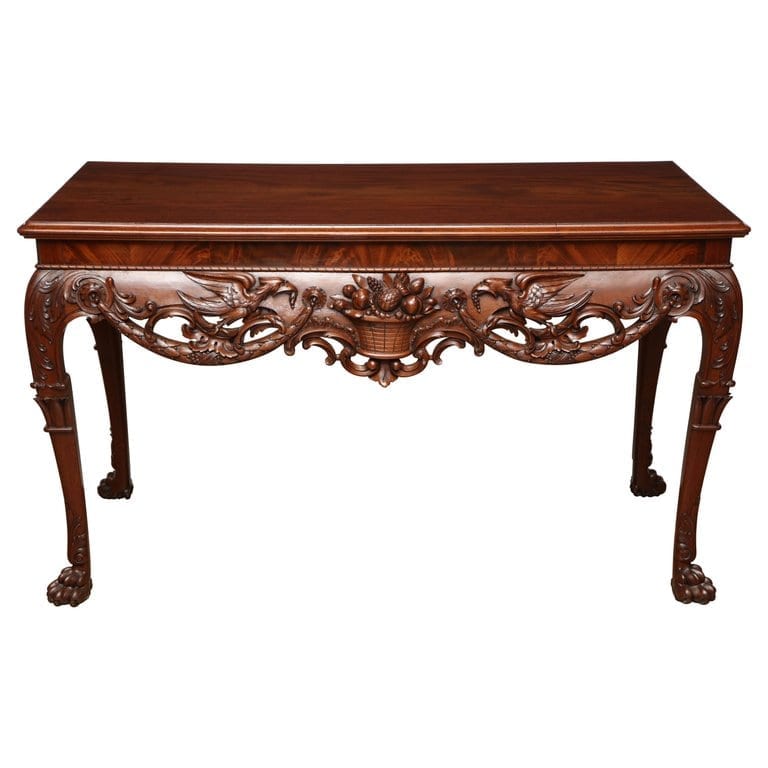 Provincially, furniture like 'wake' tables are considered to be quintessentially Irish. Similar in style and design to hunt tables but always made of oak for Irish wake tables. Mahogany for hunt tables.