Mary Wollstonecraft Letters to Imlay by Paul 1879.
PRESENTING AN EXTREMELY RARE  FIRST EDITION hardback copy of Mary Wollstonecraft, Letters to Imlay, With Prefatory Memoir By C. Kegan Paul. Published by C. Kegan Paul & Co., 1 Paternoster Square, London in 1879.
Printed by Bradbury, Agnew & Co., Printers, Whitefriars, London.
This EXTREMELY RARE book is in EXCELLENT condition for its age….. some very minor 'knicks' on the edges of the spine and cover …….but otherwise extremely GOOD. The text is almost perfect…..some minor foxing.
Green board jacket with gilt edge and gold lettering.
AS AN ADDED BONUS…..the Book comes signed by it's original owner…..Lida Calvert, a distinguished American Author in her own right. 
We can estimate that Lida obtained this book shortly after it was published as it was clearly before she married Major William Alexander Obenchain…..as thereafter she signed as Lida Calvert-Hall/Obenchain.
To learn more about Lida Calvert please check out our PDF on her and her family, from whom this Collection was obtained.
This book was part of the extensive private collection of the Calvert Hall/Obenchain Collection formerly of Bowling Green, KY and later, Highland Park, Texas.
AS you can see from the history of this Collection (see our PDF) the family have very strong ancestral ties to the States of Virginia, Kentucky and Texas.
YOU WILL NOT FIND THIS BOOK ANYWHERE ELSE!!
THIS IS A SIGNIFICANT & HISTORICAL BOOK!!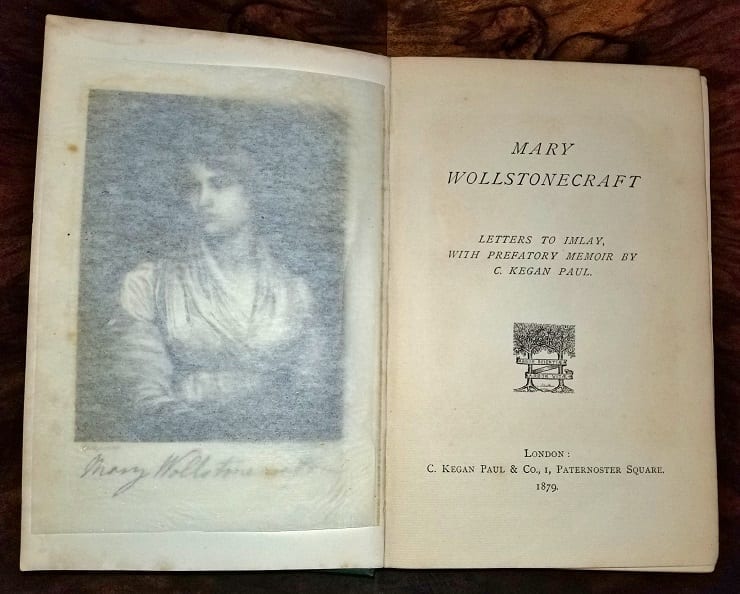 What makes this Book

SPECIAL

is :-
(1) It is a VERY, VERY RARE First Edition  and
(2) it is in excellent condition, and
(3) it was owned by a prominent American Author & highly recognized early Suffragist, Lida Calvert.
Mary Wollstonecraft (/ˈwʊlstən.krɑːft/; 27 April 1759 – 10 September 1797) was an English writer, philosopher, and advocate of women's rights. During her brief career, she wrote novels, treatises, a travel narrative, a history of the French Revolution, a conduct book, and a children's book. Wollstonecraft is best known for A Vindication of the Rights of Woman (1792), in which she argues that women are not naturally inferior to men, but appear to be only because they lack education. She suggests that both men and women should be treated as rational beings and imagines a social order founded on reason.
Until the late 20th century, Wollstonecraft's life, which encompassed several unconventional personal relationships, received more attention than her writing. After two ill-fated affairs, with Henry Fuseli and Gilbert Imlay (by whom she had a daughter, Fanny Imlay), Wollstonecraft married the philosopher William Godwin, one of the forefathers of the anarchist movement. Wollstonecraft died at the age of 38, eleven days after giving birth to her second daughter, leaving behind several unfinished manuscripts. This daughter, Mary Wollstonecraft Godwin, became an accomplished writer herself, as Mary Shelley, the author of Frankenstein.
After Wollstonecraft's death, her widower published a Memoir (1798) of her life, revealing her unorthodox lifestyle, which inadvertently destroyed her reputation for almost a century. However, with the emergence of the feminist movement at the turn of the twentieth century, Wollstonecraft's advocacy of women's equality and critiques of conventional femininity became increasingly important. Today Wollstonecraft is regarded as one of the founding feminist philosophers, and feminists often cite both her life and work as important influences.
Link: https://en.wikipedia.org/wiki/Mary_Wollstonecraft
IF YOU COLLECT RARE ANTIQUARIAN BOOKS 

….
THEN THIS BOOK IS ESSENTIAL FOR YOUR COLLECTION!!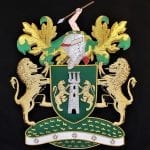 Mary Wollstonecraft Letters to Imlay by Paul 1879.
Provenance: Part of the Calvert Hall/Obenchain Collection.
Calvert Hall,Obenchain,McMillan,Godwin Introduction PDF
Dimensions: 7.5″ x 5.25″
Condition: Good ORIGINAL CONDITION.
Price Now: $250
Mary Wollstonecraft Letters to Imlay by Paul 1879