PRESENTING A UNIQUE AND IMPORTANT Original Scrap Book and Photograph of Major WA Obenchain, pertaining to Ogden College, Bowling Green, KY.
The photograph is 'new' to the market and has never left family ownership until NOW!
It is a previously, unseen image, of a significant historical figure, Major William Alexander Obenchain, who served on General Robert E. Lee's Staff during the Civil War and was President of Ogden College in Bowling Green, Kentucky between 1883 – 1906.
We are of the opinion that the photo was taken, whilst, Major Obenchain was President of Ogden College, and circa 1890-1900. It bears the stamp on the bottom right for "McClure of Lexington, KY".
Framed and under glass.
The Scrap Book is his personal Collection of numerous and various newspaper article cuttings, letters, speeches and other historical items of memorabilia, MAINLY, relating to Ogden College (now part of Western Kentucky University), from the 1870's up to 1918.
Signed in ink, by the Major, on the inside of the front cover and hand-written annotations by him, throughout.
It also includes newspaper article cuttings and other historical items of memorabilia personally relating to Major Obenchain and his family, including: Articles relating to the 'Stone' Criminal Trial in Dallas, TX in 1876 for the almost fatal shooting of his brother, James T Obenchain , Merit Certificate for distinguished academic achievement by Major Obenchain, from the Buchanan Collegiate Institute dated July 6th 1849, et al.
Over 53 Pages of content!
An EXCEPTIONAL and UNIQUE Collection that is 'new' to the market, has never been seen by the public before and has never left family ownership until NOW!
A UNIQUE HISTORICAL RECORD OF OGDEN COLLEGE/WESTERN KENTUCKY UNIVERSITY and BOWLING GREEN!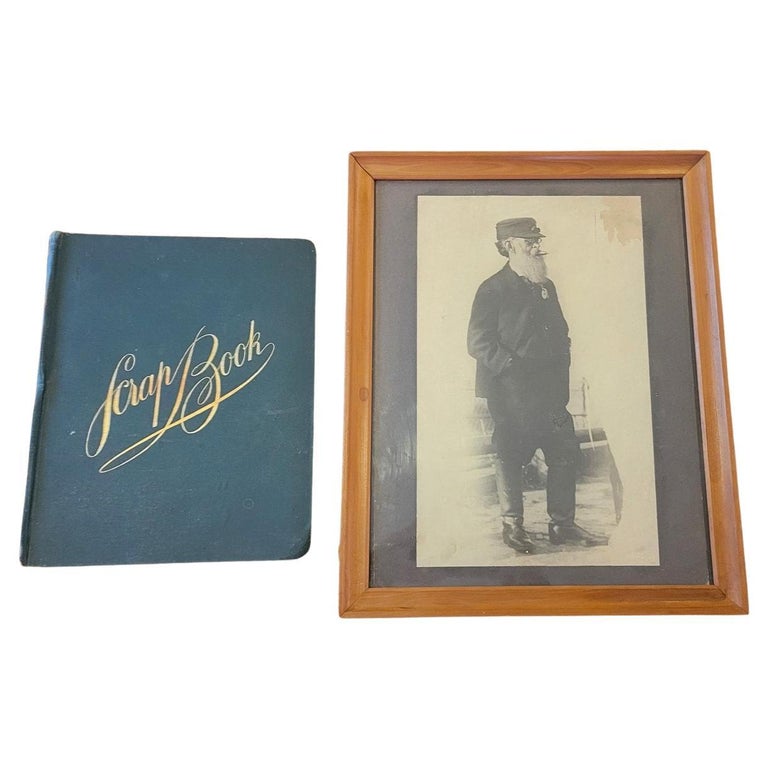 William Alexander Obenchain. Born April 27, 1841 at Buchanan, Botetourt Co., Virginia.
Parents: Thomas Jefferson Obenchain and Elizabeth Ann Sweetland.
Entered VMI on July 18, 1859 as a member of the VMI (Virginia Military Institute) Class of 1862 and was graduated (1st in his class) in December 1861–this class was graduated early due to the Civil War.
Served in various capacities as an Engineer officer throughout the Civil War. At rank of Captain he was a senior ranking officer in the Virginia Corps of Engineers and served on Gen. Robert E. Lee's Staff.
He was promoted to the rank of Major, for meritorious conduct near Richmond in 1864.
Post-War Career- Educator.
Taught at Hillsborough Military Academy (NC), Pittsboro (NC) Military Academy, Western Military Acad. (New Castle, KY), University of Nashville, Ogden College, Bowling Green, KY.
Married Eliza Calvert Hall (famous Author) of Bowling Green in 1885.
Obenchain died August 17, 1916 at his home in Bowling Green, age 75.
---
Ogden College
Bowling Green, Kentucky
1877-1928
The school opened in September 1877 and was chartered in March 1878. It was named for Robert W. Ogden, who "bequeathed his estate to provide a free education to young men of Warren County, Kentucky." According to the 1917 Cardinal, the school yearbook, the amount of the gift was $50,000. The school had only three requirements of students: that they be "regular in attendance, gentlemanly in deportment and diligent in study."
Originally, Ogden had both collegiate and preparatory courses. In 1900 the collegiate course of study was dropped. However, collegiate-level courses were added back in 1904 and by 1912 Ogden had returned to its original structure. The 1917 Cardinal shows 25 men working at the collegiate level, with another 107 enrolled in three classes of preparatory school. Another 20 students were enrolled in a commercial program called penmanship.
College literature extolled the value of the small school, with its close-knit and caring faculty. The Ogden faculty totaled six. As graduates of top universities, these were expected to teach whatever academic subjects were needed. For example, the Professor of Ancient Languages also taught geometry and modern Spanish.
In addition to athletics, the men and boys participated in literary societies, a drama club, a glee club and an orchestra.
At its peak in 1918, 162 students were enrolled.. However financial problems led to a loss of accreditation in 1925. On November 19,1927 Ogden College signed a merger agreement with Western Kentucky Normal College.
The original building was Ogden Hall, formerly the Thomas C. Calvert House.
The 1917 Cardinal describes the seven-acre campus as "one of the most picturesque spots to be found in the county." Out of the "stately trees" and "rare shrubbery" Ogden Hall stands on a hill, "above the noise and bustle of the city."
By 1960 Ogden Hall was nearly a century old and was described as being held together only by the ivy growing on it. It was razed in 1967 to make way for a new Ogden Hall.
In 1924 a bequest by Perry Snell allowed Ogden College to add a second building, named Snell Hall. It was on the register of historic places, but attempts to fund a renovation, led to its razing in 2005. A new Snell Hall was later built at Western Kentucky.
Ogden College looked back to a time in the 19th Century when its football team defeated Vanderbilt and lost to Yale by a touchdown. By 1917 Ogden had come from seasons when there were no football games at all or when their schedule tended more to high school teams. The 1916 team was successful by those standards, going 4-1. The yearbook comments on the enthusiasm which brought 35 players—one in four of the student body—to the practice field. With only 25 college students, the team would surely have been heavy with prep players.
In the 1920's before Ogden closed, the team played a much stronger collegiate schedule, including Murray State, Tennessee Tech, Kentucky Wesleyan, Louisville and Transylvania.
Link: https://www.lostcolleges.com/ogden-college
INTERESTING ITEM IN THE SCRAP BOOK: Included in the Scrap Book, is a Sales Postcard dated July 18th, 1899, addressed to "Manager Football Team", Ogden College, Bowling Green, KY" from Horace Partridge & Co., of Boston, MASS, selling Football Outfits.
WE BELIEVE THAT THIS COLLECTION, WILL BE HUGELY DESIRABLE TO, ALL, WKU ALUMNI and HOPEFULLY THEY WILL BE PURCHASED AND GIFTED BY THAT ALUM, TO THE LIBRARY OF WKU, FOR PRESERVANCE OF THEIR HISTORICAL RECORDS!
THEY REALLY NEED TO BE TREATED AS 'MUSEUM' PIECES(S)!
Important Original Scrap Book and Photograph of Major WA Obenchain, pertaining to Ogden College, Bowling Green, KY
Provenance: From the Obenchain Family Estate
Condition: Both are in very good condition for their age. Some minor foxing and fading through age. The binding to the scrap book is loose in places and some scuffing to the cover. There is a water stain on the top right of the photo. Despite these minor condition issues, the items are so significantly important and unique, that they do not affect the value of the pieces.
Dimensions:
Photo in Frame: 17.75 inches tall, 14.25 inches wide and 1 inch deep
Scrap Book: 12.5 inches tall, 10 inches wide and 1.75 inches deep.
SALE PRICE NOW: $8,000 (Set of 2)