PRESENTING A RARE and FULLY AUTHENTIC General William Tecumseh Sherman Autograph.
Last page of a hand written letter, circa 1885-1890.
Probably written in New York City following his retirement in 1884, as referenced in the last sentence.
Fully handwritten (probably by a Secretary) BUT personally signed by General William Tecumseh Sherman.
The letter is a single folio lined and margined letter with writing on the front only.
It is also marked by it's original owner as "Autograph of General Sherman" and the owner's name "Mrs. Obenchain".
It Reads:
"supposed to live here at my home as quietly as circumstances will admit of.
With great respect,
Yours very truly
W.T. Sherman
General."
Comes with our COA.
---
In an interesting 'twist' to this autograph, Mrs Obenchain was in fact, Eliza Calvert Hall (a renowned author from Bowling Green, KY) who was married to Captain (later promoted to Major) William Alexander Obenchain, who fought on the Confederate Side in the Civil War and was attached to the Virginia Corps of Engineers and served on General Robert E. Lee's Staff. Captain Obenchain surrendered to General Sherman at Greensboro, North Carolina on the 1st May 1865.
We have his surrender/parole paper in our collection which is being sold together with Capt. Obenchain's EXCEPTIONALLY RARE & HIGHLY IMPORTANT Battlefield Map for Richmond, VA in 1864, listed/posted separately.
Link: https://rockwellantiquesdallas.com/confederate-field-map-of-richmond-va-1864-belonging-to-capt-w-a-obenchain-c-s-engineers/
We understand from the 'family lore' that Major Obenchain, held General Sherman in very high regard, because of his humane treatment of POW's and in particular, officers …… which probably explains why his wife obtained the autograph for him!
Surrender/Parole Paper: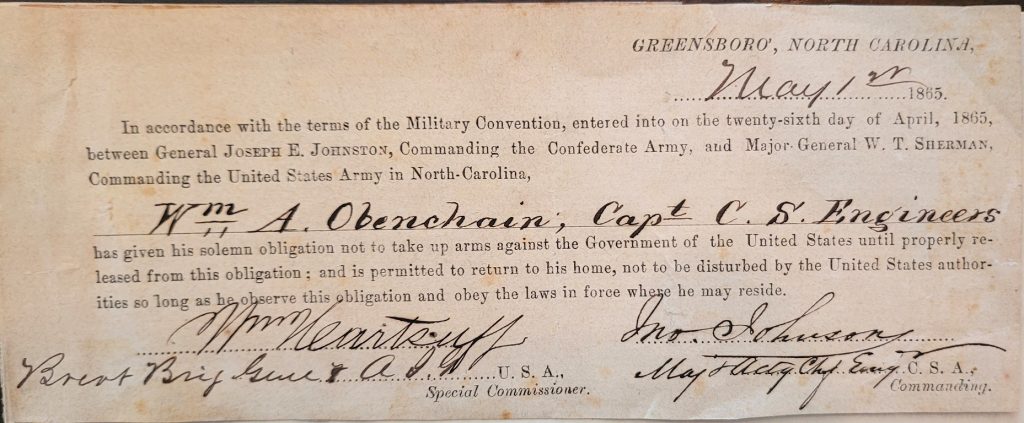 ---
William Tecumseh Sherman (/tɪˈkʌmsə/ tih-KUM-sə; February 8, 1820 – February 14, 1891) was an American soldier, businessman, educator, and author. He served as a general in the Union Army during the American Civil War (1861–1865), achieving recognition for his command of military strategy as well as criticism for the harshness of the scorched-earth policies that he implemented against the Confederate States. British military theorist and historian B. H. Liddell Hart declared that Sherman was "the most original genius of the American Civil War" and "the first modern general".
Born in Ohio into a politically prominent family, Sherman graduated in 1840 from the United States Military Academy at West Point. He interrupted his military career in 1853 to pursue private business ventures, without much success. In 1859, he became superintendent of the Louisiana State Seminary of Learning & Military Academy (now Louisiana State University), a position from which he resigned when Louisiana seceded from the Union. Sherman commanded a brigade of volunteers at the First Battle of Bull Run in 1861 before being transferred to the Western Theater. He was stationed in Kentucky, where his pessimism about the outlook of the war led to a breakdown that required him to be briefly put on leave. He recovered and forged a close partnership with General Ulysses S. Grant. Sherman served under Grant in 1862 and 1863 in the Battle of Fort Henry and the Battle of Fort Donelson, the Battle of Shiloh, the campaigns that led to the fall of the Confederate stronghold of Vicksburg on the Mississippi River, and the Chattanooga campaign, which culminated with the routing of the Confederate armies in the state of Tennessee.
In 1864, when Grant went east to serve as the General-in-Chief of the Union Armies, Sherman succeeded him as the commander in the Western Theater. He led the capture of the strategic city of Atlanta, a military success that contributed to the re-election of President Abraham Lincoln. Sherman's subsequent famous "March to the Sea" through Georgia and the Carolinas involved little fighting but large-scale destruction of military and civilian infrastructure, a systematic policy intended to undermine the ability and willingness of the Confederacy to continue fighting. Almost as important, it also served to prevent any reinforcements from being sent to Robert E. Lee's Army of Northern Virginia, which was engaged in attritional fighting with the Union's Army of the Potomac in Virginia, leading to Lee's eventual surrender at Appomattox.
Sherman accepted the surrender of all the Confederate armies in the Carolinas, Georgia, and Florida in April 1865, but the terms that he negotiated were considered too generous by U.S. Secretary of War Edwin Stanton, who ordered General Grant to modify them.
When Grant became President of the United States in March 1869, Sherman succeeded him as Commanding General of the Army. Sherman served in that capacity from 1869 until 1883 and was responsible for the U.S. Army's engagement in the Indian Wars. He steadfastly refused to be drawn into party politics and in 1875 published his memoirs, which became one of the best-known first-hand accounts of the Civil War.
Link: https://en.wikipedia.org/wiki/William_Tecumseh_Sherman
---
Specimen/Example of other fully authenticated signature:
---
General William Tecumseh Sherman Autograph
Provenance: From the Estate of Eliza Calvert Hall/Obenchain
Condition: Very good. Some fold marks, some yellowing of the paper with age. No tears. In acid free plastic cover, with COA.
Dimensions: 10.5″ x 8″
SALE PRICE NOW: $2,800