Enquiry Concerning Political Justice by Godwin in 2 Vols 1796.
PRESENTING AN EXTREMELY RARE  FIRST EDITION hardback copy of "Enquiry Concerning Political Justice and Its Influence on Morals and Happiness by William Godwin, First American from the Second London Edition Corrected in Two Volumes, Printed by Bioran and Madan, Philadelphia 1796.
This RARE book is in good condition for its age….. some 'knicks' on the edges of the vellum spine and cover……but otherwise very GOOD. The text is good…some foxing….as one would expect from a book this old!.
Vellum with gold lettering.
AS AN ADDED BONUS…..the Book comes with a Label belonging to it's original owner, Major William Alexander Obenchain, a Civil War personality who served on General Robert E. Lee's Staff, and after the War became President of Ogden College in Bowling Green, KY (now the University of Western Kentucky). He has numbered the Books No. 10 & 11 in his Collection.
It is also signed by it's First Owner…..Dr. Eleazer Sweetland (W.A. Obenchain's grandfather) and dated Jan 21, 1833 of Botetourt County, VA.
For More Info on Dr Sweetland and his connection to the Van Meter and Obenchain Families Click on the following Link:
https://books.google.com/books?id=H9YUAAAAYAAJ&pg=PA28&lpg=PA28&dq=Dr.+Eleazer+Sweetland&source=bl&ots=9Fd2d2FCht&sig=SEayMZfpsfty2rRqDZL4Dd_c9AU&hl=en&sa=X&ved=0ahUKEwiuj5bljo3aAhWK2lMKHTAsAVkQ6AEIOTAD#v=onepage&q=Dr.%20Eleazer%20Sweetland&f=false
This book was part of the extensive private collection of the Calvert Hall/Obenchain/Godwin/McMillan Collection formerly of Bowling Green, KY and later, Highland Park, Texas.
AS you can see from the history of this Collection (see our PDF) the family have very strong ancestral ties to the States of Virginia, Kentucky and Texas.
As you can see from the Provenance…..this Book has been handed down through the Sweetland/Van Meter/Obenchain Families since the very Early 19th Century. It has remained in Family Ownership until NOW!
YOU WILL NOT FIND THIS BOOK ANYWHERE ELSE!!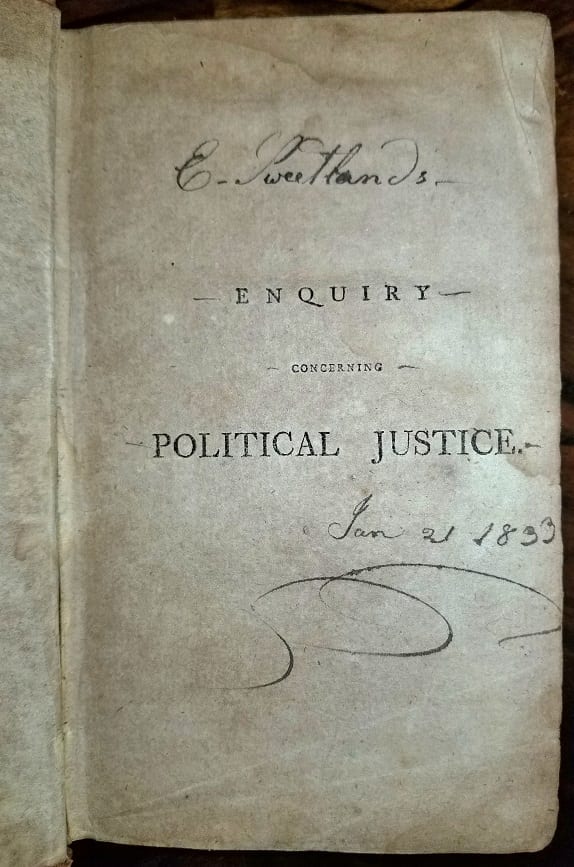 What makes this Book

SPECIAL

is :-
(1) It is a VERY RARE First Edition and
(2) it was owned (and signed) by a prominent early Kentucky Settler, Dr. Eleazer Sweetland, and
(3) it was owned by a Civil War personality (Major W.A. Obenchain)
IF YOU COLLECT ANTIQUARIAN and HISTORICAL BOOKS 

….
THEN THIS BOOK IS ESSENTIAL FOR YOUR COLLECTION!!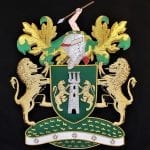 Enquiry Concerning Political Justice by Godwin in 2 Vols 1796.
Provenance: Part of the Calvert Hall/Obenchain Collection.
Dimensions: 7.2″ x 4.8″
Condition: Good  ORIGINAL CONDITION.
Price Now: $2,999 (Set)
Enquiry Concerning Political Justice by Godwin in 2 Vols 1796