Home
Rockwell Antiques Dallas
'The

Irish

Experts

'
…………………………………………………………………………………
KINDLY NOTE THAT WE WILL BE CLOSED FROM 12 NOON ON FRIDAY THE 18th SEPTEMBER UNTIL MONDAY THE 21st SEPTEMBER, FOR A FAMILY ENGAGEMENT.
[
MULTIPLE AWARD WINNING DEALER
CHECK OUT OUR SUMMER SALE NOW ON –
MASSIVE REDUCTIONS –
ACT NOW BEFORE IT'S TOO LATE !!
We are very proud to announce that we have been awarded

"BEST FINE ART & ANTIQUE DEALER in SOUTHWEST USA' for 3 years running… 2017, 2018 & 2019

,

by the very prestigious and international, LUX Magazine.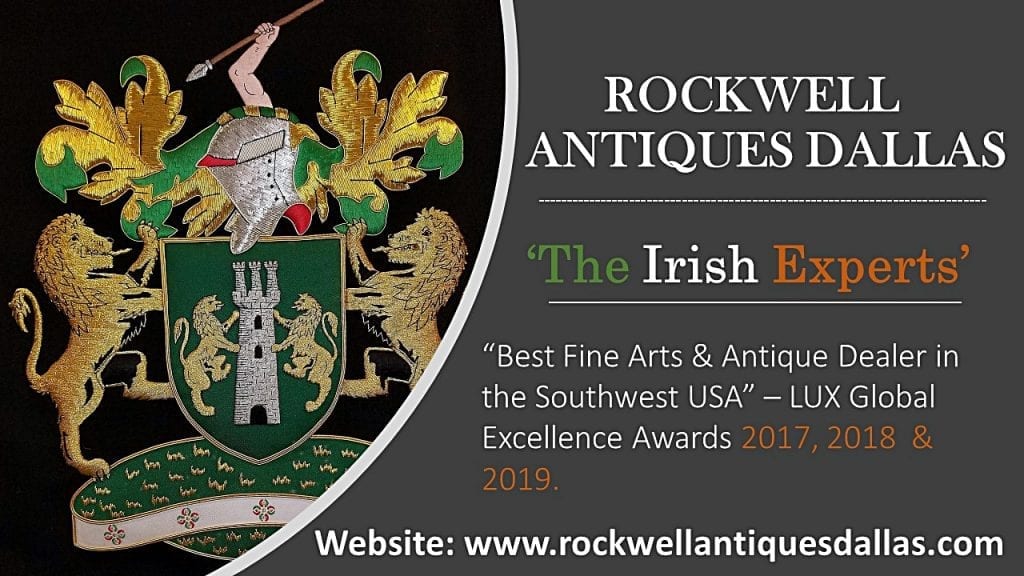 OUTSTANDING NEW ARRIVALS:
WE ALSO HAVE STOREFRONTS ON THE GLOBAL ONLINE PLATFORMS OF

1ST DIBS

 AND

CHAIRISH

. CHECK OUT OUR  LISTINGS AND PLEASE 'FOLLOW' US ON THOSE PLATFORMS, TO RECEIVE REGULAR UPDATES TO OUR INVENTORY.  WE PROMISE YOU THAT YOU WILL NOT REGRET IT !
————————————————————————————————————————–
NOTICE TO THE TRADE:
BEWARE OF A 'SCAMMER' CALLING THEMSELVES BECCA MARQUES AND CLAIMING TO BE PART OF OUR COMPANY. THEY ARE NOT, IN ANY WAY, AFFILIATED WITH US. ALSO, DO NOT OPEN ANY ZIP FOLDER OR ATTACHMENTS TO THEIR EMAILS, AS WE BELIEVE THEY MAY CONTAIN RANSOMWARE. ALSO, PLEASE REPORT THEM.
————————————————————————————————————————–
THE 'BEST KEPT SECRET' IN THE DFW METROPLEX !
…………………………………………………………………………………
FROM MANOR

HOUSE TO

MANSION 
………………………………………………………………..
CALL US TODAY ON: (972) 685-0808
VISIT US TODAY AT OUR DALLAS DESIGN DISTRICT GALLERY AT:
1500 MARKET CENTER BLVD., DALLAS, 75207, TX.
From us at Rockwell Antiques,
we would like to offer you all …. a
'

Cead

Mile

Failte

' 
(Gaelic for "One Hundred Thousand Welcomes")
to our Site.
HOW DO YOU BUY FROM US ?
We are not (yet) an E-Commerce Website and because Items need shipping and the customer is responsible for the cost of such shipping, we cannot offer you a 'Buy It Now' Option through our Website.
However, we strive to provide the very best service to our customers and if you are interested in buying any item from us then you should contact us by email or using the telephone numbers provided on the Site (Contact Us Section).
We would then agree  the purchase price directly with you and obtain your shipping address. Depending on the size and delicacy of the item we will recommend the best shipping option, be that parcel or courier, front door freight or white glove. We will obtain the best quote for you, from only the most reputable and reliable shipping companies.
We will, of course, HOLD your item for you, pending completion.
Once we have received the shipping quote and you have agreed to same, then we can provide you (by email) with a Final Invoice (including shipping) and the purchase can complete by credit/debit card payment over the phone or by Bank Transfer (for larger amounts) or by PayPal.
If you have any 'QUESTIONS" …
AGAIN, PLEASE CONTACT US !
ROCKWELL ANTIQUES DALLAS IS QUALITY ASSURED BECAUSE:
Founded in 2015 and Opened in 2018  in the Dallas Design District, we offer unique and high-end antiques, fine art and collectibles from around the globe.
With an Inventory collected and personally CURATED over 30 years and brought from Europe to North Texas and the DFW Metroplex.
Our Gallery is very conveniently located in the 'Heart of the Dallas Design District', with easy on street parking and access. 
Since arriving in Texas we have RAPIDLY built our REPUTATION as one of the FINEST, HIGH-END ANTIQUE  STORES in NORTH TEXAS and the USA !
'WORD' HAS SPREAD FAST ABOUT OUR QUALITY, leading to our nomination and ultimate success in being awarded 'Best Fine Art & Antique Dealer in the Southwest USA' by the very prestigious LUX Magazine, as part of their Global Excellence Awards of 2017 and receiving the same Award for the second year running in 2018 and completing the trifecta in 2019. 
In March 2018 we were awarded "Best Fine Art & Antique Dealer in Texas' by the prestigious Corporate USA Today and again for 2019 and by M&A Today and Legal International magazines.
Our GALLERY in the Dallas Design District is like an 'ALLADIN'S CAVE' of 'TREASURES'.
We are a PRIVATE COLLECTOR'S FANTASY, with our selection of extremely rare and historic pieces, not only furniture, art and collectibles of the highest quality with REAL PROVENANCE, but EXTREMELY RARE first edition books, autographs, manuscripts, maps and pieces of significant HISTORICAL IMPORTANCE, both AMERICAN and INTERNATIONAL.
Our mission is not to simply sell beautiful antiques, fine art and collectibles, but to sell pieces with REAL PROVENANCE, HISTORY and UNIQUE STORIES.
We specialize in finding pieces of true historic significance, with real provenance and in many cases, through in depth research, we can rebuild the provenance or story of a unique piece. It is this ability to authenticate and inform our clients of the 'story' of our pieces, that has led to us receiving multiple International Awards and Industry Recognition.
To see what we aspire to sell, then, please enjoy browsing our Inventory online and if you wish to arrange a private viewing then do not hesitate to call either Nevan or Mary on the contact numbers provided.
We are a Member of good standing with the Antique & Collectibles National Association.

WE HAVE THE FINEST SELECTION OF QUALITY, HIGH-END, HISTORIC AND FULLY PROVENANCED ANTIQUES AND ARE DELIGHTED TO BRING THEM TO THE DALLAS DESIGN DISTRICT.

WHY PAY 'A LOT' FOR A PIECE WITH NO STORY ?

WHY SETTLE FOR ORDINARY ?

WHY NOT 'BUY THE BEST', WITH A PROPER PROVENANCE,

AND A REAL HISTORICAL STORY ?

VISIT US TODAY AND BUY SOMETHING

TRULY UNIQUE !
Browse Our Inventory To Discover the Rare & Beautiful Antiques we have on Offer at Our Dallas Gallery .

TO BROWSE OUR INVENTORY & CATEGORIES PLEASE USE THE DROP DOWN MENU

AT THE TOP OF THE PAGE, FOR A CLOSER LOOK AT OUR TREASURES.

TO VIEW ANY POST JUST CLICK ON THE POST OR IF YOU ARE

LOOKING FOR SOMETHING SPECIFIC, THEN USE THE 'SEARCH' FACILITY ON THE

LEFT SIDE PANEL, ENTER YOUR SEARCH TERM AND PRESS RETURN.