PRESENTING A STUNNING 19C French Slate & Bronze Clock by Marti.
Made circa 1860 by the famous French Clockmaker, J. Marti et Cie of Paris.
Marti Clocks are highly desirable and highly collectible, BUT this Clock is one of the FINEST EXAMPLES of a Marti Black Slate and Bronze mantel clock we have EVER seen. The bronze detailing is SPECIAL.
From the top, the clock is topped by a floral and ball bronze finial on square plinth or platform. Then it extends to an angular arched pediment with bronze floral wreath insert into the center. The next section, consists of a central bronze scene of 2 cherubs floating on water with a fish. This is flanked on either side by a floral rose medalion in bronze. It the extends downwards with 2 Corinthian Style bronze columns, with the main insert being bronze neo-classical or goddess figures (each one different than the other). The dial, clock face, hands and roman numerals behind glass and bordered in gilt bronze decoration in MINT condition. Beneath the clock face there is again floral bouquets with a central bronze lion head. The 2 Columns are based with gilt bronze platforms. The base platform again, has a central bronze wreath and swag, flanked on either side by armorial shields. It sits on four gilt bronze platform feet. The movement is open at the rear and it has pendulum with a striking movement (probably an 8 day movement) that strikes on the hour and half hour. It has it's original key. It needs servicing to have working properly but is missing no parts.
It is marked "Medaille de Bronze – J. Marti & Cie" and has serial numbers.
---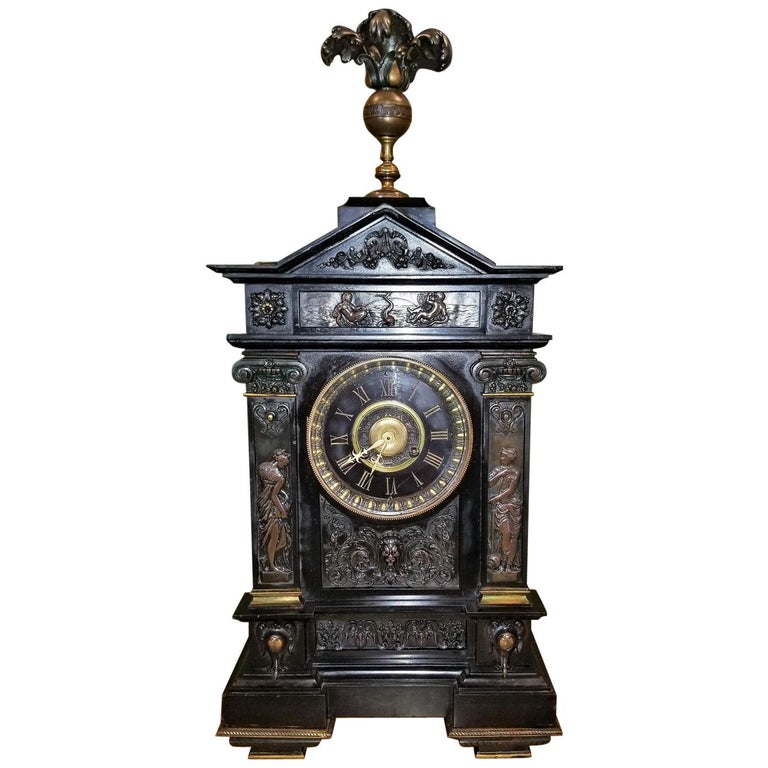 ---
" Medaille de Bronze" means bronze medal which was the award received in 1860. The name of the company was originally J. Marti et Cie and then, Samuel Marti & Cie. The medal, a second class one, was received at the Paris Exhibition of 1855. The company also received a Medaille d"Or(gold Medal) in Paris, 1900.
There are also references to J Marti Circa 1860 and Fritz Marti in 1900.
MARTI, SAMUEL et Cie
1860 – Medaille de Bronze
1889 – Medaille d'Argent
1900 – Medaille d'Or
1931 – Grand Prix, Paris
MARTI, FRITZ
1900 – Medaille d'Or,Paris
---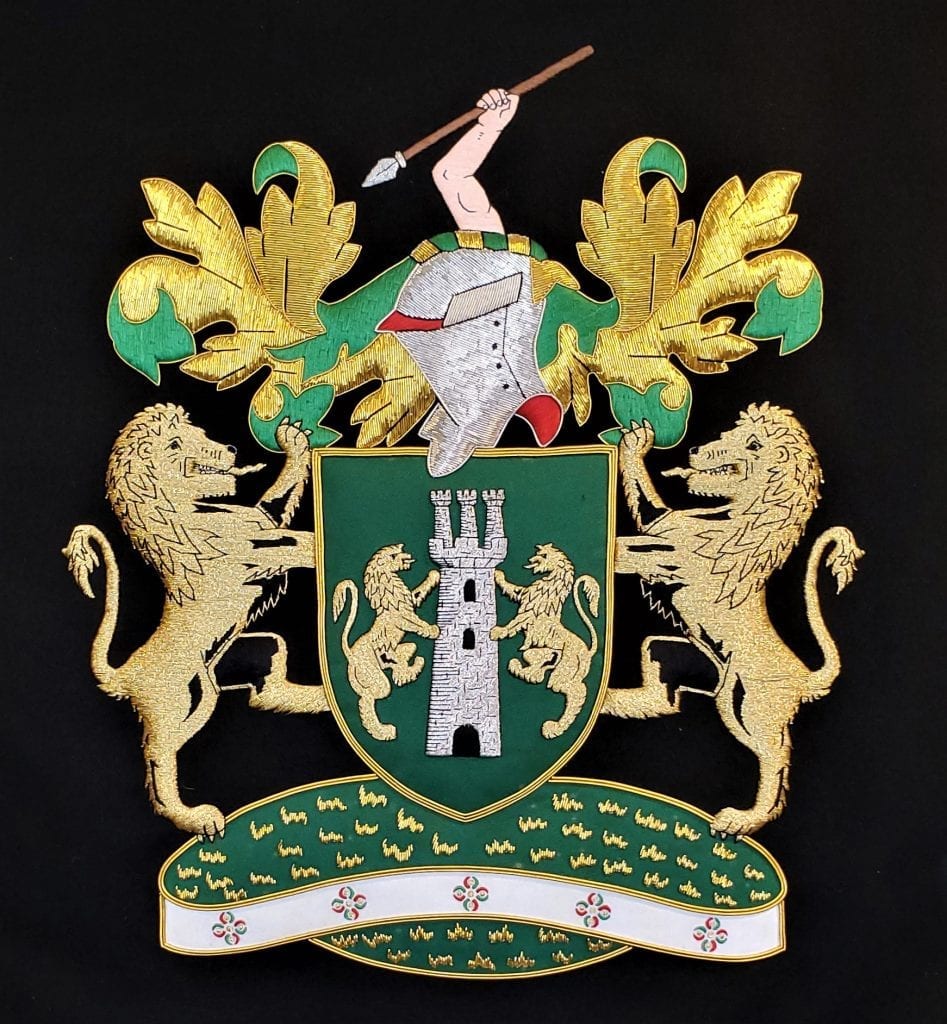 19C French Slate & Bronze Clock by Marti
Provenance: From a Dallas Private Collection.
Condition: Very good. Needs a servicing to be fully operational. Has it's original key and the clock mechanism appears to be fully intact. 2 very minor repairs to the slate on the top corners. Otherwise, near mint. Servicing cost reflected in pricing.
Dimensions: 26″ Tall, 6.8″ deep and 11.2″ Wide.
SALE PRICE NOW: $3,200