PRESENTING an ABOLUTELY STUNNING and EXCEPTIONAL 18C Dutch Marquetry Silver Table.
Made in the Netherlands circa 1780, the silver table is made of walnut and rosewood with profuse marquetry inlays in satinwood, kingwood and harewood, in floral bouquets.
This table is of the absolute highest quality and exceptionally rare, especially, in this condition.
The central medallion of inlay is a jardiniere on plinth with flowers. The top appears to be made of rosewood. The central medallion is surrounded by flowing floral patterns and lines.
The top is edged with a raised walnut gallery to prevent the silver from sliding off.
The base is made of walnut and is decorated with marquetry floral inlays on all sides including the legs.
The central drawer is likewise embellished with floral marquetry and it's original period brass handle. The secondary wood on the interior of the drawers appears to be a dark maple.
The four legs end in bun feet.
THIS IS ONE OF THE BEST TABLES OF IT'S TYPE THAT WE HAVE SEEN !
Gorgeous natural patina and superb condition for it's age. Some minor cracks and losses to the veneered edges and a small piece if inlay missing to the front right knee but not serious enough to devalue the piece in any way.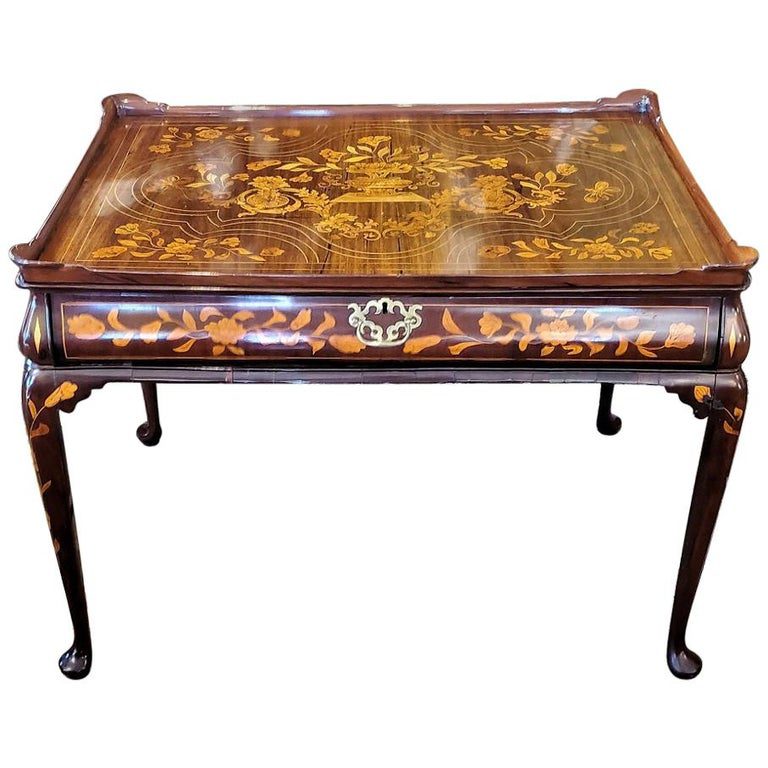 "THE Dutch were among the first to favour marquetry, parquetry and veneer over carved oak furniture. They were also using joined panelling by 1400, an important feature in making furniture lighter in construction. The beautiful linenfold decoration on panels was introduced shortly after this date.
These breaks with tradition greatly influenced furniture-making in the British Isles, even more so when a series of furniture designs published in 1580 was made available overseas.
From the 17 century, Holland and her neighbours maintained a high standard of inventiveness and construction. It is the Dutch who are generally acknowledged as having evolved the extending draw-leaf table.
The revolution in the art of veneering also originally came from the Netherlands and increased in popularity with the return of Charles II from The Hague in 1660. Accompanying the king to England were foreign craftsmen, artists, silversmiths, and designers.
In 1660, highly trained craftsmen were sent to northern Italy and southern Germany from the Netherlands to teach apprentices new skills in carpentry, joinery and marquetry.
When William of Orange succeeded to the English throne in 1689, the two countries became even more closely connected.
The Dutch had a vast trade with the East and introduced novel materials such as cane and lacquer.
Besides panels of lacquer, complete chests called 'lacred tronks' were imported and placed upon custom-made, highly elaborate, occidental stands of gilt, or silvered, finish. Also, sophisticated methods of construction were required to display the increasingly popular Chinese and Japanese porcelains.
While Japan was almost totally isolated from the West from the 17 to the 19 centuries, Holland kept open the West's only official channel of communication. It was through this sole route of unbroken trade with Japan that the rest of Europe was able to have a share in the benefits of Dutch business acumen.
The favourite woods were walnut and ebony, while rosewood was also used regularly. Rosewood only appeared in quantity in the British Isles during the early 19 century.
The Dutch cabinet-makers made serpentine and bombe fronts with natural veneer figuring.
Many Dutch cabinets, or presses, and French armoires, can be found in large houses throughout Ireland. Being very spacious they were used mainly as wardrobes.
For transportation purposes, one of great advantages of the armoires lay in their construction. Like modern furniture they could be flat-packed. No screws were required. The cornice had pins which fitted into metal slots fitted to the tops of the doors, and there were steel or brass pin hinges from which the doors swung.
Take off the cornice and it mostly falls apart. This can be dangerous as this writer can testify through hard won experience! Those doors can be very heavy.
The majority of these cabinets date from the early 19 century, although by their carved panelled doors they may appear to be at least a century older.
Unfortunately, it is this late 18 and 19 century middle-quality Dutch furniture that is perceived by other European countries as being standard. A good deal of later decoration of crude inlay is mistakenly referred to as Dutch marquetry.
So widespread was the demand for such furniture, particularly in the late 19 century, that it is difficult to remember that it represents only part of Holland's contribution to the history of world furniture.
Some of the finest Dutch items of furniture were the mid 18 century marquetry presses. The upper part of a good example would have an arched moulded cornice centred by carved scrollwork. The pair of doors were faced with carved scrollwork and these would enclose shelves and drawers.
The lower part was bombe in design, with two short and two long drawers inlaid with floral marquetry on a walnut ground. The press was raised on ball-and-claw feet, and it would measure about 8ft in height and 5ft 6in in width.
A late 16/early 17 century Dutch carved oak cupboard (illustrated) was decorated with all-over gouged guilloche borders and intricate linen fold panels.
A label on the cupboard read: "This cabinet was the property of William the Second, King of Holland, and was bought by me at the sale of his effects, at auction, in his Palace of Tilbury, Province of North Brabant, a year or two after his death.
"Most of his effects, including his splendid Art Gallery at the Hague, were disposed of in the same way by his son and successor, William the Third: 1815-1852. Signed Eastman Johnson. William 2nd died March 17th 1849."
The dates for William II and William III are in fact 1840-49 and 1849-1890 respectively.
Although most of the armoires found in Ireland are of French descent, others may have originated in Holland or are Dutch Colonial.
Sometimes the Dutch armoires made about 1700 would have 19 century marquetry. A later Dutch mahogany armoire, c.1770, had a pair of serpentine doors and three drawers in the ogee front. Another of the same date also had later marquetry from the 19 century and three drawers inlaid throughout with birds and flowers.
Later English Regency and French Empire styles had their parallels in Holland, with light woods fashionable. There was a leaning towards informality and simplicity, followed by revivalism and the mass-production of the second-rate.
The main items of Dutch antique furniture which appear on the home market include flat-fronted, serpentine, and bombe bureaux. Made from 1710-1900, these bureaux relied heavily on marquetry. Lacquer work – and parquetry – was also popular.
Dutch bureau cabinets were made from 1700-1850 and remained remarkably similar from then on. Oak was always the wood on which the Dutch craftsmen laid veneers and marquetry. A bureau cabinet with veneer on oak will be of Dutch origin, or a provincial English piece later veneered.
The cabinet had a special place in the domestic life in Holland from 1680-1910. They were fitted with drawers, shelves, and sometimes a writing drawer. Their important status in the home meant that cabinet-makers made special efforts in ornamenting the exteriors. The type with blind doors remained beautifully decorated even after glass-fronted display forms of the cabinet were introduced.
The classic Dutch display cabinet of the 18 century is wide with two glazed doors and glazed ends. The base is shaped with a number of drawers and the feet are curved bracket or with carved animal foot design. The cornice is deeply scrolled. However, the glazing bars are plain and business-like.
Chairs from the Low Countries led the fashion in Europe during the 17 century. Most of these chairs were copied by other countries on the continent and particularly in England where Charles II had returned from exile."
Link: https://www.independent.ie/lifestyle/the-marquetry-and-veneers-of-antique-dutch-furniture-25993420.html#:~:text=THE%20Dutch%20were%20among%20the,making%20furniture%20lighter%20in%20construction.&text=The%20Dutch%20had%20a%20vast,such%20as%20cane%20and%20lacquer.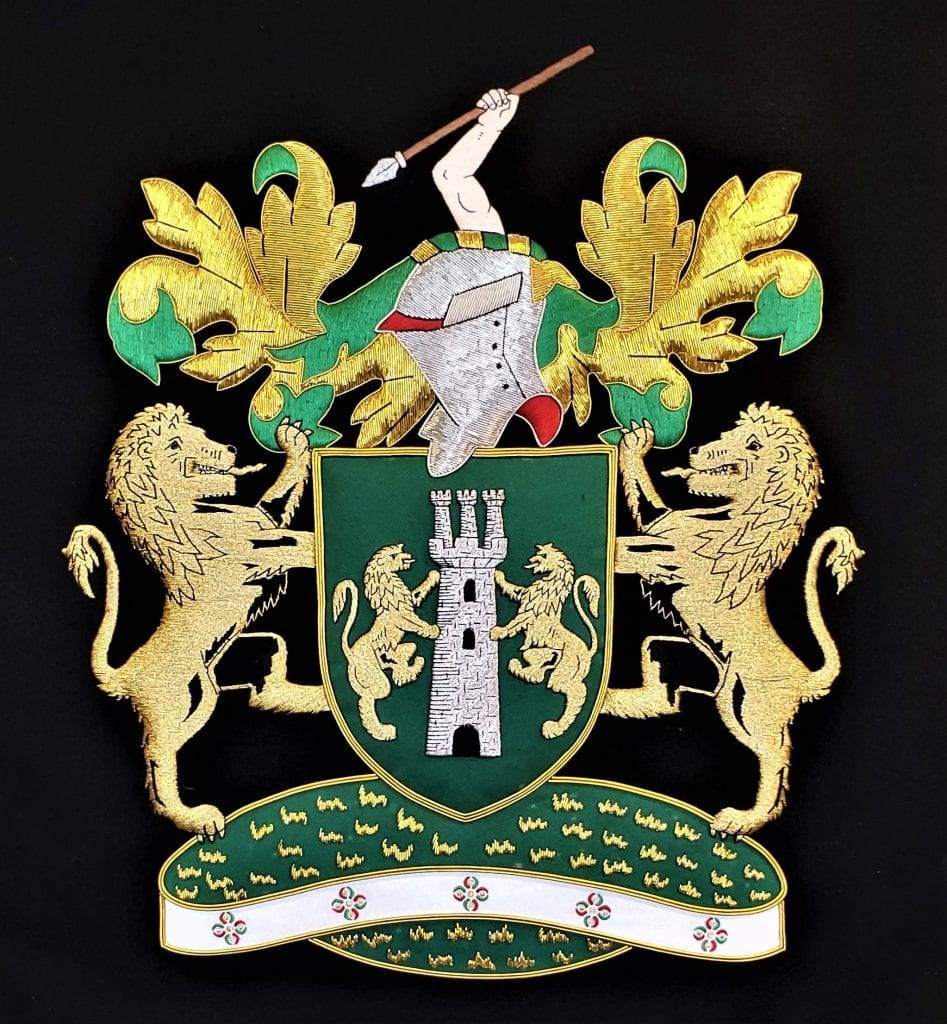 18C Dutch Marquetry Silver Table – Exceptional
Provenance: From a Dallas Private Collection
Condition: Gorgeous natural patina and superb condition for it's age. Some minor cracks and losses to the veneered edges and a small piece if inlay missing to the front right knee but not serious enough to devalue the piece in any way.
Dimensions: 37″ Wide, 25.5″ deep, 28.5″ Tall
PRICE NOW: $8,000