Works of Edmund Spenser by Todd 1845.
PRESENTING AN EXTREMELY RARE  EDITION hardback copy of The Works of Edmund Spenser with a Selection of Notes from Various Commentators; And a Glossary Under; to which is Prefixed Some Account of the Life of Spenser by The Rev. Henry John Todd, M.A., Archdeacon of Cleveland. Published by Edward Moxon, Dover Street, London, MDCCCXLV (1845).
Printed by Bradbury and Evans, Printers, Whitefriars, London Ivy Lane, St. Paul's., London.
This RARE book is in very good condition for its age….. some very minor 'knicks' on the edges of the brown leather spine and cover, spine slightly loose …….but otherwise very GOOD. The text is almost perfect….some foxing…..mainly on the first few pages
Leather and wavy paper edges with gold lettering.
AS AN ADDED BONUS…..the Book comes with 2 signatures belonging to it's original owner, Major William Alexander Obenchain, a Civil War personality who served on General Robert E. Lee's Staff, and after the War became President of Ogden College in Bowling Green, KY (now the University of Western Kentucky).
This book was part of the extensive private collection of the Calvert Hall/Obenchain/Godwin/McMillan Collection formerly of Bowling Green, KY and later, Highland Park, Texas.
AS you can see from the history of this Collection (see our PDF) the family have very strong ancestral ties to the States of Virginia, Kentucky and Texas.
YOU WILL NOT FIND THIS BOOK ANYWHERE ELSE!!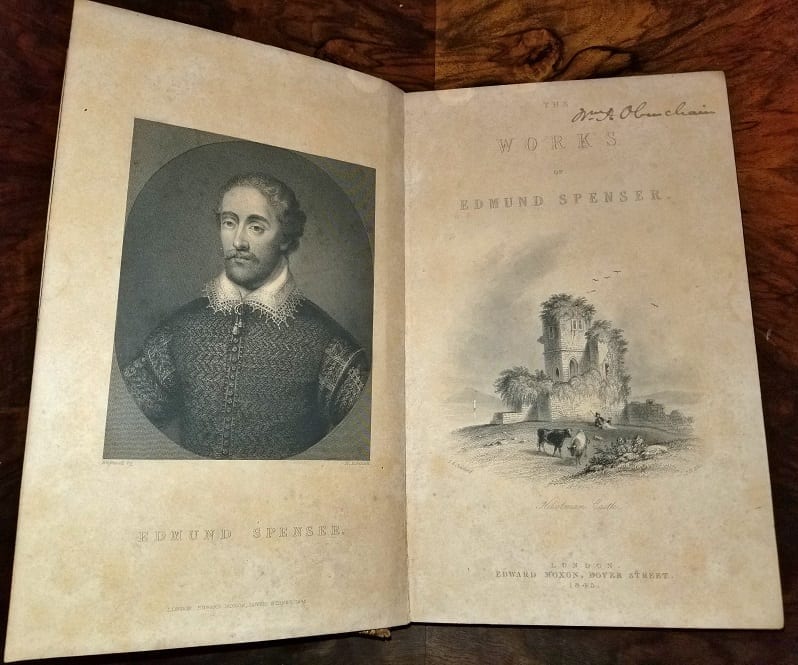 What makes this Book

SPECIAL

is :-
(1) It is a VERY RARE Edition and
(2) it was owned and signed by a prominent Civil War personality (Major W.A. Obenchain)
Edmund Spenser (/ˈspɛnsər/; 1552/1553 – 13 January 1599) was an English poet best known for The Faerie Queene, an epic poem and fantastical allegory celebrating the Tudor dynasty and Elizabeth I. He is recognized as one of the premier craftsmen of nascent Modern English verse, and is often considered one of the greatest poets in the English language.
Link: https://en.wikipedia.org/wiki/Edmund_Spenser
IF YOU COLLECT ANTIQUARIAN BOOKS 

….
IF YOU LOVE THE CLASSICS …….
IF YOU LOVE HISTORY ……
THEN THIS BOOK IS ESSENTIAL FOR YOUR COLLECTION!!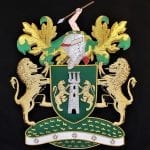 Works of Edmund Spenser by Todd 1845.
Provenance: Part of the Calvert Hall/Obenchain Collection.
Dimensions: 9.5″ x 6.5″
Condition: Good ORIGINAL CONDITION.
Price Now: $149
Works of Edmund Spenser by Todd 1845