PRESENTING AN ABSOLUTELY GORGEOUS Pair of British Country Squire's George II Side Chairs.
When we say that we 'LOVE' our antiques to be of quality, old, full of character and original these are what we are talking about !
Not a matching pair, but both English from circa 1750-60, the one on the left is elm and the one on the right is oak. Both from the same Dallas Collection, bought together in England and have been together for (at a minimum) decades !
Both inspired by the work of Thomas Chippendale and contemporaneous to Chippendale's works.
These are "provincial' pieces rather than the high-end more elaborate Chippendale Chairs being made for the titled aristocracy in the major cities.
These would have adorned the hallway/living area of a County Squire's Mansion in the countryside.
Both made using wooden pins and dowels. Entirely hand crafted and carved.
It is the solid back splats that are Chippendale in style, but the rest of the chairs are what one would expect to be made for Rural utilitarian use in 1750-60.
The natural patina is SIMPLY GORGEOUS and despite the few minor repairs and cracks/nicks over the centuries they are mainly untouched and should remain that way !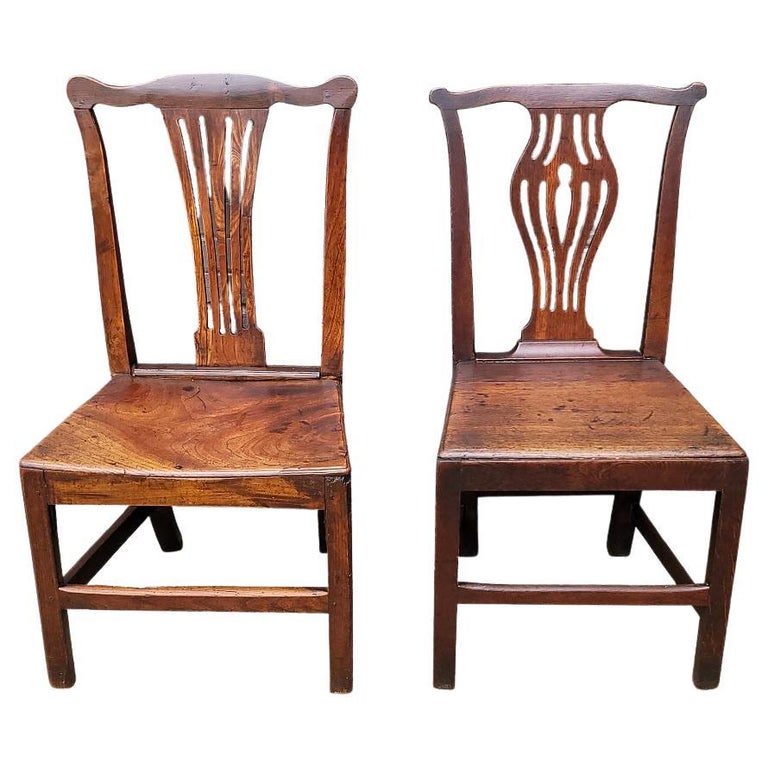 Thomas Chippendale (1718–1779) was a cabinet-maker in London, designing furniture in the mid-Georgian, English Rococo, and Neoclassical styles. In 1754 he published a book of his designs in a trade catalogue titled The Gentleman and Cabinet Maker's Director—the most important collection of furniture designs published in England to that point which created a mass market for furniture—upon which success he became renowned. According to the Victoria and Albert Museum, "so influential were his designs, in Britain and throughout Europe and America, that 'Chippendale' became a shorthand description for any furniture similar to his Director designs".[1]
The designs are regarded as representing the current British fashion for furniture of that period and are now reproduced globally. He was buried 16 November 1779, according to the records of St Martin-in-the-Fields, in the cemetery since built upon by the National Gallery. Chippendale furniture is much valued; a padouk cabinet that was offered for auction during 2008 sold for £2,729,250.
Chippendale was born in Otley in the West Riding of Yorkshire, England in June 1718. He was baptised on 5 June.[3] He was the only child of John Chippendale (1690–1768), joiner, and his first wife Mary (née Drake) (1693–1729). He received an elementary education at Prince Henry's Grammar School.[4] The Chippendale family had long been involved with the wood working trades and so he probably received his basic training from his father, though it is believed that he was also trained by Richard Wood in York, before he relocated to London.[5] Wood later ordered eight copies of the Director. On 19 May 1748 he married Catherine Redshaw at St George's Chapel, Mayfair and they had five sons and four daughters.
During 1749 Chippendale rented a modest house in Conduit Court, near Covent Garden. In 1752 he relocated to Somerset Court, off the Strand. In 1754 Chippendale relocated to 60–62 St Martin's Lane in London, where for the next 60 years the family business operated, until 1813 when his son, Thomas Chippendale (Junior), was evicted for bankruptcy. During 1754 he also began a partnership with James Rannie, a wealthy Scottish merchant, who put money into the business at the same time as Chippendale produced the first edition of the Director. Rannie and his bookkeeper, Thomas Haig, probably cared for the finances of the business. His wife, Catherine, died during 1772. After James Rannie died in 1766, Thomas Haig seems to have borrowed £2,000 from Rannie's widow, which he used to become Chippendale's partner. One of Rannie's executors, Henry Ferguson, became a third partner and so the business became Chippendale, Haig and Co. Thomas Chippendale (Junior) assumed management of the business in 1776 allowing his father to retire. He relocated to what was then called Lob's Fields (now known as Derry Street) in Kensington. Chippendale married Elizabeth Davis at Fulham Parish Church on 5 August 1777. He fathered three more children. In 1779 Chippendale relocated to Hoxton where he died of tuberculosis and was buried at St Martin-in-the-Fields on 16 November 1779.
There is a statue and memorial plaque dedicated to Chippendale outside The Old Grammar School Gallery in Manor Square, in his home town of Otley, near Leeds, Yorkshire.[6] There is a full-size sculpted figure of Thomas Chippendale on the façade of the Victoria and Albert Museum, London.
After working as a journeyman cabinet maker in London, during 1754, he became the first cabinet-maker to publish a book of his designs, titled The Gentleman and Cabinet Maker's Director.[7] It is regarded as the "first comprehensive trade catalogue of its kind".[8] According to The New York Times, "customers could browse, select a design and then order a piece of furniture".[9]
Three editions were published, the first in 1754, followed by a virtual reprint in 1755, and finally a revised and enlarged edition in 1762, by which time Chippendale's illustrated designs began to show signs of Neoclassicism. Chippendale had considerable competition during his active years, most notably by Ince and Mayhew.
Link: https://en.wikipedia.org/wiki/Thomas_Chippendale
Pair of British Country Squire's George II Side Chairs.
Provenance: From a Dallas Private Collection.
Condition: Good original condition. One repair to back splat and one historic repair to front right of seat of elm chair. One crack to seat of oak chair. The rest are natural wear and tear as are evident from pics.
Dimensions: Elm Chair (on left) is 38 inches Tall, 20.5 inches Wide and 20 inches Deep. Seat Height is 17 inches.
Oak Chair (on right) is 37 inches Tall, 19 inches Wide and 19 inches Deep. Seat Height is 18 inches.
PRICE NOW: $3,600 (Pair)