PRESENTING a FANTASTIC and HISTORIC Early 19C American Hepplewhite Virginian Secretary Chest with Provenance.
This Secretary Chest was made in Virginia in the Early 19th Century, circa 1810. It is made of cherry, walnut and maple.
IT IS a REALLY INTRIGUING AND HISTORIC PIECE WHEN PLACED IN CONTEXT WITH IT"S AMAZING PROVENANCE !
This piece was originally owned by Major William Alexander Obenchain who hailed from the State of Virginia. He was an engineer and was in the Virginia Corps of Engineers during the Civil War and served on General Robert E. Lee's staff. It was acquired by him before the Civil War and we believe that this piece was on campaign with him during the War. We know for a fact that he fought at the Battle of Richmond as we have his original Field Map for that Battle in our Collection. It has remained in family ownership ever since.
The top drawer pulls out and drops to reveal an secretary and writing area, complete with 2 secret compartments and 7 drawers and 8 cubbies.
The 3 drawers underneath are graduated in size and it ends with a serpentine shaped base and sits on four hand carved legs with original 'Universal 3' casters.
It has it's original brasses and hardware throughout, save the addition to 2 contemporary additional brass hinges to the drop down desk as the original hinge on the right is broken.
Otherwise, the piece is in it's entirely ORIGINAL condition !
What makes this piece even more INTRIGUING and APPEALING is the hole in the back of the piece as seen in the photos. This hole is not symmetrical or fully round and appears to serve no purpose to the piece whatsoever. Sometimes, pieces have holes for wiring for lighting put in them over the years, but this one never had lighting. To make matters even more intriguing, is that the hole is replicated in the corner portion of the bottom drawer and someone (a very long time ago) has used a tin can top to cover the hole in he drawer. The tin can top is period to the Civil War Era in my opinion.
My conclusion, is that (whilst I am by no means a ballistic expert) that these holes were created by musket balls fired during one of the Major's campaigns in the Civil War. It is entirely conceivable that this piece, being strapped to a mule for carriage, would have been on it's side. I am of the opinion that both were caused or created by a musket ball entered the chest trough the base and back. I also believe that the Major used what he had at his disposal on the battlefield, namely, a tin can lid to repair the hole in the drawer.
SO THIS PIECE IS A VERY SPECIAL PIECE, INDEED !
NOT ONLY IS IT AN EARLY 19th CENTURY AMERICAN PIECE but it also HAS A CONNECTION TO THE STATE OF VIRGINIA, THE CIVIL WAR, HISTORIC & IMPORTANT FIGURES IN THAT WAR AND IMPECCABLE PROVENANCE AND HISTORY !
IT IS TRULY UNIQUE !
---
George Hepplewhite (1727? – 21 June 1786) was a cabinetmaker. He is regarded as having been one of the "big three" English furniture makers of the 18th century, along with Thomas Sheraton and Thomas Chippendale. There are no pieces of furniture made by Hepplewhite or his firm known to exist but he gave his name to a distinctive style of light, elegant furniture that was fashionable between about 1775 and 1800 and reproductions of his designs continued through the following centuries. One characteristic that is seen in many of his designs is a shield-shaped chair back, where an expansive shield appeared in place of a narrower splat design.
Very little is known about Hepplewhite himself. Some established sources list no birth information; however a "George Hepplewhite" was born in 1727 in Ryton, County Durham, England. According to some sources, he served his apprenticeship with Gillows in Lancaster, but the Oxford Dictionary of National Biography is sceptical about this. It is known that he based himself in London, where he opened a shop. After he died in 1786, the business was continued by his widow, Alice. In 1788 she published a book with about 300 of his designs, The Cabinet Maker and Upholsterers Guide, with two further editions published in 1789 and 1790.
Many are quick to praise the designer George Hepplewhite, but there are inconsistencies to his fame. The published guide books that claim George Hepplewhite as their author were released after his death by his widow. It was not until years after his death that his designs started to receive recognition. Little is known about the man George Hepplewhite, and only his death certificate seems to offer any hard evidence of his existence. The question arises whether "George Hepplewhite" was a real person or just a name for Alice Hepplewhite to publish under.
With contemporaries such as Thomas Chippendale producing pieces in a variety of styles, Hepplewhite's famed style is more easily identifiable. Hepplewhite produced designs that were slender, more curvilinear in shape and well balanced. There are some characteristics that hint at a Hepplewhite design, such as shorter more curved chair arms, straight legs, shield-shape chair backs, all without carving. The design would receive ornamentation from paint and inlays used on the piece.
The book influenced cabinet makers and furniture companies for several generations. The work of these generations influenced in turn copies of the original designs and variants of them through the 19th and 20th centuries.
Link: https://en.wikipedia.org/wiki/George_Hepplewhite
---
"As we know it, the Hepplewhite chest of drawers is distinguished by the French splayed foot, curved apron and bow or serpentine front. All are to be found in the Guide designs as well as others in the Adam manner and one or two distinctly French in inspiration. Plate 76 shows two chests of drawers, one with a serpentine and the other with a bow front typical of many made in both England and the United States.
Relatively few American Hepplewhite pieces were made entirely of satinwood. Our cabinetmakers often used it for decorative veneer and had at their command another light colored wood that they used almost as effectively. This was maple, either curly or bird's-eye. Some of the most successful pieces, particularly those of New England origin, were the result of the contrast between mahogany and fancy-grained maple."
FOR MORE: https://www.collectorsweekly.com/articles/hepplewhite-combined-straight-lines-and-bold-curves/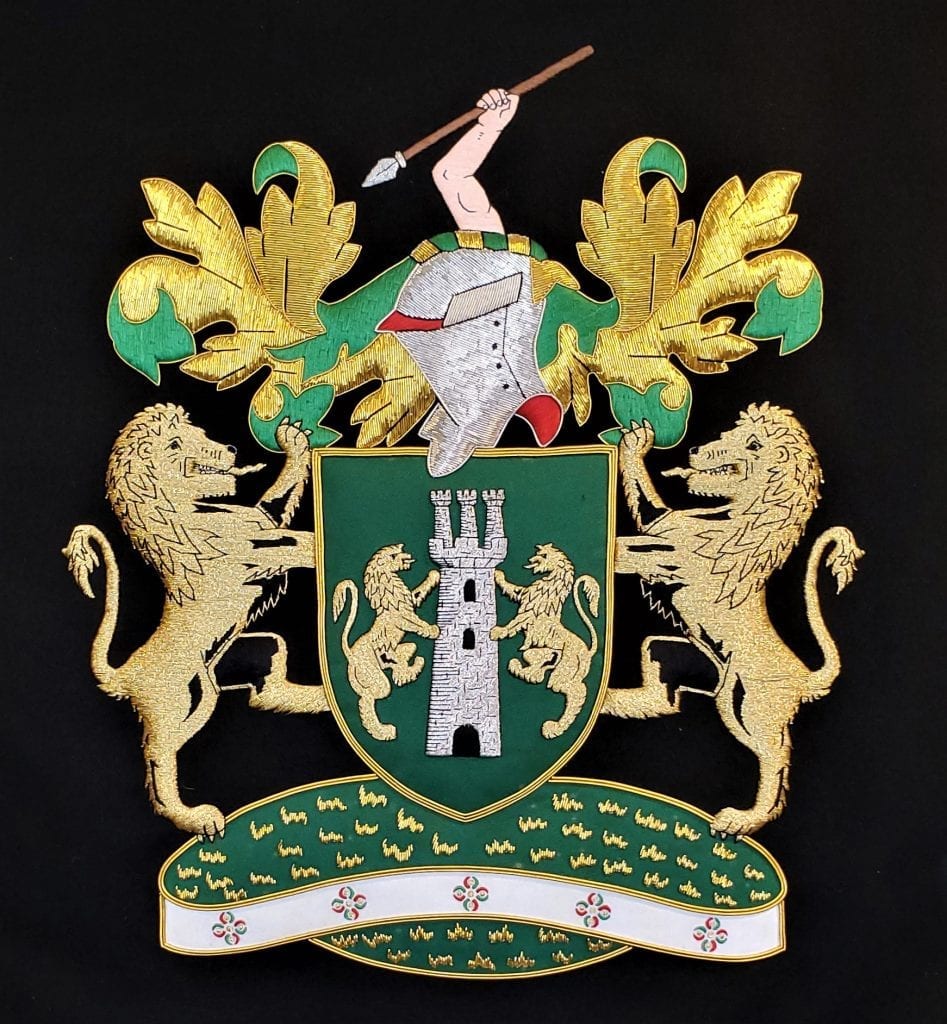 Early 19C American Hepplewhite Virginian Secretary Chest with Provenance.
Provenance: See Above – from the Estate of Major W.A. Obenchain.
Condition: Very good overall. 2 new hinges added to drop down desk. Some cracks, blemishes etc from age and use. No key. Otherwise in superb ORIGINAL condition.
Dimensions: 44.25″ Tall, 42.75″ Wide and 20.25″ Depp with secretary closed. 33.25″ Deep with secretary open. Knee Clearance on desk is 32.2″.
SALE PRICE NOW: $12,000 – ON GENERAL HOLD