PRESENTING A GORGEOUS 19C Irish Country Squires Mahogany Hunt Table.
This table was made in the late 19th Century circa 1880 -1900, and is made of solid mahogany and sits on 8 legs with padded hoof feet.
2 Drop leafs on either side supported by swinging gate legs on either side when upwards.
Beautiful interlocking detail to the side leafs and central section.
Oval in shape …. it would comfortably seat 8 people.
Made in Ireland.
This is a 'Hunt' Table and not to be confused with an Irish 'Wake' Table.
Whilst 'Hunt Tables' and 'Wake Tables' are similar in shape and design their original purposes could not be more different.
Wake Tables were made and used by indigenous Irish people for 2 purposes: (1) As a full functional dining table and (2) the central section had to be of sufficient width and length to support a coffin for the purpose of 'waking' the deceased in their home. Wake Tables were almost always made of oak, as this was the most common wood found in Ireland and therefore available to the ordinary (and poor) Irish Folk. Sometimes they might also be made of elm or sycamore.
Hunt Tables. however, we not made for the purposes of holding a coffin or 'waking' the dead. They were made for the ruling classes, nobility or gentry for the sole purpose of use on the day of the 'hunt'. This would be the fox hunting season of Fall and Winter, where the participants in the 'hunt' would gather at the local manor house early in the morning and the snacks and refreshments would be displayed for eating and drinking on the 'hunt' table. Hunt Tables are almost always made of mahogany which was an expensive and exotic hardwood imported from Cuba and the West Indies. When not in use they would be put up against a wall with the leafs down and items would be displayed on top.
This table is obviously a 'hunt' table because: (1) It is made of mahogany (2) the central section is not wide enough to safely hold at coffin at rest.
We are of the firm opinion that this is in fact an Irish-made Hunt Table due top the legs and padded hoof feet which more closely resemble the feet one would find on an Irish Wake Table. Most English Hunt tables or Irish nobility Hunt Tables have extravagant ball and claw feet.
We are of the opinion that this table would have belonged to a 'Country Squire' and not a Lord or Earl or Duke (Titled Person), as it is way too plain for the extremely wealthy upper classes.
It is still a BEAUTIFUL EXAMPLE of it's kind and it's simplicity makes it more affordable.
Dimensions: 95″ Long, Each leaf is 21″ deep and the central section is 14″ deep (Total: 56″ deep), it is 30″ tall. It has a Knee Clearance of 29.25″.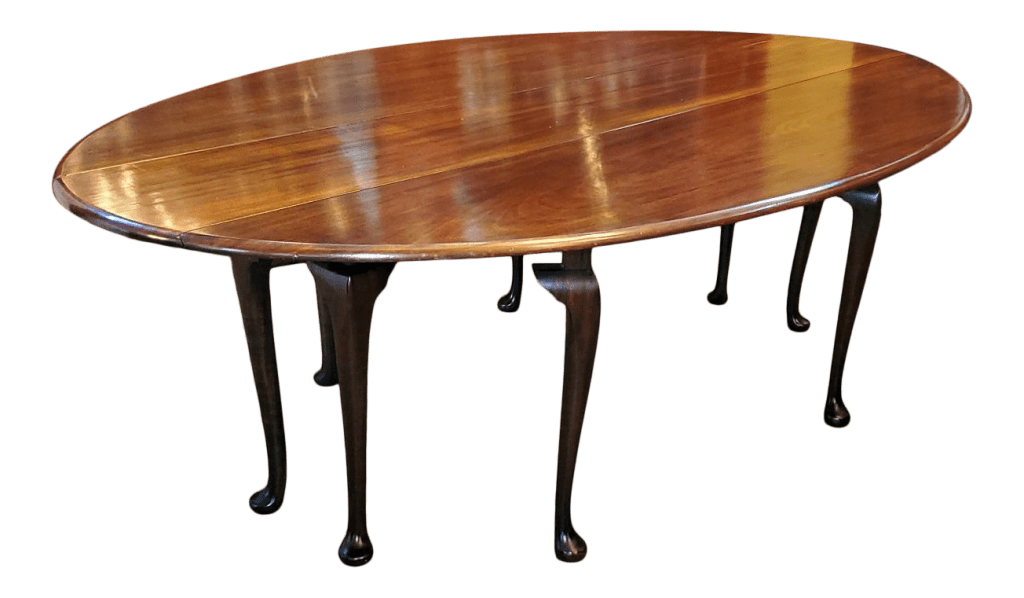 Fox hunting is an activity involving the tracking, chase and, if caught, the killing of a fox, traditionally a red fox, by trained foxhounds or other scent hounds, and a group of unarmed followers led by a "master of foxhounds" ("master of hounds"), who follow the hounds on foot or on horseback.[1]
Fox hunting with hounds, as a formalised activity, originated in England in the sixteenth century, in a form very similar to that practised until February 2005, when a law banning the activity in England and Wales came into force.
Many Greek- and Roman- influenced countries have long traditions of hunting with hounds. Hunting with Agassaei hounds was popular in Celtic Britain, even before the Romans arrived, introducing the Castorian and Fulpine hound breeds which they used to hunt.[10] Norman hunting traditions were brought to Britain when William the Conqueror arrived, along with the Gascon and Talbot hounds.
Foxes were referred to as beasts of the chase by medieval times, along with the red deer (hart & hind), martens, and roes,[11] but the earliest known attempt to hunt a fox with hounds was in Norfolk, England, in 1534, where farmers began chasing foxes down with their dogs for the purpose of pest control.[10] The last wolf in England was killed in the early 16th century during the reign of Henry VII, leaving the English fox with no threat from larger predators. The first use of packs specifically trained to hunt foxes was in the late 1600s, with the oldest fox hunt being, probably, the Bilsdale in Yorkshire.[12]
By the end of the seventeenth century, deer hunting was in decline. The Inclosure Acts brought fences to separate formerly open land into many smaller fields, deer forests were being cut down, and arable land was increasing.[13] With the onset of the Industrial Revolution, people began to move out of the country and into towns and cities to find work. Roads, railway lines, and canals all split hunting countries,[14] but at the same time they made hunting accessible to more people. Shotguns were improved during the nineteenth century and the shooting of gamebirds became more popular.[13] Fox hunting developed further in the eighteenth century when Hugo Meynell developed breeds of hound and horse to address the new geography of rural England.[13]
In Germany, hunting with hounds (which tended to be deer or boar hunting) was first banned on the initiative of Hermann Göring on July 3, 1934.[15] In 1939, the ban was extended to cover Austria after Germany's annexation of the country. Bernd Ergert, the director of Germany's hunting museum in Munich, said of the ban, "The aristocrats were understandably furious, but they could do nothing about the ban given the totalitarian nature of the regime."
Link: https://en.wikipedia.org/wiki/Fox_hunting#Social_life_and_class_issues_in_Britain
---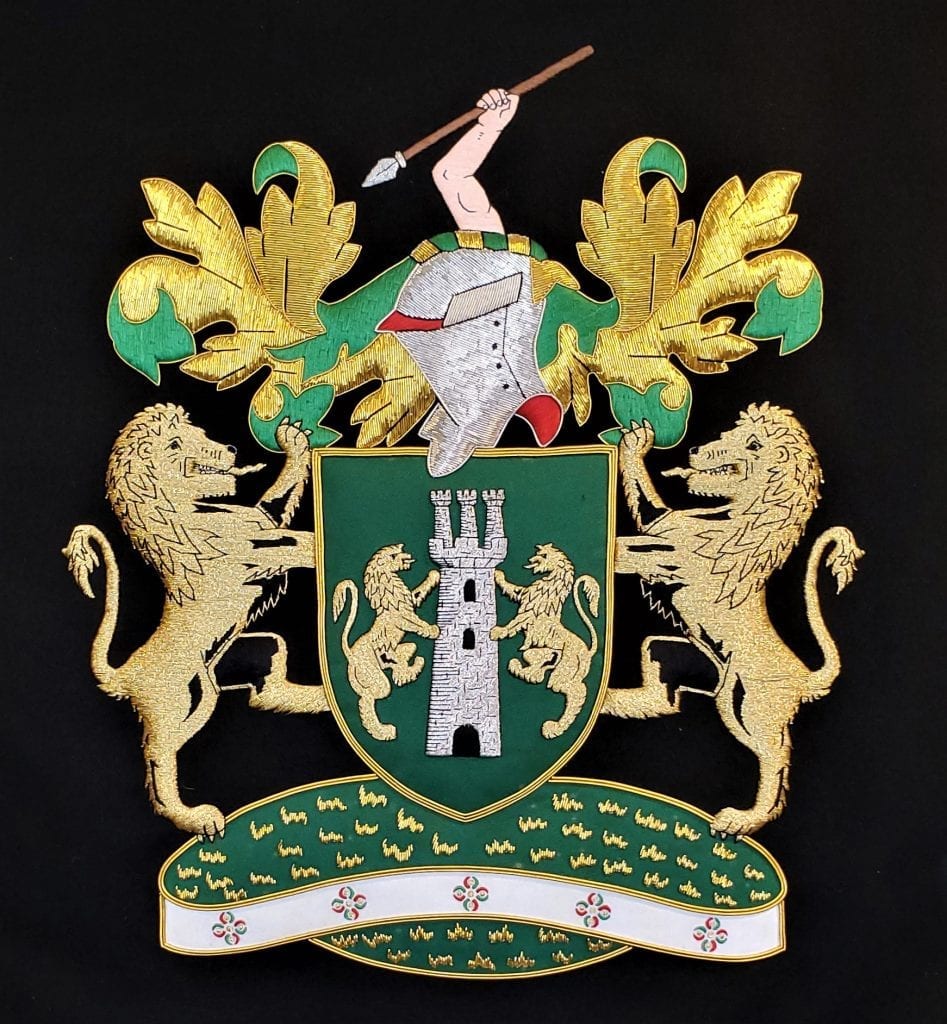 19c Irish Country Squires Mahogany Hunt Table.
Provenance: From a wealthy Private Dallas Collection.
Dimensions: 95″ Long, Each leaf is 21″ deep and the central section is 14″ deep (Total: 56″ deep), it is 30″ tall. It has a Knee Clearance of 29.25″.
Condition: Overall in VERY GOOD condition for its age. One or two minor historic scratches on the top, Original condition with no evidence of any major recent restoration work (save the hinge screws which look like replacements).
SALE PRICE NOW: $6,400 – $3,840