History of Ellis County & Presidents of US.
History of Ellis County & Presidents of US

PRESENTING A VERY, VERY RARE FIRST EDITION hardback copy of THE LONE STAR STATE……..A Memorial and Biographical History of Ellis County, Texas, ILLUSTRATED…." Containing a History of this important section of the great State of Texas, from the Earliest Period of its Occupancy to the Present Time, together with Glimpses of its Future Prospects; with Full-Page Portraits of the Presidents of the United States and also Full-Page Portraits of Some of the most Eminent Men of the County, and Biographical Mention of Many of its Pioneers, and also of Prominent Citizens of to-day." Published by The Lewis Publishing Company, Chicago in 1892.
This EXTREMELY RARE book is in fair condition….some fraying and losses to cover and spine, some discoloration to the brown leather  cover, but otherwise very good for it's age and RARITY.

---
This book was part of the extensive private collection of the Calvert Hall/Obenchain/Godwin/McMillan Collection formerly of Bowling Green, KY and later, Highland Park, Texas.
AS you can see from the history of this Collection (see our PDF) the family have very strong ancestral ties to the States of Virginia, Kentucky and Texas.
This Book was part of the personal Collection of Judge McMillan, a prominent Judge from Waxahachie, Ellis County at the end of the 19th Century. His daughter married Thomas Obenchain, a stockbroker of repute in Dallas in the early 20th Century. The Book has remained in the family ever since.
It is a beautiful brown leather and string bound book with gilt lettering. The front and back covers are bordered with a Greco-Roman pattern. The inside of the front and back covers has a beautiful ORIGINAL purple and gilt vinyl lining. The pages of the book itself are almost perfect...very little wear. The only wear is to the cover and spine.

---
This is an EXTREMELY RARE First Edition TEXAS Book !!
We can find no other copies that have EVER been made available for Private Sale......The University of North Texas has one on loan to the Dallas Public Library ..... ONLY!
THIS IS THE "HOLY GRAIL" of BOOKS RELATING TO ELLIS COUNTY, TEXAS!

---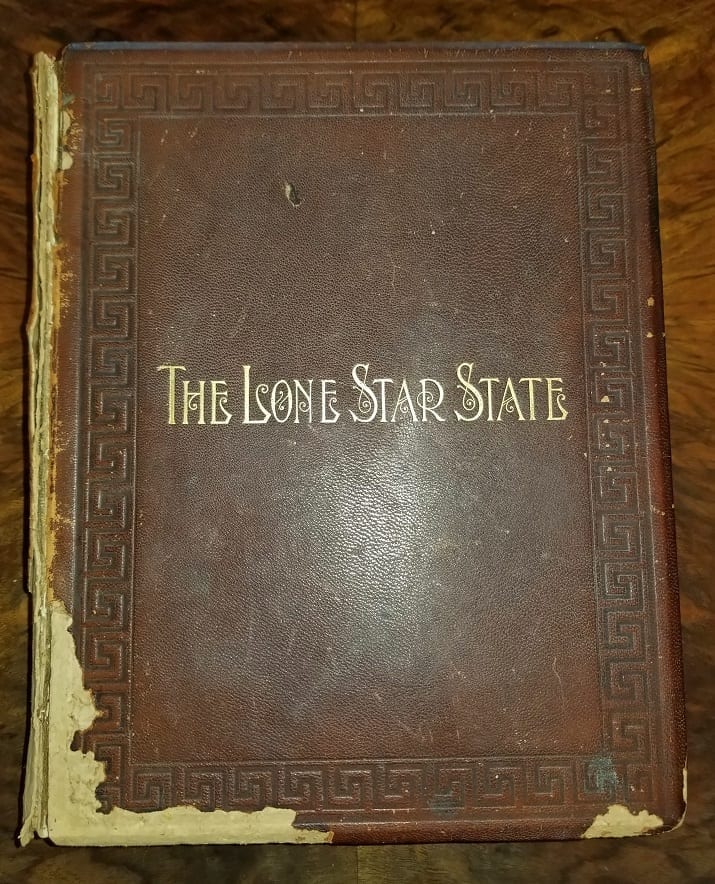 ---
Dallas Public Library Copy:
Link: https://texashistory.unt.edu/ark:/67531/metapth33018/

---
IF YOU LOVE YOUR TEXAS HISTORY....AND IN PARTICULAR ELLIS COUNTY....THEN THIS BOOK IS A ONCE IN A LIFETIME OPPORTUNITY!!
IF YOU LOVE US HISTORY ..... THEN THE PRESIDENTS SECTION IS A ONCE IN A LIFETIME OPPORTUNITY!!!
AS AN ADDED BONUS......WE ALSO POSSESS A SECOND ORIGINAL FIRST EDITION COPY OF THIS BOOK IN EVEN BETTER CONDITION.....SO WHOMEVER ACTS FIRST WILL GET THE BETTER COPY!!!!
DO NOT HESITATE!!

---
History of Ellis County & Presidents of US.
Provenance: Part of the Calvert Hall/Obenchain/Godwin/McMillan Collection.
Calvert Hall,Obenchain,McMillan,Godwin Introduction PDF
Dimensions: 11" x 9"
Condition: Very Fair ORIGINAL CONDITION.
Price: 

Price on Application
History of Ellis County & Presidents of US