Irish Watercolor by Rev JH Flack of Winter Scene.
PRESENTING a FABULOUS piece of original Irish Art.
Painting by popular and well known, exhibited, watercolorist and Irish Artist – The Late Rev. J.H. Flack of Athy, Co Kildare.
This painting is titled " Winter Scene".
Framed behind glass, fully signed and original.
If you are Irish-American (or any other ancestry for that matter) you will love this guy's work…..it is quintessentially Irish !!!
Perfect for those Hot Texas Summers: you can feel yourself cool down just looking at it !!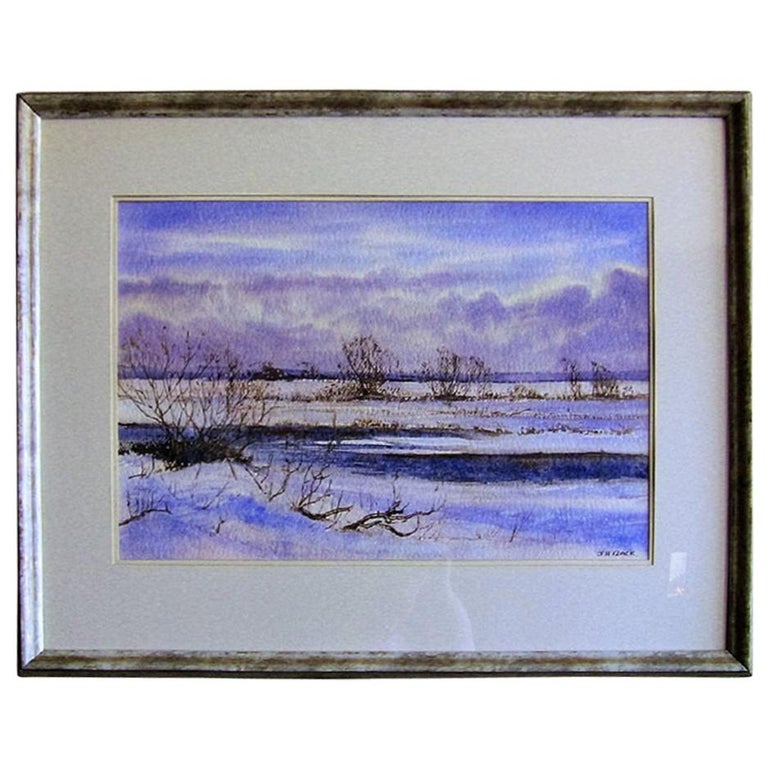 James H. Flack (1941 – 2018) was a contemporary Irish watercolour painter. He was born in County Armagh, Northern Ireland in 1941 and settled in Athy, County Kildare in the early 1970s. He is a member of the Water Colour Society of Ireland, the Ulster Watercolour Society, the Dublin Art Club and the Dublin Sketching Club. He holds the degrees of BA, BD, M.Th., and H.Dip.Ed. from Trinity College Dublin and Edinburgh University.
Flack's interest in painting developed at an early age when his mother, headmistress of the local primary school, encouraged her pupils to use art work throughout the school curriculum. At the age of ten his paintings were chosen for display in a children's exhibition that was a feature of the 1951 Festival of Britain. Flack initially trained for a career in the Presbyterian ministry but instead chose to pursue painting. His works have been selected and hung for many years in the Oireachtas and in the Royal Hibernian Academy. He has regular one-man exhibitions in Dublin, Galway, Cork and Belfast as well as one-man exhibitions in Wexford during the Wexford Festival Operaand in Kilkenny during Arts Week.[4] He has also had an exhibition of his work in the Canadian cities of London, Ontario, Montreal and Winnipeg as well as in San Antonio, Texas in the United States.[4] In 2000, the Athy Urban District Council presented Flack with an award for "outstanding achievement in the arts".[6]
Flack has also received the O'Sullivan Graphic Award at the Watercolour Society of Ireland's Annual Exhibition 1999 for a work of particular distinction, and the Amanace Consultants awards at the Waterecolour Society of Irelands Annual Exhibition 2002.[2] He is married to Marlynne Flack and has one son, Stephen Hall Flack.
Flack's paintings have been purchased by public institutions including Irish banks, business companies, public libraries and by private collectors at home and abroad.[4] While his subject interests are wide-ranging, his favourite themes are landscapes and seascapes with the emphasis on details of nature. He also gives watercolour painting courses to summer schools, art groups and private individuals each year throughout Ireland and Wales.
Link: https://en.wikipedia.org/wiki/James_H._Flack
James Hall Flack passed away in 2018.
WATERCOLOR PAINTING: Watercolor (American English) or watercolor (Commonwealth and Ireland), also aquarelle (French loanword), a diminutive of the Latin for water, is a painting method in which the paints are made of pigments suspended in a water-based solution. Watercolor refers to both the medium and the resulting artwork.
The traditional and most common support—material to which the paint is applied—for watercolor paintings is paper. Other supports include papyrus, bark papers, plastics, vellum, or leather, fabric, wood, and canvas. Watercolor paper is often made entirely or partially with cotton, which gives a good texture and minimizes distortion when wet.[1] Watercolors are usually translucent, and appear luminous because the pigments are laid down in a pure form with few fillers obscuring the pigment colors. Watercolors can also be made opaque by adding Chinese white.
In East Asia, watercolor painting with inks is referred to as brush painting or scroll painting. In Chinese, Korean, and Japanese painting it has been the dominant medium, often in monochrome black or browns.[clarification needed] India, Ethiopia, and other countries have long watercolor painting traditions as well.[citation needed] Finger painting with watercolor paints originated in mainland China.
Link: https://en.wikipedia.org/wiki/Watercolor_painting
Irish Watercolor by Rev JH Flack of Winter Scene.
IRISH ART: The early history of Irish art is generally considered to begin with early carvings found at sites such as Newgrange and is traced through Bronze Age artefacts, particularly ornamental gold objects, and the religious carvings and illuminated manuscripts of the medieval period. During the course of the 19th and 20th centuries, a strong indigenous tradition of painting emerged, including such figures as John Butler Yeats, William Orpen and Jack Yeats.
Ireland's best known living artists include Brian O'Doherty an art historian, sculptor, and conceptual artist who is based in New York City, Sean Scully an abstract painter who lives and works in New York, Dorothy Cross, a sculptor and filmmaker and James Coleman, an installation and video artist.
Interest in collecting Irish art has expanded rapidly with the economic expansion of the country, primarily focussing on investment in early twentieth century painters. Support for young Irish artists is still relatively minor compared to their European counterparts, as the Arts Council's focus has been on improving infrastructure and professionalism in venues. That said, Ireland's unique tax break for creative artists (writers, visual artists and composers) has encouraged a wide community of artists to remain in Ireland.
An exhibition called 'The Art of a Nation: Irish Works from the Allied Irish Bank and Crawford Art Gallery Collection' was held between 13–31 May 2015 at the Mall Galleries, The Mall, London. It celebrated the story of Irish art from 1890s to the present day and included important works by Aloysius O'Kelly, Sir William Orpen, Jack B Yeats, William Scott, Sean Scully and Hughie O'Donoghue. Admission to the exhibition was free and a fully illustrated catalogue was for sale.
link: https://en.wikipedia.org/wiki/Irish_art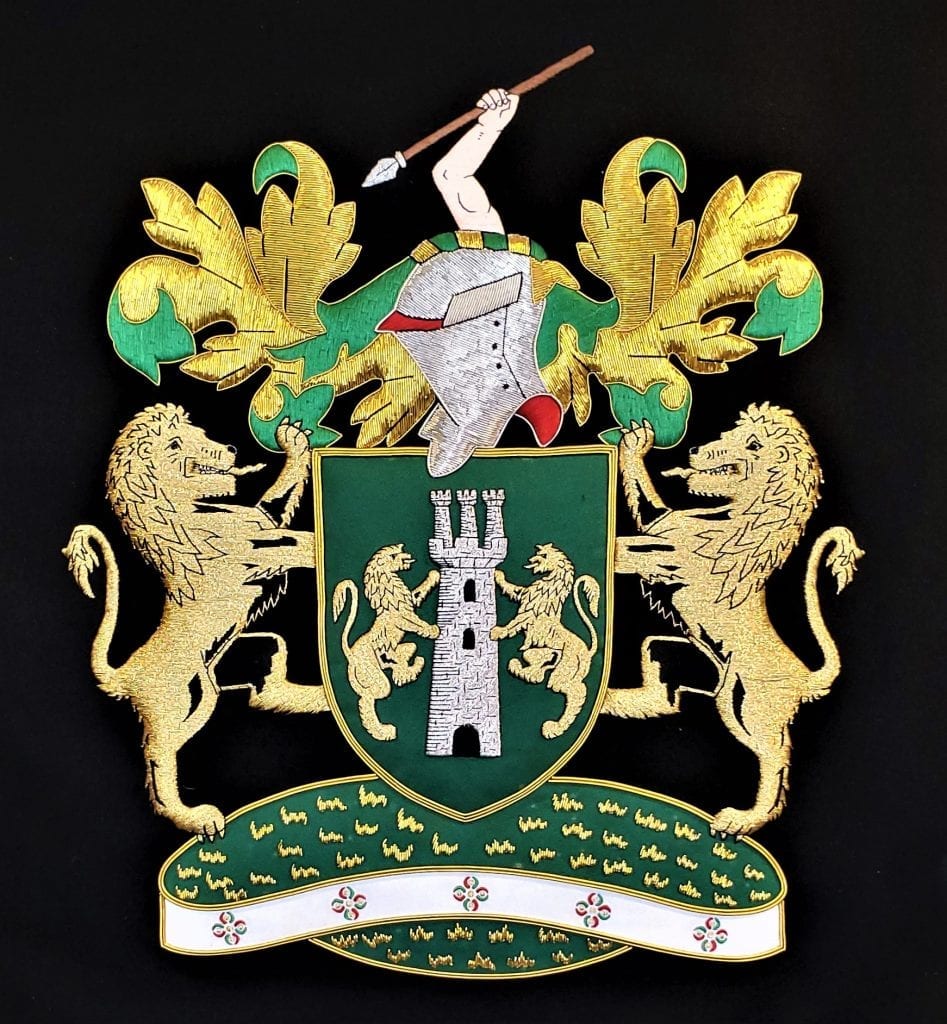 Irish Watercolor by Rev JH Flack of Winter Scene.
Provenance: Bought from the Artist in Ireland.
Dimensions: 30.5″ x 24″
Condition: Mint.
SALE PRICE NOW: $1,260.