Irish Oil on Canvas of Preparing the Champion by Seamus Coleman.
Lovely piece of original Irish Art, by one of our FAVORITE IRISH ARTISTS !!
Painting by popular and rapidly rising Irish Artist – Seamus Coleman of Co Roscommon. Signed on the bottom right.
This painting is titled " Preparing the Champion".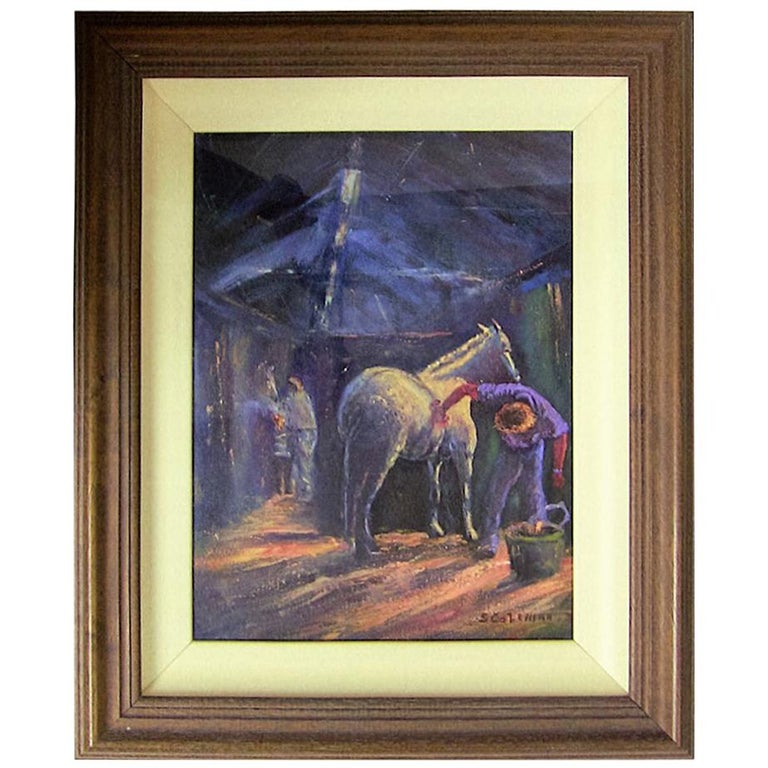 Ireland is World Famous for its equine industry. Irish horses of all breeds are highly prized and sought out internationally. Ireland is very proud of this.
In the days before mechanization, horses were an essential part of farming in Ireland. For example, in 1939, it was estimated that over 350,000 horses worked on Irish farms.
Today, horses are kept for breeding or for pleasure, or usually a combination of both. There are three main sectors to the horse industry on Ireland's farms – racing, breeding and equestrian sports.
Despite its small size, Ireland holds a pre-eminent position in thoroughbred racing and breeding and in the equestrian world.
The Irish bloodstock breeding and racing industry is of major national importance in terms of employment (especially in rural areas) as well as in exports and tourism. The industry is worth hundreds of millions of euro of economic activity, sustaining jobs and a national network of racecourses, trainers, breeders and farms with an enviable skills base.
Irish horses are in demand worldwide, with exports to 40 countries. A long tradition of skilled horsemanship is a key reason, as is the fact that our limestone soils provide ideal grazing for healthy equine bone growth. Tax incentives for stallion farms introduced in 1969 helped encourage major investment in stud operations.
Some key attributes of the sector include:
 Ireland recorded a population of 28,289 thoroughbreds in 2010.
Ireland is the third largest breeder of thoroughbreds in the world. In excess of 40% of the EU output of thoroughbreds and 11% of the total worldwide are produced in Ireland.
7,500 thoroughbred foals were registered in 2010.
Approximately 17,300 people are employed in the thoroughbred industry in Ireland.
The value of Irish thoroughbred exports was an estimated €149m in 2010.
Irish owned and headquarted Coolmore (www.coolmore.com) has stud operations in Fethard, Co Tipperary, Kentucky USA and Australia. Their racing operation, Ballydoyle, in the hands of Aidan O' Brien, is also a global leader in flat racing. Irish trainers such as Dermot Weld, John Oxx and Dermot Weld have also trained horses in Ireland to win at the highest level overseas.
Horse Racing Ireland
Horse Racing Ireland (www.goracing.ie) are responsible for the Thoroughbred sector. Their mission statement is "to develop and promote Ireland as a centre of excellence for horse racing and breeding".
Breeding horses and ponies for a range of equestrian sports is also an important part of farming in Ireland. Horse Sport Ireland (HSI) (www.horsesportireland.ie) is the governing body for equestrian sports in Ireland.
HSI operates the Irish Horse Register, which encompasses the Irish Sport Horse Studbook and the Irish Draught Horse Studbook. There are also other studbooks operating in the non-thoroughbred sector, including the famous Connemara Pony Society (www.cpbs.ie/), the Kerry Bog Pony Co-op Society (www.kerrybogpony.ie), the Irish Cob Society (www.irishcobsociety.com), the Irish Piebald & Skewbald Association, Miniature Horse and Pony Society of Ireland and the Warmblood Studbook of Ireland.
The Dublin Horse Show (www.dublinhorseshow.com) is held in the Royal Dublin Society each August and provides a major shop window of the best of Ireland's equestrian talent.
Link: http://www.askaboutireland.ie/enfo/sustainable-living/farming-in-ireland-overvi/equine/
This painting depicts a Connemara pony (from the West of Ireland) being prepared for a Pony Show. During the Summer months each year, Connemara Pony Shows take place all over the West of Ireland and culminate in the main yearly show in Clifden, Connemara, Co. Galway in August of each year…………..where the individual Champions are awarded for that year.
Link: http://www.cpbs.ie/
There are many Connemara Pony Breeders in the USA.
Link: http://www.acps.org/
These ponies are world famous because of their breeding which includes Andalusian (from the Spanish Armada) and Arabian purebred lines and also because of their size and docile nature. They are also an extremely 'hardy" breed, so would you, if you had to survive in the "Wilds of Connemara" !!! LOL
Irish Oil on Canvas of Preparing the Champion by Seamus Coleman.
Framed behind glass. Fully signed and original.
If you are Irish-American (or any other ancestry for that matter) you will love this guy's work…..it is quintessentially Irish !!!
He truly CAPTURES THE SPIRIT OF IRISH COUNTRY LIVING !!
HIS WORKS ARE A HISTORIC VISUAL RECORD OF CHANGING TIMES AND TIMES NEVER TO BE SEEN AGAIN !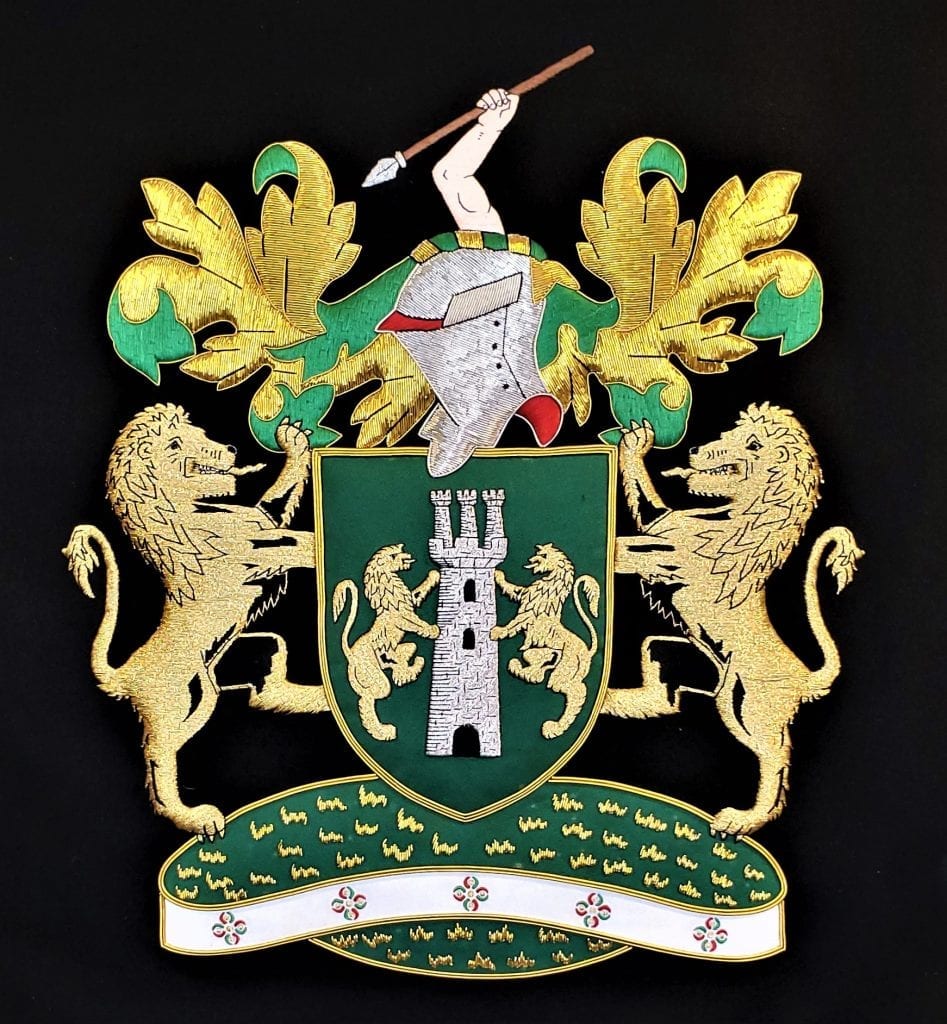 Irish Oil on Canvas of Preparing the Champion by Seamus Coleman.
Provenance: Bought from the Artist in Ireland.
Dimensions: 22.25″ x 18.25″
Condition: Mint
SALW PRICE NOW: $2.000.