Irish Oil on Board of Bridge at Rathmore Edenderry Co Offaly by Doris O'Connor from 2001.
NICE little framed oil on board of a typical Irish Country Scene.
This one depicts Rathmore Bridge, Edenderry, Co. Offaly.
Rathmore Bridge is a local, well known, bridge over the Grand Canal.
It was painted by a well known local Irish Artist…..Doris O'Connor in 2001.
Fully signed on the back.
ONE TO REMIND YOU OF YOUR IRISH ROOTS OR TRAVELS !!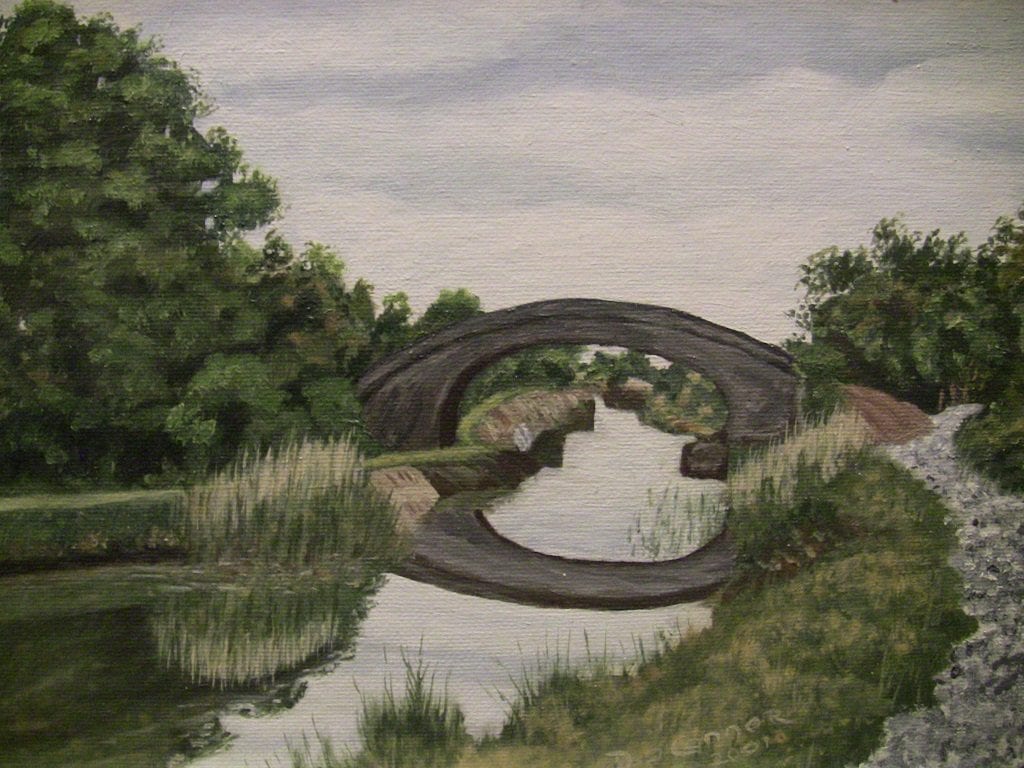 THE GRAND CANAL: The Grand Canal (Irish: An Chanáil Mhór) is the southernmost of a pair of canals that connect Dublin, in the east of Ireland, with the River Shannon in the west, via Tullamore and a number of other villages and towns, the two canals nearly encircling Dublin's inner city. Its sister canal on the Northside of Dublin is the Royal Canal. The last working cargo barge passed through the Grand Canal in 1960.
Link: https://en.wikipedia.org/wiki/Grand_Canal_%28Ireland%29
EDENDERRY: Edenderry (/ˌiː.dən.ˈdɛ.riː/; Irish: Éadan Doire, meaning "hill-brow of the oak wood"[2]) is a town in north County Offaly, Ireland. It is near the borders with Counties Kildare, Meath and Westmeath. The Grand Canal runs along the south of Edenderry, through the Bog of Allen, and there is a short spur to the town centre.
The R401 road from Kinnegad to the north and the R402 from Enfield to the east meet at the northeastern end of the Main Street. At the Grand Canal they split, with the R402 continuing westwards towards Tullamore and the R401 heads south to Rathangan and Kildare Town.
In the 16th century, it had the name of Coolestown, after the family of Cooley or Cowley, who had a castle here, defended in 1599 against the Earl of Tyrone's rebellion. This subsequently passed by marriage to the Blundell family and was sacked in 1691 by the army of James II.[3]
The Blundells' land passed subsequently to the Marquess of Downshire who reversed the earlier opposition of the Blundell sisters to the establishment of a branch to the Grand Canal to Edenderry and paid for the £692 cost of the project,[4] which was completed in 1802.
By 1716 there was thriving woollen cloth manufacturing, established by Quakers, which employed around 1,000 people.[5] By 1911 the town had grown to 2,204 people. Other industries included the factory of Daniel Alesbury who made a variety of woodwork as well as the first car manufactured in Ireland, the Alesbury, in 1907.
Link: https://en.wikipedia.org/wiki/Edenderry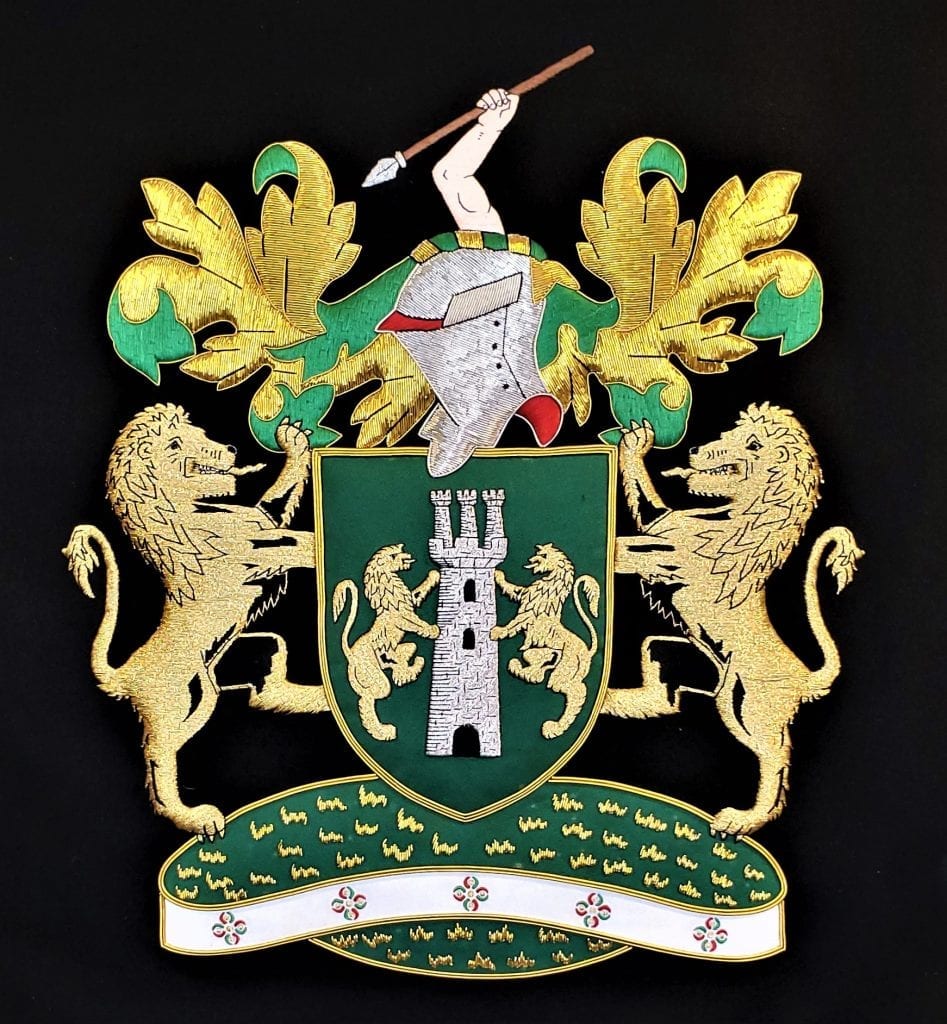 Irish Oil on Board of Bridge at Rathmore.
Provenance: Bought directly from the Artist in Ireland.
Dimensions: 20″ x 16″
Condition: Excellent
Price Now: $350