Early 19C Regency English Chiffonier in the Manner of Gillows.
PRESENTING an ABSOLUTELY GORGEOUS Early 19th Century English Chiffonier or Breakfast Buffet, most likely, from the renowned maker of Gillows of Lancaster.
This stunning piece is elegant simplicity at it's best with the most gorgeous natural age and patina to its surface and stunning details.
We estimate this to be from circa 1800 – 10.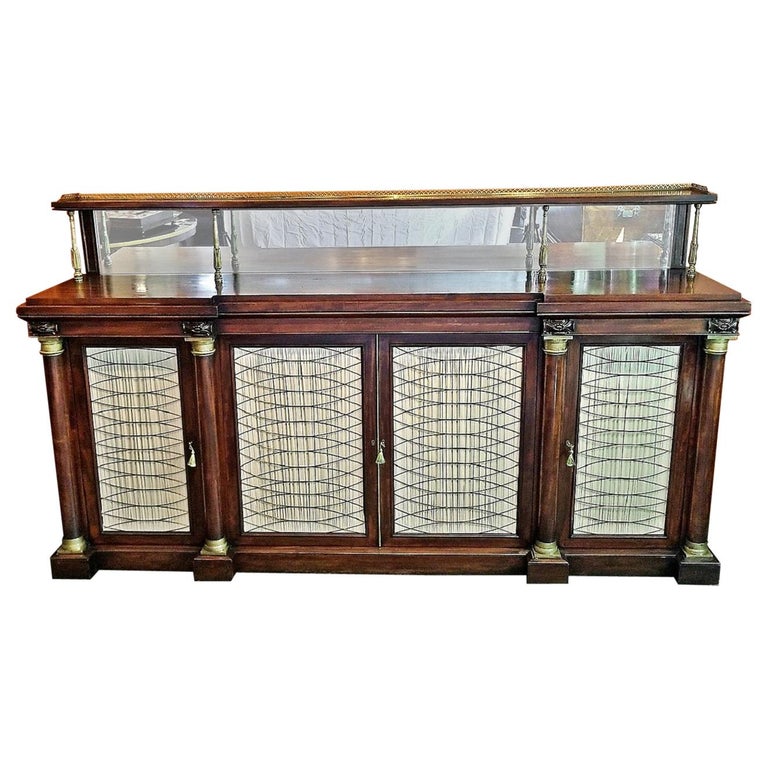 It is made of the most beautiful Cuban flame mahogany with stunning natural patina. The top gallery has a gorgeous brass galleried edging. The top shelf is connected and sits on 4 beautifully cast brass tulip pattern support columns. The back of the central shelf is mirrored. The front is likewise, stunning in its detail and quality. The base is comprised of 4 matching presses or cupboards (each with 3 shelves) with creme silk lining, behind a brass fretwork exterior. The front has 4 regency pillars each topped with a brass plinth which is replicated at the base. Each column has a carved floral design on top of each column.
We are of the expert OPINION that this is a piece by the top-maker, Gillows of Lancaster. Everything about this piece SCREAMS….'Gillows". It is not marked or signed but is EXACTLY like a number of pieces that have been unequivocally attributed to Gillows, right down to the curved brass fretwork on the front of the press doors.
This is a REALLY, REALLY QUALITY PIECE!
Gallery with ID 189 doesn't exist.
Gillows of Lancaster and London, also known as Gillow & Co., was an English furniture making firm based in Lancaster, Lancashire, and in London. It was founded around in Lancaster in about 1730 by Robert Gillow (1704–1772).[1]
Library table, made by Gillow to a Chippendale design, on display in the Judges' Lodgings, Lancaster.[2]
Gillows was owned by the family until 1814 when it was taken over by Redmayne, Whiteside, and Ferguson; they continued to use the Gillow name. Gillows furniture was a byword for quality, and other designers used Gillows to manufacture their furniture. Gillows furniture is referred to by Jane Austen, Thackeray and the first Lord Lytton, and in one of Gilbert and Sullivan's comic operas.[3][a] In 1903 Gillows merged with Warings of Liverpool to become Waring and Gillow and although the furniture remained of a high quality it was not as prestigious.
y the mid-18th century the firm was one of the leading cabinet-makers in Lancaster.[4] They had a reputation for manufacturing very high quality furniture.[1][5] By the end of the 1700s most of the firm's partners were based in London.[6] The firm merged with a Liverpool firm in 1897 to form Waring & Gillow.
Gillow family (1728–1814)
In 1728 Robert Gillow began trading in Lancaster as a joiner, builder, house carpenter, furniture maker and overseas merchant. By the summer of 1731 he had entered into a partnership with a fellow catholic, George Haresnape, which had ended by 1735.[7] By 1734 six other names appeared on their staff list.[8] Gillows notably made heavy use of mahogany wood, which is indigenous to the Americas, from the early 1730s.[7] In the early 1740s, Gillow owned a twelfth share of the ship Briget, which he partially used to import mahogany from the West Indies. The success of the firm was partly due to his ability to directly import mahogany; by 1742 Gillow was exporting finished mahogany furniture back to the West Indies.[9]
On 1 January 1757 Robert entered into an equal partnership with his son Richard Gillow (1733–1811), and the firm was known as Robert Gillow & Son. Richard was also the architect for several buildings in Lancaster.[10] He financed the building of the catholic church in Dalton Square, Lancaster in 1798. The family's Catholic history [b] was important in building up a customer base within Lancashire's gentry, and their subsequent purchase of Leighton Hall, Lancashire from a cousin in 1822.[11] On 31 December 1768 Robert Gillow I retired and left his share of the firm to his other son, Robert Gillow II (1747–1795).[12] In 1769 and 1770, a shop at 176 Oxford Street, London, was sent up by the brothers' cousin, Thomas Gillow (1736–1779), to sell their furniture.[13] Goodison and Hardy state that the firm opened a London branch in 1760 at 176 Oxford Road. By 1775 the Lancaster branch had 42 employees, and by 1789 there were about 50 employees.
Pieces of Gillow furniture can now be seen in museums in London, Leeds, Adelaide, Melbourne, and Auckland, as well as a collection in the Gillow Museum in the Judges' Lodgings, Lancaster.[1] The furniture can also be seen in houses open to the public such as Tatton Park.
Link: https://en.wikipedia.org/wiki/Gillows_of_Lancaster_and_London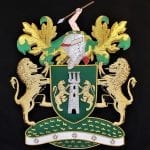 Early 19C English Chiffonier in the Manner of Gillows.
Condition: Near Mint. The mirror is not the original and the silk lining is not original.
Dimensions: 47.75″ high, 84.25″ wide, 19.5″ deep.
Provenance: From a Wealthy Bostonian Family's Private Collection.
SALE PRICE NOW: $24,000