PRESENTING a VERY RARE Early 19C French Utzschneider & Cie Sarreguemines Pitcher….Fleurus. Pattern.
The pitcher is a classical French Sarreguemines piece of pottery, from circa 1830.
This is an early piece of French transferware with applied flowers in blue & white with bees and leaves. The rim has a 2 tone blue band and the handle is a ribbed blue and white form to simulate wicker.
The base is fully marked: "FLEURUS" above "U & Cie" inside a fleur de lis with "SARREGUEMINES" underneath and the letter "S" and small 'f'.
The pitcher is in EXCELLENT ORIGINAL CONDITION….one chip to the base (no visible unless turned upside down) and their is a hairline crack inside the rim but it is a firing crack that has always been there and does not devalue the piece in any way.
T

HIS IS 

A VERY RARE PIECE OF EARLY FRENCH POTTERY FROM A WELL KNOWN MAKER AND OF EXTREMELY FINE QUALITY!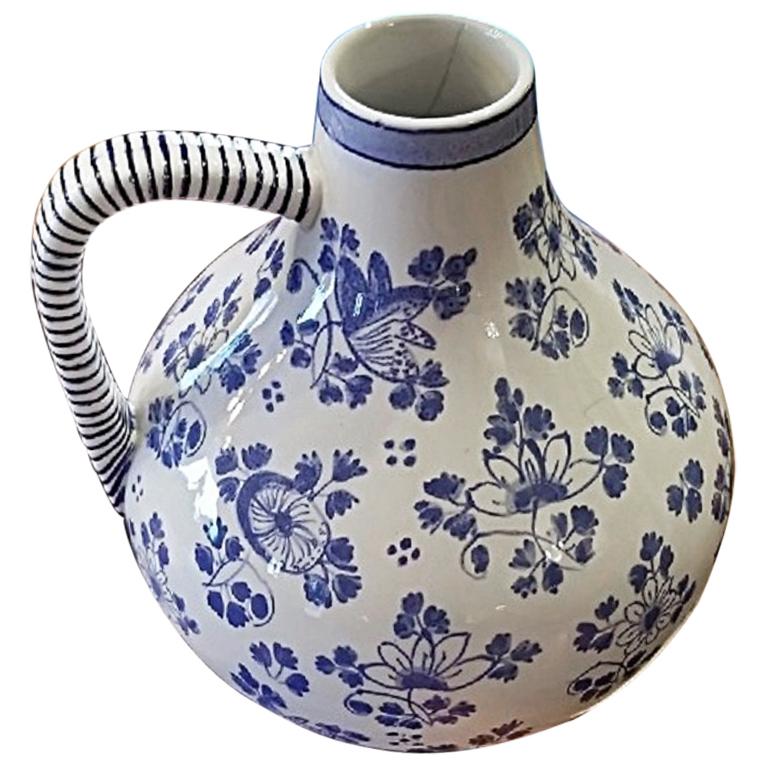 The dynamic Bavarian Paul Utzschneider took over the factory in 1800 and introduced new decorating techniques. Napoleon I became one of his best customers and ordered several pieces. Business quickly increased, and the firm soon had to open new workshops and acquire several mills. The protests provoked by the consequences of deforestation induced the company to use coal instead of wood, but it was not until 1830 that the first coal-fired kilns were built.
In 1836 Paul Utzschneider finally handed over the management of the factory to his son-in-law Alexandre de Geiger, who erected new buildings that were in harmony with the landscape; the Moulin de la Blies mill was built in 1841 in this spirit. In 1838 Alexandre de Geiger associated himself with Villeroy & Boch and this agreement contributed to the growth of production.
The industrial revolution was in full swing, and a new architecture emerged with the appearance of saw-tooth roofs and round chimney stacks tall enough to prevent smoke from drifting over neighbouring houses. The new factories built in 1853 and 1860 completely relied on steam-powered machinery and in the workshops, modernization centred mainly on the energy needed to operate the machines.
Note that the part of Utzschneider & Cie. specialized on (floor) tiles during 1865 became known as Utzschneider & Ed. Jaunez based on a contract between de Geiger and Eduard Jaunez (*1834 Metz, †1916). During his active lifetime, Eduard Jaunez also established or acquired factories in Wasserbillig (Luxemburg, 1873), Paray-le-Monial et Jubise (Belgium, 1876), Pont-Ste-Maxence (France, 1881), Zahna (Germany, 1890) and Betschdorf (Alsace, 1901).
Following the annexation of the Moselle to Germany, Alexandre de Geiger left Sarreguemines and retired in Paris in 1871. His son Paul de Geiger took over the management and two new factories were constructed at Digoin and Vitry-le-François. Paul de Geiger died in 1913, the year in which Utzschneider & Cie. was split into two companies, one responsible for the factory in Sarreguemines and the other for the French factories.
Link: http://www.porcelainmarksandmore.com/related/lorraine/saargemuend-01/index.php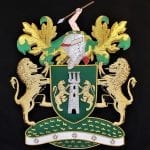 Early 19C French Utzschneider & Cie Sarreguemines Pitcher.
Provenance: From a Private New York Collection.
Dimensions: 10″ tall with a width of 7.5″ at the widest point at the handle (7″ in diameter).
Condition: Very Good … see above.
SALE PRICE NOW: $480