Early 19C British Mahogany Gothic Revival Wardrobe.
BEAUTIFUL Early 19th Century……circa 1830 ….. William IV Period ……mahogany Regency Gothic Revival Wardrobe or Armoire or Linen Press with central mirrored tabernacle and 5 drawer chest of drawers. The best way to describe it is as a recessed breakfront wardrobe.
The piece consists of 2 side closets for hanging clothes or vestments with single large drawer at floor level. The exterior of the side closets is beautiful flamed Cuban mahogany with side pillars ending with acanthus leaf  cornices. The front is framed with a simple domed shaped frieze that simulates a Gothic window or portal.
The pelmet is likewise made of flamed mahogany but in a much simpler form……….indicative of the William IV period style.
The central section consists of a 2 door mirrored press with classic Gothic Revival shape and form to simulate a tabernacle. When opened, the tabernacle has one shelf for storage of personal belongings.
Beneath the tabernacle are 5 drawers. The first one is smaller and they get larger as they graduate downwards. Again, these are veneered in gorgeous Cuban flamed and butterflied mahogany…..but they contrast beautifully with the rest of the piece as they do not have the deep red color of the rest of the piece.
The entire piece rests on a solid base with brass castors for easy movement.
This piece is SPECIAL because of its UNIQUE design
and its quality throughout !!
We have NEVER seen one quite like it before !!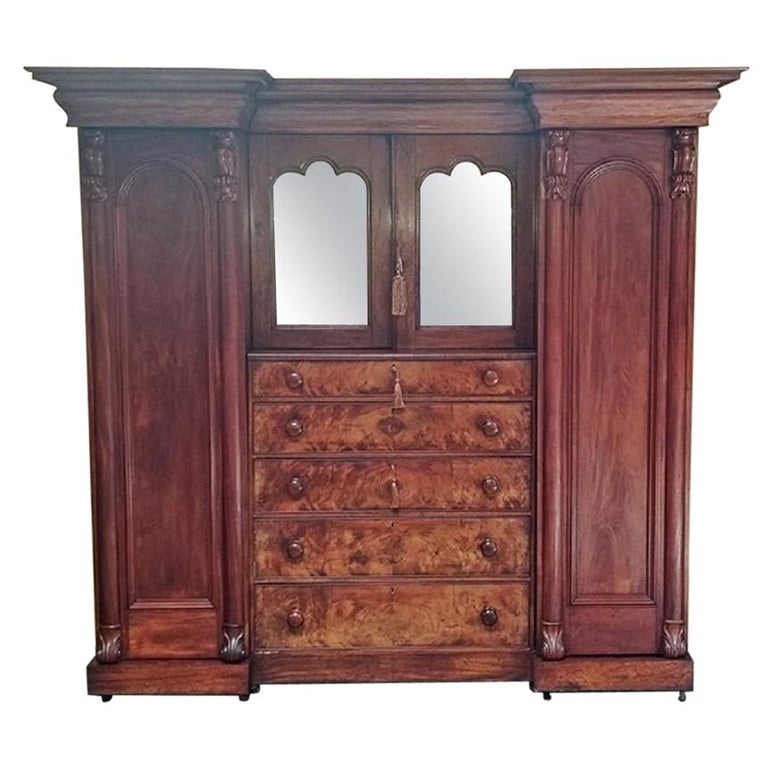 Gothic Revival (also referred to as Victorian Gothic, Neo-Gothic or Jigsaw Gothic, and when used for school, college, and university buildings as Collegiate Gothic) is an architectural movement that began in the late 1740s in England. Its popularity grew rapidly in the early 19th century, when increasingly serious and learned admirers of neo-Gothic styles sought to revive medieval Gothic architecture, in contrast to the neoclassical styles prevalent at the time. Gothic Revival draws features from the original Gothic style, including decorative patterns, finials, scalloping, lancet windows, hood mouldings, and label stops.
The revived Gothic style was not limited to architecture. Classical Gothic buildings of the 12th to 16th Centuries were a source of inspiration to 19th-century designers in numerous fields of work. Architectural elements such as pointed arches, steep-sloping roofs and fancy carvings like lace ant lattice work were applied to a wide range of Gothic Revival objects. Some examples of Gothic Revivals influence can be found in heraldic motifs in coats of arms, painted furniture with elaborate painted scenes like the[6] whimsical Gothic detailing in English furniture is traceable as far back as Lady Pomfret's house in Arlington Street, London (1740s), and Gothic fretwork in chairbacks and glazing patterns of bookcases is a familiar feature of Chippendale's Director (1754, 1762), where, for example, the three-part bookcase employs Gothic details with Rococo profusion, on a symmetrical form. Sir Walter Scott's Abbotsford exemplifies in its furnishings the "Regency Gothic" style. Gothic Revival also includes the reintroduction of medieval clothes and dances in historical reenactments staged among historically-interested followers, especially in the second part of the 19th century, and which have been revived over a hundred years later in the popularity of so-called "renaissance fairs/festivals" in several states (such as in Maryland, Pennsylvania and Virginia). Parties in medieval historical dress and entertainment were popular among the wealthy in the 1800s but has spread in the late 20th century to the well-educated middle class as well.[7]
By the mid-19th century, Gothic traceries and niches could be inexpensively re-created in wallpaper, and Gothic blind arcading could decorate a ceramic pitcher. The illustrated catalogue for the Great Exhibition of 1851 is replete with Gothic detail, from lacemaking and carpet designs to heavy machinery.
In 1847, 8,000 British crown coins were minted in proof condition with the design using an ornate reverse in keeping with the revived style. Considered by collectors to be particularly beautiful, they are known as 'Gothic crowns'. The design was repeated in 1853, again in proof. A similar, two shilling coin, the 'Gothic florin' was minted for circulation from 1851 to 1887.
Link: https://en.wikipedia.org/wiki/Gothic_Revival_architecture
This is a VERY RARE, UNUSUAL and UNIQUE piece !!

Early 19C British Mahogany Gothic Revival Wardrobe.
Provenance: Bought from a reputable dealer in Ireland.
Dimensions: 85″ tall, 83″ wide and 21″ deep
Condition: Very Good. Some minor cracks and repairs. Damage spot to one mirror.
SALE PRICE NOW: $4,800.