Early 19C West Virginia/Kentucky Drop Leaf Table.
PRESENTING a VERY RARE Early19th Century Cherrywood Drop Leaf Table…..made most likely in the Ohio River Valley area, probably in West Virginia or Northern Kentucky given it's Provenance, circa 1820-25.
This table is in SUPERB ORIGINAL CONDITION.
It was acquired by Major William Alexander Obenchain before the Civil War.
Major Obenchain was formerly of Buchanan, Virginia and later served as the head of the Virginia Corps of Engineers and was on General Robert E. Lee's staff during the Civil War.
After the War Major Obenchain relocated to Bowling Green, Kentucky where he became President of Ogden College (now University of Western Kentucky).
He brought this table with him and his family subsequently brought it to Dallas, TX by his wife, Lida Calvert Hall-Obenchain at the start of the 20th Century.
For a full history of both Major Obenchain and his famous wife check out our PDF: Calvert Hall,Obenchain,McMillan,Godwin Introduction PDF
Beautifully turned feet consistent with late Federal/Sheraton Period and the Ohio River Valley area.
This is a STUNNING SOUTHERN TABLE and EXTREMELY RARE
with SUPERB HISTORIC Provenance!!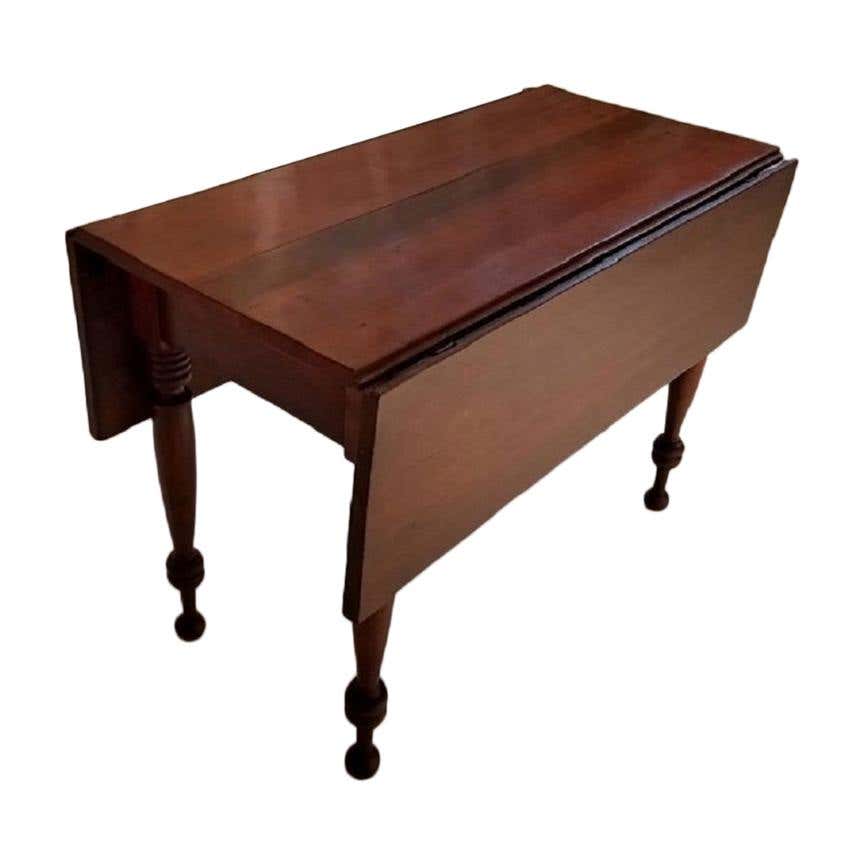 Federal furniture refers to American furniture produced in the federal style period, which lasted from approximately 1789 to 1823 and is itself named after the Federalist Era in American politics (ca. 1788-1800).[1] Notable furniture makers who worked in the federal style included John and Thomas Seymour, Duncan Phyfe and Charles-Honoré Lannuier. It was influenced by the Georgian and Adam styles, and was superseded by the American Empire style.
Pieces in this style are characterized by their sharply geometric forms, legs that are usually straight rather than curved, contrasting veneers, and geometric inlay patterns on otherwise flat surfaces.[2] Pictorial motifs, when extant, usually reference the new federal government with symbols such as the eagle.
The Oval Office grandfather clock, made by between 1795–1805 in Boston by John and Thomas Seymour, is a noted example of the federal style of furniture. The Green Room in the White House perfectly demonstrates this style of furniture.
Link: https://en.wikipedia.org/wiki/Federal_furniture
Sheraton is a late 18th-century Neoclassical English furniture style, in vogue c. 1785–1820, that was coined by 19th-century collectors and dealers to credit furniture designer Thomas Sheraton, whose books, The Cabinet Dictionary (1803) of engraved designs and the Cabinet Maker's & Upholsterer's Drawing Book (1791) of furniture patterns exemplify this style.[1][2]
The Sheraton style was inspired by the Louis XVI style and features round tapered legs, fluting and most notably contrasting veneer inlays. Sheraton style furniture takes lightweight rectilinear forms, using satinwood, mahogany and tulipwood, sycamore and rosewood for inlaid decorations, though painted finishes and brass fittings are also to be found. Swags, husks, flutings, festoons, and rams' heads are amongst the common motifs applied to pieces of this style.[3]
The style brought the Neoclassical taste of architects like Robert Adam within reach of the middle class. In many respects Sheraton style corresponds with the contemporary Directoire style of France. The Sheraton style was the most reproduced style in the United States during the Federal period.
Link: https://en.wikipedia.org/wiki/Sheraton_style
THIS IS A VERY RARE ORIGINAL TABLE!!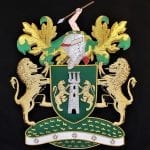 Early 19C W Virginia/Kentucky Drop Leaf Table.
Provenance: From a the Lida Calvert Hall/Obenchain Collection.
Dimensions: 29.2″ Tall, 41.8″ Wide and 21.5″ Deep with leaves down (Closed), 44″ Deep with leaves up (open).
Condition: Very good original condition.
SALE PRICE NOW: $2,940