PRESENTING A BEAUTIFUL 19C French Gilt Bronze 18 Branch Chandelier.
Made in France circa 1880/90.
18 Branches and 18 bulbs.
Rococo Revival (Third Republic) heavily influenced and inspired with rolling, curling and flowing ancanthus leaves and buds.
Appears to be a bonze or bronze like metal with gold gilting.
The piece has gorgeous natural patina with natural aging.
Fully working, as is obvious from photos.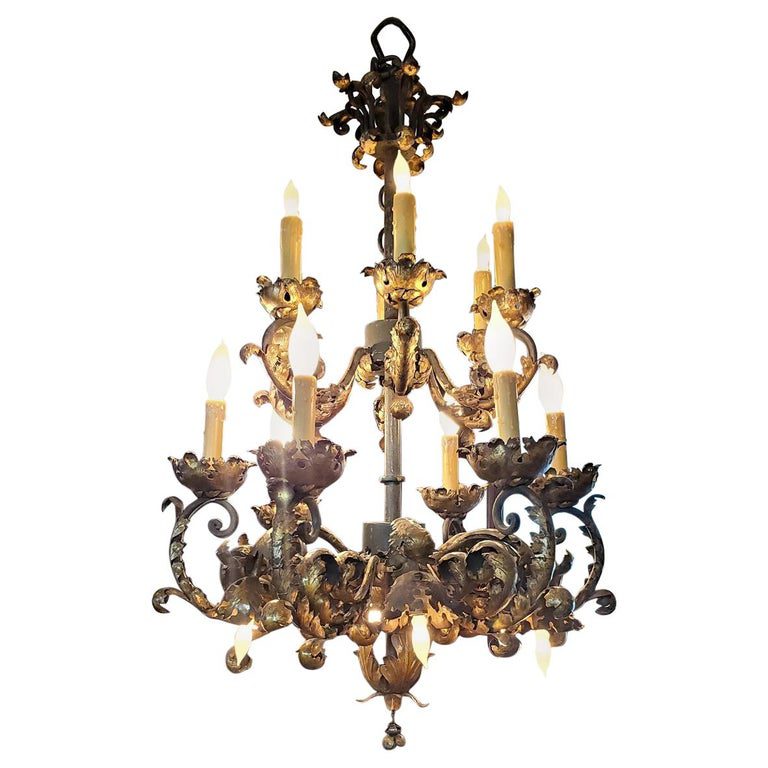 The Rococo Revival style emerged in Second Empire France and then was adapted in England. Revival of the rococo style was seen all throughout Europe during the 19th century within a variety of artistic modes and expression including decorative objects of art, paintings, art prints, furniture, and interior design. In much of Europe and particularly in France, the original rococo was regarded as a national style, and to many, its reemergence recalled national tradition. Rococo revival epitomized grandeur and luxury in European style and was another expression of 19th century romanticism and the growing interest and fascination with natural landscape.
During the later half of the nineteenth century, Rococo Revival was also fashionable in American furniture and interior design. John Henry Belter was considered the most prominent figure of rococo revival furniture making. Revival of the rococo style was not restricted to a specific time period or place, but occurred in several waves throughout the 19th century.
Rococo Revival in France
Louis Philippe (1830-1848)
The rising bourgeoisie in France demanded rococo decorative-art objects as a reflection of status, wealth, and material possession.[8] The bourgeois consumer purchased objects and furnishings from a variety of revival styles, including rococo, for its significance in historicizing opulence and grandeur.
Modern French Rococo furniture was characterized by its lightness, elegance and grace.[9] Its ornamentation consisted of delicate foliage and intricate details. Other characteristics included: embellished and elaborate carving, rich carving of floral and fruit motifs, curved frames, and tufted upholstery.
Second Empire (1852-1870)
Mariano Fortuny – Self-portrait – Google Art ProjectMariano Fortuny, The Choice of a Model, 1874. Oil on canvas
According to a publication by Caroline Ingra,[10] Italian artists came to Paris during the Second Empire in search for artistic opportunities. Rome remained the center for young artists wanting to study classical tradition but not for artists who wanted to study contemporary art. They adapted the fashionable revival of eighteenth-century rococo genre painting. The fame and recognition of these Italian artists of Spanish origin and based primarily on the work of Mariano Fortuny.
Paris represented the latest in modern artistic development and attracted many artists. Fortuny attracted an audience in Paris upon first appearance in 1860. His work had a resemblance to 18th century paintings by Antoine Watteau and Jean-Honoré Fragonard. The late Second Empire patrons were most interested in Fortuny's revival of 18th century genre painting.[11]
Fortuny's rococo-revival imagery was especially appealing to the French audience during the last years of the Second Empire.[12] During this period, a major revival interest was seen in 18th century Paris and genre painting that was practiced by academic artists. For the increasing bourgeois audience, the rococo-revival paintings presented an optimistic outlook on life and were appropriate to the new Parisian 'nobility' of the late Second Empire.
Ingra notes that, "The vogue for rococo imagery [during the Second Empire] however, represented more than a shift in patronage and, consequently, taste. The interest in prerevolutionary art was part of the efforts of Second Empire officialdom to establish legitimacy for itself by connecting with a period when royalty was as yet unchallenged." [13] She continues by asserting, "Reviving this early regime was a means of flattering themselves and emphasizing their own imperialist claims, in hope of achieving the awe and respect of the populace supposedly enjoyed by the former regime." [14]
The Second Empire was interested in reviving rococo art as a means to regenerate the ideals and values of the old regime. It was a means to emphasize pride, power, and respect in hopes of achieving admiration and devotion enjoyed by the former regime. However, some contemporary figures were appalled and considered that the exploitation of rococo revival by Italian artists was an inferior body of work. Critics saw this new manner of painting as vapid and without style.
Third Republic (1870-1940)
The French State sought to promote patrimony following its defeat in Franco-Prussian War. Late 19th-century France heavily invested in rococo style as a means to regenerate national pride and heritage.
Link: https://en.wikipedia.org/wiki/Rococo_Revival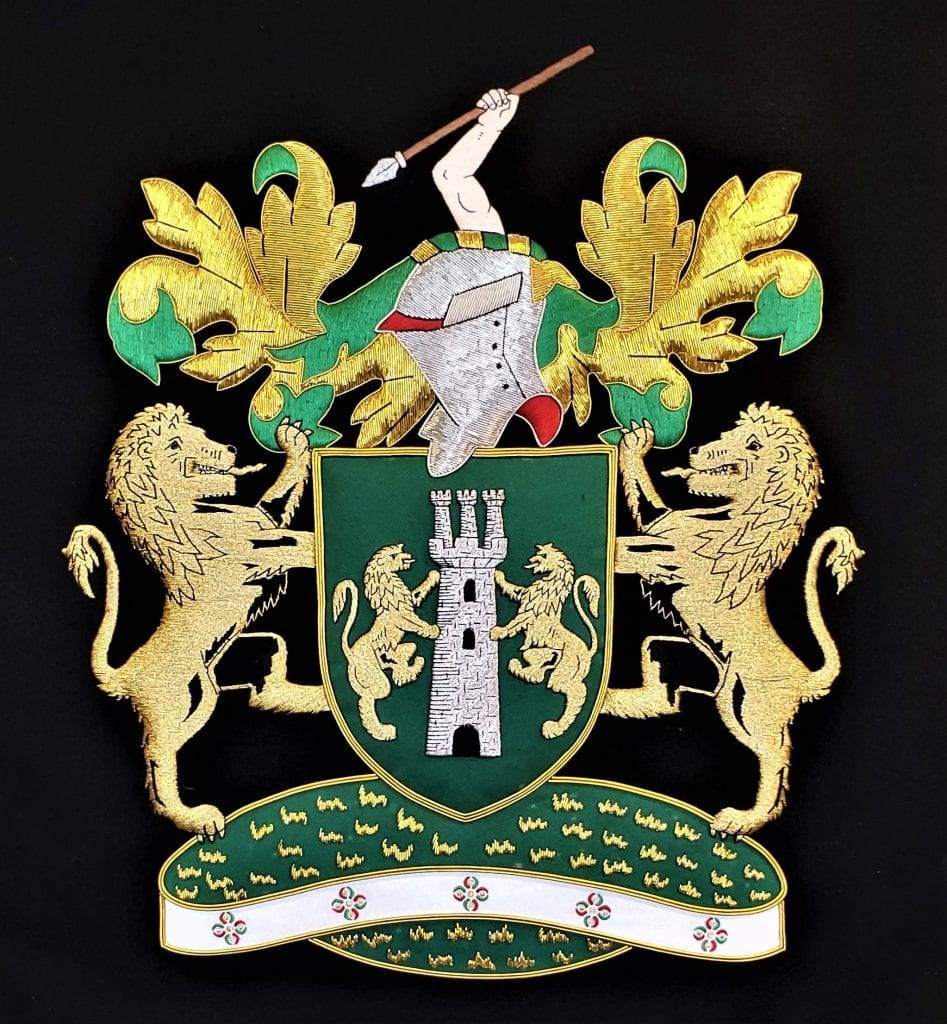 19C French Gilt Bronze 18 Branch Chandelier.
Provenance: From the Private Collection of a Retired Dallas Design District Dealer.
Condition: Very good. Fully operational. One professional repair to one branch but does not detract from the piece.
Dimensions: 34″ Tall with base Diameter of 26″
PRICE NOW: $8,400