PRESENTING a GLORIOUS Early 19C Derby Porcelain Lidded Centerpiece.
Early piece of Derby porcelain, with early mark. From circa 1800-20.
Entirely hand-painted and hand gilded in 24ct gold.
The Lid has a gilded 'crocus' flower finial with 3 hand-painted floral panels.
Cobalt blue with profuse gilt work.
The base/bowl is white porcelain again with 3 hand painted floral panels, cobalt blue and profuse gilt work. It has a pieced fretwork top and has 3 gilt ram heads with curling horns on the sides. It extends to a tripod base of 3 sheep's feet or hooves on a base plinth that again is cobalt blue with gilt work.
Under the base is it marked with a 'Crown' with 6 internal dots and dots around the crown. It has the initials "AB" underneath.
Whilst we have been unable to locate an identical mark for Royal Crown Derby, the similarities to other Derby marks couple with the decoration and style lead us to the firm opinion that this is a 'Derby' piece rather than German or Dresden.
It is in 'near mint' condition with no chips or cracks and only some very minor rubbing to the gilt work.
AN AMAZING SURVIVOR FROM THE REGENCY ERA !
---
The Royal Crown Derby Porcelain Company is the oldest or second oldest remaining English porcelain manufacturer, based in Derby, England (disputed by Royal Worcester, who claim 1751 as their year of establishment). The company, particularly known for its high-quality bone china, having produced tableware and ornamental items since approximately 1750. It was known as 'Derby Porcelain' until 1773, when it became 'Crown Derby', the 'Royal' being added in 1890. The factory closed down in the past under Royal Doulton ownership, but production was revived under the renewed ownership of Hugh Gibson and Pearson family.
In 1745 André Planché, a Huguenot immigrant from Saxony, settled in Derby, where between 1747 and 1755 he made soft-paste porcelain vases and figurines. At the beginning of 1756 he formed a business partnership with William Duesbury (1725–1786), a porcelain painter formerly at Chelsea porcelain factory and Longton Hall, and the banker John Heath.[1] This was the foundation of the Derby company, although production at the works at Cockpit Hill, just outside the town, had begun before then, as evidenced by a creamware jug dated 1750, also in the possession of the Victoria and Albert Museum. Planché disappeared from the scene almost at once, and the business was developed by Duesbury and Heath, and later Duesbury alone. A talented entrepreneur, Duesbury developed a new body which contained glass frit, soapstone and calcined bone. This enabled the factory to begin producing high-quality tableware. He quickly established Derby as a leading manufacturer of dinner services and figurines by employing the best talents available for modelling and painting. Figure painting was done by Richard Askew, particularly skilled at painting cupids, and James Banford. Zachariah Boreman and John Brewer painted landscapes, still lifes, and pastorals. Intricate floral patterns were designed and painted by William Billingsley.
In 1770, Duesbury further increased the already high reputation of Derby by his acquisition of the famous Chelsea porcelain factory in London. From this point the Derby paste included bone ash.[2] He operated the Chelsea factory on its original site until 1784 (the products of this period are known as 'Chelsea-Derby'), when he demolished the buildings and transferred the assets, including the stock, patterns and moulds, and many of the workmen, to Derby. Again, in 1776, he acquired the remainder of the formerly prestigious Bow porcelain factory, of which he also transferred the portable elements to Derby.
In 1773, Duesbury's hard work was rewarded by King George III, who after visiting the Derby works granted him permission to incorporate the royal crown into the Derby backstamp, after which the company was known as 'Crown Derby'.
In 1786, William Duesbury died, leaving the company to his son, William Duesbury II (1763–1796), also a talented director, who besides keeping the reputation of the company at its height, developed a number of new glazes and body types.
William Duesbury II did not live to fulfil his promise: he died in 1797 at the age of 34 and the company was taken over by his business partner, an Irishman named Michael Kean, who later married Duesbury's widow. He seems not to have enjoyed good relations with the highly skilled workforce, and many eminent artists left. Others however produced good work under his management, including Moses Webster, a flower painter who replaced Billingsley, Richard Dodson (who specialised in birds), George Robertson (land- and seascapes) and Cuthbert Lawton (hunting scenes). The best-known artist of this time was William Pegg, a Quaker, famed for his striking and idiosyncratic flower painting. He started in 1797 but his religious beliefs led him to the conclusion that painting was sinful and he left in 1800. He returned in 1813, but left again in 1820.
Despite much good work, the Kean period was disruptive and the company suffered financially.
William Duesbury III, born in 1790, son of William Duesbury II, took over the factory when he came of age, and Kean having sold his interest to his father-in-law, William Duesbury's grandfather, named Sheffield, the concern continued under the name of Duesbury & Sheffield.
Link: https://en.wikipedia.org/wiki/Royal_Crown_Derby
---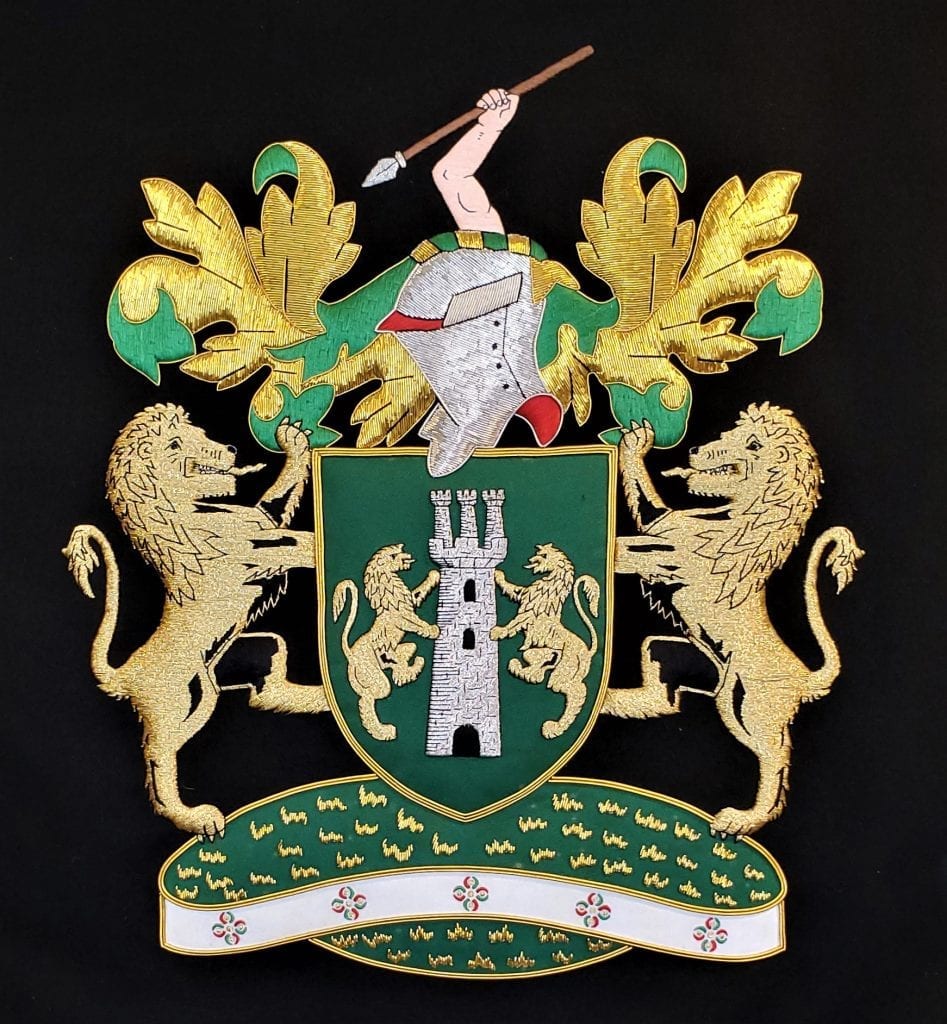 19C Derby Porcelain Lidded Centerpiece
Provenance: From a Private Dallas Collection.
Condition: Near Mint.
Dimensions: 10.5″ Tall, Lid Diameter of 8.5″, Base rim is 9.5″ wide to include the rams head. The Bowl has a diameter of 8.25″ and the plinth is 5.25″ wide and the same deep.
SALE PRICE NOW: $3,800