PRESENTING A GORGEOUS late 19th Century British made corner cabinet, made of beautiful rosewood and profusely inlaid with marquetry and faux ivory.
Made circa 1875 – 1890.
A set of 4 beveled mirrors to the rear make for 3D displays.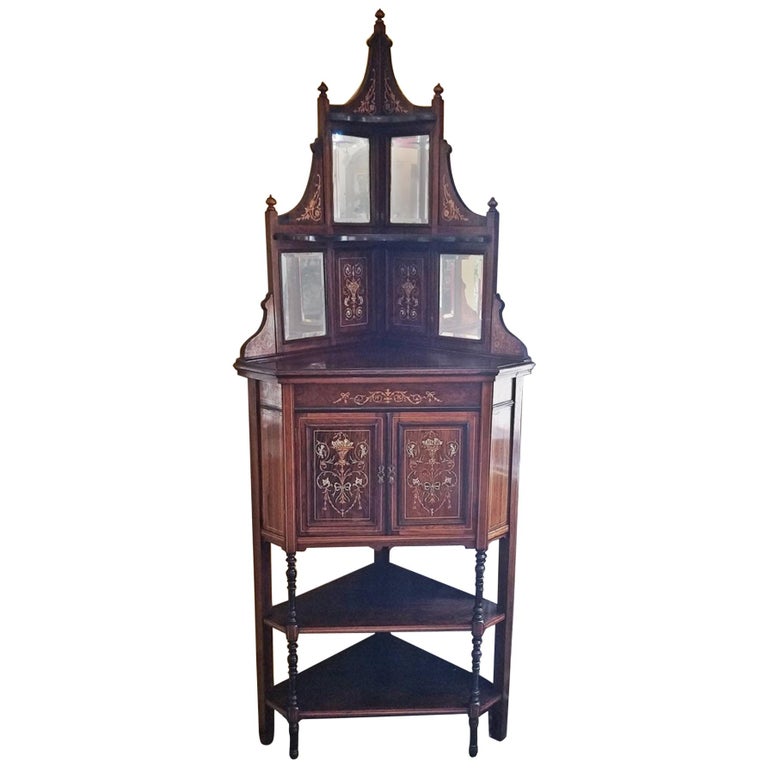 Beautifully made and REALLY TOP QUALITY piece !!!
EXCEPTIONAL HIGH-END PIECE OF FURNITURE !!!
19th Century English Corner Cabinet Attributed to Collinson and Lock.
The cabinet stands on finely carved and fluted legs to the front and more solid supports to the rear with 2 open shelves.
The base front has 2 doors that open to reveal 2 shelves. The front of each door is heavily inlaid with marquetry depicting urns, flowers, vases etc. It is also heavily inlaid with finely carved and hand-painted faux ivory sections depicting cherubs and faces on the flowers.
Similarly, the display top is heavily inlaid with marquetry and faux ivory in similar depictions to the base.
The display section also has a shelf and the top levels are each bordered by a pointed wooden finial.
It is edged and banded in gorgeous dark moldings.
Photos cannot do this piece justice !!!
Attributed to a well known London maker…..Collinson & Lock.………….famous for this type of work and HIGHLY sought after.
The firm Collinson & Lock was founded in the late 19th century by F.G. Collinson and G.J. Lock, both of whom were former employees of Jackson & Graham.
The company manufactured furniture for the likes of the Savoy Theatre and the new Law Courts, and a variety of their furniture items were featured at the Paris Exposition Universelle exhibit in 1878. Some of the many furniture designers who were employed by the firm include E. W. Godwin (who was paid a retainer to produce designs for the company from 1872 and 1874), T.E. Colcutt, Stephen Webb, H.W. Batley, and many more.
Webb designed for the firm between 1885 and 1897 and exhibited at the Arts and Crafts Society Exhibitions from 1888 to 1906. He was also a member of the Art Workers Guild. Webb is now best remembered for his designs of intarsia, which he normally executed in ivory. Much of the furniture which was decorated with Webb`s inlaid work was designed by the firms founding partner J. S. Lock.
Link; http://connaughtantiques.com/collections/bookcases-cabinets/products/a-superb-19th-century-drawing-room-cabinet-attributed-to-collinson-and-lock-ref-no-4008
I originally bought it at Auction and had a number of competing bidders against me including London bidders by phone.
It was an expensive item to buy !!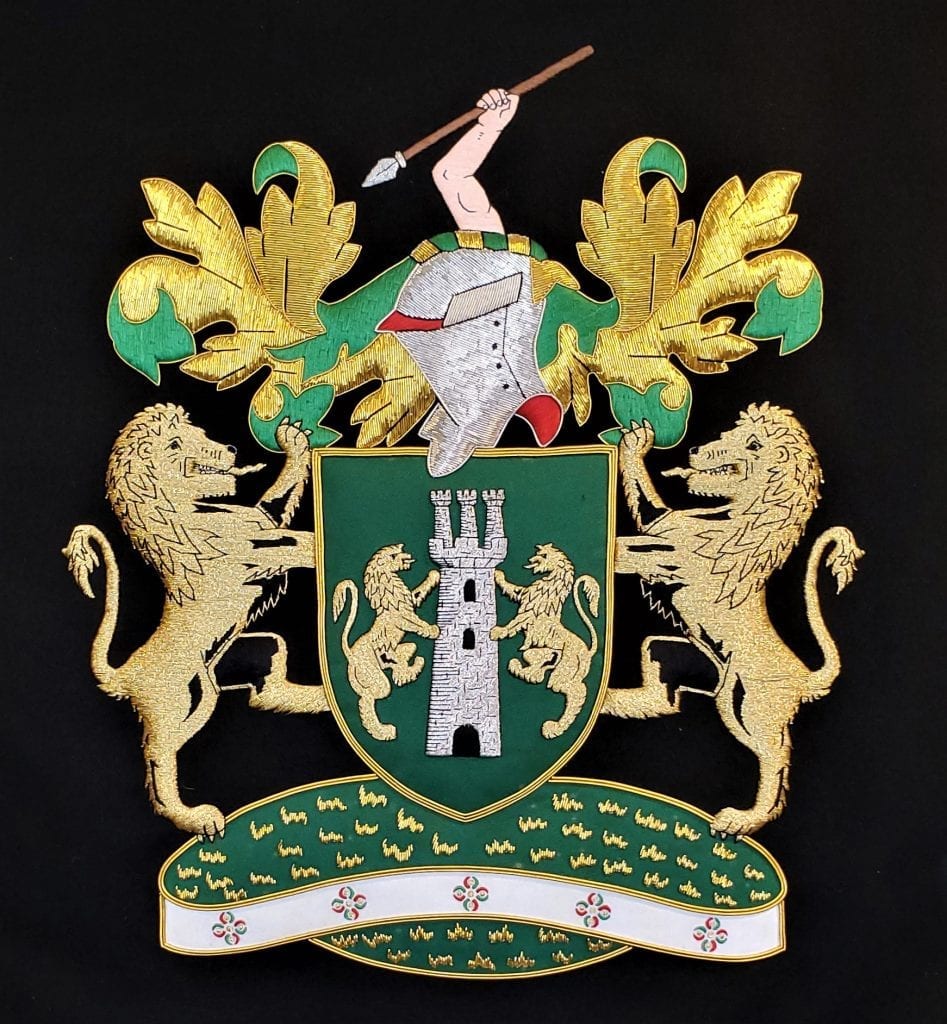 19th Century English Corner Cabinet Attributed to Collinson and Lock.
Provenance: Bought at a High-end Antique Auction in Ireland.
Dimensions: 78.5″ Tall, 29″ Wide and 17.5″ deep
Condition: Excellent. Missing one small piece of molding on the side.
SALE PRICE NOW: $4,860