19C American Dark Walnut Bevelled Mirror.
Presenting a RARE 19C American Dark Walnut Bevelled Mirror.
From circa 1880 and made of solid dark walnut……..so dark it appears almost black..
Made in the Southern States of the USA….possibly in Georgia..
BEAUTIFUL simple frame enclosing a gorgeous ORIGINAL bevelled mirror.
Very heavy………..SIMPLE ELEGANCE!.
Juglans nigra, the eastern black walnut, is a species of deciduous tree in the walnut family, Juglandaceae, native to eastern North America. It grows mostly in riparian zones, from southern Ontario, west to southeast South Dakota, south to Georgia, northern Florida and southwest to central Texas. Wild trees in the upper Ottawa Valley may be an isolated native population or may have derived from planted trees.
Black walnut is an important tree commercially, as the wood is a deep brown color and easily worked. The fruits, walnuts, are cultivated for their distinctive and desirable taste. Often, trees are grown for both lumber and walnuts simultaneously and many cultivars have been developed for improved quality nuts or wood. Black walnut is currently under pressure from the thousand cankers disease that is causing decline of walnuts in some areas. Black walnut is also allelopathic, which means that it releases chemicals from roots and other tissues that harm other organisms and give the tree a competitive advantage; this is often undesirable as it can harm garden plants and grasses.
Link: https://en.wikipedia.org/wiki/Juglans_nigra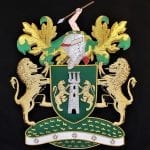 19C American Dark Walnut Bevelled Mirror.
Provenance: From a Private Collector in University Park, Dallas.
Condition: Very Good.
Dimensions:  27″ tall, 24″ wide.
Price Now: $699