PRESENTING AN ABSOLUTELY STUNNING Early 19C British Rosewood Davenport Desk in the Manner of Gillows circa 1830.
A Davenport is a type of writing desk name after its creator, Captain Davenport in the late 18th Century.
Although not marked or labeled, this desk is most definitely in the Manner of pieces made by the famous English maker of Gillows of Lancaster and London.
The quality is exceptional and very comparable to other confirmed Gillows pieces.
We date this to circa 1830, as it has a lot of characteristics one would expect from a Regency piece but the circular padded feet and base are more William IV in style.
One side has 4 false drawers and is serpentine in form and shape and the other side has 4 real drawers which are straight in shape and form, There is also a smaller pull out and hinged, ink and pen holder drawer at the top which pulls out fully and then can hinge 90 degrees so that it will be closer to the desk seating area.
The Lid is inlaid with green Moroccan leather with gilt edging.
The interior is made with gorgeous burl yew wood. It has 2 smaller central drawers above one large bottom drawer and two galleried cubbies wither side.
The Front legs are scrolled and beautifully carved with floral motifs.
GORGEOUSLY grained rosewood veneer with original patina on ALL sides and panels. GORGEOUS burl yewood interior and the secondary woods appear to be either sycamore or maple. FABULOUS hand crafted dovetailing to the drawers. Original locks – English double lever locks – marked 'Patented'. No keys but replacement could be easily and inexpensively made.
This one would have belonged to a wealthy member of British/Irish Society.
It is one of the FINEST examples we have EVER seen!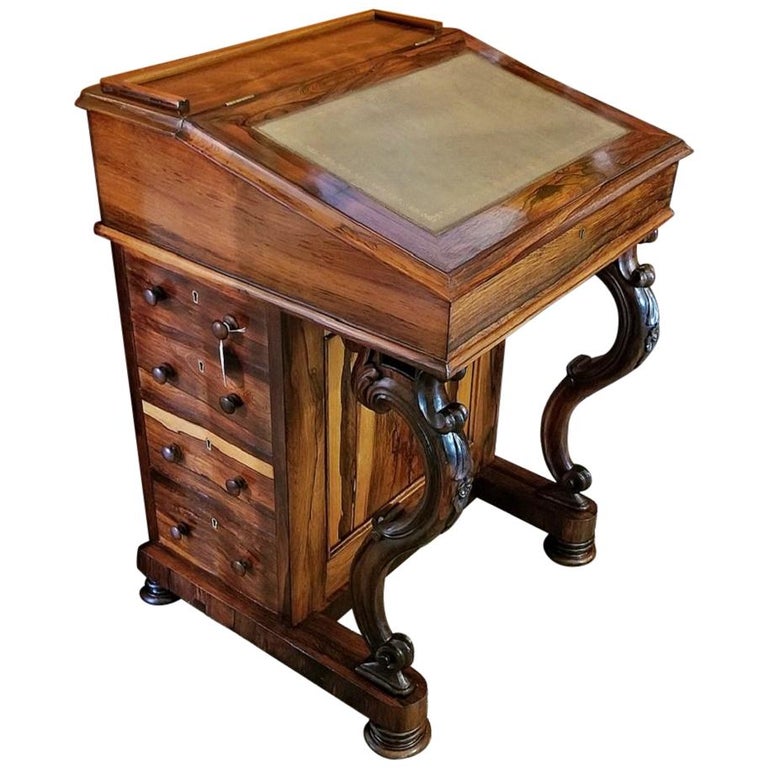 A Davenport desk, (sometimes originally known as a Devonport desk) is a small desk with an inclined lifting desktop attached with hinges to the back of the body. Lifting the desktop accesses a large compartment with storage space for paper and other writing implements, and smaller spaces in the forms of small drawers and pigeonholes. The Davenport has drawers on one of its sides, which are sometimes concealed by a panel. This stack of side drawers holds up the back of the desk and most of its weight.
The front of the desk stands on thick legs or pillars which are often highly carved, somewhat exaggerated, thick cabriole legs, but these are not essential. 19th century Davenport desks had a variety of different leg designs.
The desk shape is distinctive; its top part resembles an antique school desk while the bottom is like one half of the supports of a pedestal desk turned sideways. The addition of the two legs in front completes the odd effect.
This desk owes its name to a Captain Davenport who was the first to commission the design, from Gillows of Lancaster, near the end of the 18th century. In a sense then it could also be considered a Campaign desk though there are no records indicating if Captain Davenport was in the British Army or the Royal Navy.
Link: https://en.wikipedia.org/wiki/Davenport_desk
Gillows of Lancaster and London, also known as Gillow & Co., was an English furniture making firm based in Lancaster, Lancashire, and in London. It was founded around in Lancaster in about 1730 by Robert Gillow (1704–1772).
Gillows was owned by the family until 1814 when it was taken over by Redmayne, Whiteside, and Ferguson; they continued to use the Gillow name. Gillows furniture was a byword for quality, and other designers used Gillows to manufacture their furniture. Gillows furniture is referred to by Jane Austen, Thackeray and the first Lord Lytton, and in one of Gilbert and Sullivan's comic operas. In 1903 Gillows merged with Warings of Liverpool to become Waring and Gillow and although the furniture remained of a high quality it was not as prestigious.
By the mid-18th century the firm was one of the leading cabinet-makers in Lancaster. They had a reputation for manufacturing very high quality furniture. By the end of the 1700s most of the firm's partners were based in London. The firm merged with a Liverpool firm in 1897 to form Waring & Gillow.
Gillow family (1728–1814)
In 1728 Robert Gillow began trading in Lancaster as a joiner, builder, house carpenter, furniture maker and overseas merchant. By the summer of 1731 he had entered into a partnership with a fellow catholic, George Haresnape, which had ended by 1735. By 1734 six other names appeared on their staff list.[8] Gillows notably made heavy use of mahogany wood, which is indigenous to the Americas, from the early 1730s. In the early 1740s, Gillow owned a twelfth share of the ship Briget, which he partially used to import mahogany from the West Indies. The success of the firm was partly due to his ability to directly import mahogany; by 1742 Gillow was exporting finished mahogany furniture back to the West Indies.
On 1 January 1757 Robert entered into an equal partnership with his son Richard Gillow (1733–1811), and the firm was known as Robert Gillow & Son. Richard was also the architect for several buildings in Lancaster. He financed the building of the catholic church in Dalton Square, Lancaster in 1798. The family's Catholic history [b] was important in building up a customer base within Lancashire's gentry, and their subsequent purchase of Leighton Hall, Lancashire from a cousin in 1822. On 31 December 1768 Robert Gillow I retired and left his share of the firm to his other son, Robert Gillow II (1747–1795). In 1769 and 1770, a shop at 176 Oxford Street, London, was sent up by the brothers' cousin, Thomas Gillow (1736–1779), to sell their furniture. Goodison and Hardy state that the firm opened a London branch in 1760 at 176 Oxford Road. By 1775 the Lancaster branch had 42 employees, and by 1789 there were about 50 employees.
Pieces of Gillow furniture can now be seen in museums in London, Leeds, Adelaide, Melbourne, and Auckland, as well as a collection in the Gillow Museum in the Judges' Lodgings, Lancaster. The furniture can also be seen in houses open to the public such as Tatton Park.
Link: https://en.wikipedia.org/wiki/Gillows_of_Lancaster_and_London
This desk form was popular during the 19th century. There have been numerous reproductions during the 20th century, and amateur cabinetmakers sometimes consider a Davenport to be an interesting project.
They were originally designed as Campaign pieces so that an Officer and a Gentleman could carry all his stationary with him in one piece and correspond with his loved ones whilst on campaign.
They became very popular in the 19th Century, and evolved from Campaign pieces to essential items for a house of quality and style.
Some, however, are more SPECIAL than others
and this is one of the SPECIAL ones!
The desk exudes the highest quality.
It was made with the finest rosewood veneers and gorgeous burl yewood interior, hence the gorgeous natural patina.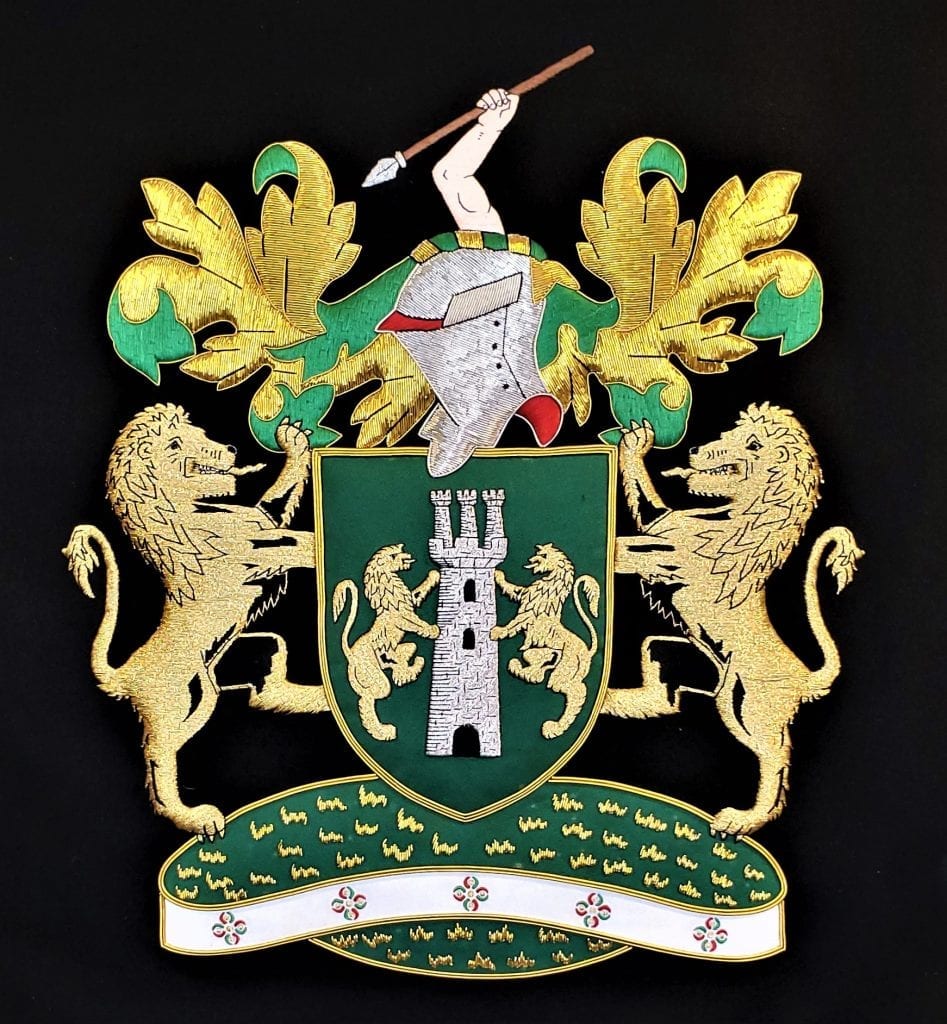 Early 19C British Rosewood Davenport Desk in the Manner of Gillows.
Provenance: Bought from a reputable dealer in Dublin, Ireland.
Dimensions: 34″ tall, 24″ wide and 22″ deep
Condition: Very good original condition. One wax filled crack on front panel under desk (kneehole), One wax filled crack on back panel and one repair to left side of desk lid. Missing a 'cubbie separator' on the inside gallery on the right and some minor losses of molding on the interior drawers. None of these adversely affect the piece. Otherwise it is very, very good.
SALE PRICE NOW: $4,600.


---
---