PRESENTING a STUNNING piece of Indian Antiquity from the 17th Century, namely, a 17C Set of 8 Paintings from a Yantra.
Hastakara Yantra …. from Western India.
This piece has impeccable Provenance !
It was purchased by a Private Dallas Collector at Christie's New York Auction on 21st March 2007. Sale Number 1812, Lot No. 393.
Christie's operate a twice yearly auction of Southeast Asian Art & Antiquities in New York in the months of March and September.
The Lot was described as: "Property of the Estate of Blanche Manso.
Eight paintings from a yantra.
Western India, 17th Century.
Each side drawn with a chariot shape divided into blocks of text, numbered and labeled in the margins, decorated with bright pink, yellow and green on handmade paper.
4.25 x 8.25 in (10.8 x 20.9 cm.) each (8).
Provenance: From the Collection of Blanche Manso"
It carried an Auction estimate of USD 1,000 to USD 1,500 and sold for USD 960 (not including buyers premium).
Allowing for inflation alone this would be over $1,500 in today's value.
The original Christie's Lot No. Label is still attached, as is the catalog label on the back.
It has substantially increased in value over the years as a RARE piece from a prestigious Collection and a RARE piece of Asian antiquity.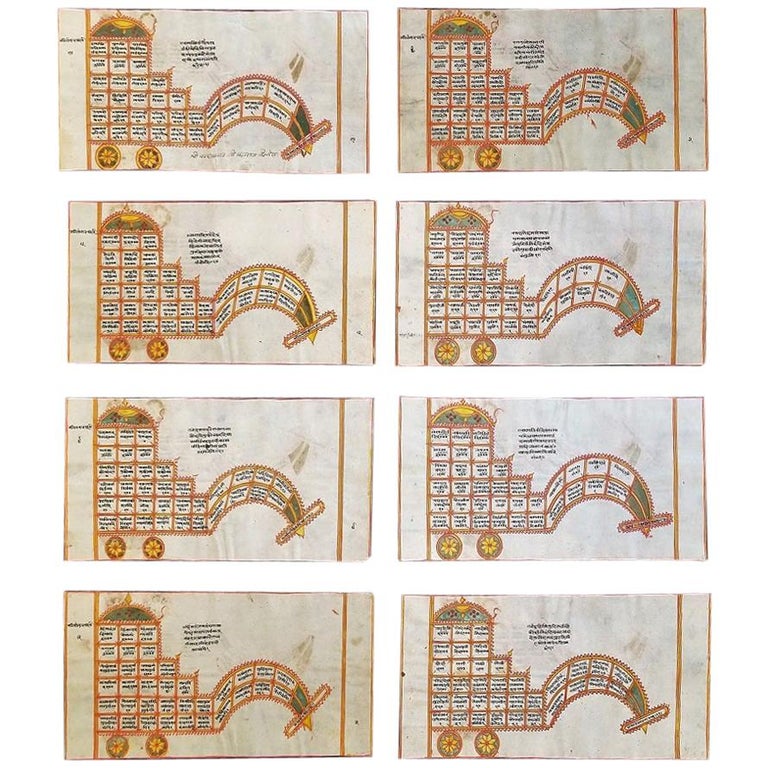 ---
Yantra (यन्त्र) (Sanskrit) (literally "machine, contraption"[1]) is a mystical diagram, mainly from the Tantric traditions of the Indian religions. They are used for the worship of deities in temples or at home; as an aid in meditation; used for the benefits given by their supposed occult powers based on Hindu astrology and tantric texts. They are also used for adornment of temple floors, due mainly to their aesthetic and symmetric qualities. Specific yantras are traditionally associated with specific deities.
Representations of the yantra in India have been considered to date back to 11,000-10,000 years BP.[1] The Baghor stone, found in an upper-paleolithic context in the Son River valley, is considered the earliest example[2] by G.R. Sharma, who was involved in the excavation of the stone (it was dated to 25,000 – 20,000 B.P.). The triangular-shaped stone, which includes triangular engravings on one side, was found daubed in ochre, in what was considered a site related to worship. Worship of goddesses in that region was found to be practiced in a similar manner to the present day.[3] Kenoyer, who was also involved in the excavation, considered it to be associated with Shakti.[4]
In Rigvedic Sanskrit, it meant an instrument for restraining or fastening, a prop, support or barrier, etymologically from the root yam "to sustain, support" and the -tra suffix expressing instruments. The literal meaning is still evident in the medical terminology of Sushruta, where the term refers to blunt surgical instruments such as tweezers or a vice. The meaning of "mystical or occult diagram" arises in the medieval period (Kathasaritsagara, Pancharatra).
Link: https://en.wikipedia.org/wiki/Yantra#targetText=Yantra%20(%E0%A4%AF%E0%A4%A8%E0%A5%8D%E0%A4%A4%E0%A5%8D%E0%A4%B0)%20(Sanskrit),traditions%20of%20the%20Indian%20religions.
---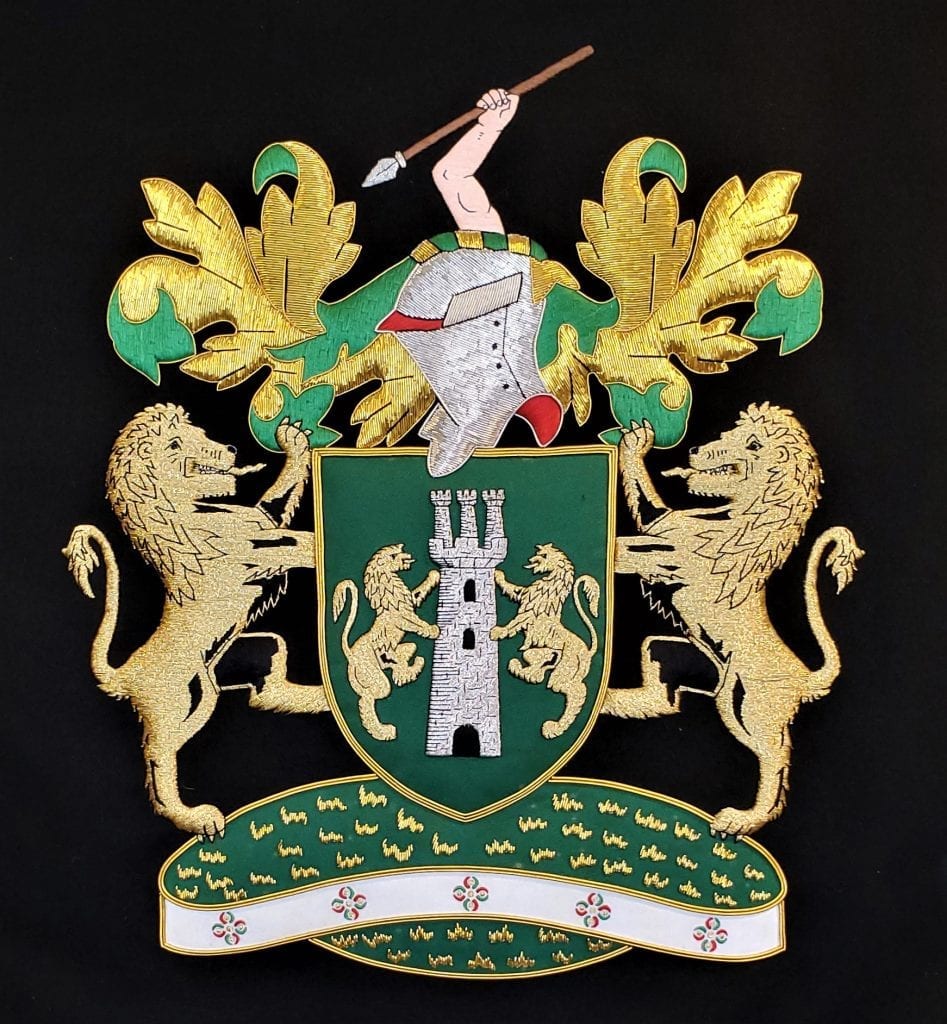 17C SE Asian Indian Set of 8 Paintings from a Yantra.
Provenance: See Above.
Condition: Very Good Original condition. They have been stored in an acid free bag.
Dimensions: 4.25″ x 8.25″ Each
SALE PRICE NOW: $4,200 (SET OF 8)