Pair of 19C Henry Troemner PA Chinoiserie Tea Bins.



Pair of 19C Henry Troemner PA Chinoiserie Tea Bins
PRESENTING a GORGEOUS and EXTREMELY RARE PAIR mid-19th Century, metal Tea Bins, by Henry Troemner of Philadelphia, PA in the Chinoiserie Style.

From circa 1845.
Made of black enameled metal, probably tin, each Tea Tin/Chest has a different Oriental Scene painted on the front in gold paint. Both featuring figures in garen settings with Pagoda's in the background etc.
The bin is opened by way of a handled lid with bronze handle (original).
Both are LARGE examples of their type.
Both have different names written in cursive on the front but we cannot decipher the names. We think these are family names, but most of these rare chests had the type of tea written on the front.


---
EXTREMELY RARE PIECES!!!! HIGHLY QUALITY PIECES!!!

---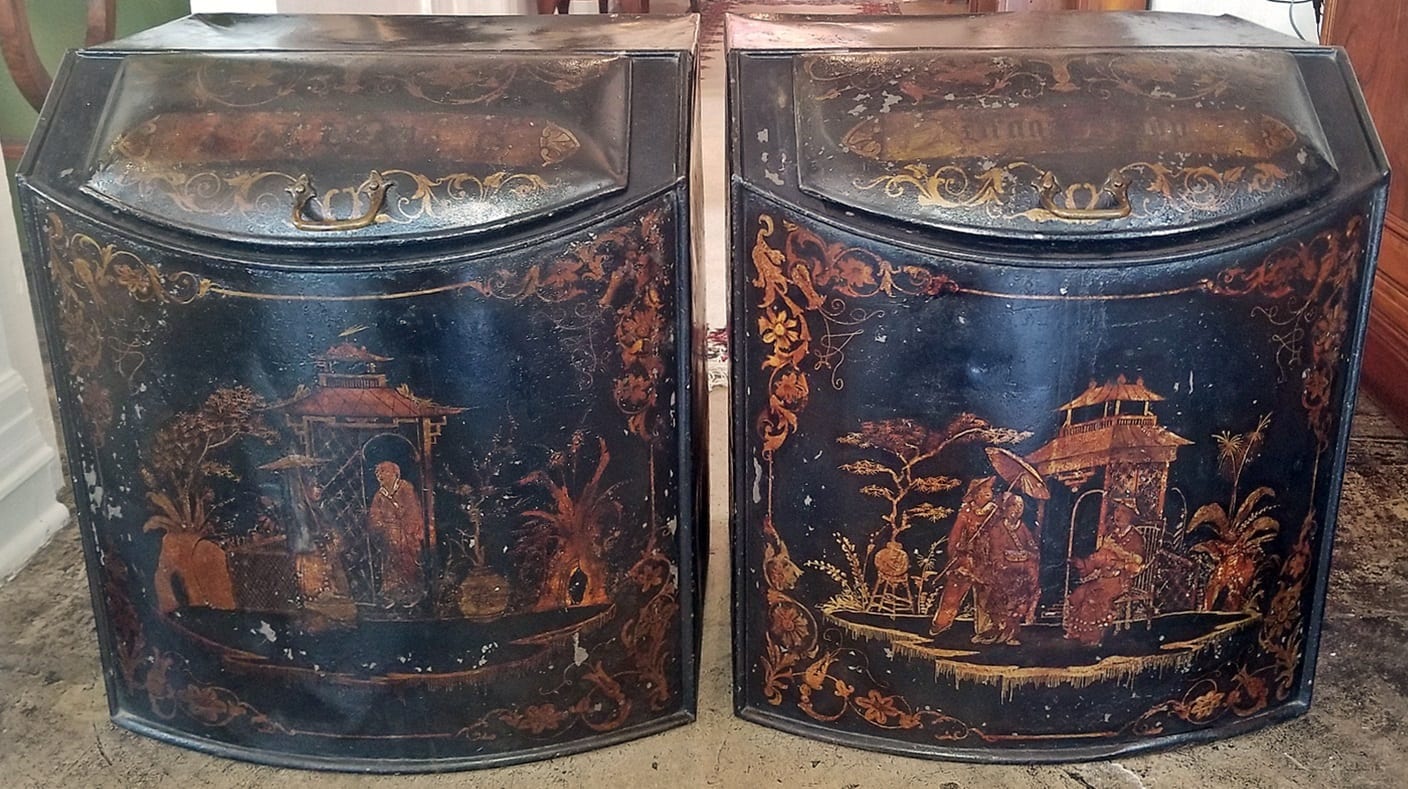 ---
Henry Troemner (1809–1873) was a German-American entrepreneur. He started the Henry Troemner Company, known today as Troemner Inc. The company produced balances and scales.
Troemner immigrated to the United States in 1832 and settled initially in New York City, then, by 1843, Philadelphia. He began making scales and weights in a partnership in 1840, and then established his own company in 1844. He was commissioned by the United States Mint in Philadelphia to make their balances, which he did so well that he was invited to make the bullion balances for the Department of Treasury. He later made scales for the Mexican Mint, Assay Office in New York, and the San Francisco Mint.
According to Ernest Child, Troemner was probably was the first American manufacturer to follow the French mathematician Gilles Personne de Roberval's balance design. This is distinguished by the load being superimposed on the beam, rather than suspended from the beam, and allowed faster weighings.[1]
After his death in 1873 his wife Catherine inherited the business, which was kept in the family until incorporating in 1955.
The Troemner Company is still in existence to this day!
Link: https://www.troemner.com/company-overview


---
Pair of 19C Henry Troemner PA Chinoiserie Tea Bins.
Provenance: From a Private Collection of a Family From New England (Nantucket MA)
Condition: Excellent original condition. Some minor chips to enamel and fading of paintwork due to age..
Dimensions:  " wide, " deep and " tall. 
Price: $6,600.00 (Pair).

Sale Price Now: $5,000.00 (Pair)
Pair of 19C Henry Troemner PA Chinoiserie Tea Bins