Original Etching by AC Webb of Chicago Skyline in 1930.
Original Etching by AC Webb of Chicago Skyline in 1930

PRESENTING a  VERY RARE ORIGINAL etching by Alonzo C. Webb of the City of Chicago with a view of Downtown from 1930.
This etching is in SUPERB ORIGINAL CONDITION.
It is an original etching and not a print. There is no plate mark or number and it has been signed in the lower left hand corner by A.C. Webb, Chicago 1930….one signature on the etching.
The etching is on 'Normandy Vellum' from France and marked/stamped for 'J.L. Hempstead Studios, Etchings, 10 East Ohio Street, Chicago'.
We can only find numbered plated prints of this print online…..being an original means it is EXTREMELY RARE.

---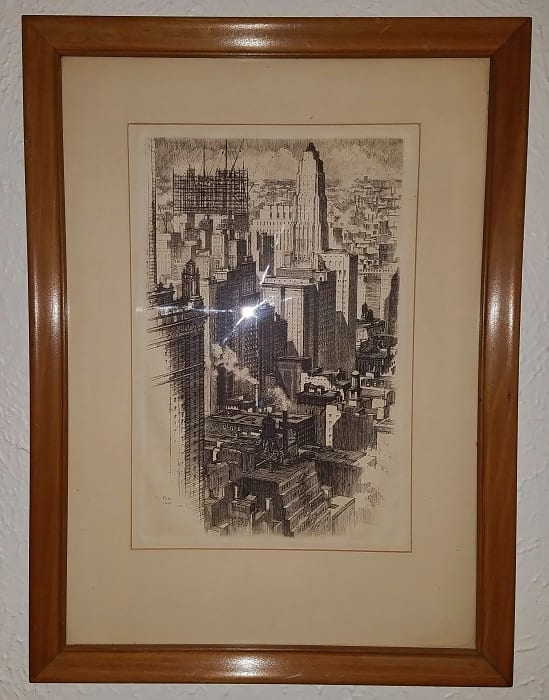 ---
Alonzo C. "A. C." Webb (April 1, 1888 – 1975) was an American etcher, architect, painter and illustrator.
Birth and early life
Webb was born in Nashville, Tennessee, United States, the son of Alonzo C. Webb, Sr. and Ellen Hanor. His father was supervisor of writing and drawing for the public schools in Nashville.
From 1907 to 1909, he attended the Art Institute of Chicago.[1] In 1911, he enrolled at The Stout Institute in Wisconsin, where he studied building trades in preparation for a course in architecture. From 1912-1913 he studied architecture at the University of Illinois. During 1914 and 1915 he practised in Chicago, winning several medals for architectural designs. He later attended the Art Students League of New York and worked with Dan Barber, a New York architect.
During the First World War he served with the American Engineering Forces in France, first as a sergeant and then as a commissioned second Lieutenant. After the armistice in 1918 he remained in Europe, and from March to June 1919 attended the art school opened for American soldiers at the A.E.F. Art Training Center in Bellevue, France. In September 1919 he was demobilized from the army and study design in Italy and illustration in Spain and the United Kingdom. After which, he spent the next six months traveling in Europe and seeing as much art as possible until his money was exhausted.
Determined to stay in France, he began looking for a way to make a living in Paris. Unable to work as an architect, he began making signs in English for the millinery shops along the Rue de Rivoli, which led in time to advertisements and designs[2] for some of the fashionable houses along the rue de la Paix and the Place Vendôme. This led to work with a firm manufacturing heating apparatus and Webb applied his old architectural training to radiators and posters illustrating the installation of modern heating plants in Old World chateaux.
About 1920, he started etching and his work began appearing frequently in the French weekly L'Illustration. During the 1920s and 1930s, Webb lived and worked in both France and the United States. He etched many architectural images of France and Italian cities and American centers such as New York, Chicago, and Pittsburg. Many of Webb's European views were published and exhibited by the Marcel Guiot Gallery, Paris.[3]
In the late 1930s he moved to London, where he died in 1975.

---
THIS IS A VERY RARE ORIGINAL ETCHING!!

---
Original Etching by AC Webb of Chicago Skyline in 1930.
Provenance: From a the Lida Calvert Hall/Obenchain/McMillan/Godwin Collection.
Calvert Hall,Obenchain,McMillan,Godwin Introduction PDF
Thomas Obenchain was a stockbroker based in Dallas, TX in the 1920's and 30's. He conducted most of his stock market trade through the Chicago Markets. We believe that he purchased this etching in Chicago at that time. It has remained in family ownership ever since.
Dimensions: 19" x 14"
Condition: In original frame....with original mounting. See condition above.
Price: $3,200.00
Original Etching by AC Webb of Chicago Skyline in 1930