19C Ohio Shaker Drop Leaf Table.
19C Ohio Shaker Drop Leaf Table

PRESENTING a  VERY RARE Mid-19th Century Cherrywood Drop Leaf Table…..made by the SHAKERS in the Ohio River Valley area circa 1860.
This table is in SUPERB ORIGINAL CONDITION.
It was acquired by Major William Alexander Obenchain before the Civil War.
Major Obenchain was formerly of Virginia and later served as the head of the Virginia Corps of Engineers and was on General Robert E. Lee's staff during the Civil War.
After the War Major Obenchain relocated to Bowling Green, Kentucky where he became President of Ogden College (now University of Western Kentucky).
He brought this table with him and his family subsequently brought it to Dallas, TX by his wife, Lida Calvert Hall-Obenchain at the start of the 20th Century.
For a full history of both Major Obenchain and his famous wife check out our PDF: Calvert Hall,Obenchain,McMillan,Godwin Introduction PDF
The table was unmistakably made by the Shakers….the turned ball and finial legs are classic shaker!

---
This is a STUNNING little table and EXTREMELY RARE
with SUPERB HISTORIC Provenance!!

---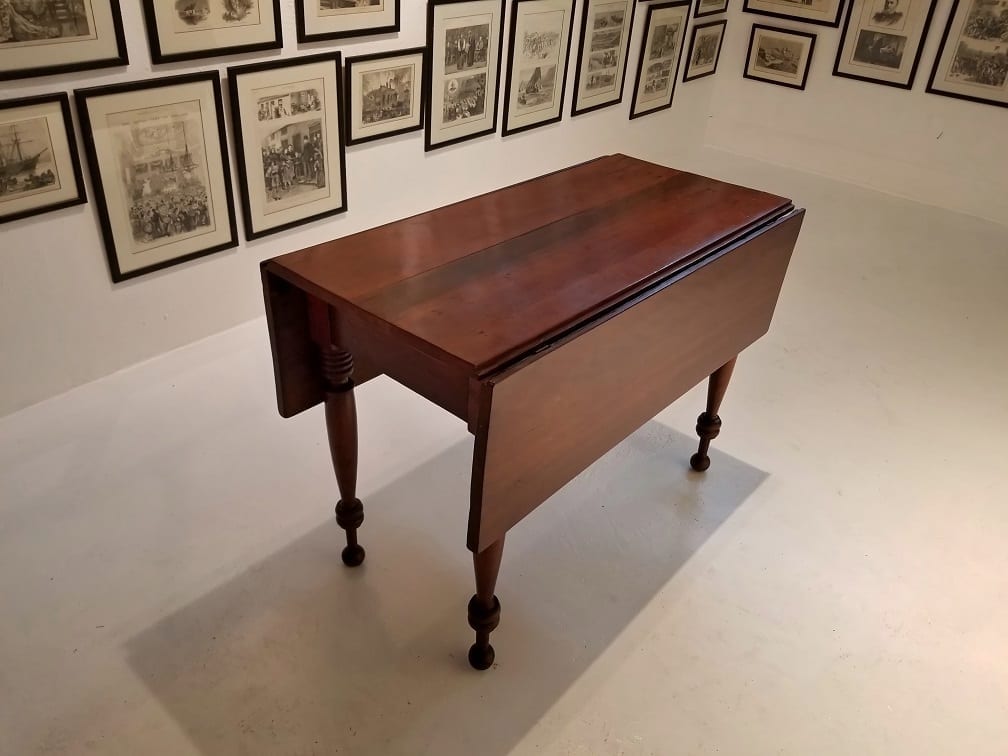 ---
SHAKERS:
The United Society of Believers in Christ's Second Appearing, more commonly known as the Shakers, is a millenarian restorationist Christian sect founded in the 18th century in England. They were initially known as "Shaking Quakers" because of their ecstatic behavior during worship services. As early as 1747, women assumed leadership roles within the sect, notably Jane Wardley, Mother Ann Lee, and Mother Lucy Wright. Shakers settled in colonial America, with initial settlements in New Lebanon, New York (called Mount Lebanon after 1861). They practice a celibate and communal lifestyle, pacifism, and their model of equality of the sexes, which they institutionalized in their society in the 1780s. They are also known for their simple living, architecture, and furniture.
During the mid-19th century, an Era of Manifestations resulted in a period of dances, gift drawings, and gift songs inspired by spiritual revelations. At its peak in the mid-19th century, there were 6,000 Shaker believers. By 1920, there were only 12 Shaker communities remaining in the United States. At the present time, there is only one active Shaker village, Sabbathday Lake Shaker Village, which is located in Maine. Their celibacy combined with external and internal societal changes resulted in the thinning of the Shaker community, and consequently many of the other Shaker settlements are now village museums.
Shakers developed written covenants in the 1790s. Those who signed the covenant had to confess their sins, consecrate their property and their labor to the society, and live as celibates. If they were married before joining the society, their marriages ended when they joined. A few less-committed Believers lived in "noncommunal orders" as Shaker sympathizers who preferred to remain with their families. The Shakers never forbade marriage for such individuals, but considered it less perfect than the celibate state.

---
Shaker furniture is a distinctive style of furniture developed by the United Society of Believers in Christ's Second Appearing, commonly known as Shakers, a religious sect that had guiding principles of simplicity, utility and honesty. Their beliefs were reflected in the well-made furniture of minimalist designs.[1]
Shaker communities were largely self-sufficient: in their attempt to separate themselves from the outside world and to create a heaven-on-earth, members grew their own food, constructed their own buildings, and manufactured their own tools and household furnishings.—Metropolitan Museum of Art[1]
Furniture was made thoughtfully, with functional form and proportion. Rather than using ornamentation — such as inlays, carvings, metal pulls, or veneers — which was seen as prideful or deceitful, they developed "creative solutions such as asymmetrical drawer arrangements and multipurpose forms to add visual interest." Furniture was made of cherry, maple or pine lumber, which was generally stained or painted with one of the colors which were dictated by the sect, typically blue, red, yellow or green. Drawer pulls for dressers or other furniture were made of wood.

---
THIS IS A VERY RARE ORIGINAL TABLE!!

---
19C Ohio Shaker Drop Leaf Table.
Provenance: From a the Lida Calvert Hall/Obenchain/McMillan/Godwin Collection.
Calvert Hall,Obenchain,McMillan,Godwin Introduction PDF
Dimensions: 29.2" Tall, 41.8" Deep, 21.5" wide with leaves down, 44" wide with leaves up.
Condition: Superb original condition.
Price: $5,400.00.

Sale Price Now: $3,800.00
19C Ohio Shaker Drop Leaf Table