19C American Porcelain Jenny Lind Style Dolls.
19C American Porcelain Jenny Lind Style Dolls

PRESENTING an ABSOLUTELY STUNNING and HISTORIC 19C American Porcelain Jenny Lind Style Dolls belonging to Lida Calvert Hall  circa 1860.
There are 3 Dolls…….one slightly larger than the other 2 and of much better quality and RARE and VALUABLE.
They are ALL in their ORIGINAL period calico clothing with lace undergarments.
The clothing is distinctively WESTERN in style and every piece of clothing would have been handmade in the US…….around the time of the Civil War.
The Doll heads, arms and legs are all made of porcelain….more than likely made in Germany…..possibly by Conta & Boehme.
Definitely in the Jenny Lind style with the heads and facial features.
The porcelain is hand-painted for more detail.
The larger one in the center of the main picture is without doubt the best one….but the other 2 are also extremely good examples.

---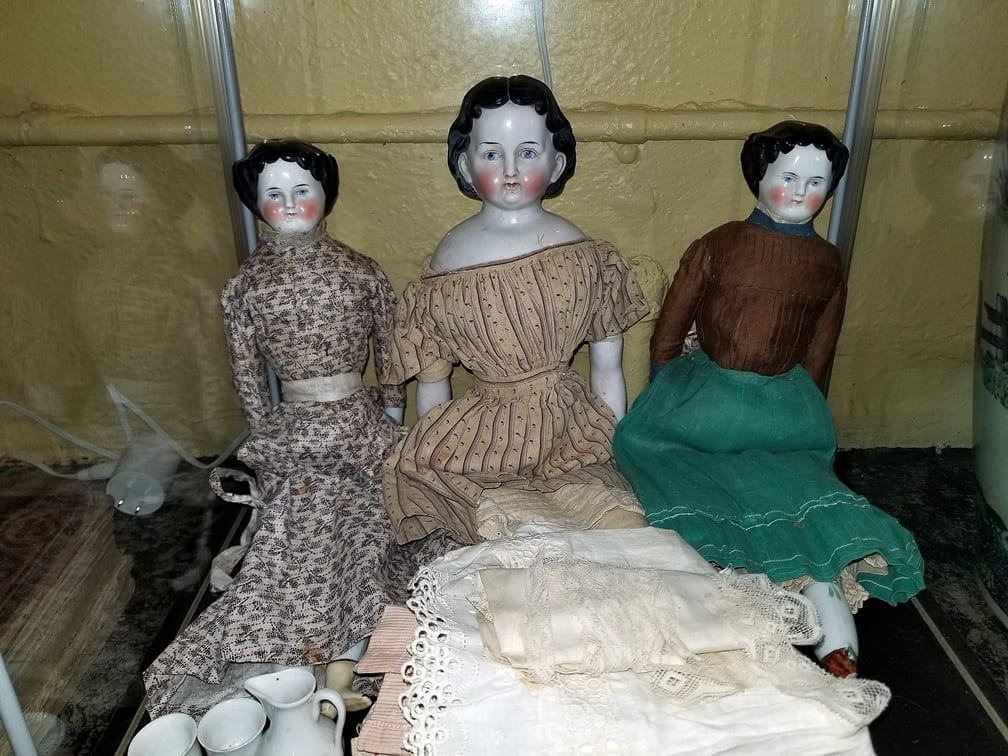 ---
These were Lida Calvert Hall's personal dolls and were discovered in a cedar chest belonging to her.
These would have been played with by Lida as a child growing up in Bowling Green, Kentucky.
Not only are they HISTORIC pieces in their own right...but....because Lida was a famous person they have added HISTORICAL SIGNIFICANCE and therefore are being sold together...not split up!
The mini porcelain tea set and additional original period clothing items, were also found with the dolls and are being included in the set being sold.

---
These Dolls have IMPECCABLE  PROVENANCE:
It is part of the Lida Calvert Hall Obenchain Collection and has been in the family's possession since in or around 1860.
Check out our PDF about this AMAZING Private Collection: Calvert Hall,Obenchain,McMillan,Godwin Introduction PDF
Link: https://en.wikipedia.org/wiki/Eliza_Calvert_Hall

---
Johanna Maria Lind (6 October 1820 – 2 November 1887), better known as Jenny Lind, was a Swedish opera singer, often known as the "Swedish Nightingale". One of the most highly regarded singers of the 19th century, she performed in soprano roles in opera in Sweden and across Europe, and undertook an extraordinarily popular concert tour of America beginning in 1850. She was a member of the Royal Swedish Academy of Music from 1840.
Lind became famous after her performance in Der Freischütz in Sweden in 1838. Within a few years, she had suffered vocal damage, but the singing teacher Manuel García saved her voice. She was in great demand in opera roles throughout Sweden and northern Europe during the 1840s, and was closely associated with Felix Mendelssohn. After two acclaimed seasons in London, she announced her retirement from opera at the age of 29.
In 1850, Lind went to America at the invitation of the showman P. T. Barnum. She gave 93 large-scale concerts for him and then continued to tour under her own management. She earned more than $350,000 from these concerts, donating the proceeds to charities, principally the endowment of free schools in Sweden. With her new husband, Otto Goldschmidt, she returned to Europe in 1852 where she had three children and gave occasional concerts over the next two decades, settling in England in 1855. From 1882, for some years, she was a professor of singing at the Royal College of Music in London.
Link : https://en.wikipedia.org/wiki/Jenny_Lind

---
A china doll is a doll made partially or wholly out of glazed porcelain. The name comes from china being used to refer to the material porcelain. Colloquially the term china doll is used to refer only glazed porcelain dolls.[1]
A typical china doll has a glazed porcelain head with painted molded hair and a body made of cloth or leather. They range in size from more than 30" (76 cm) tall to 1 inch (2.5 cm). Antique china dolls were predominantly produced in Germany, approximately between 1840 and 1940. Rare and elaborately decorated antique china dolls can have value on the collectors market. Beginning in the mid-20th-century reproductions of china dolls of various quality were produced in Japan and the United States.
Antique china dolls were predominantly produced in Germany, approximately between 1840 and 1940,[2] with the peak in popularity between roughly 1840 and 1890. Unglazed bisque dolls became popular after 1850. Harper's Bazaar referred to china dolls as "old fashioned" in 1873, though they continued being made well into the early 20th century.[1] China doll heads were produced in large quantities, counting in the millions. Some of the most prolific manufacturers were companies like Kestner; Conta & Boehme; Alt, Beck and Gottschalck;[1] and Hertwig. Other German companies include Kling, Kister, KPM, and Meissen. China dolls were also produced in Czechoslovakia (Schlaggenwald), Denmark (Royal Copenhagen),[3] France (Barrois, Jacob Petit), Poland (Tielsch), and Sweden (Rörstrand),.[4] The earliest known were made by Kestner, KPM, Meissen and Royal Copenhagen.
The earliest china dolls often depicted grown women. From approximately the 1850s on, child-like china dolls became popular. Blonde-haired china dolls became more prevalent at the end of the 1800s.[1] These dolls display contemporary hairstyles: sausage curls, ribbons or headbands
Link: https://en.wikipedia.org/wiki/China_doll

---
19C American Porcelain Jenny Lind Style Dolls.
Provenance: Part of the Lida Calvert Hall/Obenchain/Godwin/McMillan Collection......formerly of Bowling Green, Kentucky and Highland Park, Dallas, TX.
Condition: Overall in extremely good ORIGINAL condition. These have been virtually UNTOUCHED by human hands in over 70 years.
There is damage to the feet of 2 of the Dolls. The large doll on the left has both feet broken and one hand broken. The doll second from the left has one foot and one hand broken. The doll on the right has one hand broken only.
As Doll Collectors will tell you...damage to the feet and arms of these dolls is pretty much irrelevant to their value. The value in THESE dolls is in the heads, clothing and provenance.
The Set is being sold with original additional clothing items as can be seen in the display photo AND the doll porcelain tea set..
Dimensions: .  
A single doll (similar to the one on the left) have sold at Auction for circa $2,000 and that is WITHOUT the provenance,period clothing etc. that these dolls have!

---
THIS IS YOUR CHANCE TO OWN A PIECE OF AMERICAN HISTORY!
PIECES OWNED AND PLAYED WITH BY A LEADING MEMBER OF THE SUFFRAGIST MOVEMENT AND FAMOUS AUTHOR!

---
Price: $6,999.00 (Set).  

Sale Price Now: $4,999.99 (Set)