PRESENTING a GORGEOUS Set of 3 Art Deco Glass Door Handles with Plates.
AMAZINGLY complete set!
Probably made in the US circa 1925-30.
These are without doubt Art Deco in style and from the period.
They were salvaged from a Mansion in Dallas that was built in 1929.
They are unmarked and unsigned and are solid glass faceted glass/crystal with chrome mounts, chrome back plates, etc.
The Set consists of:
2 Clear Glass double sided classic door handles/knobs with central lock pin – suitable for door of a minimum of 1.5 inches thick, but can accommodate a thicker door. Each, also comes with their original back plates (x4).
2 Amethyst Tinted handles/knobs with central lock pin but with small knob on backside- suitable for door of a minimum of 1.5 inches thick but can accommodate thicker door. The second Tinted handle/knob can be used to make it a standard double sided handle if required. This pair also has their original (front) back plates and a Yale back plate on the rear.
1 spare chrome back plate and spare chrome keyhole cover.
In total there are 17 pieces.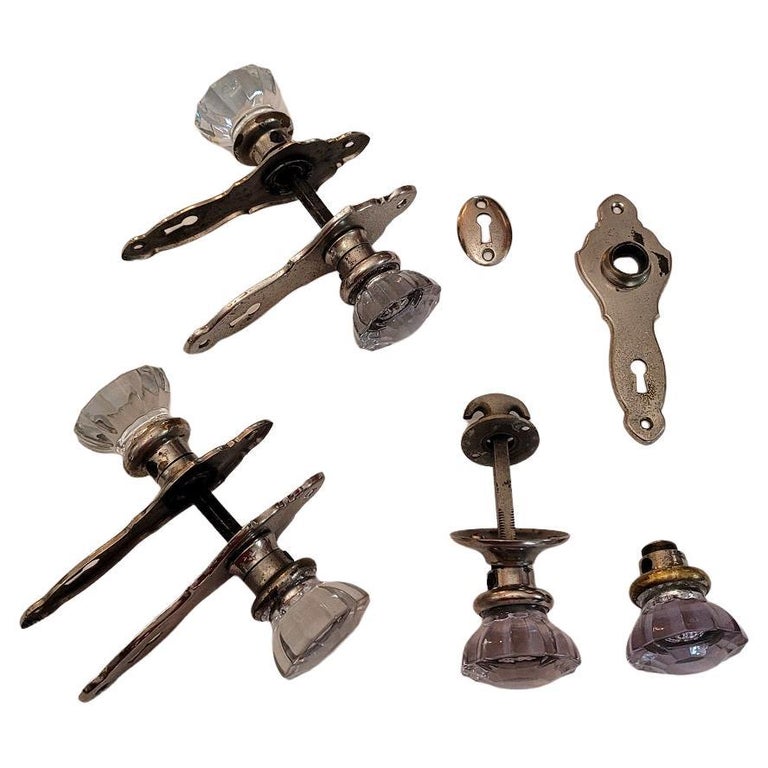 These were originally used in the Mansion we rescued them from, with Yale Mortice Locks (a number of which we have listed separately in this category).
Also, we rescued these from the now demolished Mansion along with the UNIQUE hand beaten Bronze Door Handles and Straps and hardware (posted separately) which likewise have no markings and are unlike ANYTHING we have seen before.
The original antique brass door hinges (posted separately) are marked as being made by "McKinney", so it is plausible that McKinney could have made all the hardware, but we do not think so, as McKinney only appear to have sold high-end hinges.
Art Deco, sometimes referred to as Deco, is a style of visual arts, architecture and design that first appeared in France just before World War I.[1] Art Deco influenced the design of buildings, furniture, jewelry, fashion, cars, movie theatres, trains, ocean liners, and everyday objects such as radios and vacuum cleaners.[2] It took its name, short for Arts Décoratifs, from the Exposition internationale des arts décoratifs et industriels modernes (International Exhibition of Modern Decorative and Industrial Arts) held in Paris in 1925.[3] It combined modern styles with fine craftsmanship and rich materials. During its heyday, Art Deco represented luxury, glamour, exuberance, and faith in social and technological progress.
Art Deco was a pastiche of many different styles, sometimes contradictory, united by a desire to be modern. From its outset, Art Deco was influenced by the bold geometric forms of Cubism and the Vienna Secession; the bright colors of Fauvism and of the Ballets Russes; the updated craftsmanship of the furniture of the eras of Louis Philippe I and Louis XVI; and the exotic styles of China and Japan, India, Persia, ancient Egypt and Maya art. It featured rare and expensive materials, such as ebony and ivory, and exquisite craftsmanship. The Chrysler Building and other skyscrapers of New York built during the 1920s and 1930s are monuments of the Art Deco style.
In the 1930s, during the Great Depression, Art Deco became more subdued. New materials arrived, including chrome plating, stainless steel, and plastic. A sleeker form of the style, called Streamline Moderne, appeared in the 1930s; it featured curving forms and smooth, polished surfaces.[4] Art Deco is one of the first truly international styles, but its dominance ended with the beginning of World War II and the rise of the strictly functional and unadorned styles of modern architecture and the International Style of architecture that followed.
Link: https://en.wikipedia.org/wiki/Art_Deco
---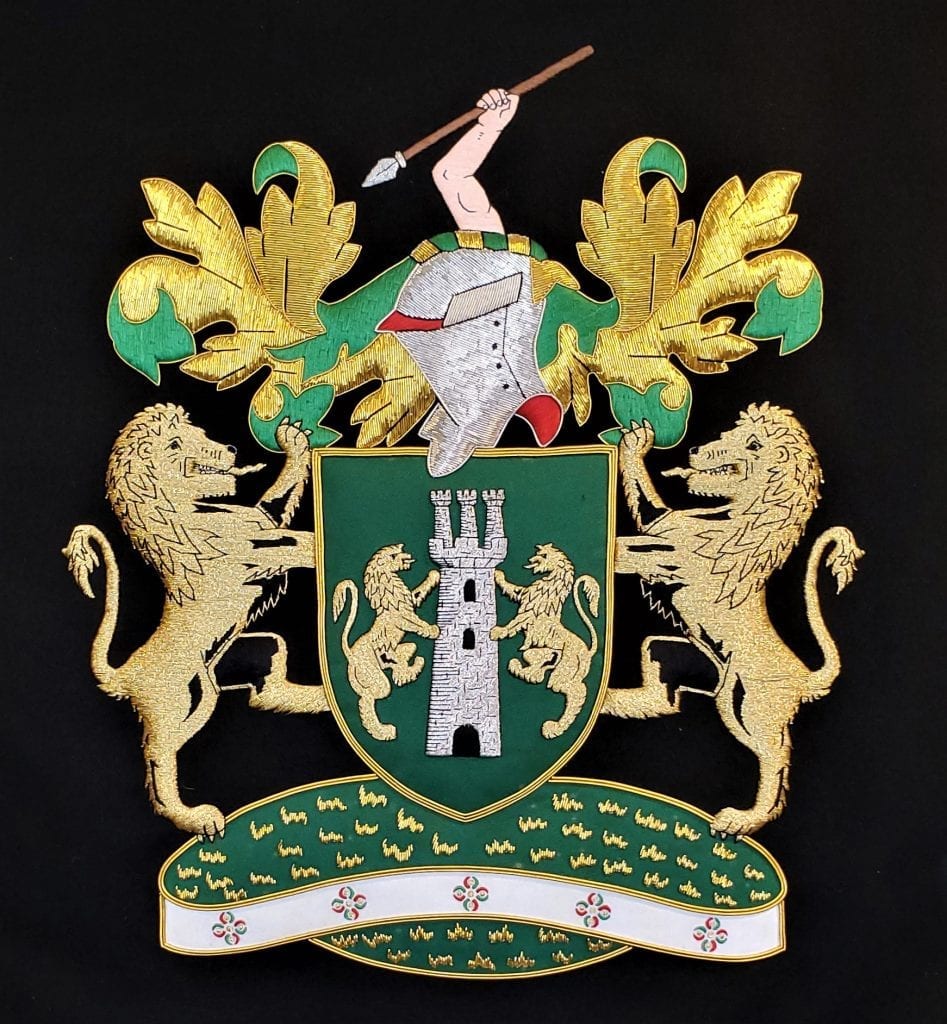 Set of 3 Art Deco Glass Door Handles with Plates.
Provenance: From a Wealthy Dallas Estate.
Condition: Good original condition. Some loss of chrome and pithing. Glass/crystal have no cracks or chips.
Dimensions: The pair of Standard double sided Handles are 6.5″ long, 2″ wide and 2.25″ tall
The Chrome Back Plates are 6″ long and 2″ wide
The Handle with the small knob to the rear is 5.5″ long, 2.25″ wide and 2.25″ deep
SALE PRICE NOW: $1,200 (Full Set – Total 17 Pieces)