PRESENTING A LOVELY Pair of Venice Etchings by N Erichsen 1904.
This pair of etchings were drawn by N. Erichsen who we understand was a late 19th and early 20th Century English artist.
Both feature scenes from Venice in 1904.
The first one (on the left) is a sketch of the Piazza San Marco.
The second one (on the right) is a sketch of Ponte della Paglia.
RARE PAIR !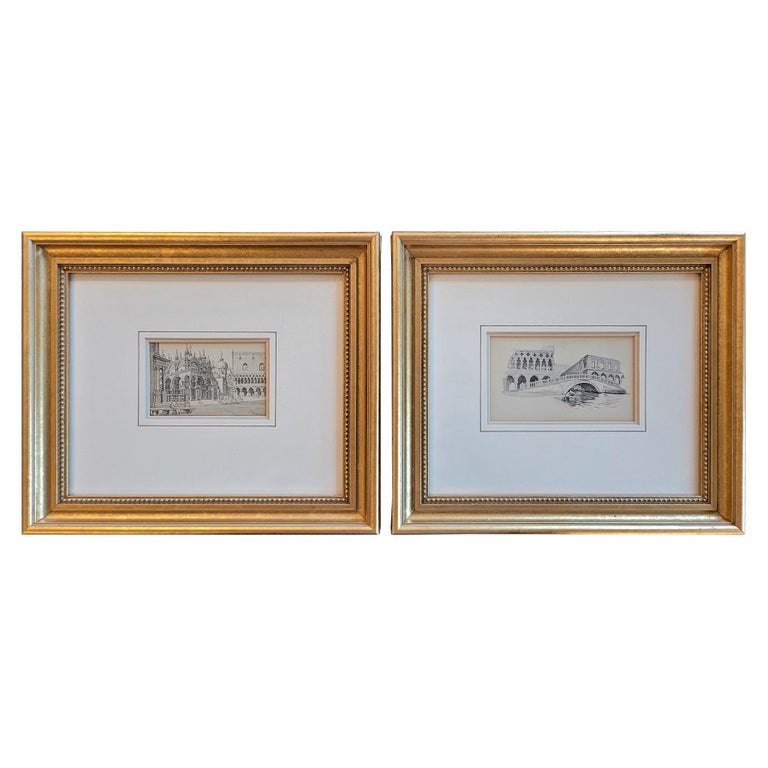 Piazza San Marco (Italian pronunciation: [ˈpjattsa sam ˈmarko]; Venetian: Piasa San Marco), often known in English as St Mark's Square, is the principal public square of Venice, Italy, where it is generally known just as la Piazza ("the Square"). All other urban spaces in the city (except the Piazzetta and the Piazzale Roma) are called campi ("fields"). The Piazzetta ("little Piazza/Square") is an extension of the Piazza towards San Marco basin in its south east corner (see plan). The two spaces together form the social, religious and political centre of Venice and are commonly considered together. This article relates to both of them.
A remark usually attributed (though without proof) to Napoleon calls the Piazza San Marco "the drawing room of Europe"
The square is dominated at its eastern end by St Mark's Basilica. It is described here by a perambulation starting from the west front of the church (facing the length of the piazza) and proceeding to the right.
The church is described in the article St Mark's Basilica, but there are aspects of it which are so much a part of the piazza that mentioned here, including the whole of its western facade with its great arches and marble decoration, the Romanesque carvings around the central doorway and, the four horses which preside over the whole piazza and are such potent symbols of the pride and power of Venice that the Genoese in 1379 said that there could be no peace between the two cities until these horses had been bridled; four hundred years later, Napoleon, after he had conquered Venice, had them taken down and shipped to Paris.
Link: https://en.wikipedia.org/wiki/Piazza_San_Marco
Ponte della Paglia is a bridge in Venice, Italy. The current structure dates from 1847, and the original structure was built in 1360. The original structure was the oldest stone bridge in Venice. The name of the bridge is understood to come from boats mooring nearby to offload straw (paglia). The bridge is a common place from which to view the Bridge of Sighs.
Link: https://en.wikipedia.org/wiki/Ponte_della_Paglia
Pair of Venice Etchings by N Erichsen 1904.
Provenance: From a Private Dallas Estate.
Condition: Very good. Professionally framed in Dallas in 1980's.
Dimensions: 12.5 inches tall, 14.5 inches wide and 1.5 inches deep. (Frame Sizes)
SALE PRICE NOW: $1,200 (PAIR)