PRESENTING AN ABSOLUTELY STUNNING Large Huntsman with his Hounds Bronze Sculpture by PJ Mene 1869.
This is a LARGE sculpture weighing over 175 lbs.
It features a French Huntsman mounted on his horse with 5 hounds on individual leashes. They are on the equivalent of a grassy knoll and the detail on each figure is simply stunning. The Huntsman has exceptional detail from his period Napoleonic hat with front button down ribbon, to his curled hair and facial features. His buttoned tunic with striped button down front and ruffled cuffs.. His hands, sword, horn/bugle, boots WITH pointed and sharp spurs (impossible to re-create on a wax recasting). Everything is of excellent detail and definition.
The horse, likewise has excellent detail, tone and definition, with it bridles, saddlery, cropped tail, mane and head. The muscle tone and definition clearly showing.
The hounds, likewise, with excellent tone and definition. With them straining at the leash, panting with excitement and their rib cages showing from their toned bodies.
Signed "P.J. Mene 1869″ and mounted on a green marble plinth with a brass plate simply saying 'Mene".
To add to it's authenticity, 2 of the hounds appear to have a foundry mark of a cross inside a triangle (as you can see from the photos). Very possibly Mene's own foundry mark.
Beautiful dark bronze patina throughout and most DEFINITELY BRONZE !
A STUNNING AND VALUABLE BRONZE !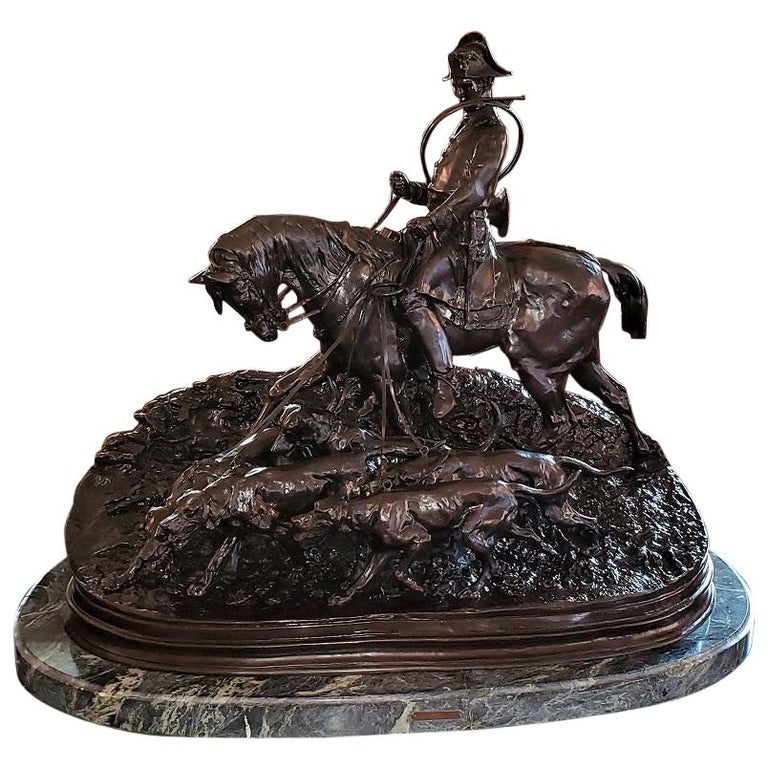 Pierre-Jules Mêne (25 March 1810 – 20 May 1879) was a French sculptor and animalier. He is considered one of the pioneers of animal sculpture in the nineteenth century.
Mêne was born on 25 March 1810 in Paris, France. As a teenager he worked for his father, a metal turner. By 1837 he was casting his bronze sculptures in his own foundry.
Mêne produced a number of animal sculptures, mainly of domestic animals including horses, cows and bulls, sheep and goats which were in vogue during the Second Empire. He was one of a school of French animalières which also included Rosa Bonheur, Paul-Edouard Delabrierre, Pierre Louis Rouillard, Antoine-Louis Barye, his son Alfred, son-in-law Auguste Caïn and François Pompon.
His work was first shown in London by Ernest Gambart in 1849. Mêne specialized in small bronze figures which explains why none of his works exist as public statuary. His work was a popular success with the bourgeois class and many editions of each sculpture were made, often to decorate private homes. The quality of these works is high, comparable to Barye's. Mêne enjoyed a longer period of success and celebrity than his contemporaries. He is considered to have been the lost-wax casting expert of his time. The lost-wax casting method is sometimes referred to as the cire perdue method.
After Mène's death in 1879, the Susse Freres foundry acquired the rights to reproduce his models and produced posthumous proofs marked "Susse foundeur éditeur, Paris".
Link: https://en.wikipedia.org/wiki/Pierre-Jules_M%C3%AAne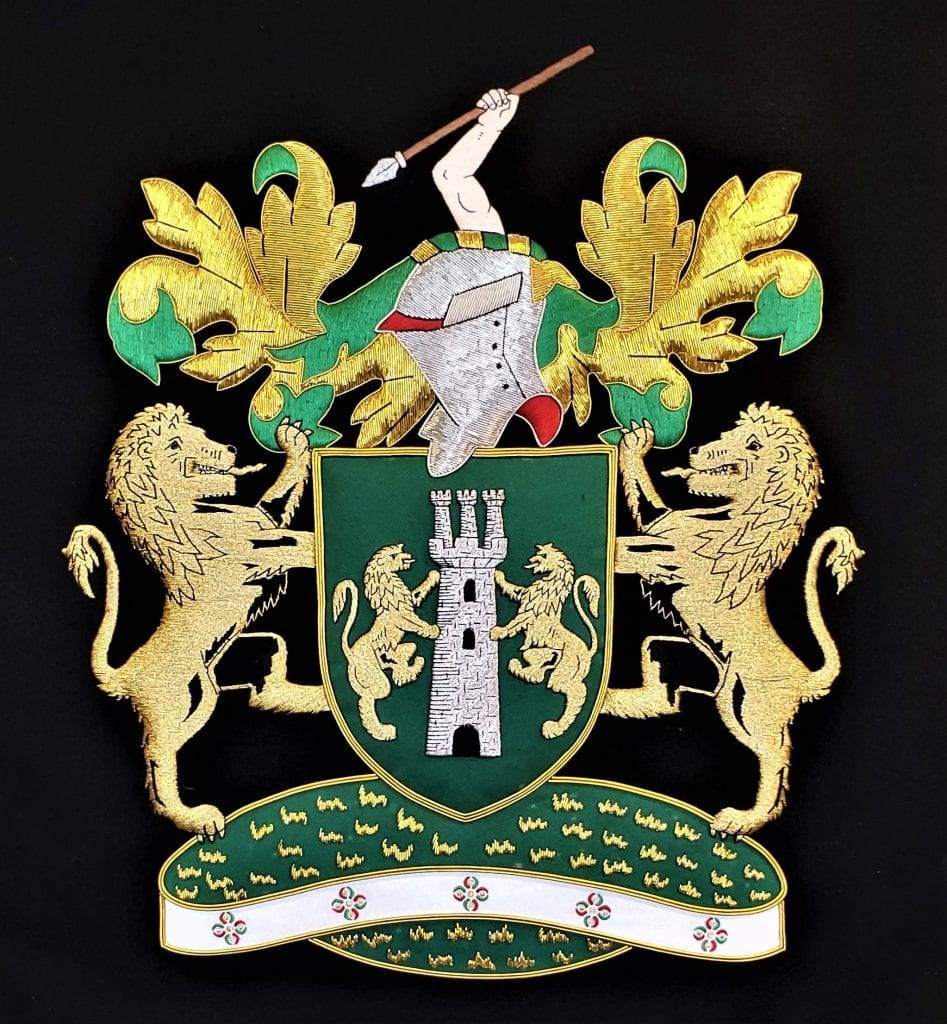 Large Huntsman with his Hounds Bronze Sculpture by PJ Mene 1869.
Provenance: From a Wealthy Dallas Estate.
Condition: Excellent.
Dimensions: 33″ Wide, 18″ Deep and 25.5″ Tall
PRICE NOW: $35,000