STUNNING 19th Century French Empire, Neo-Classical/Rococo Revival style marquetry vitrine or display cabinet…..of LARGE proportions !!
A REAL STATEMENT PIECE !
Made of a fabulous variety of veneers, including kingwood, satinwood, tulipwood, harewood and walnut with quality Classical ormolu mounts.
It has ebonized pillars in the Empire style, with walnut and exotic hardwood friezes in the Rococo style.
Double glass doors to middle section and single glass doors on either side.
The Glass on the doors are framed in ormolu banding.
Floral Marquetry panels on front and Parquetry on the sides.
The front central section is a pull out drawers with gorgeous walnut frieze panel and original carved walnut knobs.
Scrolling pelmet on the top in 3 sections banded in ormolu beading.
Scrolling base with cabriolet feet and ormolu mounts on base.
Various ormolu mounts, floral mounts, mounts of Baachus and mounts of neo-classical female figures.
In 3 sections. with 2 side cabinets and large central section with 3 section pelmet………STUNNING PIECE !!!
The quality ormolu mounts are marked with the letter "R" and what appears to be "FR 678".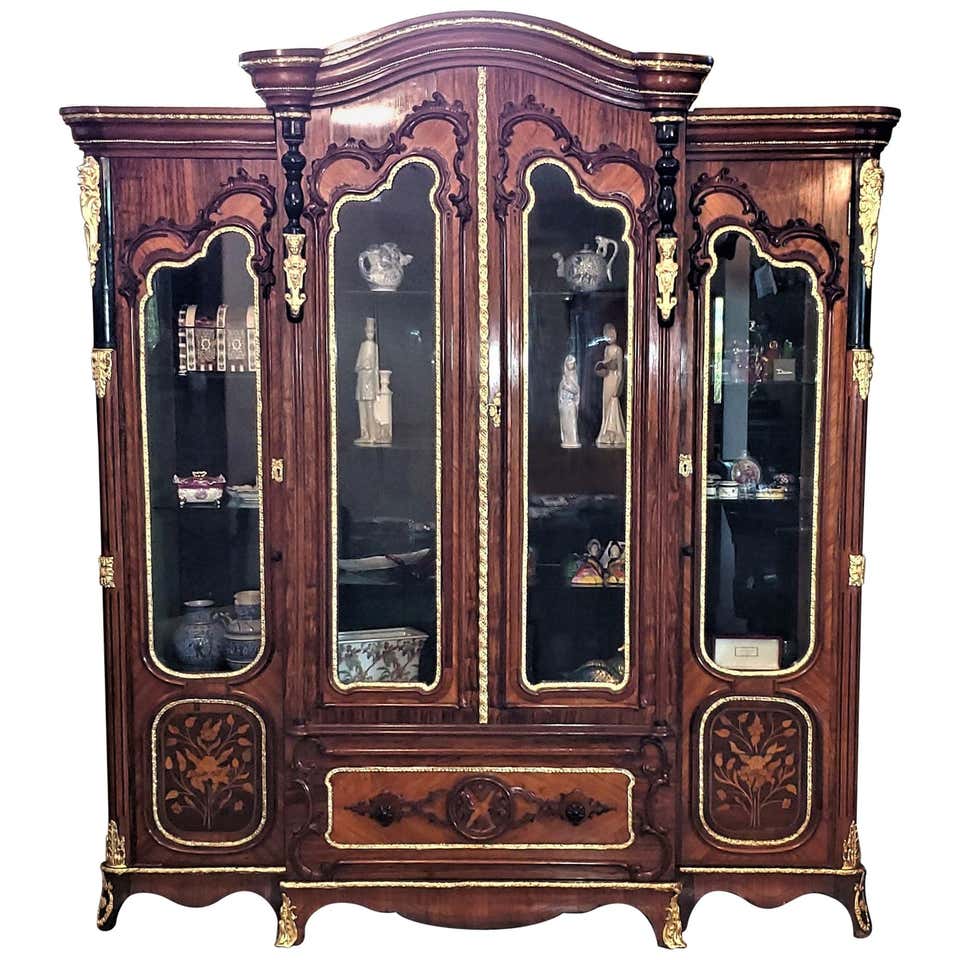 We were originally of the belief that this piece might have been made at the very end of the 19th Century, but having regard to the quality of workmanship throughout this piece we are of the opinion that it was most likely made in the third quarter of the 19th Century, circa 1870 and by an obviously top quality Parisienne maker with a surname beginning with "R".
It is definitely in the style of David Roentgen who was known for his Rococo/Neoclassical styles.
---
David Roentgen, (born Aug. 11, 1743—died Feb. 12, 1807, Wiesbaden, Duchy of Nassau), cabinetmaker to Queen Marie-Antoinette of France; under his direction the family workshop at Neuwied (near Cologne), founded by his father, Abraham Roentgen, became perhaps the most-successful firm of furniture production in the 18th century.
After succeeding his father as head of the Neuwied workshop in 1772, Roentgen strove to broaden their clientele, an ambition that brought him first to Hamburg and ultimately to Paris (1774), where in 1779 he was spectacularly successful in selling his finest furniture to King Louis XVI of France for £3,300 to £4,000, an unprecedented sum for the time.
Appointed cabinetmaker to the queen, Roentgen was granted admission (1780) as maître-ébéniste (master cabinetmaker) to the trade corporation of Paris cabinetmakers, making it possible for him to keep in Paris a stock of the furniture manufactured at Neuwied. Thus he was able to compete with such great cabinetmakers as Jean-Henri Riesener and Adam Weisweiler, reputedly his former pupil at Neuwied. After his first visit to St. Petersburg, Empress Catherine II the Great bought huge quantities of his furniture; King Frederick William II of Prussia was also his client. When in 1795 the French Revolutionary armies threatened to cross the Rhine, Roentgen evacuated his establishment and moved his stock farther inland. Unfortunately, he lost everything in his Parisian salon and in his Neuwied workshop, both of which were sacked by Republican troops. He was crushed, despite his appointment as court furnisher to the king of Prussia. Although he never succeeded in starting production again, former apprentices of his whom he helped to establish in the German cities of Berlin (David Hacker) and Brunswick (Christian Härder) were successful.
The Rococo Revival style emerged in Second Empire France and then was adapted in England. Revival of the rococo style was seen all throughout Europe during the 19th century within a variety of artistic modes and expression including decorative objects of art, paintings, art prints, furniture, and interior design. In much of Europe and particularly in France, the original rococo was regarded as a national style, and to many, its reemergence recalled national tradition. Rococo revival epitomized grandeur and luxury in European style and was another expression of 19th century romanticism and the growing interest and fascination with natural landscape.
During the later half of the nineteenth century, Rococo Revival was also fashionable in American furniture and interior design. John Henry Belter was considered the most prominent figure of rococo revival furniture making. Revival of the rococo style was not restricted to a specific time period or place, but occurred in several waves throughout the 19th century.
Roentgen had begun his career by continuing and developing the Rococo furniture that his father had introduced. The furniture of his "French" style is characterized by curved outline, sometimes decorated with rich carvings. His "English" cabinetwork is based on elements dating from the early years of King George III and occasionally influenced by the renowned furniture manufacturer Thomas Chippendale. Both national types are frequently decorated with rich inlay of outstanding charm and elegance composed of a variety of woods, some tinted and made to form figural and floral compositions, often in the manner of chinoiserie (Chinese motifs). Between 1775 and 1780 Roentgen abandoned his earlier styles in favour of rigid, classical forms, the effect of which is often based on contrasting mahogany with rich bronze appliqués, represented in his monumental combined secretaire and medal-cabinet of about 1785–89. His workshop indulged in mechanical devices, a characteristic flair begun by his father, that made drawers and mirrors appear and disappear by pressing on hidden releases; Peter Kinzing invented many of these gadgets and provided the workshop with clockworks.
Link: https://www.britannica.com/biography/David-Roentgen
---
Rococo Revival in France
Louis Philippe (1830-1848)
The rising bourgeoisie in France demanded rococo decorative-art objects as a reflection of status, wealth, and material possession.[8] The bourgeois consumer purchased objects and furnishings from a variety of revival styles, including rococo, for its significance in historicizing opulence and grandeur.
Modern French Rococo furniture was characterized by its lightness, elegance and grace.[9] Its ornamentation consisted of delicate foliage and intricate details. Other characteristics included: embellished and elaborate carving, rich carving of floral and fruit motifs, curved frames, and tufted upholstery.
Second Empire (1852-1870)
According to a publication by Caroline Ingra,[10] Italian artists came to Paris during the Second Empire in search for artistic opportunities. Rome remained the center for young artists wanting to study classical tradition but not for artists who wanted to study contemporary art. They adapted the fashionable revival of eighteenth-century rococo genre painting. The fame and recognition of these Italian artists of Spanish origin and based primarily on the work of Mariano Fortuny.
Paris represented the latest in modern artistic development and attracted many artists. Fortuny attracted an audience in Paris upon first appearance in 1860. His work had a resemblance to 18th century paintings by Antoine Watteau and Jean-Honoré Fragonard. The late Second Empire patrons were most interested in Fortuny's revival of 18th century genre painting.[11]
Fortuny's rococo-revival imagery was especially appealing to the French audience during the last years of the Second Empire.[12] During this period, a major revival interest was seen in 18th century Paris and genre painting that was practiced by academic artists. For the increasing bourgeois audience, the rococo-revival paintings presented an optimistic outlook on life and were appropriate to the new Parisian 'nobility' of the late Second Empire.
Ingra notes that, "The vogue for rococo imagery [during the Second Empire] however, represented more than a shift in patronage and, consequently, taste. The interest in prerevolutionary art was part of the efforts of Second Empire officialdom to establish legitimacy for itself by connecting with a period when royalty was as yet unchallenged." [13] She continues by asserting, "Reviving this early regime was a means of flattering themselves and emphasizing their own imperialist claims, in hope of achieving the awe and respect of the populace supposedly enjoyed by the former regime." [14]
The Second Empire was interested in reviving rococo art as a means to regenerate the ideals and values of the old regime. It was a means to emphasize pride, power, and respect in hopes of achieving admiration and devotion enjoyed by the former regime. However, some contemporary figures were appalled and considered that the exploitation of rococo revival by Italian artists was an inferior body of work. Critics saw this new manner of painting as vapid and without style.
Link: https://en.wikipedia.org/wiki/Rococo_Revival
---
SERIOUSLY IMPRESSIVE AND IMPOSING PIECE OF FURNITURE !!!
Glass shelving in the interior. These are plate glass shelves with 3 in the central section and 3 each in the side cabinets. Using the floor of the display areas makes 4 shelving areas in each section. It has been wired for internal lighting with a touch button with 3 light settings.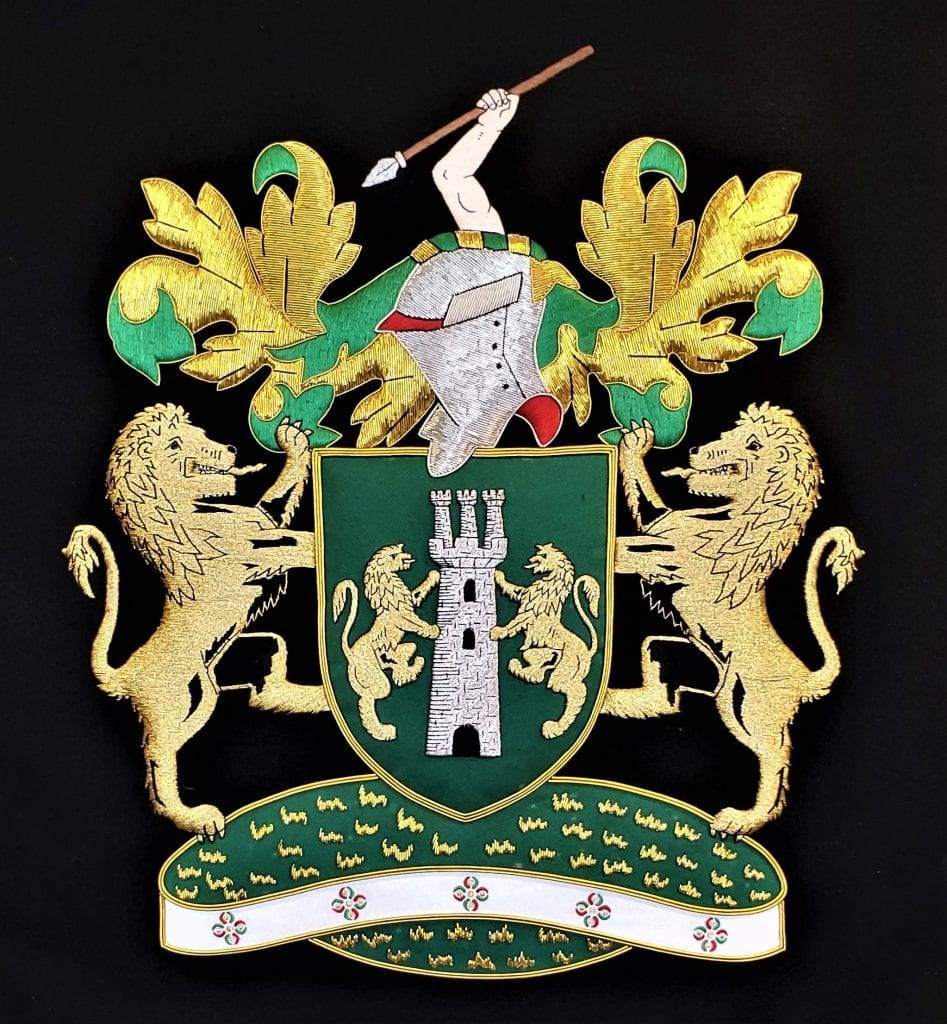 Large 19C French Rococo/Neo Classical Revival Style Vitrine.
Provenance: Bought at Auction in Ireland.
Made circa 1860 – 70.
Dimensions: 88″ (7.34 Feet) High x 76″ (6.34 feet) Wide and 27″ deep
Condition: Very good original condition. Has been re-gilted and some very minor professional repairs..
SALE PRICE NOW: $9,600