Flag by Jasper Johns 1955/56.
EXCEPTIONAL Encaustic

on cardboard, 

American Flag 1955/56
signed "J. Johns" on the front right.
Flag by Jasper Johns.
Bought at Auction in Ireland by us circa 2004.
This painting was originally found in a 'Car Boot' sale in West Cork in Southern Ireland.
When we bought it at Auction, several major art dealers were also bidding for it (both in the room and by telephone) as they obviously believed it to be authentic and original.
The Auction House also believed it was an original but could not authenticate and sold it as:  "After" J. Johns.
We spoke with the auctioneer after buying it at Auction and he told us the history of the piece as relayed to him, namely, that it was found for sale in a 'Car Boot Sale' in West Cork in Southern Ireland. The collector acquired it at that sale for a very small amount and then consigned it to their auction house. A few positive signs about it's authenticity arose from this history.
(1) Many Irish American's were living in West Cork having returned and retired to live in Ireland in the 1970's and it was entirely possible that they brought this painting with them. The 'timeline' fit perfectly.
(2) If one were to go to the trouble of making such an exceptional and perfectly executed copy (or fake) of an iconic Jasper John's painting, then why sell it for 'pittance' at a car boot sale ? Surely, the 'faker' would try to sell it through a Gallery or reputable auction house to make maximum return on their work ? 
(3) If the 'faker' was that good, then why have they not shown up elsewhere on the art market ? Why so few of them ? Possibly only OURS and (as we now know) the one in the UK (see below) ?
It cost us"a pretty penny" and it has COME HOME  !!!!
History of J. Johns' Flag Painting:
Flag is an encaustic painting by the American artist Jasper Johns. Created when Johns was 24 (1954–55), two years after he was discharged from the US Army, this painting was the first of many works that Johns has said were inspired by a dream of the U.S. flag in 1954.
Link: https://en.wikipedia.org/wiki/Flag_%28painting%29
Flag by Jasper Johns.
History of Jasper Johns:
Born in Augusta, Georgia, Jasper Johns spent his early life in Allendale, South Carolina, with his paternal grandparents after his parents' marriage failed. He then spent a year living with his mother in Columbia, South Carolina, and thereafter he spent several years living with his aunt Gladys in Lake Murray, South Carolina, twenty-two miles from Columbia. He completed Edmunds High School (class of 1947) in Sumter, South Carolina, where he once again lived with his mother. Recounting this period in his life, he once said, "In the place where I was a child, there were no artists and there was no art, so I really didn't know what that meant. I think I thought it meant that I would be in a situation different than the one that I was in."
Johns studied a total of three semesters at the University of South Carolina, from 1947 to 1948. He then moved to New York City and studied briefly at the Parsons School of Design in 1949. In 1952 and 1953 he was stationed in Sendai, Japan, during the Korean War.
In 1954, after returning to New York, Johns met Robert Rauschenberg and they became long-term lovers. For a time they lived in the same building as Rachel Rosenthal. In the same period he was strongly influenced by the gay couple Merce Cunningham (a choreographer) and John Cage (a composer). Working together they explored the contemporary art scene, and began developing their ideas on art. In 1958, gallery owner Leo Castelli discovered Johns while visiting Rauschenberg's studio. Castelli gave him his first solo show. It was here that Alfred Barr, the founding director of New York's Museum of Modern Art, purchased four works from this show. In 1963, Johns and Cage founded Foundation for Contemporary Performance Arts, now known as Foundation for Contemporary Arts in New York City.
Johns currently lives in Sharon, Connecticut, and on the Island of Saint Martin. Until 2012, he lived in a rustic 1930s farmhouse with a glass-walled studio in Stony Point, New York. He first began visiting St. Martin in the late 1960s and bought the property there in 1972. The architect Philip Johnson is the principal designer of his home, a long, white, rectangular structure divided into three distinct sections.
Johns is best known for his painting Flag (1954–55), which he painted after having a dream of the American flag. His work is often described as Neo-Dadaist, as opposed to pop art, even though his subject matter often includes images and objects from popular culture.[citation needed] Still, many compilations on pop art include Jasper Johns as a pop artist because of his artistic use of classical iconography.
Early works were composed using simple schema such as flags, maps, targets, letters and numbers. Johns' treatment of the surface is often lush and painterly; he is famous for incorporating such media as encaustic and plaster relief in his paintings. Johns played with and presented opposites, contradictions, paradoxes, and ironies, much like Marcel Duchamp (who was associated with the Dada movement). Johns also produces intaglio prints, sculptures and lithographs with similar motifs.
Johns' breakthrough move, which was to inform much later work by others, was to appropriate popular iconography for painting, thus allowing a set of familiar associations to answer the need for subject. Though the abstract expressionists disdained subject matter, it could be argued that in the end, they had simply changed subjects. Johns neutralized the subject, so that something like a pure painted surface could declare itself. For twenty years after Johns painted Flag, the surface could suffice – for example, in Andy Warhol's silkscreens, or in Robert Irwin's illuminated ambient works.
The paintings of Abstract expressionist figures like Jackson Pollock and Willem de Kooning are indexical in that they stand effectively as a signature on canvas. In contrast, Neo-Dadaists like Johns and Rauschenberg seemed preoccupied with a lessening of the reliance of their art on indexical qualities, seeking instead to create meaning solely through the use of conventional symbols. Some have interpreted this as a rejection of the hallowed individualism of the abstract expressionists. Their works also imply symbols existing outside of any referential context. Johns' Flag, for instance, is primarily a visual object, divorced from its symbolic connotations and reduced to something in-itself.
Link: https://en.wikipedia.org/wiki/Jasper_Johns
This piece of original artwork is attracting a lot of interest and attention.
It has been examined by Heritage Auction House, who were of the initial belief that it appears authentic in all respects, including, the hand and style and the signature. Unfortunately, the piece is not recorded in the artist's catalog and the Jasper Johns Foundation will not confirm authenticity. One would imagine that this would be 'fatal' in authenticating the piece BUT it is not that unusual. In 1954/55 when John's first painted his 'Flag', he was not a well known artist and like most artists he would have been struggling financially. He was only discovered as set out in his Bio (above) in the late 1950's and his popularity only grew into the mid to late 1960's.
It is and was, not unusual for artists to make smaller copies of their paintings, cheaply and inexpensively for quick sale, in order to pay the electric bill or rent. These works of art would never be recorded as part of the artists catalog when they became famous.
Another (identical) copy has appeared in the UK. It was acquired by the editor of a major daily UK newspaper (Victor Davis) in the 1980's. He wrote and article on his piece some time ago, posing the question 'had he accidentally acquired a masterpiece ?'.
Link: https://www.dailymail.co.uk/news/article-1182786/Could-really-50m-masterpiece-junk-stall-Victor-Davis-thought-snapped-100–right.html
Up to his death, Mr. Davis was still convinced that he had an authentic painting (despite the letter from Jasper Johns) and when he died, he bequeathed his painting to a close friend and fellow British journalist (of note and repute) to continue the 'quest' for authentication. This reputable beneficiary, has visited our Gallery in Dallas to view and examine OUR painting and has confirmed that the two are identical. He, likewise, has had difficulty in achieving authentication, but is 'convinced' from extensive investigation and research, that both are indeed authentic. He is currently in the process of writing a book on this 'journey' and will be including details (including an interview with 'Yours Truly') about OUR painting.
As Jasper John's is still alive, and refusing to confirm authenticity of any painting by him, not in his catalog, we cannot sell this as a definitive authentic original BY Jasper John's. However, as is often the case, when the artist passes, the authentication process can become more simplified by Art Experts giving their definitive opinion on authenticity.
We are RELUCTANTLY selling this painting, as if proven to be authentic, it is worth a fortune !
A slightly larger version of the painting sold for $36 million at Sotheby's New York in 2014.
Link: https://nypost.com/2014/11/12/jasper-johns-american-flag-painting-sells-for-36m/
THIS IS A ONCE IN A LIFETIME OPPORTUNITY TO ACQUIRE AN ICONIC PIECE OF AMERICAN ART, AT AN AFFORDABLE PRICE, AS AN INVESTMENT PIECE IF NOTHING ELSE !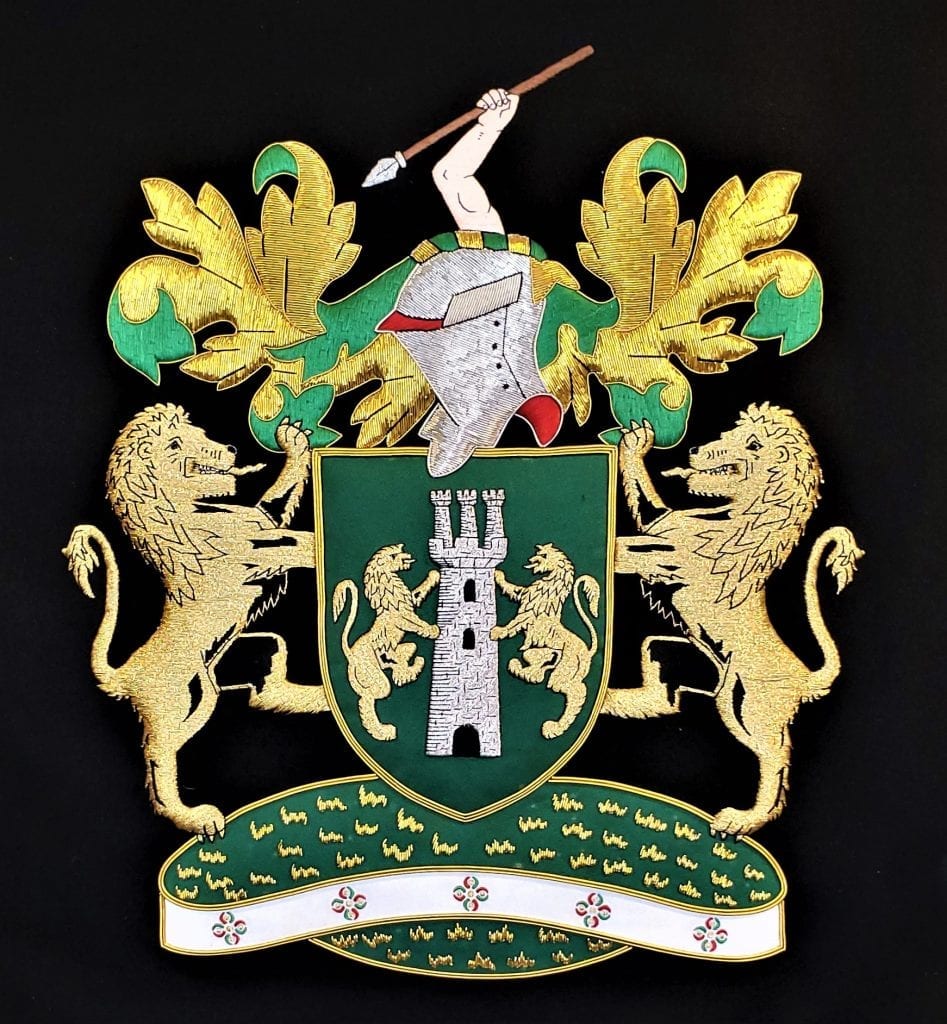 Flag by Jasper Johns.
Provenance: Bought at a Reputable High-end Art Auction in Ireland.
Dimensions: 21″ x 22.75″ in frame
Condition: Excellent. The back has been opened as part of the authentication process and reveals nothing additional. It has evidence of a removed label on the back (possibly a Gallery, Retail or Shipping label).
Price:

Price On Application