PRESENTING A STUNNING and EXTREMELY RARE and DESIRABLE Early 20C Korean 8 Panel Handpainted Silk Screen.
This screen consists of 8 Panels and is 12 feet in length, and 6 feet tall.
Made circa 1900-20.
In classic Korean Qing Style with various Courtesan scenes, Temples, gardens, children playing, ladies dancing, etc.
It is an AMAZING panoramic landscape scene.
The screen is made of silk (but resembles canvas) that has been entirely hand painted with what appears to be watercolors.
The screen is framed in a teak frame with brass hardware on the four corners.
The top of the screen and the base is a golden silk with a floral pattern.
It comes with a pair of gilt metal ducks to support it in an upright position (see photos).
Can be used as a room divider, screen or can be wall mounted as a FANTASTIC work of art !!!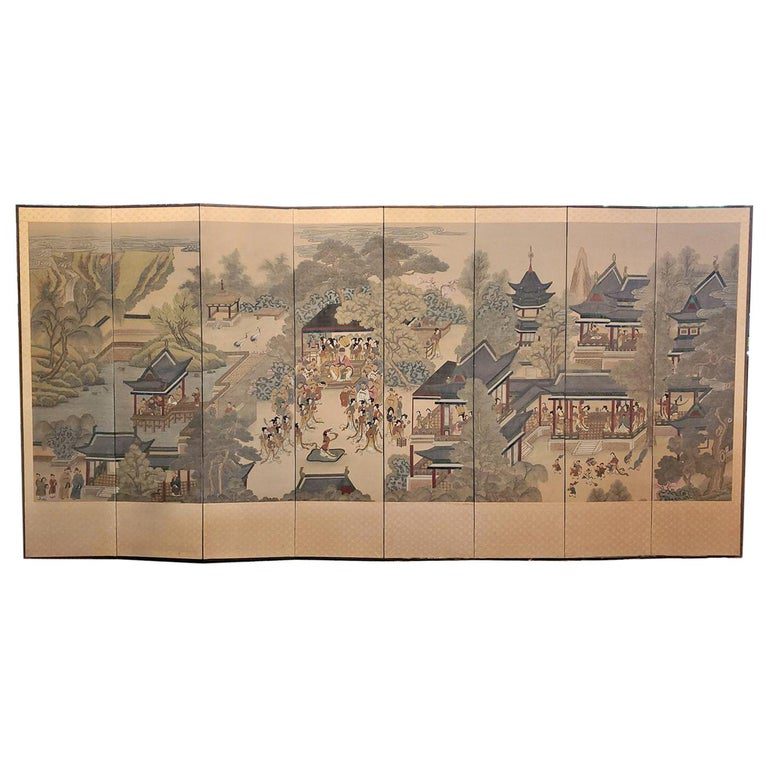 Korean arts include traditions in calligraphy, music, painting and pottery, often marked by the use of natural forms, surface decoration and bold colors or sounds.
The earliest examples of Korean art consist of Stone Age works dating from 3000 BC.[1] These mainly consist of votive sculptures and more recently, petroglyphs, which were rediscovered.
This early period was followed by the art styles of various Korean kingdoms and dynasties. Korean artists sometimes modified Chinese traditions with a native preference for simple elegance, spontaneity, and an appreciation for purity of nature.
The Goryeo Dynasty (918–1392) was one of the most prolific periods for a wide range of disciplines, especially pottery.
The Korean art market is concentrated in the Insadong district of Seoul where over 50 small galleries exhibit and occasional fine arts auctions. Galleries are cooperatively run, small and often with curated and finely designed exhibits. In every town there are smaller regional galleries, with local artists showing in traditional and contemporary media. Art galleries usually have a mix of media. Attempts at bringing Western conceptual art into the foreground have usually had their best success outside of Korea in New York, San Francisco, London and Paris.
For much of the 20th century, painting commanded precedence above other artistic media in Korea. Beginning in the 1930s, abstraction was of particular interest.
From the mid-1960s, artists like Kwon Young-woo began to push paint, soak canvas, drag pencils, rip paper, and otherwise manipulate the materials of painting in ways that challenged preconceived notions of what it meant to be an ink painter (Asian painter) or oil painter (soyanghwaga), the two categories within which most artists were categorized. In the 1970s and 80, these challenges eventually became the foundation of Dansaekhwa, or Korean monochrome painting, one of the most successful and controversial artistic movements in twentieth-century Korea. Literally meaning "monochrome painting," the works of artists like Ha Chonghyun, Park Seo-bo, Lee Ufan, Yun Hyong Keun, Choi Myoung-young, Kim Guiline and Lee Dong-youb were promoted in Seoul, Tokyo, and Paris. Tansaekhwa grew to be the international face of contemporary Korean art and a cornerstone of contemporary Asian art.
Some contemporary Korean painting demands an understanding of Korean ceramics and Korean pottery as the glazes used in these works and the textures of the glazes make Korean art more in the tradition of ceramic art, than of western painterly traditions, even if the subjects appear to be of western origin. Brush-strokes as well are far more important than they are to the western artist; paintings are judged on brush-strokes more often than pure technique.
The contemporary artist Suh Yongsun, who is highly appreciated and was elected "Korea's artist of the year 2009",[15] makes paintings with heavy brushstrokes and shows topics like both Korean history and urban scenes especially of Western cities like New York and Berlin.[16] His artwork is a good example for the combination of Korean and Western subjects and painting styles.
Other Korean artists combining modern Western and Korean painting traditions are i.e. Junggeun Oh and Tschoon Su Kim.
While there have been only rare studies on Korean aesthetics, a useful place to begin for understanding how Korean art developed an aesthetic is in Korean philosophy, and related articles on Korean Buddhism, and Korean Confucianism.
Link: https://en.wikipedia.org/wiki/Korean_art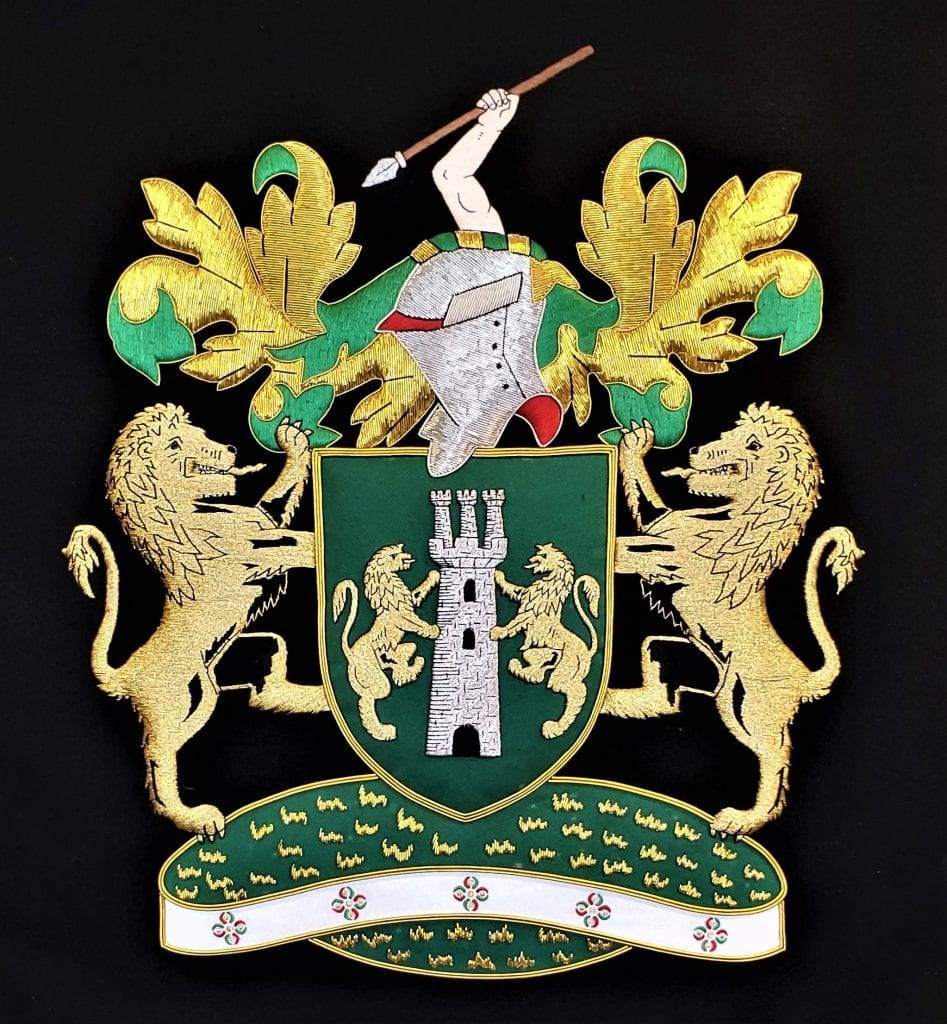 Early 20C Korean 8 Panel Handpainted Silk Screen.
Provenance: From the Private Collection of a former NY Art Dealer. Purchased by her from an antique dealer in Seoul, Korea in 1969, whist she was living there.
Dimensions: 144″ Wide, 72″ Tall and 0.75″ Deep
Condition: Excellent Original Condition with only one or two very minor blemishes. Near Mint for it's age..
SALE PRICE NOW: $18,000