Babu Xavier Watercolor on Paper Bird & Woman
PRESENTING a GLORIOUS Contemporary piece of Art by a recognized Indian Master – Babu Xavier Watercolor on Paper Bird & Woman .
This piece has impeccable Provenance !
It was purchased by a Private Dallas Collector at Sotheby's New York Auction on 18th September 2008. Sale No: 8466 Lot No. 9.
Sotheby's operate a twice yearly auction of Southeast Asian Art & Antiquities in New York in the months of March and September.
This sale was titled "Modern & Contemporary Indian Art".
The Lot consisted of a Group of 3 Watercolors by Babu Xavier, Paresh Maity and Ranjit Kurmi. (b.1960, b.1965, b.1970) Three Untitled Works.
Signed and dated 'BA BU/April '86" lower middle, watercolor and ink on paper. ….. 14.5 x 10.5 in (36.8 x 26.7 cm)".
Exhibited: Herbert F. Johnson Museum of Art, Modern Indian Art, Cornell University, Ithaca, April 8 – June 11 2006.
The Provenance is given as: "Property of Private Maryland Collectors".
The 3 watercolors carried an Auction estimate of USD 3,000 to USD 4,000 and Sold for USD 4,000 (not including Buyers Premium).
Allowing for inflation alone this would be over $6,000 in today's value.
It has substantially increased in value over the years as a HIGHLY DESIRABLE piece from an exhibited and highly collected Modern Indian Master painter.
As an added bonus and proof of authenticity the carving still retains it's original Sotheby's Lot No. Label.
We also possess the Paresh Maity watercolor in our Collection !!
---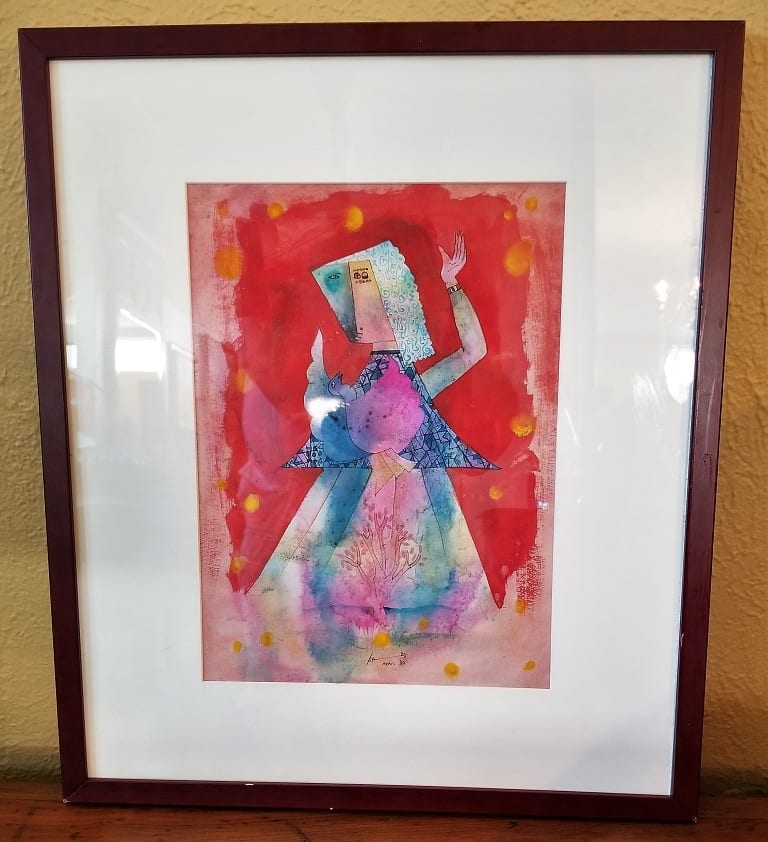 ---
BABU XAVIER:
"Based in Trivandrum, Kerala, Babu Xavier is an artist whose canvases are brought alive with vivid colors and fantastic creatures. His brushes paint on full-blooded reds, vibrant yellows and sparkling blues and greens, creating nearly human figures with some sexual undertones in watercolors that seem to radiate light almost like a prism.
Babu, who was born in 1960, never thought he would grow up to be an artist. In his school and early college days, he claims he couldn`t even manage a respectable drawing in any of his science journals. It was only when he was in university, and was sitting scribbling on a newspaper in the library one day, that Babu Xavier realized he could and wanted to paint. Still, Xavier decided that art school wasn`t the place for him. He didn`t want to be restricted by rules and years of learning things he wouldn`t want to use anyway. He believed that his inspirations and methods would be affected and restrained by a formal schooling in fine arts. It was only by chance that Babu ran into the famous artist Jayapal Panicker, also from Kerala originally. Panicker left such a lasting impression on Xavier, that he withdrew from college in his final year to join him at the Cholamandal Art Colony in Madras and work under his guidance for a while.
When he returned from there, Xavier made a living in Kerala by selling small, photograph-sized canvases. His big break came when a holidaying bank manager bought some of his work and took it back to Mumbai with him. There, the eminent cartoonist Mario Miranda saw the paintings and got in touch with the artist to tell him he should come to Mumbai.
Soon Xavier was showing his work at the Pundole Art Gallery, and the response left him quite amazed. The reviews his work received and the amount of them that sold encouraged him to continue painting and exhibiting. Gallery owners didn`t hesitate in pledging financial support to this artist, who was soon becoming one of India`s most well known contemporary artists. 19 solo shows in India and all over Europe down the line, and being the recipient of several prestigious awards, Xavier is as unassuming an individual anyone could imagine. He spends all day with his family, none of whom are artists, and paints only at night.
But when it comes to his work, he is quite firm about his intentions. "I don`t make art to decorate houses and match people`s walls. There`s a lot of contradiction in my paintings, which can be very disturbing. If I talk about sexuality, there`s also death on the same canvas. Not everyone will like nor understand my art work; they`re not meant to." In his work today, we see, as the artist intends, a deeper meaning. The fantastic figures represent the powerful and lucid ideas Xavier has. Just turning away from his paintings, one glances at the signature, and notices a small set of lines penciled next to it – a barcode. "I draw barcodes on all my paintings…. It reflects contemporary life and shows consumerist trends in 2002, when markets rule our lives."
Honours and Awards: 1990-20th Kerala Lalit Kala Akademy Annual Exhibition. "
Link: https://www.saffronart.com/artists/babu-xavier
ADDITIONAL INFO on https://www.thehindu.com/features/friday-review/art/Where-art-is-born/article16077782.ece
---
It has 3 labels to the rear:
(1) "70. Untitled (Bird and Woman) Babu Xavier Watercolor on Paper $750".
(2) "Group of Three Watercolors: Paresh Maity" … clearly labelled incorrectly by Sotheby's.
(3) " 009 No: 8466 Group of Three Watercolors: Paresh Maity " ,
---
---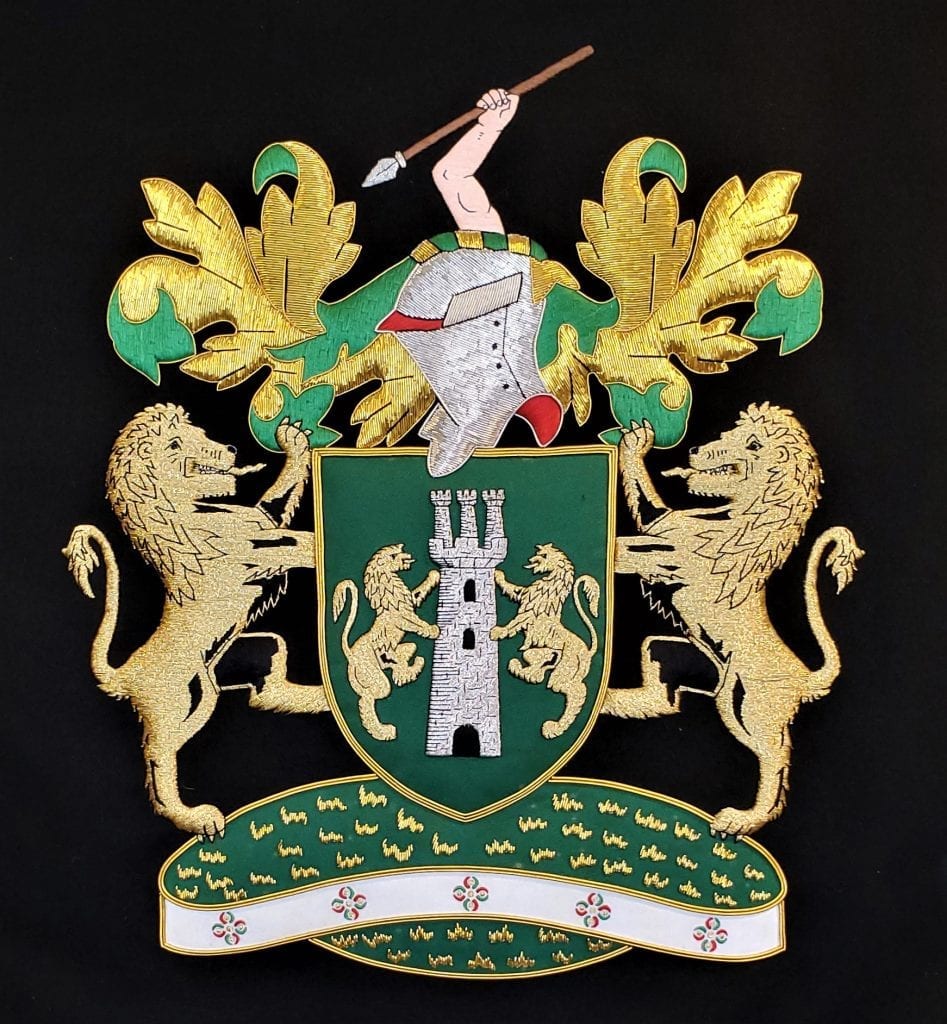 Babu Xavier Watercolor on Paper Bird & Woman
Provenance: See above.
Condition: Excellent (in original frame under glass).
Dimensions: Frame: 22.25″ x 19.3″ in
Panel: 14.5 x 10.5 in (36.8 x 26.7 cm)
ON HOLD
Babu Xavier Watercolor on Paper Bird & Woman