PRESENTING a STUNNING Belgian Art Deco Boch Freres La Louviere Pineapple Vase.
Made circa 1925-1930 by Boch Freres La Louviere.
Fully Marked on the base …. 'Made in Belgium'. "Boch Fres La Louviere' …. Fabrication Belgique'. 'No. 1113'.
It features a GLORIOUS Art Deco geometric (almost pineapple) shape and design. tapering from its wider base to it's spout..
Made of ceramic, it is in near MINT condition with no cracks or chips.
It is cream/ivory in color. Some of the pictures make it appear more yellow because of backlight.
This is a quite RARE and highly desirable piece from the CLASSIC Art Deco Era.
Art Deco Boch Freres La Louviere Pineapple Vase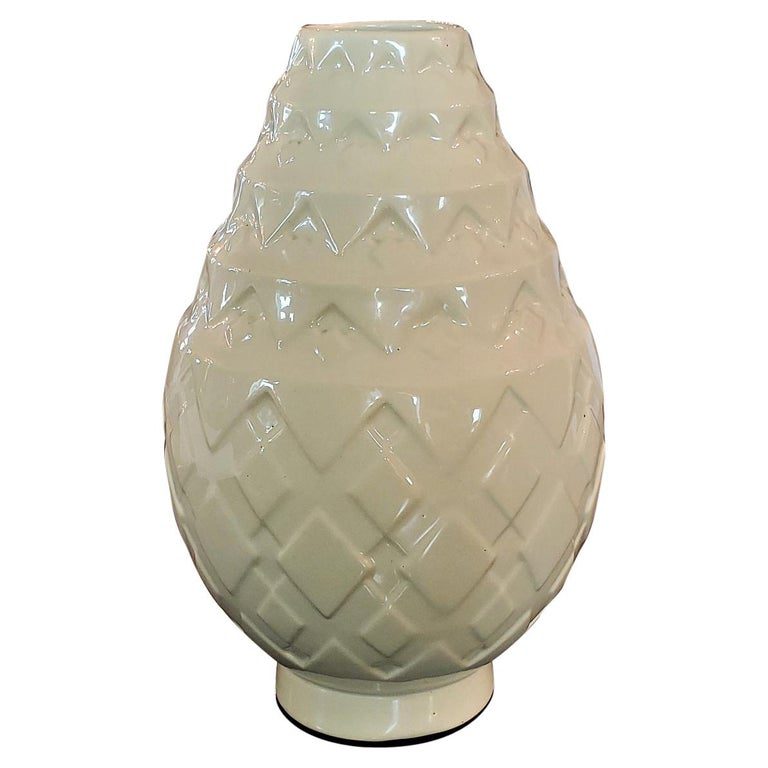 During the Belgian revolution of 1830 and the period of mutiny afterwards (1830-1839) the family BOCH had already acquired a long tradition in the field of faience and a lot of strategic experience in anticipating politic and economic developments. The family build up this know-how since 1748, the year François BOCH decided to abandon his occupation of iron caster to make ceramics in Audun-le-Tiche (Lorraine), assisted by his son in law Pierre Valette and by his three sons. They decide to produce simple pieces, cheap and for the largest possible public, made from loam from Luxemburg. François Boch deceased in 1854 and the faience factory was taken over by his three youngest sons, Jean-François and Dominique, twins of 19, and Pierre-Joseph, the youngest of 17.
Victor BOCH, an experienced financial businessman, takes the direction of the SNC Boch Frères. He gets assistance from the faience factories of the family (Septfontaines, Mettlach and Wallerfangen) who sell him ready-to-use copperplates, so he can start the production immediately. Amongst the plates they sold to Keramis between 1844 and 1846 we mention Bayern landscapes and views of the Rhine, genre scenes, decors inspired by the Orient, the decor "Theetrinker" (sic) (Fery, 2000, page 39-42). The engravings on these plates, mostly applied by chisel and stamp (150 years, page 49), were used for reproduction through impression.
The very first decors were monochrome, mostly in bleu or black impression, and have a factory stamp with large banner in general, and are sometimes produced in sister factories. Sometimes they are bicolour, black for the centre decoration and another colour for the border decoration. Examples are:
decor in black: genre scenes, hunting scenes
decor in bleu: Laurier B.F., Orient, Orient II, Grand bouquet, Ronda, GG
decor in black or in bleu: Theetrinker, Wild rose, Clyde Scenery
decor in bleu or in manganese: Althea, Althea on order, Jardinière, Hollyhock.
Some of these decors are printed in a slightly blurred way for the English and American customers who love this kind of illustrations.
Around 1860 the production of polychrome pieces starts with accents above or underneath the glazing, sometimes the same decors are produced in monochrome and in polychrome:
decors inspired by the Orient and/or antique decors: Pompeia and Pompei, Japonica, Canton with green dominant colour and later Canton with other dominant colours, Nanking, Yedo, Dames chinoises (Chinese ladies), Timor, …
other types of polychrome decors: Perdrix, Pérou, Charlotte II, romantic and family scenes with children.
The production of decors inspired by the Orient continues during the next period.
Romantic scenes, city views, saints or saints with their attributes, Napoleons battles, humoristic scenes and "combles" (the height of), travelling by railway, mostly edited in series of 12, are favourite subjects for faience decors. Messrs. MOUZIN (Henri-Joseph, Henry and Charles or Carl) are the most important engravers (Fery, 2000).
Since that period, Boch Frères has distributed tons of white faience products all over the world, without a decor, sometimes enhanced with a relief poured in the mass (150 year, 322, page 173), (Cosyns and Bragard, page 207).
During this period, Victor BOCH completes the production of faience with the fabrication of fine pottery with a decor of slip and with gilded accents. Those pieces of fine pottery, in the manner of Palissy, are mostly marked in relief with a yellow dot. Besides, the decors for pieces for daily use are influenced by Luxemburg and England, but also by decors from Strasbourg and the decors of the "Manufacture de Tournai" (Tournai factory) they were allowed to use after the purchase in 1851. In this way, the Tournai decor named "à la mouche" (by MOUZIN at the BOCH factory) is now called "Grand Bouquet" or "Ronda".
The production included tableware, coffee and tea-sets, toilet-sets (water-basin, bidet, chamber pot,…), various objects in fine faience and some religious objects.
Link: https://www.royalboch.com/en/history/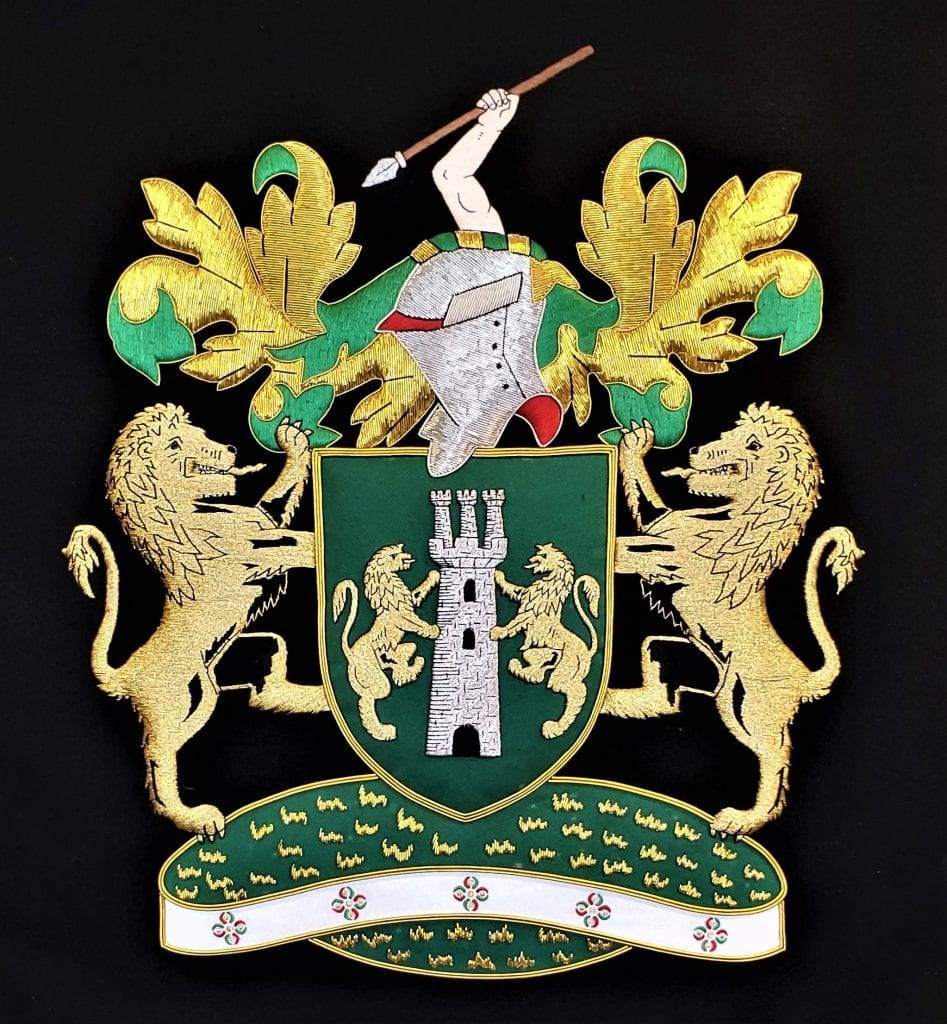 Art Deco Boch Freres La Louviere Pineapple Vase.
Provenance: From a Wealthy Dallas Estate.
Condition: Near Mint.
Dimensions: 11.5 inches Tall with a diameter of 7 inches
SALE PRICE NOW: $980