PRESENTING A LOVELY 20C Pair of Indian Brass and Cold painted Rose Vases.
Nice pair of matching Indian Brass and hand-painted rose vases from circa 1940.
The vases are fluted. Larger at the rim and narrowing to a circular base.
Would be used for holding a single stemmed rose.
Both vases are chased with floral designs and then cold painted with burgundy, pink, red and green paint colors.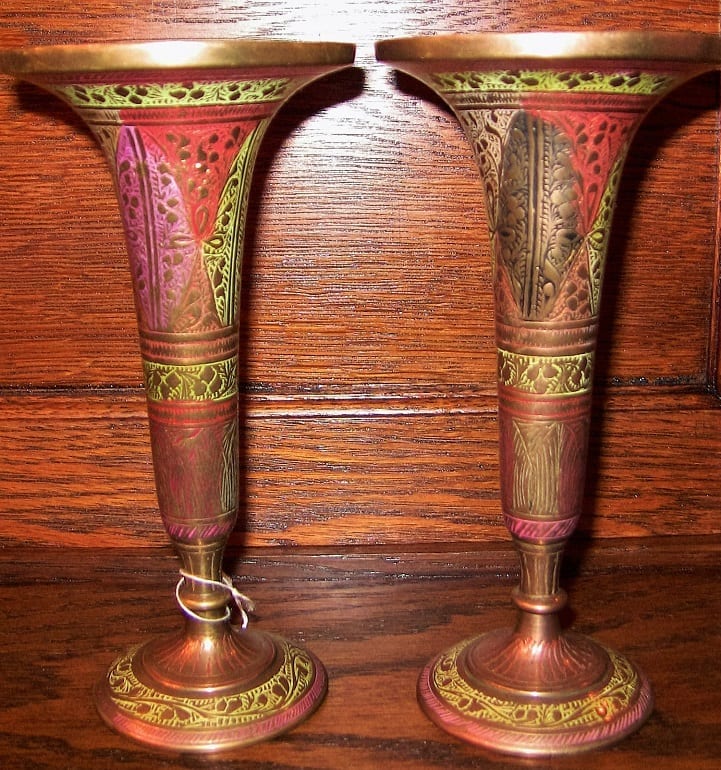 INDIAN BRASSWARE: Benares brass is the term used for brassware from Benares (also known as Varanasi, Varenisi or Kaasi) in India.
Benares is a pilgrimage site in India, as it is considered home to Shiva or Visweswara, in Utash Pradesh (Uttar Pradesh State). Benares is particularly famous for its Benares Ware – decorative brass ware and the related popular tourist destination is the Benares Brass Bazaar. Benares is located in an area naturally rich in copper- a requisite ingredient of brass. Benares Brass is highly decorated by engraving, and highly sought after as an antique. Still produced, and available today are new and reproduction wares which may be any combination of embossed, engraved, enameled or burnished brass vessels and brass items.
In ancient India, brass oil lamps decorated with Sanskrit inscriptions, Hindu icons, women, and swans, were in early usage in Hindu temples, and households. Guilds were established in the various trades overseen by Karkhanadars: similar to the journeyman and apprentice of trades of European trades and artisans. Karkhanadars were required to train within the caste, or be subject to being outcasts themselves. The apprentice would need to develop his work for 6 years before achieving full wage and becoming a Karkhandadar. A school has been established in Benares to teach brassware and inevitably the timeless practices of the guilds are being replaced, to keep pace with modern societal demands.
Link: https://en.wikipedia.org/wiki/Benares_brass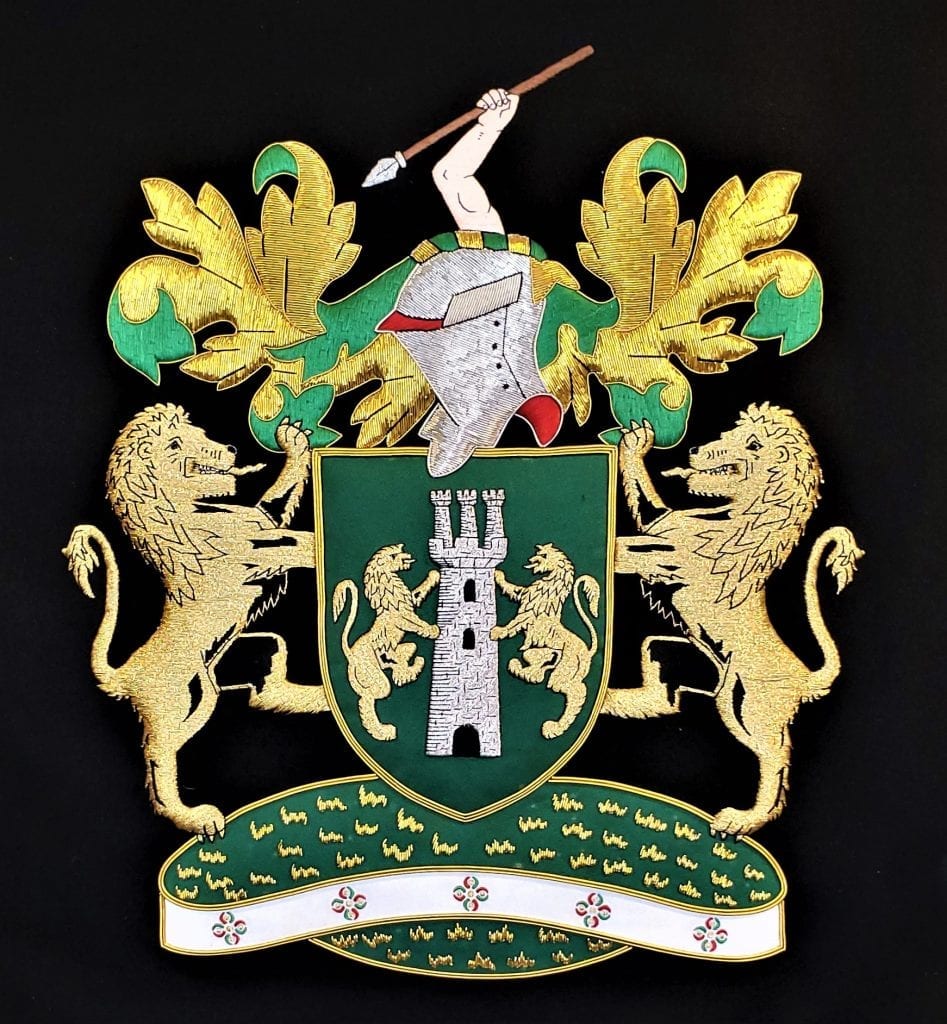 20C Pair of Indian Brass and Cold painted Rose Vases.
Provenance: Part of our extensive Anglo-Indian Collection.
Dimensions: 7″ tall and 3.5″ Diameter at top (Each)
Condition: Very Good.
SALE PRICE NOW: $50 (Pair)