19C Set of 4 Original Engravings of Hunting Scenes by John Frederick Herring Snr.
Presenting a FABULOUS and VERY RARE set of ORIGINAL Mid-19th Century Chromolithograph Engravings by John Frederick Herring Snr…………….circa 1850.
The exciting action of the hunt is captured in this attractive set of four engravings of paintings by John Frederick Herring, Sr.., one of Great Britain's most renown sporting artists who did commissioned work for the Duchess of Kent and Queen Victoria. Men in their riding pinks guide their steeds over jumps and beagles give chase as they all pass through beautiful landscape dotted with architecture. "Herring's Fox-Hunting Scenes"  are EXTREMELY POPULAR and SOUGHT AFTER. The engravings are presented under glass in oak frames with gilt fillets.
These ORIGINAL Chromolithographs or hand colored aquatints are of 4 Hunting Scenes by the VERY FAMOUS and HIGHLY DESIRABLE and SOUGHT AFTER British Artist John Frederick Herring Senior.
The engravings are of 4 scenes and are known as "The Meet", "Breaking Cover", "Full Cry" and "The Death".
The engraving of the "Full Cry" bears the Artist's signature…..being signed "J.F. Herring Senr." on the bottom right.
The engravings are quite LARGE and HUGELY IMPRESSIVE !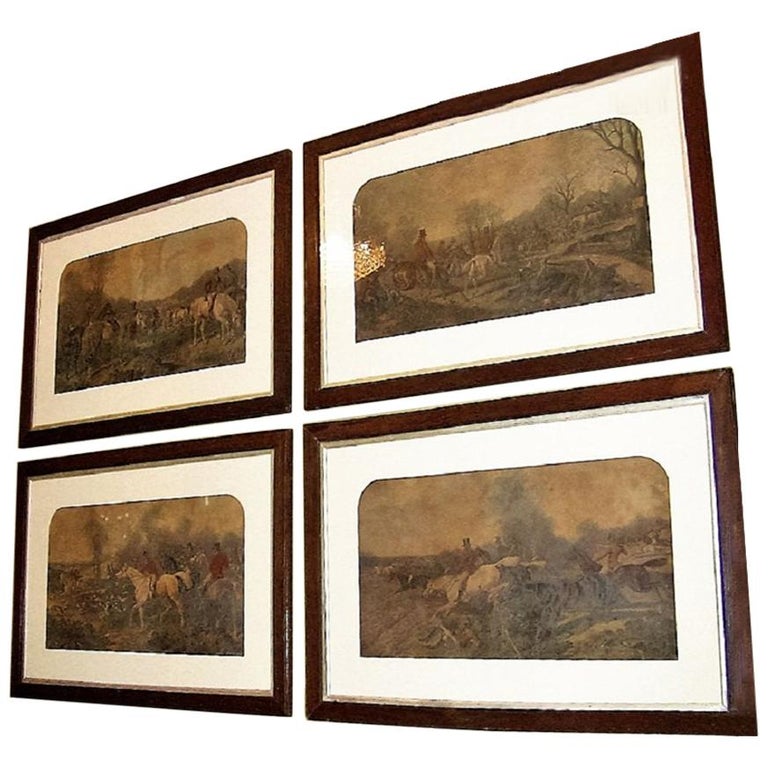 John Frederick Herring Sr. (12 September 1795 – 23 September 1865),[1] also known as John Frederick Herring I, was a painter, sign maker and coachman in Victorian England.[2][3] He painted the 1848 "Pharoah's Chariot Horses" (archaic spelling "Pharoah"). He amended his signature "SR" (senior) in 1836, with the growing fame of his teenage son (1 of 4) John Frederick Herring Jr.
Herring, born in London in 1795, was the son of a London merchant of Dutch parentage, who had been born overseas in America. The first eighteen years of Herring's life were spent in London, where his greatest interests were drawing and horses.[2] In the year 1814, at the age of 18, he moved to Doncaster in the north of England, arriving in time to witness the Duke of Hamilton's "William" win the St. Leger Stakes horserace. By 1815, Herring had married Ann Harris; his sons John Frederick Herring Jr., Charles Herring, and Benjamin Herring were all to become artists, while his two daughters, Ann and Emma, both married painters. When she was barely of age in 1845 Ann married Harrison Weir.
In Doncaster, England, Herring was employed as a painter of inn signs and coach insignia on the sides of coaches,[3] and his later contact with a firm owned by a Mr. Wood led to Herring's subsequent employment as a night coach driver. Herring spent his spare time painting portraits of horses for inn parlors, and he became known as the "artist coachman" (at the time).[2] Herring's talent was recognized by wealthy customers, and he began painting hunters and racehorses for the gentry.
In 1830, John Frederick Herring, Senior left Doncaster for Newmarket, England, where he spent three years before moving to London, England.[2] During this time, Herring might have received tuition from Abraham Cooper. In London, Herring experienced financial difficulties and was given financial assistance by W. T. Copeland, who commissioned many paintings, including some designs used for the Copeland Spode bone china. In 1840-1841, Herring visited Paris, painting several pictures, on the invitation of the Duc d'Orleans (the Duke of Orleans), son of the French King Louis-Phillipe.
In 1845, Herring was appointed Animal Painter to HRH the Duchess of Kent, followed by a subsequent commission from the ruling Queen Victoria, who remained a patron for the rest of his life.
In 1853, Herring moved to rural Kent in the southeast of England and stopped painting horse portraits.[3] He spent the last 12 years of his life at Meopham Park near Tonbridge, where he lived as a country squire. He then broadened his subject matter by painting agricultural scenes and narrative pictures, as well as his better known sporting works of hunting, racing and shooting.
A highly successful and prolific artist, Herring ranks along with Sir Edwin Landseer as one of the more eminent animal painters of mid-nineteenth (19th) century Europe.[2] The paintings of Herring were very popular, and many were engraved, including his 33 winners of the St. Leger and his 21 winners of the Derby. Herring exhibited at the Royal Academy from 1818–1865,[3] at the British Institution from 1830–1865,[2] and at the Society of British Artists in 1836-1852, where Herring became Vice-President in 1842.
Link: https://en.wikipedia.org/wiki/John_Frederick_Herring_Sr.
19C Set of 4 Original Engravings of Hunting Scenes by John Frederick Herring Snr.
JOHN FREDERICK HERRING SNR: ORIGINAL HUNT ENGRAVINGS:
ENGRAVING 1: "THE MEET":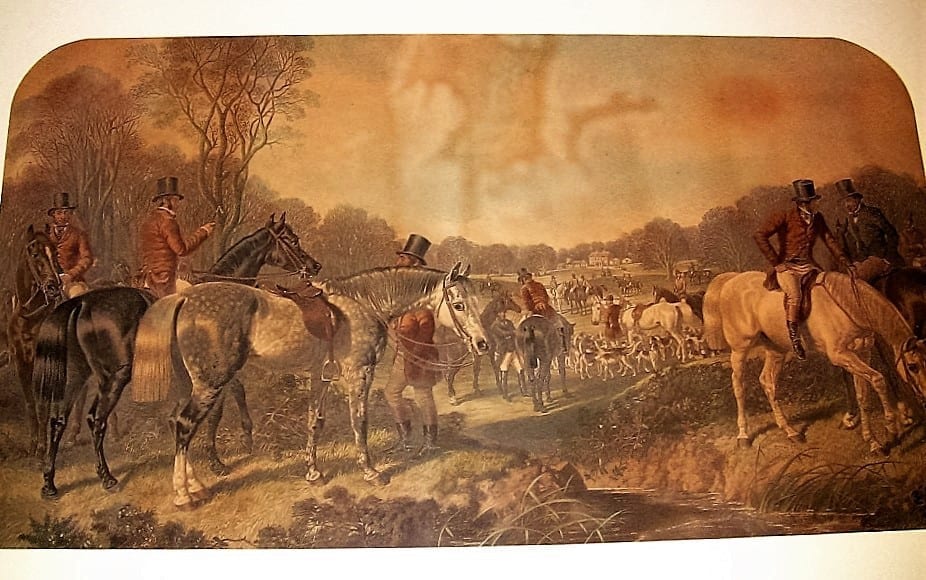 ENGRAVING 2: "BREAKING COVER ":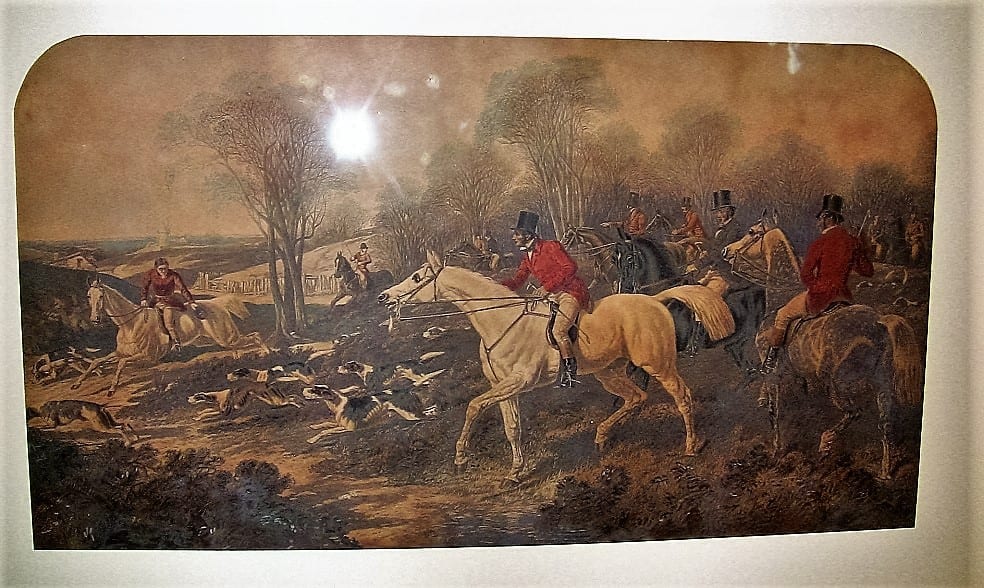 ENGRAVING 3: "FULL CRY":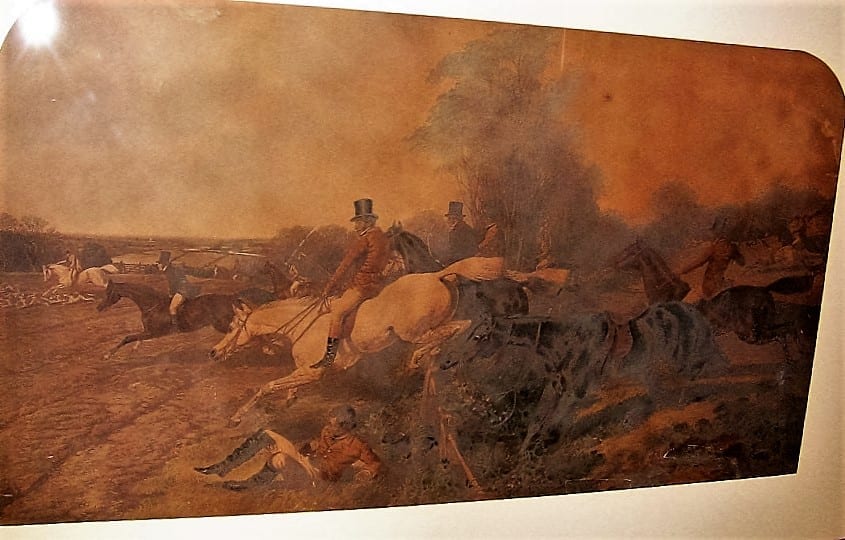 ENGRAVING 4: "THE DEATH":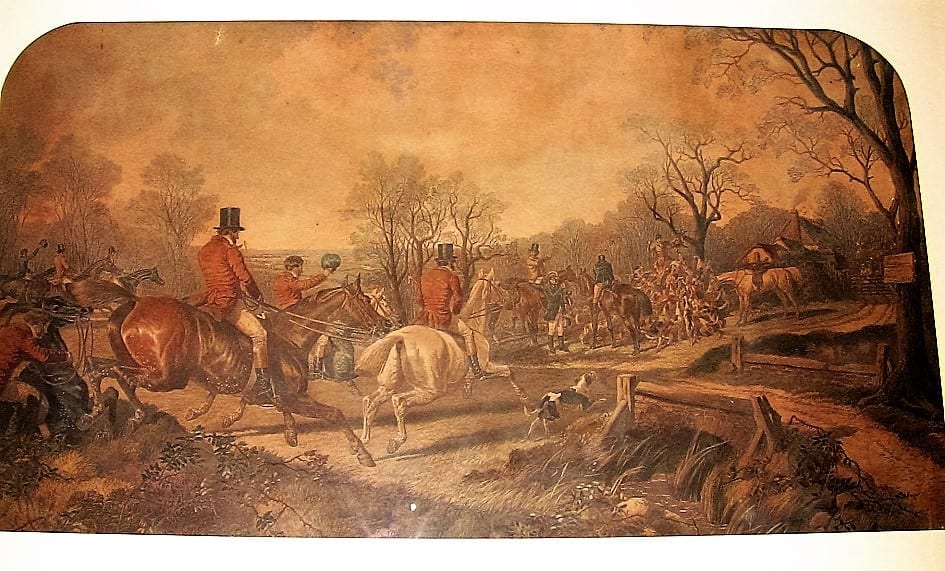 HERRING SIGNATURE: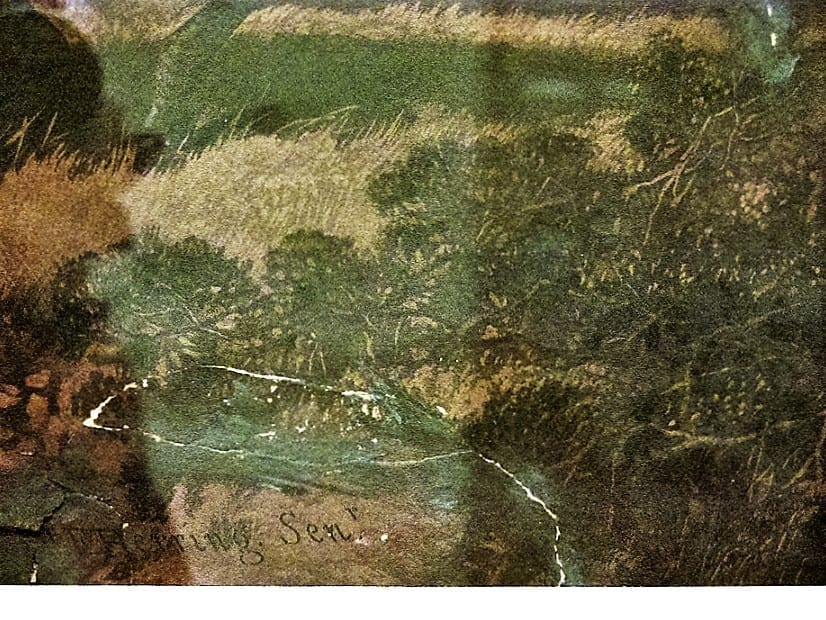 ENGRAVINGS ON DISPLAY (ALL 4):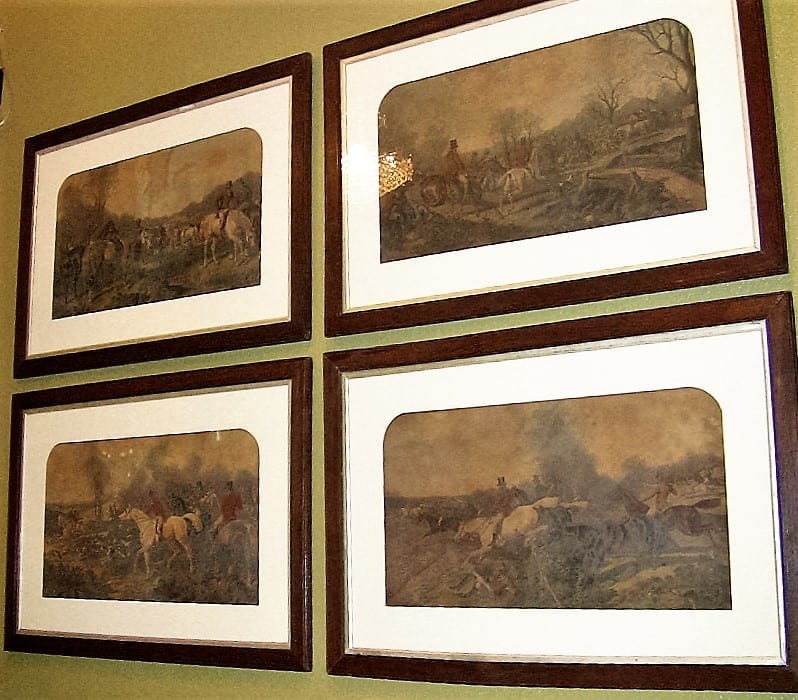 19C Set of 4 Original Engravings of Hunting Scenes by John Frederick Herring Snr.
Additional Link: http://www.john-frederick-herring.org/
The engravings have some condition issues, namely there is quite a bit of foxing in the original paper. However, this is consistent with their age. The engravings were originally in a Manor House in Ireland and most of the foxing was as a result of the 'damp climate'.
The engravings have been re-matted and re-mounted on 'acid free' paper and board to prevent further damage. The engravings have been examined by a highly regarded professional paper conservator, here in Dallas, and could be cleaned….but the conservator is of the opinion that the cleaning would not that dramatically improve the color. We have decided therefore, to sell these "AS …. IS'. We are happy to recommend a conservator to potential buyers and we have reduced the sale Price to reflect the cost of any restoration.
We are of the opinion that these ORIGINAL ENGRAVINGS are just beautiful the way they are. They are historical…..look historical and exude their age and quality !
Fox Hunting is rapidly becoming a pastime of the PAST………these scenes capture not only the original beauty of the English Countryside but also are a time capsule of Country life in early Victorian times.
Regardless of the subject matter and opinions on animal cruelty……….we cannot simply forget and erase our history…..the good and the not so good….depending on you point of view !
Fox Hunting played a very IMPORTANT role in Country life………..it was a means by which Country people of all social classes could congregate and socialize on a weekly basis during the Hunt season. The Gentry and Nobility would be the Master Huntsmen. The Beagle or Hound Masters would be from a lower social class but was nonetheless vital to the Hunt. The local Village people would cheer on the Hunt and help 'steward' the local roads in advance of the Hunt. The local Pubs would provide ' stiff drinks' for the Huntsmen to keep them warm ….as most Hunts were held in the Autumn and Winter months. The servants who were employed by the local Lord would likewise be involved in preparations for the Hunt by preparing food and drinks for the pre-hunt get together and the post-hunt feasts.
Hunts would regularly 'take a break' during the Hunt in local Villages ….. to drop into the local pub, etc.
It was a VERY SOCIAL experience for all concerned. It kept the people of the working classes 'connected' to the people of the middle and upper classes and 'visa versa'.
The Hunt also acted as a means of 'culling' the numbers of wild foxes in the Countryside….who despite their cute nature and appearance…..constituted a danger to local farmers and their livestock, if their numbers remained unchecked.
Not all Hunts were successful…..more often than not, the fox would escape.
In cases of success….death would come swiftly to the fox at the hands of the hounds.
'Breaking Cover' has the monogram 'RD' located on the lower left…..which indicates the publisher of the prints…..R. Dobson's Fine Art Gallery in London.……a very well known and reputable high-end publisher of the mid to late 19th Century.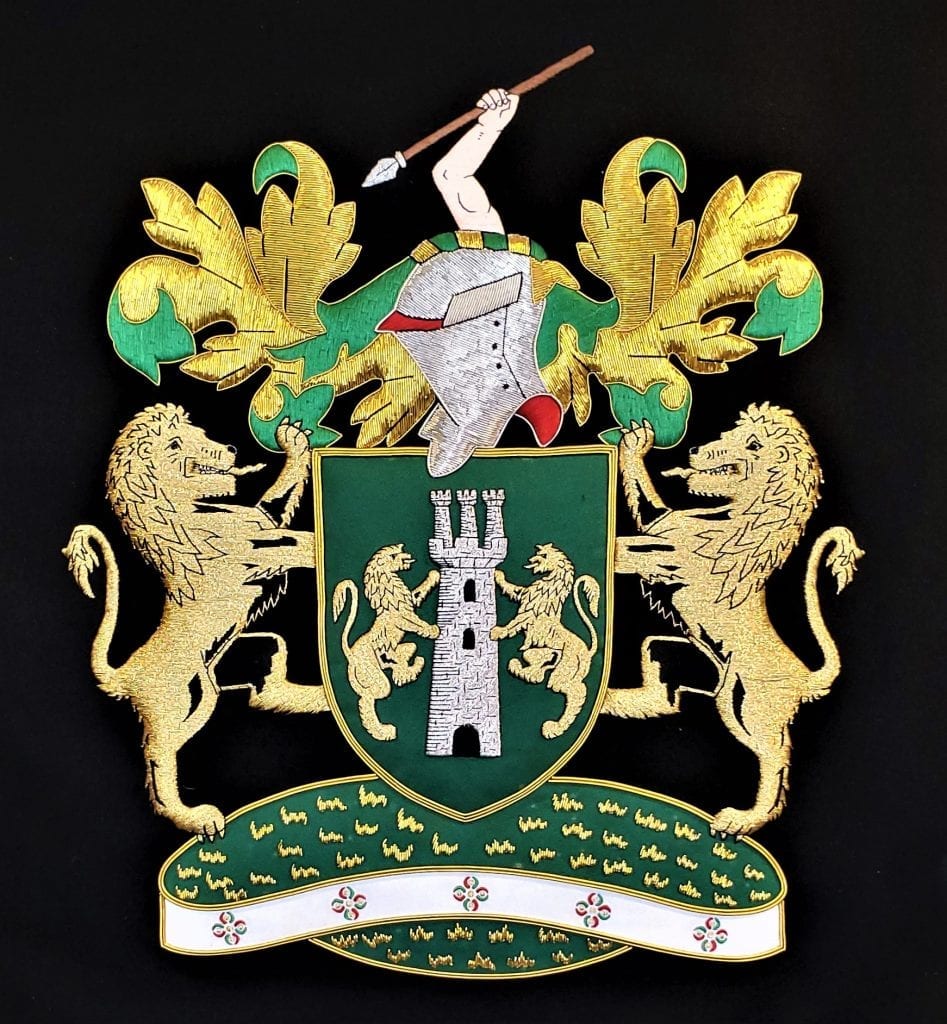 19C Set of 4 Original Engravings of Hunting Scenes by John Frederick Herring Snr.
Provenance: Bought from an Irish Country Manor House
Dimensions: Each is 40.25″ Wide and 27.5″ Long (In Frame)
Condition: See Above.
SALE PRICE NOW: $8,000 (Set of 4)
1ST DIBS AUCTION LINK: https://www.1stdibs.com/furniture/wall-decorations/prints/set-of-four-original-engravings-hunting-scenes-john-frederick-herring-snr/id-f_11963671/