PRESENTING a STUNNING and HIGHLY DESIRABLE and IMPORTANT 19C Reverse Glass Painting of Shiva, Parvati and Ganesh from the Pal Collection.
This piece has impeccable Provenance !
It was purchased by a Private Dallas Collector at Christie's New York Auction on 20th March 2008. Sale Number 2112, Lot No. 290.
Christie's operate a twice yearly auction of Southeast Asian Art & Antiquities in New York in the months of March and September.
This sale was titled "The Scholar's Vision: The Pal Family Collection".
The painting was described as "A reverse glass painting of Shiva, Parvati and Ganesh – India, Maharashtra, 19th Century.
The holy family seated on the floor, mother and child in the lap of Shiva, with a red background and blue borders. Opaque pigments and metal leaf on glass. 12 x 16 in. (30.4 x 40.6 cm.)
Exhibited:
Durga: Avenging Goddess, Nurturing Mother, Norton Simon Museum of Art, 7 October 2005 – 27 March 2006″.
It carried an Auction estimate of USD 2,500 to USD 3,500 and Sold for USD 2,500 (not including Buyers Premium).
Allowing for inflation alone this would be over $4,300 in today's value. At highest estimate, this would equate to over $6k in today's value.
As an added bonus and proof of authenticity the painting still retains it's original Christie's Lot No. Label.
It has substantially increased in value over the years as a RARE piece from the 'renowned' Pal Family Collection and a RARE piece of antique Asian Indian Art.
---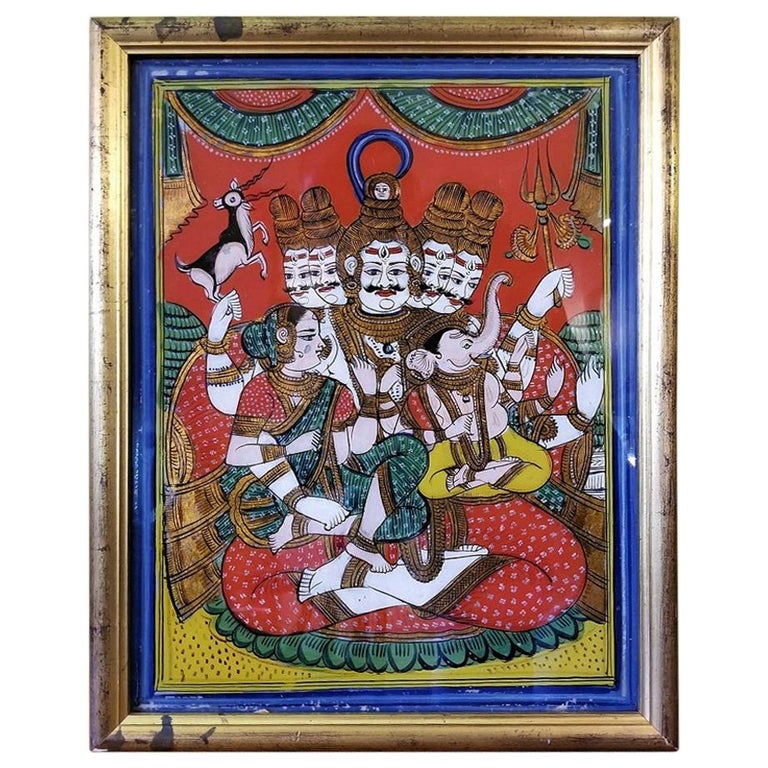 ---
Shiva (/ˈʃiːvə/; Sanskrit: शिव, Śiva, lit. the auspicious one) also known as Mahadeva ( lit. the great god)[7][8][9] is one of the principal deities of Hinduism. He is one of the supreme beings within Shaivism, one of the major traditions within contemporary Hinduism.[10][11]
Shiva is known as "The Destroyer" within the Trimurti, the Hindu trinity that includes Brahma and Vishnu.[1][12] In Shaivism tradition, Shiva is one of the supreme beings who creates, protects and transforms the universe.[7][8][9] In the tradition of Hinduism called Shaktism, the Goddess, or Devi, is described as one of the supreme, yet Shiva is revered along with Vishnu and Brahma. A goddess is stated to be the energy and creative power (Shakti) of each, with Parvati (Sati) the equal complementary partner of Shiva.[13][14] He is one of the five equivalent deities in Panchayatana puja of the Smarta tradition of Hinduism.[10]
According to the Shaivism sect, the highest form of Ishvar is formless, limitless, transcendent and unchanging absolute Brahman,[15] and the primal Atman (soul, self) of the universe.[16][17][7] There are many both benevolent and fearsome depictions of Shiva. In benevolent aspects, he is depicted as an omniscient Yogi who lives an ascetic life on Mount Kailash[1] as well as a householder with wife Parvati and his two children, Ganesha and Kartikeya. In his fierce aspects, he is often depicted slaying demons. Shiva is also known as Adiyogi Shiva, regarded as the patron god of yoga, meditation and arts.[18][19][20]
The iconographical attributes of Shiva are the serpent around his neck, the adorning crescent moon, the holy river Ganga flowing from his matted hair, the third eye on his forehead, the trishula or trident, as his weapon, and the damaru drum. He is usually worshipped in the aniconic form of Lingam.[2] Shiva is a pan-Hindu deity, revered widely by Hindus, in India, Nepaland Sri Lanka.
Link: https://en.wikipedia.org/wiki/Shiva
Parvati (Sanskrit: पार्वती, IAST: Pārvatī), Uma (Sanskrit: उमा, IAST: Umā) or Gauri (Sanskrit: गौरी, IAST: Gaurī) is the Hindu goddess of fertility, love, beauty, marriage, children, and devotion; as well as of divine strength and power.[5][6][7] Known by many other names, she is the gentle and nurturing aspect of the Supreme Hindu goddess Adi Parashakti and one of the central deities of the Goddess-oriented Shakta sect. She is the Mother goddess in Hinduism,[1][8] and has many attributes and aspects. Each of her aspects is expressed with a different name, giving her over 100 names in regional Hindu stories of India.[9] Along with Lakshmi and Saraswati, she forms the trinity of Hindu goddesses (Tridevi).[10]
Parvati is the wife of the Hindu god Shiva – the protector, the destroyer (of evil) and regenerator of the universe and all life.[11] She is the daughter of the mountain king Himavan and queen Mena.[12] Parvati is the mother of Hindu deities Ganesha, Kartikeya, Ashokasundari. The Puranas also referenced her to be the sister of the preserver god Vishnu.[13][14] She is the divine energy between a man and a woman, like the energy of Shiva and Shakti. She is also one of the five equivalent deities worshipped in Panchayatana puja of the Smarta Tradition of Hinduism.[15]
With Shiva, Parvati is a central deity in the Shaiva sect. In Hindu belief, she is the recreative energy and power of Shiva, and she is the cause of a bond that connects all beings and a means of their spiritual release.[16][17] In Hindu temples dedicated to her and Shiva, she is symbolically represented as the argha. She is found extensively in ancient Indian literature, and her statues and iconography grace Hindu temples all over South Asia and Southeast Asia.
Link: https://en.wikipedia.org/wiki/Parvati
Ganesha (Sanskrit: गणेश, IAST: Gaṇeśa; listen (help·info)), also known as Ganapati, Tamil: கணபதி, Vinayaka, Tamil: விநாயகர், or by numerous other names, is one of the best-known and most worshipped deities in the Hindu pantheon.[4] His image is found throughout India, Nepal, Sri Lanka, Fiji, Thailand, Bali (Indonesia) and Bangladesh.[5] Hindu denominations worship him regardless of affiliations.[6] Devotion to Ganesha is widely diffused and extends to Jains and Buddhists.[7]
Although he is known by many attributes, Ganesha's elephant head makes him easy to identify.[8] Ganesha is widely revered as the remover of obstacles,[9] the patron of arts and sciences and the deva of intellect and wisdom.[10] As the god of beginnings, he is honoured at the start of rites and ceremonies. Ganesha is also invoked as patron of letters and learning during writing sessions.[11][2] Several texts relate mythological anecdotes associated with his birth and exploits.
Ganesha likely emerged as a deity as early as the 2nd century CE,[12] but most certainly by the 4th and 5th centuries CE, during the Gupta period, although he inherited traits from Vedicand pre-Vedic precursors.[13] Hindu mythology identifies him as the restored son of Parvati and Shiva of the Shaivism tradition, but he is a pan-Hindu god found in its various traditions.[14][15] In the Ganapatya tradition of Hinduism, Ganesha is the supreme deity.[16] The principal texts on Ganesha include the Ganesha Purana, the Mudgala Purana, and the Ganapati Atharvashirsa. Brahma Purana and Brahmanda Purana are other two Puranic genre encyclopedic texts that deal with Ganesha.
Ganesha represents Mahaganapati is the ultimate truth Para Brahman who created brahman first to create the world.
Link: https://en.wikipedia.org/wiki/Ganesha

---
The rear of the painting has 2 labels.
(1) " The Shaiva Holy Family, India: Maharashtra, 18th Century. Pigments on Glass, 16 x 12 in. (40.6 x 30.5 cm), L.3.2004.4 (Dr. Pal)"
(2) A shipping label.
The reason that we are 100% certain that this is the same painting as sold by Christie's is that it is only one of a large Private Dallas Collection that we have acquired and most pieces have the ORIGINAL auction and catalog labels on them (for both Christie's and Sotheby's). All items were purchased by this private Collector between 1999 and 2008 at both auction houses sales in New York during that period. Check out the rest of the Collection and you will see why we have such certainty about authenticity.
---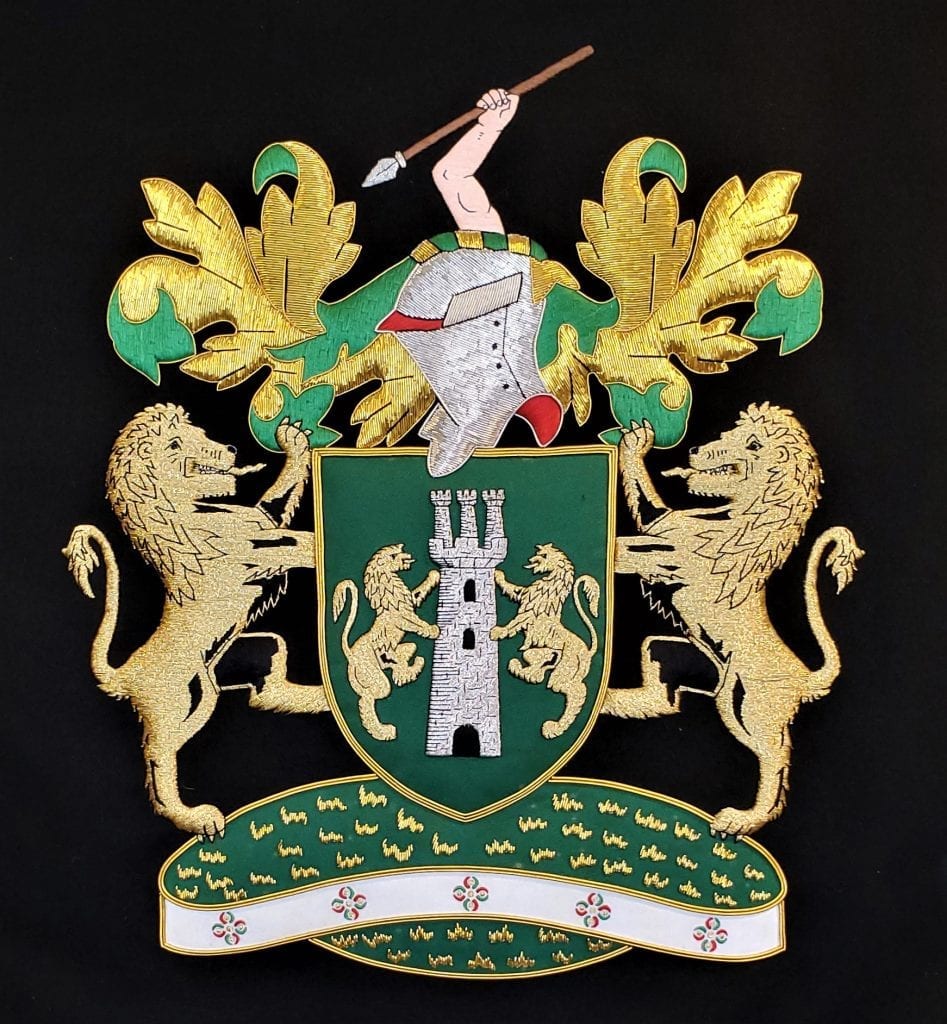 19C Reverse Glass Painting of Shiva, Parvati and Ganesh from the Pal Collection.
Provenance: From "The Pal Family Collection" – Christies Auction – NY 2008
Condition: Very good original condition.
Dimensions: 16 x 12 in. (40.6 x 30.5 cm)
SALE PRICE NOW: $12,000