PRESENTING a VERY RARE 18C Indian Miniature Painting of a Yogi from a Yoga Codex.
Hand-painted on paper, with authentic age.
Indian circa 1780 and most likely from Uttar Pradesh.
It features a beautifully detailed scene of a 'Yogi' in seated yoga pose, with crossed legs and arms aloft in meditation and prayer.
He is seated on a tiger skin rug, with what appears to be a rainbow colored waterfall in the background, with flowering trees and a blue sky horizon with puffy clouds.
His skin is painted blue, we presume, to honor and pray to Lord Vishnu/Krishna.
We are of the opinion that this is a Folio from a Yoga Codex and it is without doubt 18th Century as is obvious from the rear of the painting and it's natural age.
The back of the miniature has ancient Indian script which, unfortunately, we cannot translate.
It is framed and under glass in a vintage antique gold and silver frame and has an ivory board matting. It was re-framed in Dallas in the Mid 20C by 'Downtown Galleries' who operated in the 1960's at 1919 Pacific Ave.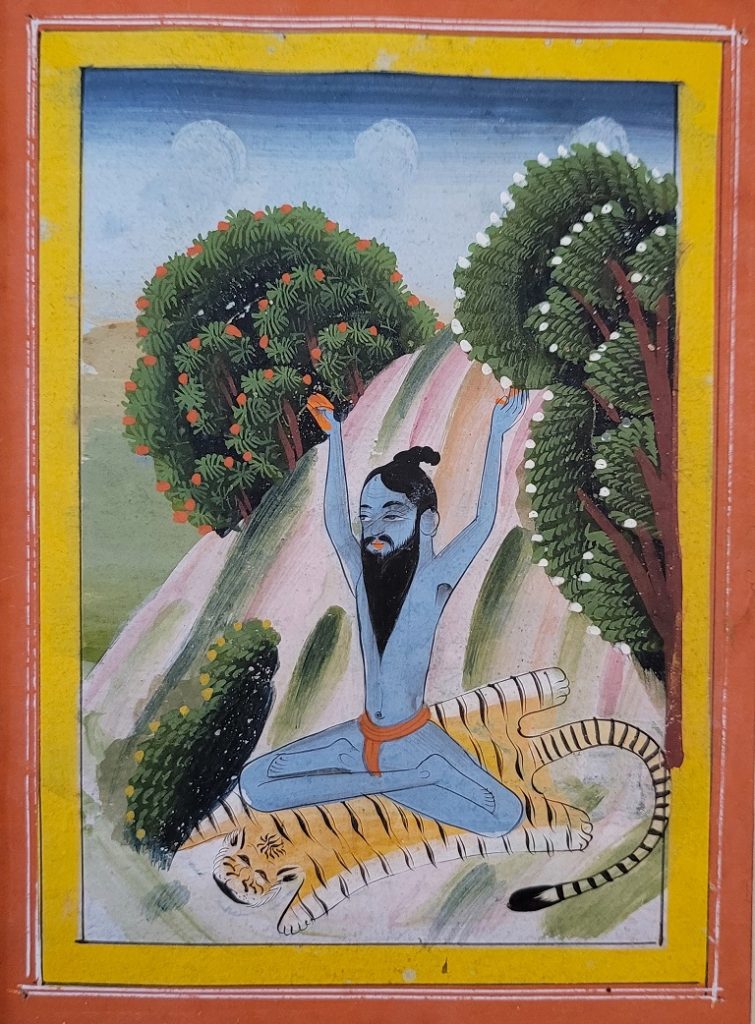 Krishna (/ˈkrɪʃnə/; Sanskrit: कृष्ण IAST: Kṛṣṇa [ˈkr̩ʂɳɐ]) is a major deity in Hinduism. The name comes from a Sanskrit word (कृष्ण, kṛṣṇa) that means "black", "dark", "dark blue" or "the all attractive". He is worshipped as the eighth avatar of Vishnu and also as the Supreme god in his own right. He is the god of protection, compassion, tenderness, and love; and is one of the most popular and widely revered among Indian divinities. Krishna's birthday is celebrated every year by Hindus on Krishna Janmashtami according to the lunisolar Hindu calendar, which falls in late August or early September of the Gregorian calendar.
The anecdotes and narratives of Krishna's life are generally titled as Krishna Leela. He is a central character in the Mahabharata, the Bhagavata Purana, the Brahma Vaivarta Purana, and the Bhagavad Gita, and is mentioned in many Hindu philosophical, theological, and mythological texts. They portray him in various perspectives: as a god-child, a prankster, a model lover, a divine hero, and the universal supreme being. His iconography reflects these legends, and shows him in different stages of his life, such as an infant eating butter, a young boy playing a flute, a young boy with Radha or surrounded by female devotees; or a friendly charioteer giving counsel to Arjuna.
The name and synonyms of Krishna have been traced to 1st millennium BCE literature and cults. In some sub-traditions, Krishna is worshipped as Svayam Bhagavan (the Supreme God), and it is sometimes known as Krishnaism. These sub-traditions arose in the context of the medieval era Bhakti movement. Krishna-related literature has inspired numerous performance arts such as Bharatanatyam, Kathakali, Kuchipudi, Odissi, and Manipuri dance. He is a pan-Hindu god, but is particularly revered in some locations, such as Vrindavan in Uttar Pradesh, Dwarka and Junagadh in Gujarat; the Jagannatha aspect in Odisha, Mayapur in West Bengal; in the form of Vithoba in Pandharpur, Maharashtra, Shrinathji at Nathdwara in Rajasthan, Udupi Krishna in Karnataka, Parthasarathy in Tamil Nadu and in Aranmula, Kerala, and Guruvayoorappan in Guruvayoor in Kerala. Since the 1960s, the worship of Krishna has also spread to the Western world and to Africa, largely due to the work of the International Society for Krishna Consciousness (ISKCON)
Link: https://en.wikipedia.org/wiki/Krishna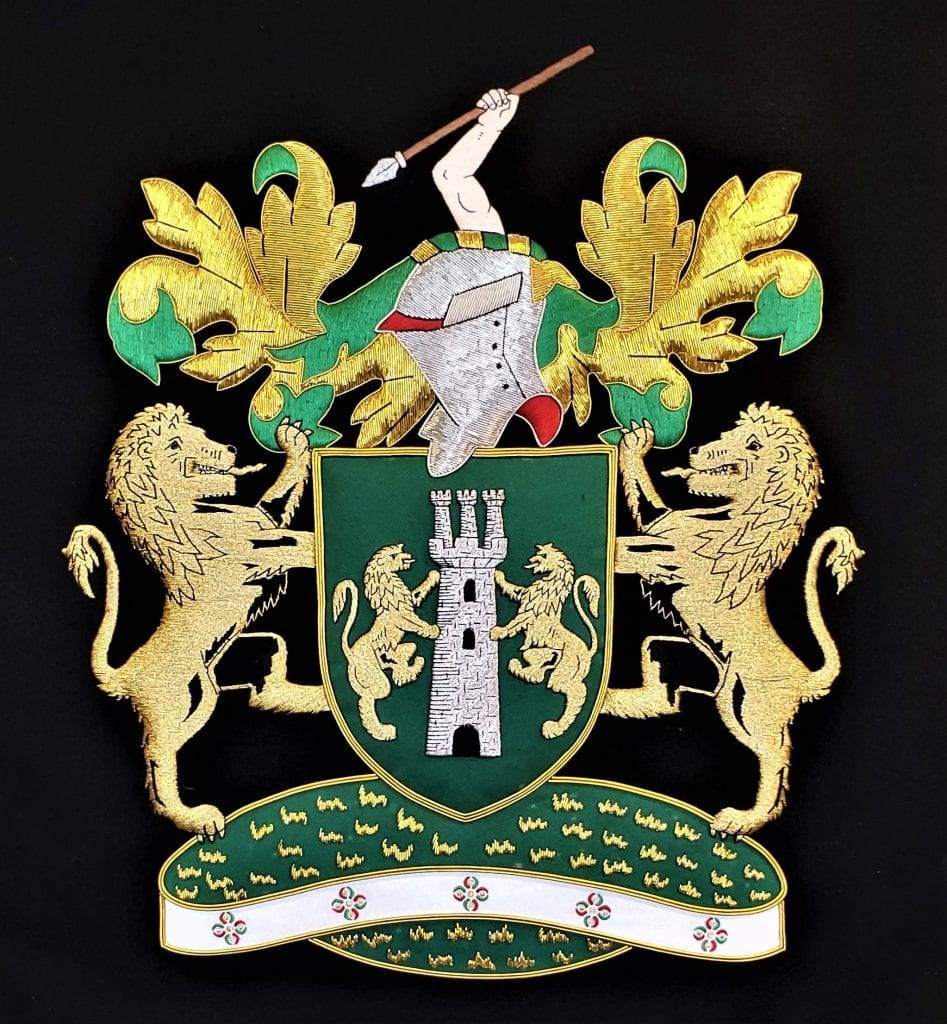 18C Indian Miniature Painting of a Yogi from a Yoga Codex.
Provenance: From a Quality Dallas Estate.
Dimensions: In Frame: 16.75 x 13.25 in
Visual image is 6.25 x 4.5 in
Condition: Very Good original condition. Some discoloration to the ivory matting through age.
SALE PRICE NOW: $3,200