PRESENTING an ABSOLUTELY STUNNING & IMPORTANT 16th CENTURY Carved Spanish Oak Writing Desk and Cabinet with AMAZING PROVENANCE and HISTORICAL and LITERARY SIGNIFICANCE.
16C Carved Spanish Oak Writing Desk and Cabinet

16C Carved Spanish Oak Writing Desk and Cabinet

16C Carved Spanish Oak Writing Desk and Cabinet

16C Carved Spanish Oak Writing Desk and Cabinet

16C Carved Spanish Oak Writing Desk and Cabinet

16C Carved Spanish Oak Writing Desk and Cabinet

16C Carved Spanish Oak Writing Desk and Cabinet

16C Carved Spanish Oak Writing Desk and Cabinet

Catalog

16C Carved Spanish Oak Writing Desk and Cabinet

Catalog

16C Carved Spanish Oak Writing Desk and Cabinet

Catalog

16C Carved Spanish Oak Writing Desk and Cabinet

Lot in Catalog with picture

16C Carved Spanish Oak Writing Desk and Cabinet

Base

16C Carved Spanish Oak Writing Desk and Cabinet

Open

16C Carved Spanish Oak Writing Desk and Cabinet

Close-up

16C Carved Spanish Oak Writing Desk and Cabinet

Door

16C Carved Spanish Oak Writing Desk and Cabinet

Door with lock

16C Carved Spanish Oak Writing Desk and Cabinet

Open drawers

16C Carved Spanish Oak Writing Desk and Cabinet

Close-up of base
This Desk/Cabinet has IMPECCABLE  PROVENANCE:
It was purchased at a French Antique Auction held at the Club Room in the Stoneligh Court (Hotel), Dallas on Wednesday the 2nd April 1930. (Now The Meridian Hotel).
We have the Original Auction Catalog which has remained with the Commode since it was acquired at that Auction (along with other pieces on our Site).
The Auction was titled: " Works of Art and Furnishings of The Chateau de Turique (Nancy) and The Conde-Rougemont Home (Touraine). The cover of the Catalog also has a seal of a Coat of Arms.
The first page of the Catalog States: "Exhibition on Wednesday, April 2nd And Following Days From 10 A.M. to 10 P.M……EXHIBITION at CLUB ROOM, STONELIGH COURT, DALLAS, TEXAS".
The Second page gives a brief description of the Auction contents and states that " This Exhibition will be presented by M. Fernand M. Adda of Paris France"
The Desk/Cabinet was Lot No: 565 and was described in the Auction Catalog as:
"Carved Spanish Writing Desk and Cabinet…… XVI Century Period….Upper section a cabinet with 2 doors which are paneled and display a fine carving. The interior is fitted with 8 engraved drawers, and a writing tablet is disclosed  in the lower portion. Sustained and central arcade of columns. From Fontana Rosa Collection. Supported on four turned legs with bulbous feet." 
It is noted on the margin that the buyer paid the princely sum of $355 in 1930 for this piece. Allowing for simple inflation, this would equate to well over $5,500 today.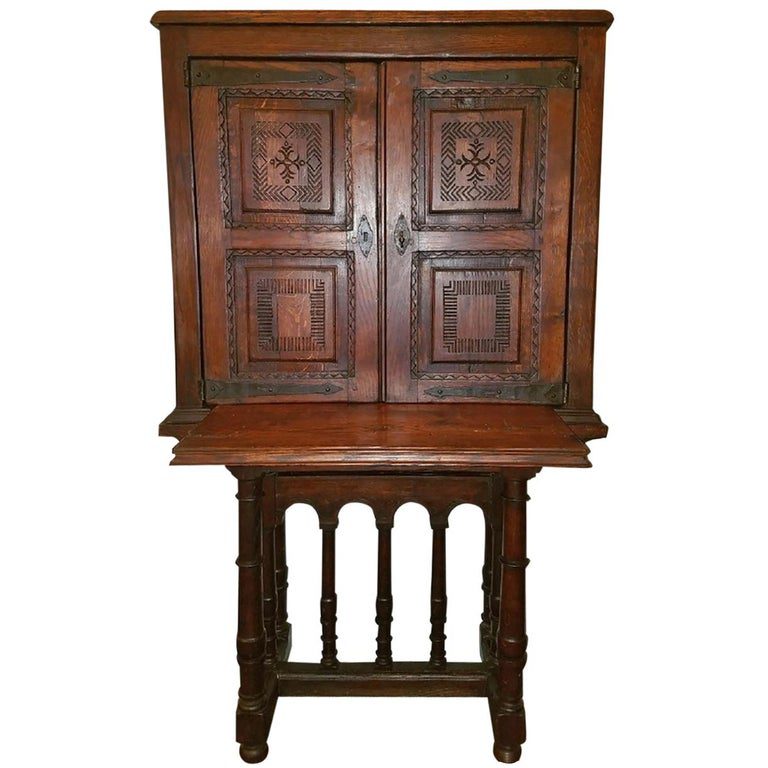 Habsburg Spain refers to the history of Spain over the 16th and 17th centuries (1516–1700), when it was ruled by kings from the House of Habsburg (also associated with its role in the history of Central Europe). The Habsburg rulers (chiefly Charles I and Philip II) reached the zenith of their influence and power. They controlled territory that included the Americas, the East Indies, the Low Countries and territories now in France and Germany in Europe, the Portuguese Empire from 1580 to 1640, and various other territories such as small enclaves like Ceuta and Oran in North Africa. This period of Spanish history has also been referred to as the "Age of Expansion".
Under the Habsburgs, Spain dominated Europe politically and militarily for much of the sixteenth and seventeenth centuries but experienced a gradual decline of influence in the second half of the seventeenth century under the later Habsburg kings.
The Habsburg years also ushered in the Spanish Golden Age of cultural efflorescence. Among the most outstanding figures of this period were Teresa of Ávila, Pedro Calderón de la Barca, Miguel de Cervantes, El Greco, Domingo de Soto, Francisco Suárez, Diego Velázquez, and Francisco de Vitoria.
"Spain" or "the Spains" in this period covered the entire peninsula, politically a confederacy comprising several, nominally independent kingdoms in personal union: Aragon, Castile, León, Navarre and, from 1580, Portugal. In some cases, these individual kingdoms themselves were confederations, most notably, the Crown of Aragon (Principality of Catalonia, Kingdom of Aragon, Kingdom of Valencia, and the Kingdom of Majorca).
The marriage of Isabella I of Castile and Ferdinand II of Aragon in 1469 had enabled the union two of the greatest of these kingdoms, Castile and Aragon, which led to their largely successful campaign against the Moors, peaking at the conquest of Granada in 1492.
Isabella and Ferdinand were bestowed the title of Most Catholic Monarchs by Pope Alexander VI in 1496, and the term Monarchia Catholica (Catholic Monarchy, Modern Spanish: Monarquía Católica) remained in use for the monarchy under the Spanish Habsburgs. The Habsburg period is formative of the notion of "Spain" in the sense that was institutionalized in the 18th century. From the 17th century, during and after the end of the Iberian Union, the Habsburg monarchy in Spain was also known as "Spanish Monarchy" or "Monarchy of Spain", along with the common form Kingdom of Spain.
Spain as a unified state came into being de jure only after the death in 1700 of Charles II and with it the extinction of the Spanish Habsburg dynasty, and the ascension of Philip V and the inauguration of the Bourbon dynasty and its central reforms, comparable to those in France.
Link: https://en.wikipedia.org/wiki/Habsburg_Spain
Fontana Rosa is a historic garden situated on the Avenue Blasco Ibáñez in Menton, Alpes-Maritimes, on the French Riviera.
The Spanish writer Vicente Blasco Ibáñez (1869-1928) began to build it from 1922 on, and he set up home here with his second wife, Elena, and died there in 1928.
This garden with Spanish and Menton pottery is found in avenue Blasco Ibanez, near Garavan station, and was created a Historical Monument in 1990.
It is also called "Le Jardin des Romanciers" (El Jardín de los Novelistas/The Garden of Novelists), and was frequented by celebrities such as Jean Cocteau. It was the place where Blasco Ibáñez wrote Mare Nostrum, a novel filmed later in 1926.
The garden inspired by Andalusian and Arabian-Persian styles contains species such as Ficus macrophylla, Araucaria heterophylla , palm trees, banana trees or scented rosebushes. It is a tribute to Vicente's favourite writers : Cervantes, Dickens, Shakespeare or Honoré de Balzac, whose busts can be found at the entrance and to whom he dedicated several fountains and rotundas.
Its main buildings are a small elevated villa with polychromatic pottery which houses a library and a personal movie projector room, and a main house (Villa Emilia) in the lower part of the property that dates from the 19th century. The architectural complex also has an aquarium, a colonnade, a concrete pergola, pillars, flower vases, ceramic-panelled benches around the main house and a big round, steel pergola covering a long staircase in the middle of the property.
After Blasco Ibáñez's death here, his son inherited the property. In 1939, it was sacked during the war and later abandoned for more than thirty years. Blasco Ibáñez's son gave it to the commune of Menton in 1970. Since 1985, the buildings have been restored and, as from 1991, the pottery too. Still undergoing restoration, the garden may be visited only by guided tour, on Monday and Friday at 10am.
Link:https://en.wikipedia.org/wiki/Fontana_Rosa
—————————————————————————————————————————————–
Vicente Blasco Ibáñez (29 January 1867 – 28 January 1928) was a journalist, politician and best-selling Spanish novelist in various genres whose most widespread and lasting fame in the English-speaking world is from Hollywood films adapted from his works.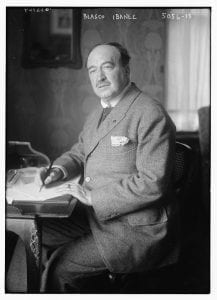 He was born in Valencia. At university, he studied law and graduated in 1888 but never went into practice. He was more interested in politics, journalism, literature and women. He was a particular fan of Miguel de Cervantes.
In politics he was a militant Republican partisan in his youth and founded a newspaper, El Pueblo (translated as The People) in his hometown. The newspaper aroused so much controversy that it was taken to court many times. In 1896, he was arrested and sentenced to a few months in prison. He made many enemies and was shot and almost killed in one dispute. The bullet was caught in the clasp of his belt. He had several stormy love affairs.
He volunteered as the proofreader for the novel Noli Me Tangere, in which the Filipino patriot José Rizal expressed his contempt of the Spanish colonization of the Philippines. He travelled to Argentina in 1909 where two new cities, Nueva Valencia and Cervantes, were created. He gave conferences on historical events and Spanish literature. Tired and disgusted with government failures and inaction, Vicente Blasco Ibáñez moved to Paris at the beginning of World War I. When living in Paris, Ibáñez had been introduced to the poet and writer Robert W. Service by their mutual publisher Fisher Unwin, who asked Robert W. Service to act as an interpreter in the deal of a contract concerning Ibáñez.[1]
He was a supporter of the Allies in World War I.
He died in Menton, France in 1928, the day before his 61st birthday, in the residence of Fontana Rosa (also named the House of Writers, dedicated to Miguel de Cervantes, Charles Dickens and Honoré de Balzac) that he built.
Writing career:
His first published novel was "La araña negra" ('The Black Spider') in 1892, an immature work that he later repudiated – a study of the connections between a noble Spanish family and the Jesuits throughout the 19th century. It seems to have been a vehicle for him to express his anti-clerical views.
In 1894, he published his first mature work, a novel called "Arroz y tartana" (Airs and Graces). The story is about a widow in late 19th century Valencia trying to keep up appearances in order to marry her daughters well. His next books consist of detailed studies of aspects of rural life in the farmlands of Valencia – the so-called huerta that the Moorish colonizers had created to grow crops such as rice, vegetables and oranges, with a carefully planned irrigation system in an otherwise arid landscape. The concern with depicting the details of this lifestyle qualifies Blasco Ibáñez as an example of Costumbrismo:
These works also show the influence of Naturalism which he would most likely have assimilated through reading Émile Zola. The characters in these works are determined by the interaction of heredity, environment and social conditions – race, milieu, et moment – and the novelist is acting as a kind of scientist, drawing out the influences that are acting upon them at any given moment. They are powerful works but are sometimes flawed by heavy-handed didactic elements. For example, in La Barraca, the narrator often preaches the need for these ignorant people to be better-educated. There is also a strong political element – he shows how destructive it is for these poor farm-workers to be fighting each other rather than uniting against their true oppressors – the Church and the land-owners. However, alongside the preaching, there are lyrical and highly detailed accounts of how the irrigation canals are managed and of the workings of the age-old "tribunal de las aguas" – a court composed of farmers that meets weekly close by Valencia Cathedral to decide which farm gets to receive water when and which also arbitrates on disputes on access to water. "Cañas y barro" is often adjudged  the masterpiece of this phase of Blasco Ibáñez's writings.
After that, his writing changed markedly. He left behind costumbrismo and Naturalism and began to set his novels in more cosmopolitan locations than the huertaof Valencia. His plots became more sensational and melodramatic. Academic criticism of him in the English-speaking world has largely ignored these works, although they form by far the majority of his published output – some 30 works. Some of these works attracted the attention of Hollywood studios and became the basis of celebrated films.
Prominent among these is Sangre y arena (es) (Blood and Sand, 1908), which follows the career of Juan Gallardo from his poor beginnings as a child in Seville, to his rise to celebrity as a matador in Madrid, where he falls under the spell of the seductive Doña Sol, which leads to his downfall. Ibáñez directed a 65-minute film version in 1917. There are three remakes made in 1922, 1941 and 1989, respectively.
His greatest personal success probably came from the novel Los cuatro jinetes del Apocalipsis (The Four Horsemen of the Apocalypse) (1916), which tells a tangled tale of the French and German sons-in-law of an Argentinian land-owner who find themselves fighting on opposite sides in the First World War. When this was filmed by Rex Ingram in 1921, it became the vehicle that propelled Rudolph Valentino to stardom.
Rex Ingram also filmed Mare Nostrum – a spy story from 1918 – in 1926 as a vehicle for his wife Alice Terry at his MGM studio in Nice. Michael Powell claimed in his memoirs that he had his first experience of working in films on that production.
A further two Hollywood films can be singled out, as they were the first films that were made by Greta Garbo following her arrival at MGM in Hollywood –The Torrent (based on Entre naranjos from 1900), and The Temptress (derived from La Tierra de Todos from 1922).
Link: https://en.wikipedia.org/wiki/Vicente_Blasco_Ib%C3%A1%C3%B1ez
We are of the OPINION that this desk/cabinet was originally constructed in the 16th Century in Spain.
The PROVENANCE is IMPECCABLE….it belonged to

Vincente Blasco Ibanez

and was part of his Collection at

Fontana Rosa

when he died in 1928.
The Auction in which it was first sold in Dallas was in 1930, which makes perfect sense from a 'timeline' point of view.
IBANEZ is a VERY IMPORTANT literary figure. Having regard to the fact that this is a writing desk means that in all probability, Ibanez would have 'penned' some of his famous works AT THIS VERY DESK!
CONDITION: We are of the opinion, however, that the desk/cabinet has undergone some significant restoration since it was acquired at Auction in 1930. If one compares the Catalog photograph with the current desk one can clearly see that the base is original and correct, as are the pair of carved doors, but the rest of the piece has been re-purposed or refurbished.
If this piece was in it's fully ORIGINAL condition, it would be valued in excess of $40,000.
Because of the restoration work (which is of exceptional workmanship in its own right) we have priced this piece accordingly.
IT IS STILL A FABULOUS, RARE and HISTORIC PIECE OF FURNITURE!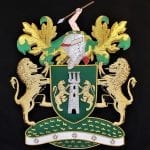 16C Carved Spanish Oak Writing Desk and Cabinet
Provenance: From a Private Dallas Collection. 1930 Adda Auction (see full listing)
Condition: See above. It is missing a drawer on the base section underneath the writing slope.
Dimensions: 37½in. (95cm.) high, 66in. (168cm.) wide, 24in. (61cm.) deep.
SALE PRICE NOW: $10,000