Pair of 18C French Old Paris Porcelain Figurines

PRESENTING a STUNNING and VERY RARE Pair of 18C French Old Paris Porcelain Figurines from circa 1790….most definitely in the style of Vion & Baury.
These pair of figurines are probably 2 of the best Old Paris Bisque Porcelain Figurines we have EVER seen.
One is of a Lady in period dress/attire cradling a Dove….all hand painted and decorated to the FINEST QUALITY. The base is marked with the makers initials "C.H.". She is made of fine bisque porcelain in the Old Paris porcelain style.
The other is of a Gentleman Set in period dress/attire with a Dove on his shoulder….all hand painted and decorated, with 24K gold accents, to the FINEST QUALITY. The base is marked with the makers stamp "Monvoisin". He is made of fine bisque porcelain in the Old Paris porcelain style.
We have been unable to identify the maker "Monvoisin" or "CH" but are satisfied that these would have been most likely made in  Paris at the end of the 18th Century. Many of these Paris porcelain makers have been lost to history …. hence the generic term of "Old Paris Porcelain', to describe these types of items.

---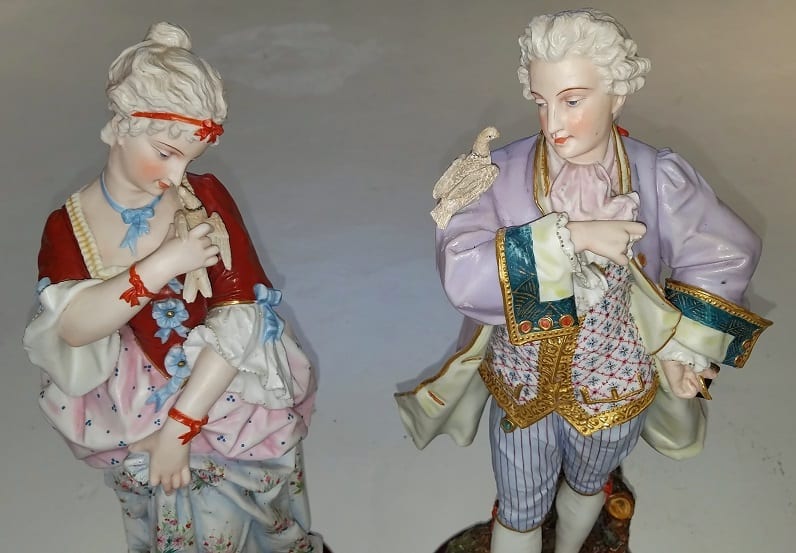 ---
French porcelain has a history spanning a period from the 17th century to the present.
Chinese porcelain had long been imported from China, and was a very expensive and desired luxury. Chinese porcelains were treasured, collected from the time of Francis I, and sometimes adorned with elaborate mountings of precious metal to protect them and enhance their beauty. Huge amounts especially of silver were sent from Europe to China[1] to pay for the desired Chinese porcelain wares, and numerous attempts were made to duplicate the material.[2]
It was at the Nevers manufactory that Chinese-style blue and white wares were produced for the first time in France, with production running between 1650 and 1680.[3] Chinese styles would then be taken up by factories in Normandy, especially following the foundation of the French East India Company in 1664.[3]
The French lexicographer Jacques Savary des Brûlons wrote in 1722 about these first experiments in his Dictionnaire universel du commerce:
"Fifteen or twenty years ago an attempt was made in France to copy Chinese porcelain : the first attempts made in Rouen were quite successful, (...) these faience objects from new factories are not ranked as French faience - this is the genuine porcelain invented by the French during the last few years and manufactured successively in Rouen, Passy near Paris, and then in Saint Cloud."[9]
Colbert set up the Royal Factory of Saint-Cloud in 1664 in order to make copies (In the original "Contre-façons", i.e. "Fakes") of "Indian-style" porcelain.[10] Saint-Cloud became a very important manufactory for the new wares.
Louis XIV had received 1,500 pieces of porcelain from the Siamese Embassy to France in 1686, but the manufacturing secret had remained elusive.[10]
Meanwhile, the manufacturing technique of soft-paste porcelain seems to have been transmitted to England by French Huguenot refugees. The first soft-paste in England was demonstrated by Thomas Briand to the Royal Society in 1742 and is believed to have been based on the Saint-Cloud formula
After this initial period, up to the end of the 18th century, French porcelain manufactories would progressively abandon their Chinese and Japanese designs, to become more French in character.[10] Vincennes soft-paste porcelain started to display original French inspiration towards its last years of operation, after which the abundant, varied, and original productions of Sèvres porcelain continued the trend.
Porcelain production further developed with Limoges porcelain, a type of hard-paste porcelain produced by factories near the city of Limoges, France. The manufacturing of hard-paste porcelain in Limoges was established in 1771 following the discovery of local supplies of kaolin and a material similar to petuntse in the economically distressed area at Saint-Yrieix-la-Perche, near Limoges.
In parallel, soft-paste porcelain continued to be manufactured however, as it was less expensive to produce.

---
THESE ARE GORGEOUS HIGH-END FIGURINES AND VERY RARE!!

---
Pair of 18C French Old Paris Porcelain Figurines
Provenance: From a Private Collection.
Dimensions: Each is 19" Tall with a base diameter of 8".
Condition: Overall in VERY GOOD condition for their age. The Gentleman has a very old repair to the rear and base (see bolt in photos). He has also lost what would probably have been a hat in his left hand. The Lady is mint. We think you will agree that the slight damage to the Gentleman does not detract from the BEAUTY of this pair. If the Gent was 'mint' the price of this pair would be over $9,000.
Price: $6,600: Now: $4,400

(Pair)