19C Hampton & Sons Chinese Chippendale Cylinder Desk.



19C Hampton & Sons Chinese Chippendale Cylinder Desk
PRESENTING an ABSOLUTELY GORGEOUS mid 19th Century British Chinese Chippendale Style Cylinder Desk from the renowned maker of Hampton & Sons, of Pall Mall, London.
This stunning piece is elegant simplicity at it's best with the most gorgeous natural age and patina to its surface and stunning details to the legs.
We estimate this to be from circa 1860 – 70.
It is made of the most beautiful mahogany with stunning natural patina. The top is in 'cylindrical' form which as it is raised the writing desk moves outwards. Once opened, it reveals a writing slope with original tooled green leather, 5 drawers and 8 open 'cubbies'.
Below the writing slope are 3 drawers. THe first two are smaller and the bottom one is one single drawer.
The smaller drawer on the right has had a lock and escutcheon installed some time after manufacture which slightly covers the makers mark, however the makers mark is unmistakably for the renowned London furniture maker, Hampton & Sons.
This is a REALLY QUALITY PIECE!


---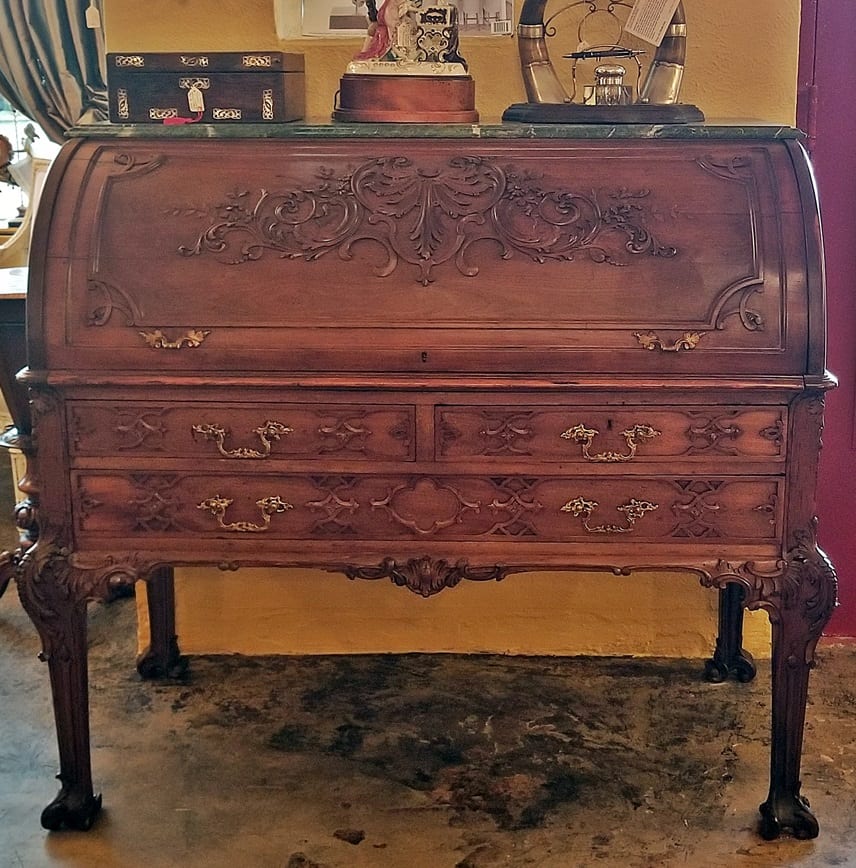 ---
Hampton and Sons Ltd of Pall Mall East, Trafalgar Square London
Established in 1830 in Cranbourn Street, Leicester Square by William Hampton, later being joined by his sons, George and William, the company moved to 8 Pall Mall East, adjacent to Trafalgar Square, in very large premises, trading as builders and surveyors, estate agents, 'antique and modern furniture dealers', general furnishers, upholsterers, plumbers and electricians. Their commissions included, inter alia, the furnishing of the Royal Yacht Britannia, the liners Queen Mary and Queen Elizabeth, the Theatre Royal in Drury lane, and the palaces of the Nizam of Hyderabad and the Maharajah of Kashmir. An incendiary bomb destroyed the building in 1940, after which they moved to Kensington High Street, where they traded until 1960.

---
19C Hampton & Sons Chinese Chippendale Cylinder Desk
Condition: Very Good ... one minor repair to front right leg but not very noticeable and does not adversely affect the piece.We are of the opinion that the green marble top is a later replacement and it would originally have had a wooden gallery on top, but, the marble top is very complimentary to the piece and makes the piece more functional and usable. Minor crack to base molding on the front but not very noticeable.
Dimensions: 45" high, 49.5" wide, 34" deep. 
Price: $32,000.00.

Sale Price Now: $24,499.00
19C Hampton & Sons Chinese Chippendale Cylinder Desk